I'm probably the only person who has shaken hands with Count Basie and Donald Segretti, bought beer from Karen Valentine, got snockered with Charles Bukowski, and sat on a couch bewtween Fibber McGee and the Great Gildersleeve.
STEVE JELF

I was born a barefoot boy at an early age. It was June of 1941. Mom was from Arkansas City and Dad was from Sedan. When they got married in 1936 they moved from Kansas to California, so that's where I was born. In those days California was a good place to live.

Age 3, 1944, with Grandma

With Mom, 1941

My little brother Mike was born in 1946, when I was 41/2. When I was five I started kindergarten. After the first day I came home and said I wasn't going back because they didn't teach me to read.

With aunts Mary and Ernestine, Mike, and Grandma, 1946

A favorite game was "Going to Grandma's". The chair became a car as I pretended to drive with Mike to Grandma's farm in Kansas.

In the San Bernardino Mountains

with Mike and Dad, 1946

Being from a little town like Sedan, Dad was not a fan of big cities. We had to live in the Los Angeles area because Dad worked at the Union Oil refinery in Wilmington. But whenever he had a vacation or just a few days off, we would pack the camping gear in the Plymouth and head for the mountains.

I could smile for the camera when I was five or six, but life was not always happy and wonderful. I had the nicest teacher in the world in the first half of third grade. The second half was another story. I think Miss Loan probably rode to school on a broomstick every day. After a couple of months in this woman's class, I was a mess. I would get up in the morning and throw up at the thought of going to school.

My third grade report card from Miss Loan

Finally Mom had enough of dealing with Miss Loan and the principal, and she got me out of the public school and into a Christian school. There I had another very nice teacher. Going to school didn't make me sick anymore. One day Mom and I saw Miss Loan on a street in Long Beach. She was wearing one of those mink stoles with the minks' little heads still on them. I figured she probably strangled them herself.

My fourth grade report card from Mrs. Gullett

With Stoveoil, rare male calico, 1953

I continued at Wilmington Christian School all the way through ninth grade. Since the school only went up to ninth grade, I needed a high school. After my bad experience in public school, Mom was dead set against my going to the public high school, so I went to a Catholic school for tenth grade. This was a big mistake. Going from an Assembly of God school to a Roman Catholic school was quite a cultural change, but that wasn't the problem. It was all boys. Without the civilizing influence of females, the bullies and the mean kids ruled. The whole atmosphere was so mean and nasty and I hated the place so much that I really didn't have much interest in doing well, so I did poorly. I had my worst grades since my adventure with Miss Loan.

In 1957 the new public high school opened and that's where I went for eleventh and twelfth grade. It was like getting out of prison. There were still the kind of jerks you meet in any high school, but they didn't rule the place. I had a lot of nice teachers and some great classes. I even got to take a photography class. That was wonderful. I had English classes where I got to show off, writing all sorts of silly stuff. Even though I struggled with geometry and wound up with a D in the class, I liked the teacher. In twelfth grade I got the easiest A of my life. After taking Latin all the way through high school, I finished up by taking beginning Spanish. After Latin, it was a piece of cake.

Self-portrait, age 15, 1956

After high school, I went to Pepperdine College in Los Angeles. That was before Pepperdine moved to Malibu and became a big, fancy university. At Pepperdine I worked on several plays, acting in some and working on the stage crew in others. Some of the shows I worked on were The Music Man, The Desperate Hours, South Pacific, Carousel, and Oklahoma!

Another college activity I enjoyed was radio. My friend Herb was Rot Clancey and I was Arnie Farn on The Rot & Arnie Show. We did very funny material like

Rot: "Hi, Arnie. Glad to see you're back."

Arnie: "Hi, Rot. Glad to see yours."

Rehearsing for The Music Man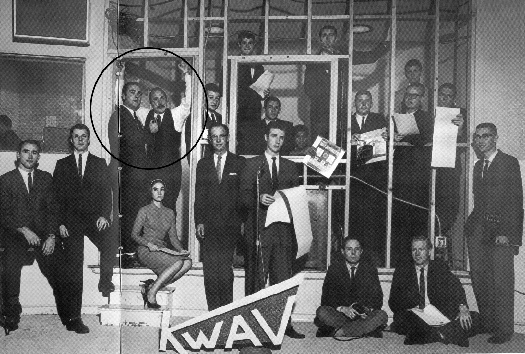 With partner Herb (in circle) and the staff of KWAV, the campus radio station.
| | |
| --- | --- |
| Summer, 1964: weight 238 pounds | In Korea, 1965: about 60 pounds lighter |
By the time I graduated from Pepperdine in 1964, I had ballooned to a weight of nearly 240 pounds. I received the cure when the United States government sent me a kind invitation to spend two years in Uncle Sam's army. Basic training took off some weight, and a ride on a troop ship to Korea took off some more.
Visiting a school for orphans in Korea, 1966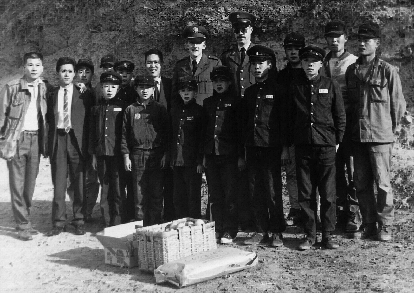 | | |
| --- | --- |
| | After two years in the army, I spent a couple of years substitute teaching, then taught full time until 1985. This is my sixth grade class in 1975. |
Over the years southern California became a less and less fit place to live. Cramming ten million people into a place makes it just too aggravating. By 1985, I'd had enough. I was visiting the farm at Arkansas City and just decided not to go back. This was where I came to visit Grandma and my aunts when I was three, when I was eight, and nine, and ten, and again several times in the 70's and 80's. It's a much better place to live than any big city.

Screening signs

Drawing artwork for a new sign

After moving to Kansas in 1985, I started a business manufacturing collectible auto, truck, and gas & oil signs.

Working on a new building

Making equipment parts

With Jack, June 2002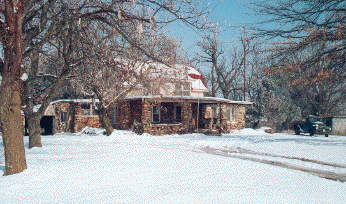 Winter, 2002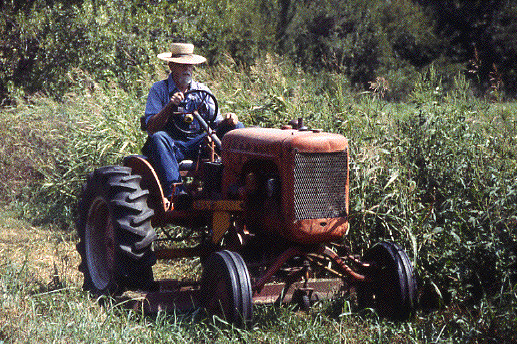 1945 Allis Chalmers Model B with Wood L-59 mower: Summer, 2005
In 2004 I got an offer I couldn't refuse. "How about I buy this business and you work for me?" I'd had more than enough of working sixty or seventy hours some weeks, so I jumped at the chance. From that time, all I had to do was make the signs and the company did everything else. No longer did I have to handle the advertising, payroll, shipping, sales, etc., etc. That went on until the end of April, 2011, when the business closed.
So now I'm a retired elderly gentleman of leisure. I intended to remain so for awhile, catching up on a lot of home projects, then maybe look for something else to do. But so far I haven't started looking.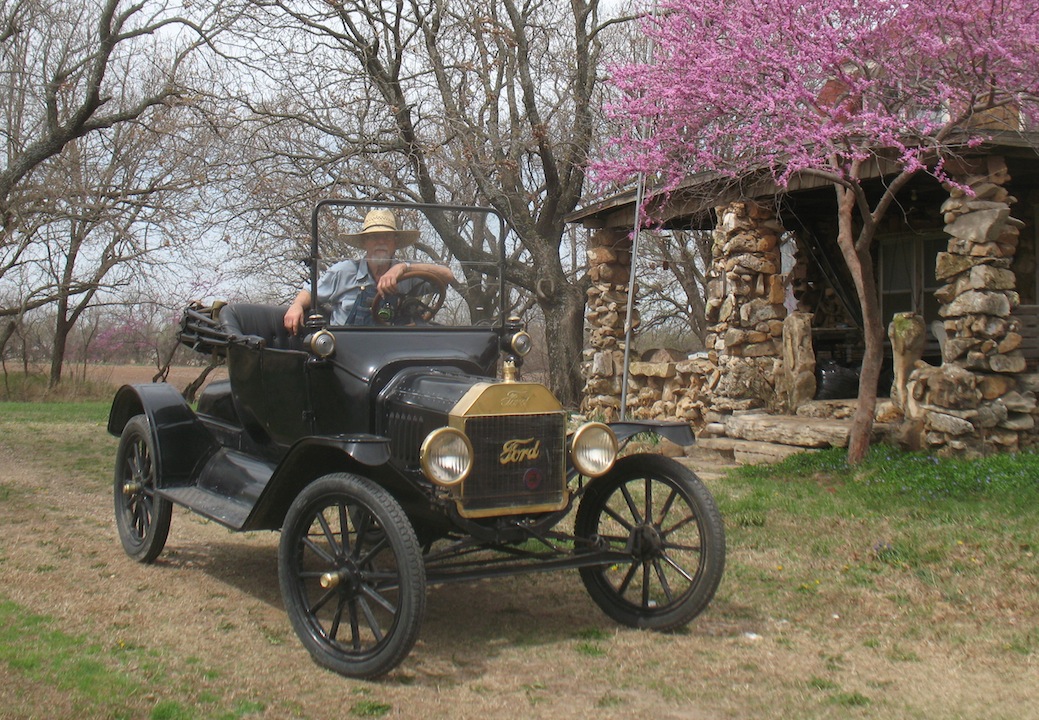 April, 2011