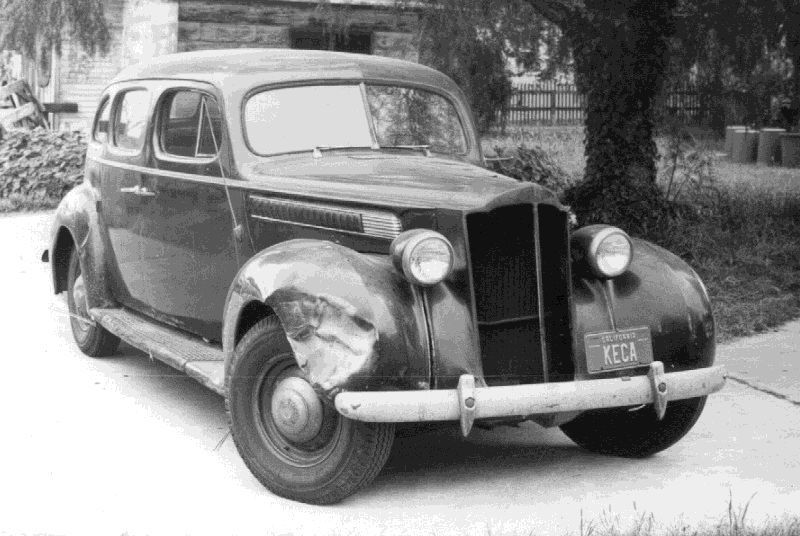 One day in the spring of 1978, I went to visit the home of a friend. Parked in front of her house was THE PACKARD. The right front fender was crunched in. The interior hung in tatters. The former brightwork was a study in pits and rust. The grill shell was dented in and the shutters were gone. The paint was a patchwork of blotches, and the tires looked untrustworthy.
It was beautiful.
I learned that the car belonged to my friend's son, who had parked it in front of her house because he had nowhere to keep it. When she said he was thinking of selling it, I told her to call me immediately if he decided to do so.
A couple of months later, the car was mine for $1500. I figured that it might cost another $1000 to redo the interior, and perhapes another $1000 for body work and paint. Little did I know!
The motor had been overhauled before I bought the car,and now it was time for the groaning transmission to get the same tratment. I began repairing one problem after another. For about three years I used the car pretty much as it was when I bought it.
Then one day in February of 1982, as I drove into my driveway, I found smoke coming out from under the dash. The old wiring, after forty-four years, had finally given out. I decided that if I was going to restore this car, I had better do it right. In the driveway behind the house I totally dismantled the car. As each component came off, I laid out the disassembled pieces in order and took a picture of them for future refereence.
The body, frame, wheels, nuts, bolts, and all mechanical parts except the transmission were Redi-Stripped. The wheels and body were primed and all the mechanical parts were repainted. The restoration and reassembly went on sporadically for the next several years, slowed somewhat by a move from California to Kansas in 1985. By spring of 1989 I could finally afford a professional restoration of the interior, and except for a few minor details, that completed the project.