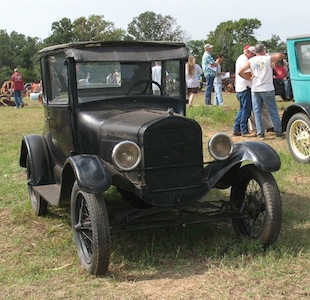 Ignoring the impossibility of such a request, I
[David]
submit my observations in the hope that they may provide some orientation to some uninitiated soul who would like some guidance without having to become an expert. Model T Values - Thumbnail sketch, in United States 48 contiguous states as of Monday 10 March 2003:
Cars and original depot hacks and pie wagons 1917-27:
Parts car only, not restorable: <$1000
Not complete, restorable with a lot of work, engine may or may not run: $1,000
Mostly complete, correct, disassembled, restorable: $2,000.
Mostly complete, correct, recently assembled, restorable: $2,500.
Complete, correct, never disassembled, restorable: $3,500.
Runs, drives, correct, needs total restoration $4,500
Runs and drives, mostly correct, looks like a 10 year old used car: $6,000.
Everything works, not correct (wrong year engine, etc.), looks decent: $6,000.
Everything works, almost all correct, looks decent: $7,500.
Show room condition, correct, needs nothing functionally or cosmetically: $10,000.
Completely "restored" but with incorrect "upgrades" such as pre-1919 starter, incorrect accessories, etc.: $10,000 but buyers will be a different group than previous item.
Rip van Wrinkle: Car stored inside since new, less than 1000 miles: $20,000.
Complete factory type restoration, every nut and bolt reconditioned, completely correct: Ought to be worth $20,000, but the market will not pay much more than $12,000.
Trucks other than original pie wagons: Deduct 50%
Depot hacks, reproduction bodies: Deduct 50%
Speedsters, reproduction bodies: Deduct 50%
Town cars with original bodies: Add 100%
Pre-1917: Add $1000 for each year down to 1909.
Body only: 60% of the value of the car. Chassis only: 40% of the value of the car.
Generally, cars needing total restoration are overpriced because they are a liability, not an asset, and the cost of restoring them far exceeds their finished value. This is unfair, but true. Generally, cars restored with thousands of hours of expert work are under-priced, but no one will pay their true value. Again, it's unfair, but true. If you want to make money restoring cars, the best way to do it is to buy a car that is complete, original, and basically sound, but does not run. Spend 50 hours and $500 on it fixing only what is broken and give it a nice paint job so that when you're done it runs, everything works, and it looks decent, and advertise it for twice what you paid for it. If you want to do it right (partial translation: take everything completely apart), forget about making money. Subsidize it with your regular job. Buy a good working car to enjoy until you get this one done. It will take longer than you thought. It will cost more than you thought. It is impossible to restore any part without complete dismantling. You never know what you have until you take it apart. Caution: For any car that has been "restored" request a photographic record of each stage, and information on the experience, background, and motivation of the restorer. The word means ten different things to ten different people.