Wednesday, October 1, 2008
This afternoon I did more ditch filling, then patched the hole in the side of the barn where I had a mishap with the backhoe. I filled in enough of the ditch to allow driving across in front of the barn instead of having to take the long way around.
Thursday, October 2, 2008
With the Ditch Witch reserved for this weekend, today I used stakes and string and a spray can of white paint to mark where I'm going to dig. I'll start tomorrow morning and hope I can get all the ditches dug by Sunday afternoon.
Friday, October 3, 2008
It turned out to be a Kubota this time, as the Ditch Witch was out. Anyway, I did all the digging I could with it. The rest is around electric, phone, and sewer lines, and will have to be done with pick and shovel.
Saturday, October 4, 2008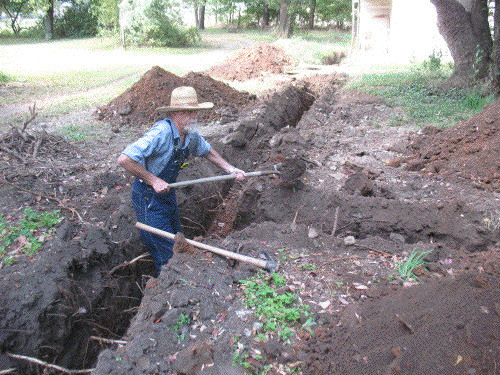 This was the day to dig. After doing the laundry I spent most of the day with pick and shovel, digging around the sewer line and other places I couldn't reach with the machine. I got a lot done, and there's still a lot more to do. By late afternoon I was starting to feel the effects of all that exercise. I'm in better shape than a lot of guys my age, but this was a bit more than I'm used to. The weather forecast shows a 60% chance of rain on Monday, so maybe that will soften the ground and make the digging a little easier. I hope to get all the digging done during the next week and get the pipes installed next weekend, then I can start filling all the ditches. If these pipes last forty years, I won't have to do this job again until I'm 107.
After dinner this evening I went to see An American Carol. This is a film by David Zucker (Police Squad, Airplane, Naked Gun) with a right wing point of view. People who call themselves conservatives will love it, and some liberals will hate it, but I thought some of the gags were pretty funny from any political point of view. Unlike the Coen brothers' Swing Vote, which lampoons both right and left, most of the zingers in this one are aimed at the left. I didn't think it was as funny as some of Zucker's other work ("Stop calling me Shirley."), but it was worth the time.
Sunday, October 5, 2008
It was another day of digging. I finished the ditch to the north faucet and dug out enough of the sewer line to allow cutting out and replacing the damaged part. There's plenty more to do, so I'll be delighted if I can get all the digging done this week.
Monday, October 6, 2008
When I went to work this morning the car barely started, and all the way there the lights got dimmer. Later when I tried to start the car, there was just enough juice left to make the solenoid click. After work I spent an hour walking down the road to buy a new battery, hauling it back, and installing it. That solved the starting problem, but there's a reason that battery went bad. I'll look into that tomorrow.
Tuesday, October 7, 2008
Driving to work in the dark this morning I could see the idiot light for the electric system glowing dimly, so after work I took the car to a garage to get it checked out. The charging system was putting out only 12.2 volts, and turning on the lights put that down to just 12. A new alternator brought the charge up to the normal 13.6 volts. Problem solved. Dealing with the car and shopping for groceries ate up most of the afternoon. Maybe tomorrow I can get back to digging.
Wednesday, October 8, 2008
No such luck. By the time I replaced four feet of damaged sewer pipe the afternoon was pretty much spent. Maybe tomorrow.
Thursday, October 9, 2008
Yes! It was pick and shovel time when I got home this afternoon. I got a good start on the last part of the west ditch. You can see it to my left in the picture above. I couldn't dig there with the machine because of the buried electric and phone lines. With any luck I should get most of it done tomorrow and be ready to start installing the pipes this weekend.
Friday, October 10, 2008
It was a day well spent. I got home from work by ten and played pick and shovel hero until the place where I was digging lost its shade and started getting a little toasty. That was about 12:30. I got almost all of the digging done. There's only about ten more feet of ditch to dig, then I can start installing pipes. With the sun on my digging spot, I spent the afternoon buying fittings and plumbing in the tool shed where the new line connects to the valve cluster.
Saturday, Octobr 11, 2008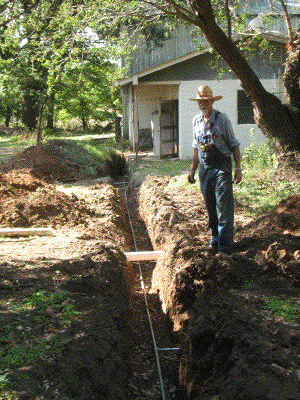 Once again, as Bushytail Squirrel said when Santa brought him a sackful of nuts, "Oh, I am so happy!" I took my time getting around this morning, sleeping until after six, running three miles and taking a shower, checking email, and listening to Weekend Edition. I got outside and started digging at nine, and had the ditches finished by ten. With that done I started installing the pipes, and had that job finished by three. I installed the faucets, then went in the shed and turned on the water. Once the air was out of the lines both faucets worked perfectly, and checking all 150 feet of pipes I found no leaks or drips. After waiting for years to do this job I'm delighted to get it done. All that remains is to fill in the ditches and holes. I should be able to finish that during the next week.
After another delicious dinner at La Fiesta this evening I went to see The Express. It's the story of the great football player Ernie Davis, and a beautiful film. The sports biography can be pretty sappy, but director Gary Fleder handles this one beautifully. Rob Brown is excellent as Ernie Davis, and Dennis Quaid as Coach Ben Schwartzwalder is rock solid. Among other standouts in a strong cast are Charles S. Dutton, Omar Benson Miller, and Clancy Brown. This is the second film I've seen recently that was made for grownups, about something real, and without chases, explosions, or starring special effects. While The Express and The Longshots are both ostensibly about football, they're really well-told stories about human character and achievement.
Sunday, October 12, 2008
This was the day to put the WD to work. I spent a few hours on the tractor filling ditches, and finished about half of what needs to be done. I also started filling the hole around the valve cluster in the tool shed, but I'm filling it with sand so that if I ever have to dig it up again it will be easy digging. With rain in the forecast, I may have to take a few days off from the filling chore. That's OK. There are plenty of other jobs waiting to be done. We're still weeks away from any freezing weather, so I should have all the pipes safely buried by then.
Monday, October 13, 2008
A rainy day had me inside playing on the computer, answering email and visiting various websites.
Tuesday, October 14, 2008
This was the day for a trip to the big city. I had an appointment with a dentist in Wichita, so I hauled along my old iMac which had quit working, and took it to the computer shop to see if they could do anything with it. The problem turned out to be a bad power supply, and parts are no longer available, so I had all the data transferred to a disk.
Wednesday, October 15, 2008
Another wet day, and my indoor work was to get started on fireplace repair. The steel firebox has separated in a couple of places, and I need to weld the cracks. Today I got busy with the angle grinder preparing the biggest crack for welding.
Thursday, October 16, 2008
| | |
| --- | --- |
| The cattle are long gone, but the old cattle tank across the road is still there. | As I walked by the tank today I noticed this little guy taking a swim. |
Took a walk down through the woodlot checking the road to be sure fallen branches are out of the way. It will soon be time to go down and start gathering firewood. I finished up the afternoon working on the fireplace with the grinder some more. That's slow work.
Friday, October 17, 2008
After work I spent most of the morning doing a little grocery shopping, going to the bank, and then replacing burned out light bulbs in the Buick. By the time I replaced both highbeams and a couple of turn signal bulbs, the morning was spent. The lawn was getting a little shaggy, so I used the afternoon for what will probably be the last mowing of the year.
Saturday, October 18, 2008
This was the day for more ditch filling. I spent a good part of the day on the tractor, and got most of the job done. Tomorrow should wrap up the filling except in and next to the tool shed. Of course dumping dirt in the ditch doesn't level out the humps and low spots. I need a blade for that, so I'll be watching the auction ads for one I can use on the WD.
Sunday, October 19, 2008
I did a little filling by shovel, then drove out to my cousin Shane's place. He wanted me to check out the wiring in his garage. I did, and most of it looked OK to me. There are a couple of things to change, but we couldn't find a switch to shut off the power. He's going to explore and find the breaker, then we'll do a little rewiring. When I got home I moved some tulip bulbs that were in the wrong place, then did a little more grinding in the fireplace. I think I have it about ready for the next step, which is to apply heat to a warped panel and straighten out the bent part.
Monday, October 20, 2008
This afternoon I took the truck and got a half ton of fill sand to bury the water pipes in the tool shed. It turned out to be less than the hole will take. Looks like I need maybe another half ton or so.
Thursday, October 23, 2008
The past couple of days wet weather has kept me inside. The high this afternoon was in the forties, and I started taking down screens and putting up storm windows. This evening I fired up the stove in the kitchen for the first time this season, and soon had the room up to a toasty 85º. It was a good evening for hot soup. It seems the cool down is coming a little earlier this year.
Friday, October 24, 2008
This was the day to actually get something done. It turned out to be a couple of somethings. The first was to fix a nonfunctioning turn signal on the truck. That took over an hour. The second chore was to finish burying water lines in the tool shed. I made a couple of trips to haul over a ton of sand for the job. I decided to use sand instead of refilling with dirt so that if I ever have to uncover those pipes again the digging will be easy. I piled it up high against the walls inside the shed to keep out the cold air. Next spring or summer I'll dig out some of the sand and pour a new foundation for the west wall, and put a brick floor in the shed.
Saturday, October 25, 2008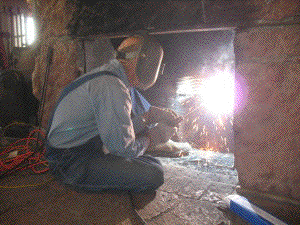 I've been pretty much of a lazy bum, lying in bed until 4:20 most mornings this week. I haven't done my morning three miles since Monday, so I did that this morning. After a shower and breakfast I finished taking down screens and putting up storm windows. Then it was time to get busy on the fireplace. First I had to heat up a warped part of the firebox and hammer it into place. Then I had to use the grinder to even up the edges of the crack. And then it was time to try out that welder I bought at an auction last month. I haven't done any electric welding for about twenty years, and even then I didn't do much, so today it took some time to get the hang of what I was doing. I got some of the crack filled in, but the welding rod I was using isn't quite right for the job. There was a lot of dripping. Monday I'll get another type of rod and turn down the power, and see if it drips less.
Sunday, October 26, 2008
After spraying brush killer on some vegetation that needs to go, I went to an auction. I got a deal, but it wasn't easy. This was the third session in the sale of a huge collection that included furniture, toys, kitchen and farm tools, and other items made over the past century. The thing started at 1:00, and the auctioneers kept the thing moving at a brisk pace until 7:00. In those six hours I don't think they got through half the stuff they have to sell. It wasn't until about 6:50 that they got around to the items I wanted. I bought TWO White Mountain ice cream freezers, in very good condition, for $27.50 each. The total of $55 for the pair is about one-third the cost of one new one. If you're willing to put in some time, an auction can be a great way to get what you want and get it really cheap.
Monday, October 27, 2008
After work today I bought some smaller welding rod and went back to the fireplace project. Actually I spent most of the time using the grinder to smoothe previous welds so I could see what still needs to be done. When I did finally get around to doing some welding, I found that the smaller rod doesn't produce as bright an arc as the bigger stuff, and it was hard to see what I was doing. On the other hand, it did seem to drip less than the larger size. I just need to figure out a way to see what I'm doing.
Tuesday, October 28, 2008
Today I had a session with my doctor. The issue was a sore tailbone. It's been bothering me in certain sitting positions. When I checked online about pilonidal cysts, I noticed one reference to an occasional development of squalous cell carcinoma. Since I had one of those carved off my back last winter, that was a red flag which prompted me to get this thing checked out. Reviewing my recent activities, it dawned on me that I had been doing lot of bouncing around on a steel tractor seat when I filled in ditches on my plumbing project. The end result of today's visit to the doc was a prescription for some pills to reduce inflamation. We'll see if that helps.
Wednesday, October 29, 2008
This afternoon I spent another hour and a half on the fireplace project, with a little welding and a lot of grinding. I'm still having trouble seeing where I'm welding, so tomorrow I think I'll figure out a way to get a bright light behind my work so I can see it shining through the holes I need to fill. I've made some progress on this thing, and I want to get it done this week before the really cold weather arrives.
Thursday, October 30 ,2008
Well, it was a struggle, but I think I've done it. Before doing any welding on the fireplace today, I clamped a bright light to a board and shoved it behind the firebox so it would shine through the holes. I still couldn't see anything through the welding mask before striking an arc, so I didn't always know if I was starting in the right spot, but at least the light shining through the holes showed me where they were before I started. It's an ugly piece of work, but I think I've filled all the cracks and holes. We'll see how it holds up when I start using the fireplace.
Friday, October 31, 2008
On the way home from work this morning I bought some 1" square rod and spent most of the rest of the day cutting and welding pieces on a pair of andirons to make them stand higher to match the others. I finished up the day going to La Fiesta to buy tamales to keep in the freezer. A couple of tamales buried in chili beans and covered with cheese, jalapeños, and chopped onions make a delicious meal, but I don't dare take on a load of calories like that every day.