Friday, October 1, 2010
Nothing new, just old boards taken off and new ones nailed on. To be continued.
Saturday, October 2, 2010
| | |
| --- | --- |
| It was another day of taking off old boards and nailing on new ones. Before I got the old roofing off I wasn't sure I'd need to do this, but these boards were decades old and in poor condition when they were put on here, and 78 years haven't made them any better. | |
Sunday, October 3, 2010
I spent a great day on the roof. I finished nailing new boards on the east half up to about a foot from the top. I'll leave the top until I get the west side done that far too. I laid out the tarps on the east side and moved all the bags of old roofing there to hold them in place, then uncovered the west half and started removing old roofing from that side. By 5:00 PM, quitting time, I had removed all the old roofing from more than half the west side. Happily, the forecast is for ten clear days with zero percent chance of rain, so I should make some more good progress.
Monday, October 4, 2010
I took a day off from the roof to work on the Kansas & Oklahoma Steam & Gas Engine Association website (http://kosteamgas.org/). After I had that sort of figured out and up to date, I burned trash. That may be the last outdoor trash burning until spring. After winter weather arrives, all burning is done in the fireplace or the kitchen stove.
Tuesday, October 5, 2010
Today I got back to the roof. All I had time to do was remove some of the old boards stacked up on the west half of the upper roof. I hope I'll have time tomorrow to take off more old roofing.
Wednesday, October 6, 2010
Very nice. This afternoon I pulled the tarps off the southwest quarter of the upper roof and started taking off old roofing. I got about half of it done before quitting time. One more session should finish that, then I can start taking off old boards and putting on new ones.
Thursday, October 7, 2010
Well, I didn't get all the old roofing off because I got a late start, but I removed about a third of it. With any luck I should finish that tomorrow and be ready to start replacing boards this weekend.
Friday, October 8, 2010
Coulda, woulda, shoulda. I was moving right along on removing the old roofing, but I ran out of bags and had to go back to town for more. So I ended the day with the job not quite finished. Not to worry. What's left should take less than an hour, then I can start taking off old boards and putting on new ones. Meanwhile in the slightly wider world, I was surprised when I came home from work yesterday to find the road filled with fire trucks. First, at a distance, I was afraid the fire might be at my place. But when I got closer I could see that the fire was across the road. One of the old trailers in the neighbors' famously cluttered yard had caught fire. By the time I got here, the trailer was pretty much gone. Sometime during the evening the fire was out and the trucks left. When I got up this morning, about 4:30, the fire had started up again, and when I left for work at 5:40 the fire trucks were back and the firefighters were putting it out again. I guess they got it done for real this time, as it was still out when I got home this afternoon.
Saturday, October 9, 2010
Such a lazy day! I didn't get up until almost six, and by the time I ran three miles, had a shower, checked websites, and gathered laundry to wash, it was 8:30. I checked out an auction at the fairgrounds and found nothing to keep me there, so I drove over to Geuda Springs for an auction there. A few items of interest kept me there for about an hour, but they all sold for more than I was willing to pay. So I went and did laundry, came home and put away the clean clothes, and wasted some time websurfing. I finally got back to work on the roof about three. Most of the remaining old roofing came off about like I thought it would, but along the ridge it was pretty slow going. In some places there were eleven layers of old roofing on top of the old wood shingles. But I did finally get all the old roofing off the upper roof. Tomorrow I can start taking old boards off and putting new boards on the west half.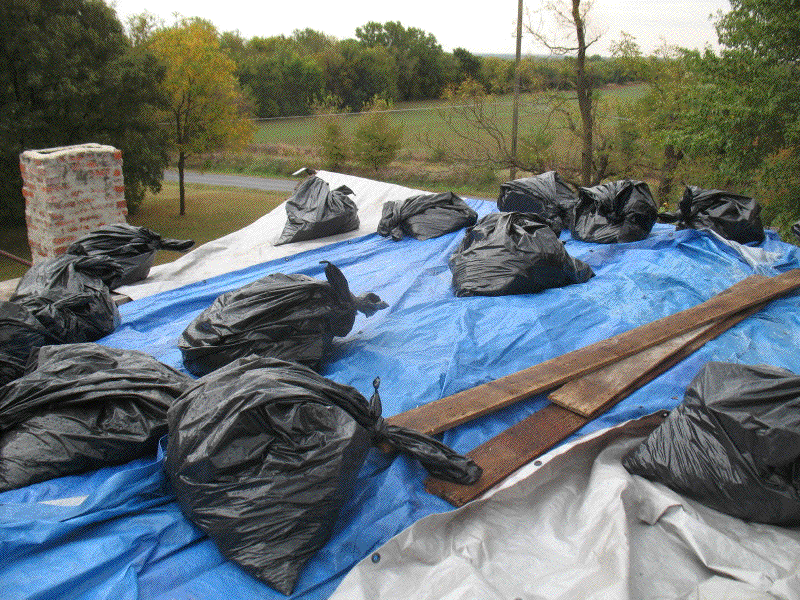 Sunday, October 10, 2010
It had to end sometime. After a couple of weeks filled with perfect working-on-the-roof weather, today turned un-perfect. The work was going great. I pulled nails and took off old boards, cut new boards, and nailed them on. But around 1:30 I noticed that the sky was clouding up and getting pretty dark in some places. I checked the radar and saw storms headed this way, so I spent about an hour getting tarps in place and putting bags of old roofing all over to keep them there. I finished the job in a sprinkle which quit as soon as I got everything covered. The forecast calls for a 100% chance of rain tonight, so I guess it's a good thing I covered up. By Tuesday afternoon we're supposed to be back to 0% and have several more clear days. I'm really looking forward to having this job done and not having to worry about rain.
Monday, October 11, 2010
Oops! The rain wasn't a downpour, but there was a little leaking in the northwest room, and dripping down into the kitchen, because a corner of the tarp blew out of place. So this afternoon I got up there and did some rearranging. There's still a chance of rain in the forecast, so I'm not uncovering yet.
Tuesday, October 12, 2010
I'm taking one more afternoon off from roof work because there's still a 25% chance of rain overnight. It would take so long to uncover and then recover that I wouldn't have time to get much done. Several days with 0% chance of rain start tomorrow, so I'll be back in business.
Wednesday, October 13, 2010
After grocery shopping I untarped most of the west half and got started pulling nails. By quitting time I had all the nails out of one row. Tomorrow I hope to get some new boards installed.
Thursday, October 14, 2010
Old boards off, new boards on. The west half of the upper roof is now about half done. If all goes well I should finish nailing on the new boards this weekend and get started on facing the north end.
Friday, October 15, 2010
More old boards off, etc. Took some time to drag a shop vac up to the roof and clean up sawdust, leaves, dirt, etc. To be continued. Meanwhile, down in the kitchen, with the change to cooler weather I've got back to a bit of cooking. Tonight's treat was a couple of tamales, covered with chili beans, covered with grated cheese, covered with jalapeño slices, covered with chopped onion. MMMmmm, tasty!
Saturday, October 16, 2010
Damn! Pardon my French, but I just wasted most of a good day that I should have used to get some work done. An auction near Rose Hill was advertised as including thousands of bricks. I have some projects in mind that would use bricks, so I set out for Rose Hill, an hour's drive away, to check it out. The estimate of "thousands" was an exaggeration, but there were hundreds of good bricks. But before the bricks would ever come up for sale, there was a huge array of other stuff to get through. On the way there, I had a flat. So I decided to take care of that while waiting for the pile of bricks to sell. I drove back to town, left the tire for repair, and came home to check email. Soon I got a phone call informing me that the tire was a total loss, so I went back to town, bought a new tire and headed back to Rose Hill. Of course, by the time I got there the bricks were already sold. Well, more bricks will turn up for sale. The aggravating thing is all the time I wasted. By the time I drove back and then gassed up the car, it was almost four.
Sunday, October 17, 2010
Yes!!! I spent the day working on the upper roof and got all the old boards off and new boards on. My usual quitting time is five, but today I just kept going until I finished the job. After getting the last boards nailed on I put away my tools and put the tarps in place, finishing about 6:30. I've had enough experience with Murhpy's Law to know that the 30% chance of rain at three tomorrow could easily turn into 100% at noon while I'm at work. The next part of the roof project will be finishing the north overhang on the upper roof.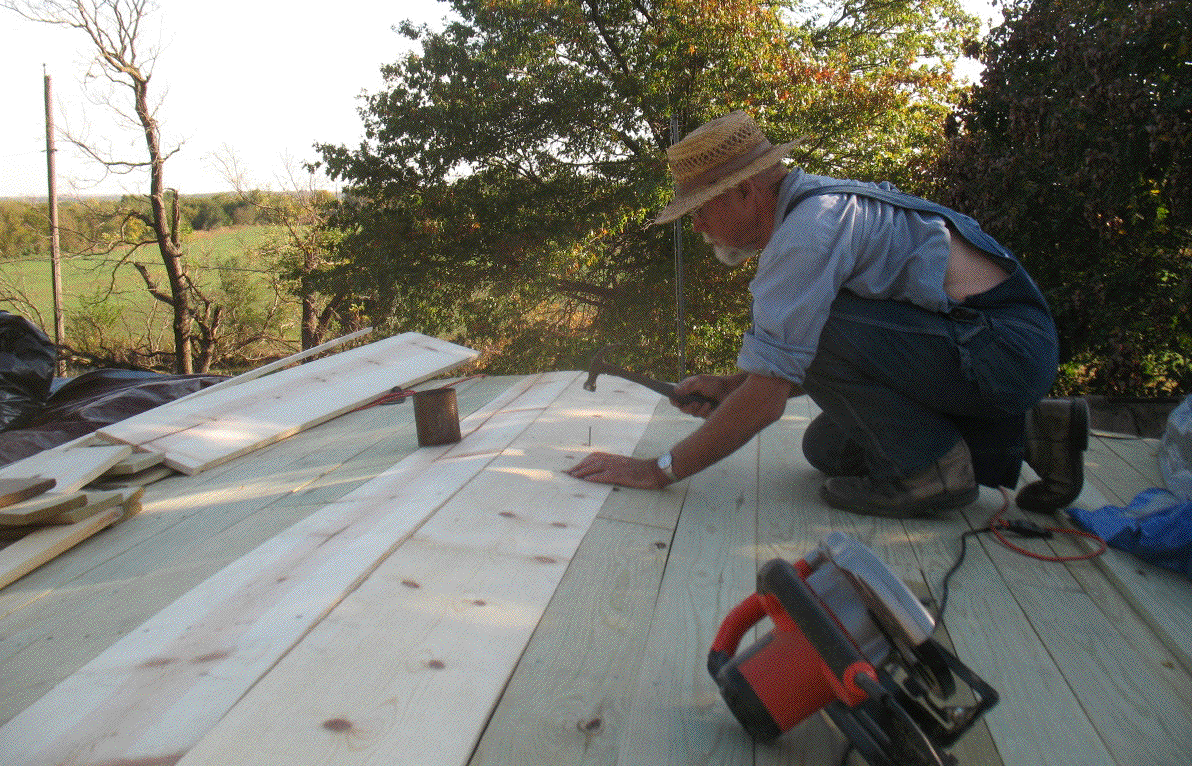 Monday, October 18, 2010
With a good chance of overnight rain in the forecast, I spent the afternoon taking old boards down from the roof and stacking them on the front porch. I want to save them for future use. Most are in bad shape, but a few are good enough for use on other projects.
Tuesday, Ocotber 19, 2010
This afternoon I got busy on removing the top row of old shingles on the north wall where I need to finish the roof overhang.
Wednesday, October 20, 2010
More shingle removal. One more session should finish that chore.
Thursday, October 21, 2010
And it did. I got finished removing the top rows of shingles from the north wall, so next I'll be working on the roof overhang. That may have to wait until the weekend. The forecast for tomorrow afternoon has a 70% chance of rain.
Friday, October 22, 2010
Tonight I went to Juquila (the diner on Summit Street, not the town in Oaxaca) and brought home a burrito de chorizo. Yummy! It was a rainy afternoon, so no roof work got done today.
Saturday, October 23, 2010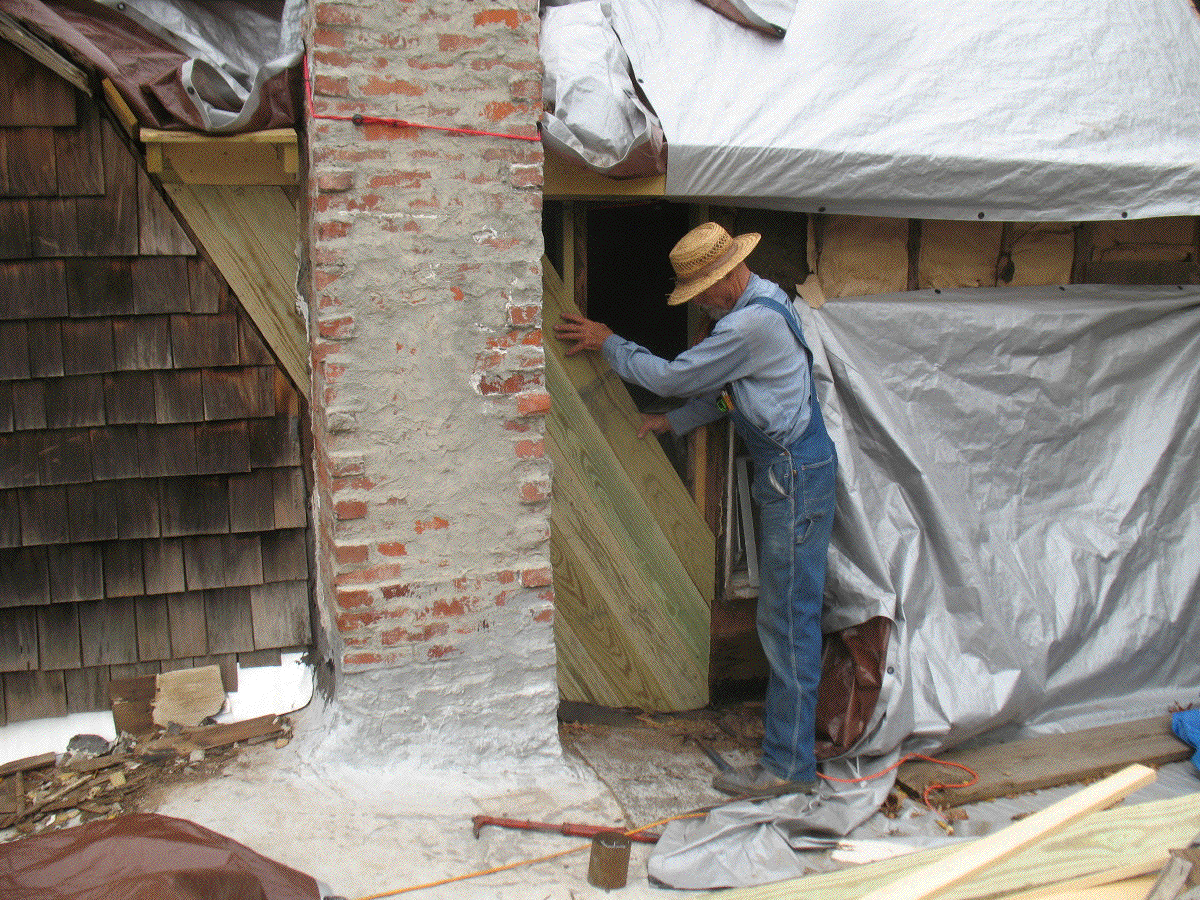 Sorry, kitties. You cats will no longer be able to enter the house whenever you want. Today I put in the new boards to replace the rotten ones I removed from behind the chimney. It was kind of slow going, cutting the boards to fit and getting them into position. I got all of them in, but I still have to do some bracing on the inside of the wall. I should be able to get that done tomorrow.
Sunday, October 24, 2010
It was a beautiful day for roof work. I finished the new wall boards, then started on the north end roof overhang. I made good progress on that and got the west half nearly done. The weather looks good. The forecast shows a 20% chance of rain tomorrow evening, followed by more than a week of 0%. I should get a lot done.
Monday, October 25, 2010
This afternoon I finished the west half of the north end overhang, except for a fascia, and started on the east half.
Tuesday, October 26, 2010
Work continued on the east half of the overhang. I got some of the boards cut and installed, with more left to do.
Wednesday, October 27, 2010
I did some surgery this morning. It seems my left hand picked up a splinter yesterday when I was working on the roof. When I noticed it hurting today it was time to get a pin and dig it out. Meanwhile the roof work continues. Today I did more work on the east half of the north end overhang. A couple more sessions should be enough to wrap up that little chore.
Thursday, October 28, 2010
Not a scrap of work on the roof today. I got a phone call from a fellow fan of real radio, another SPERDVAC member I knew in California, and we blathered for quite a while. In the seasonal weather department, fall is in the air. Overnight lows are getting down into the low forties this week, and thirties next week, with highs in the sixties and seventies. Soon I'll be using the living room fireplace and the kitchen stove.
Friday, October 29, 2010
Back to work on the roof. I got a few boards cut and installed on the north end overhang, with a couple left do do. Then I can move on to another part of the job.
Saturday, October 30, 2010
I attended another auction this morning, and bought a pretty good chair for $3. I did some bidding on a few other items, but they all went for more than I was willing to pay. I spent part of the afternoon saving email to a folder, then made a trip to Ponca City. At Lowe's I asked about gypsum plaster with vermiculite. The oldest person I could find there appeared to be in his fifties, and even he had no idea what I was talking about. I'll try the lumber yards here and in Winfield, but I'll probably end up going to Wichita for it. After dinner and a movie, I did the business that took me to Ponca City, buying overalls. Of course there was only one pair in my size, so I'll have to go back.
Sunday, October 31, 2010
Today I put up the last board on the north end overhang and got a good start on the southeast overhang. I took a couple of hours to check out an auction between Oxford and Geuda Springs where there were several interesting items for sale. But it was a big one with several antique dealers present, so things were selling for more than I was willing to pay.