HOME
BLOG LIST
SEPTEMBER 2014
NOVEMBER 2014
Wednesday, October 1, 2014
What should have taken a few minutes turned into a major project. I spent most of the day working on brake shoes with drill bits, a reamer, and files, making them fit inside the drums. After dinner I worked into the evening on brakes, wheels, and clutch adjustment. At 10:45 I'm callng it quits to hit the shower and get some sleep. It's looking more and more like I'll have to hitch a ride with somebody else on my own tour, which is Friday.


Thursday, October 2, 2014

Up before daylight, I worked on the roadster all day. I got it out for a test run, and decided that it's not going on the tour tomorrow. One tire is worn down past the tread and into the fabric, and there's a wheel I dont trust, plus transmission adjustments I have to make. If the tour was a week away instead of tomorrow, I think I could have the car ready. But I don't trust it for a trip of over a hundred miles without a few more fixes. I'll have to hitch a ride with somebody else.








Friday

, October 3, 2014

I don't have time for a full report, but here are a few comments and pictures of the tour. I rode in the lead car, Ed Emerson's tan 1926 touring. The morning was cold and blustery, but I don't think that word does it justice. Sometimes it got pretty miserable with a the strong north wind blowing through the open car. When we drove through the tall Grass Prairie Preserve it seemed that all 2500 bison were on and near the road. Quite impressinve. In the afternoon the wind eased up a bit and the temperature got up to about sixty, so that made it a more pleasant ride.
Saturday, Ocotber 4, 2014





Today's tour was to Cowley county stone bridges. I had arranged for us to stop at a winery, but when we got there the gates were locked. It turned out that was just as well, because without that stop we still put in a full day. We stopped at several bridges and took pictures, and watched candy-making at the Henry factory in Dexter. I haven't bought any candy in a couple of years, but while we were there I got a bag of peanut brittle, and a bag of Grandma's favorite, wintergreen lozenges.

A couple of guys on the tour failed to heed my warning about starting both days with a full tank, and by the time we got to Dexter they were worried about getting back to Arkansas City. I didn't know it when I planned the tour, but Dexter no longer has a working gas pump because the minimum purchase for a station is 1500 gallons. That's just too much for a little rural burger joint.







Sunday, October 5, 2014
On the last day of touring we went to the Cherokee Strip Museum, then drove up to Oxford and had lunch at the Old Oxford Mill. I was home by three and spent the rest of the day and evening trying to get ready to go to Hershey tomorrow. I still haven't figured out how to get files from my desktop computer to the laptop I take on trips, or how to get files from a disc onto the laptop. At times like this I hate computers and abolutely loathe passwords. Meanwhile, the screen on my digital camera has quit working so I have to use the eyepiece viewfinder. I'm taking a film camera with me just so I can be reasonably sure of getting some pictures.
Monday, October 6, 2014
Driving day. I started a few minutes after eight, stopped in Saint Louis to gas up before hitting the higher Illinois prices, ate at a chinese buffet in Effington, and slept in a rest area near Greenfield, IN. Next: Ohio, West Virginia, and Pennsylvania.
Tuesday, October 7, 2014
Driving day two began about six in the morning. I skipped West Virginia by going north and taking I-80 across the top of Pennsylvania. Nothing against WV, but I-80 is faster than US 30. I arrived in Hershey about 7 PM and covered about 600 miles. Rain also arrived, but tomorrow is supposed to be good weather.
Wednesday, October 8, 2014
The day began cool but sunny. After last year's shocking $12 a day for parking, I did some research online with maps and statellite views. I found that I can park free and walk a little over half a mile to the meet. I'm perfectly willing to walk half a mile for $12. So I hiked in and arrived on the grounds a little after the 8 AM opening time. I shopped all day with a break for about an hour visiting at the
MTFCA
outpost. I've been so shameless about showing my face on the MTFCA forum that when I go to meets like this lots of people recognize me. On the first day I covered about a third of the meet and bought a needed drive shaft tube, a couple of Hayes demountable clincher rims, and several smaller items.
Thursday, October 9, 2014
On the second day I covered another third of the grounds and picked up a few more good items. As usual, I saw a lot that I might have bought if it had been priced lower. I also saw a lot of wonderful old cars, some of them very rare and costly. In the evening I went to dinner with a crowd of other Model T folks and splurged on a meal that cost twice what I'm used to spending. If I ate like that very often, I'd soon be a big fatso again.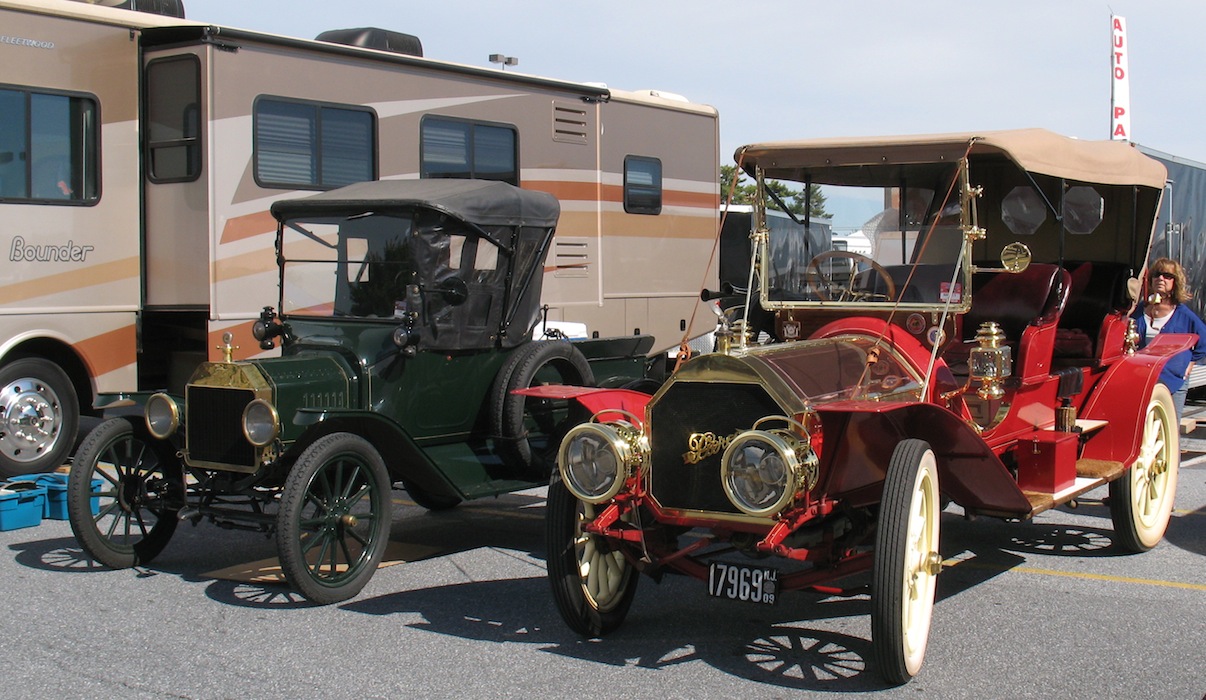 Friday, October 10, 2014
The third day dawned cool and cloudy. Some of the vendors had panicked at the mention of rain and fled early, perhaps haunted by the memory of last year's monsoon, but in spite of the overcast the rain held off most of the day. Again I found some good items at prices I was willing to spend. I even squandered $85 on a speedometer cable for my 1915 roadster, and $50 for a road gear. I'm reasonably sure I can use them both, but if it turns out I bought the wrong thing I can sell it at Chickasha next spring. About 2:30 a light sprinkle began. Folks started packing up their wares and the shoppers headed for the exits. I estimate the walk back to my car was about a mile, and fortunately the light sprinkle never developed into anything heavier. Thus ended my second Hershey meet. If I'd been able to keep at it until five, I would have covered the whole thing this time. As it turned out, my last purchase, a pair or front wheel hubs at $5 each, was from a guy who had a lot more Model T stuff at equally good prices. I'll make sure I get to him earlier next year.
| | | |
| --- | --- | --- |
| 1901 Locomobile | Erector set Eiffel Tower | One big Cadillac |
Saturday, October 11, 2014
The day dawned gray and drizzly. I checked the weather forecast, and it predicted an end to the rain before noon, but I decided not to wait and headed for home. Around State College the skies began to clear. In the evening I stopped for some good carnitas in Mansfield, Ohio, then drove on to a rest area west of Columbus and bedded down there. Tomorrow: the Model T Museum.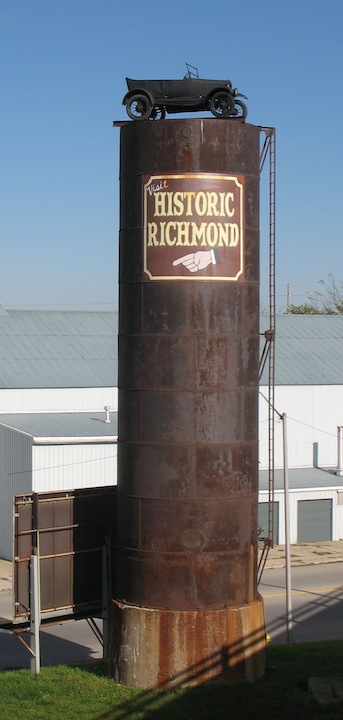 Sunday, October 12, 2014

My last full day on the road included a morning stop at the Model T Museum in Richmond, IN. I'm not taking the time for a full report while I'm on the road, but I'll post one picture. I was at the museum until half past noon, then I was on my way. The drive was uneventful but slowed by long stretches of construction in Illinois. About 4:30 I stopped in Vandalia and went online to research eating places in the Saint Louis area. I'm sure there are several perfectly fine restaurants around Saint Louis, but none of them are located near I-44. After wasting more than a half hour researching Saint Louis, I ate at a Chinese buffet in Vandalia. It was quite adequate for a little town of only about seven thousand. I drove on as far as Springfield, MO, and stopped there to refuel and snooze. I didn't notice how many miles I had covered, but it was probably over six hundred.


Monday, October 13, 2014

Awaking to a steady downpour in Springfield, I headed for home at reduced speed. The rain was so heavy that 60 mph was fast enough for me. Eventually it abated enough to let me drive at the limit.
I arrived home about 11:30 and spent most of the afternoon downloading and editing photos, reading the mail, and shopping for groceries. The forecast predicts clear weather tomorrow, so I'll unload the car then.





Tuesday, October 14, 2014

After dumping almost five inches of rain yesterday, the storm moved on and today was clear. That allowed me to unload my Hershey purchases. Those included: a tool box; a correct 1915 drive shaft tube; four wheel hubs; two Hayes clincher rims; a Ford oil can; three clevises; a Holley G carburetor; a hub odometer; sixty buffalo nickels for freeze plugs; a pair of valve stem covers; two New Day timer covers; several new small parts from R.V. Anderson and Lang's; a Stewart #1322 speedometer road gear; several small grinding and cleaning tools; another #2335 Ford wrench; a 54" Stewart speedometer cable; a lantern; a clock for my office. The clock turned out to be one of those slave clocks that works off a separate master clock. There's no easy way to set it except to plug it in at just the right time.





Wednesday, October 15, 2014
Today I filed all the receipts from my trip to Hershey, plugged in that clock, and fixed a ground in the roadster that had one of the coils buzzing continuously. I found that one of the terminal screws on the timer was touching the timer control rod, so I put a little compression spring on the rod to keep it away from the screw. That will work until I take time to bend more arch into that end of the rod so it will be even farther from the screw.


Thursday, October 16, 2014

I worked on the roadster today, attempting to get it started again. It was running well recently, then that grounding problem arose. So today I took the time to bend the timer control rod so it wouldn't touch that terminal on top of the timer, then I reset the timing. But even with the timing set properly and all plugs firing, I couldn't even get it to cough. I'll have to look into the carburetor and see if it's supplying enough fuel. Another job today was packing up and shipping the speedometer
cable
I got at Hershey to Arizona. A speedometer specialist there is sending me a correct shorter cable
and the correct other parts to add a 1915 speedometer to the roadster. Except for the cable, everything is unrestored so I can get the experience of doing the work myself, and perhaps learn something, and save a few hundred bucks.
Friday, October 17, 2014
I worked on the roadster a little more this morning, but I spent most of the day driving. I took my digital camera with a broken screen to Wichita for repair. I stopped at Lowe's and bought some air fittings that were out of stock here, then came home by way of Winfield expecting to register the new Camry. But no, the law has changed. Before I can register the car it has to be inspected. Inspections are done only for two hours on Tuesdays and two hours on Thursdays. I have to take the car to the Winfield police department and pay $20 cash. Thank you, Kansas legislature, for doing your part to make life interesting.


Saturday, October 18, 2014

None of the auction ads contained anything to attract me today, so after doing laundry I came home and spent most of the day sorting, labeling, bagging, and putting away small parts. I also tried starting the roadster again, and had no luck. With the front plug out to find the compression stroke and check ignition timing, I shined a light in the hole and saw that the top of the cylinder was soaking wet. So maybe I was just overchoking the thing and flooding it. I'll let it sit and try again tomorrow with only one pull on choke. For my regular Saturday evening in town I hit the Chinese buffet, then went to see

The Judge

. Robert Duvall is always excellent, as he was here, and Mister Downey was too. When the whole cast is excellent, as in this case, that tells you the director is doing a good job. This is a quality film.


Sunday, October 19, 2014

The day passed without much getting done. I wasted too much time playing online. I did try starting the roadster again, without success, and requested suggestions on the Model T forum. One was the possibility of
intake manifold leaks. That was quite possible, as I did have the manifold off when I replaced the freeze plugs. But after looking at the gaskets and finding they looked OK, I tightened the manifold nuts, and it made no difference. I looked again at the spark plugs and found them dry, so I tried pouring a little gas in each cylinder and putting the plugs back in. Still not even a cough. This is getting really exasperating.


Monday, October 20, 2014

It was catch-up day in the office. I spent all morning and part of the afternoon filing receipts and recording expenditures. I need to examine my expenses and see where I can cut back. I've been spending too much lately. All I had time to do in the shop today was take the carburetor off the touring car. I'm going to put it on the roadster and see if that will get the car started.


Tuesday, October 21, 2014

No soap. The exchange of carburetors wasn't the answer. About eleven I had to go to Winfield to have the new Camry inspected and get it registered, then I spent the afternoon working on the roadster. I've pretty much ruled out timing and ignition, and since the change of carburetors wasn't the answer I'll pull the intake manifold tomorrow and see if it's leaking.


Wednesday, October 22, 2014

Success at last! First thing this morning I took off the intake manifold. Examining the high-temp RTV and the new copper rings I installed recently, it appeared that everything had been well sealed. I cleaned off the used RTV, tossed the rings, and reinstalled the manifold with new RTV and new copper rings. The steel rings, of course, were perfect because the engine hadn't run since I put them in. Still no start. Next was gas. I've always been a skeptic about

The Bad Gas Theory

, but at this point I was perfectly willing to become a convert. I drained all the old gas out of the tank and carburetor. (By the way, checking the historical record I found that I bought it last April 22, six months ago to the day.) When I went to town I took along a five gallon can and filled it with fresh gas, and when I got home I put a gallon of it in the roadster. Still no go. After seeing a comment on the Model T forum about the big spark plug gap I didn't go as far as was suggested, but I did set them down to .30, which I believe is pretty close to Ford's recommendation. 1/32" I think. Still nothing. When I had the plugs out I noted that even after all the cranking they were still dry. So I took them out again, moved the crank a quarter turn past TDC so all the pistons were down in the cylinders, stuck an oil can spout in each hole, and gave each cylinder a squirt of motor oil. I put the plugs back in, choked, cranked again, and the engine fired up on the second pull. My temporary fix of the worn crank bushing had stretched, letting the fan hit the ratchet again, so I had to shut it off and attend to that. When I tried starting again, the engine fired once more and I let it run for a few minutes. So apparently the problem all along has been insufficient fuel getting into the engine. Now that the mystery is solved, sort of, I need to take some time away from this and get some other things done before the good weather goes south on me. But the question remains: Why wasn't a fresh engine with new rings sucking in enough fuel to start? I suppose that will improve as the engine is broken in and the new rings become seated in the cylinders. With that project at a milestone, I got back to working on the house. I need to remove the scaffold over the back porch and cut the sixteen foot one next to it down to eight feet, so this afternoon I started clearing wood scraps and other stuff off the tops.


Thursday, October 23, 2014

The day began with historical detective work. I've been curious about my 1915 roadster's back story, so this morning I decided to look into it. It turned out to be surprisingly easy. Three phone
calls soon had me talking to the son of the man who put the car together about forty years ago. He's going to lend me some pictures to copy, so maybe I'll have a shot or two of the car under construction. Knowing this car was put together from parts forty years ago doesn't bother me a bit. A Model T that's always been together and has all its original parts, and has any documentation to back it up, is such a rare critter that the percentage has to be in single digits. Part of the fun is tracking down the right parts to make the car closer to the nearly unattainable goal of "correctness". This one came with a lot of the right parts but I've also replaced some wrong ones, with more to go. That's all part of the game. After my historical effort, I started up the car and took a spin around the block (two miles). Now that I have it drivable I need to run it a bunch and seat those rings. I liked the way the car zipped up the grades. There are no low pedal hills, but a couple of slopes steep enough for me to notice the improved zip. I'll start using the car for trips to town and give the fresh engine its exercise. In the afternoon I attacked the scaffolds behind the house. I was going to unscrew the particle board decks on top, but they were so badly weathered that I was afraid of falling through. I'd rather break a few boards than my neck, so I decided to pull them over with a rope and dismatle them on the ground. I got the one on top of the porch pulled over and taken apart, and the particle board cut up and
put in the garage to dry for burning this winter. Tomorrow I'll get to the big sixteen foot scaffold behind the kitchen. I'd show some pictures of all this, but my digital camera is still out for repair.


Friday, October 24, 2014

Today I put in more time on the roadster than I intended. As before, getting it started took oil squirts into the cylinders and lots of choking and cranking. The unintended extra time came when I went for another two-mile drive and the car died a quarter mile from home. It was coughing and sputtering on hills, and finally quit coming up the grade toward home. The gas gauge showed less than a gallon in the tank. I walked home and brought back a can of gas in the Suburban and poured in all four gallons. A couple of guys passing by helped me get the car started and one of them drove the Suburban home behind me. The roadster ran fine with the extra gas in the tank, so I guess all the coughing and sputtering was just fuel starvation. But when I put the car in the shop I heard the ding ding ding of fan blades against the ratchet. So before the car runs again I need to install a new bushing so the crank will stay level and the ratchet won't be sticking up where the fan can hit it. I was going to remove some of the small trees coming up behind the kitchen and have them
out of the way for taking down the big scaffold, but I ran out of time. Everything takes longer than you think it will.


Saturday, October 25, 2014

$1.75 and a day wasted. I decided I wouldn't try to start this car again until I installed a new crank sleeve, so this morning I started that job. Trying to remove the old bushing out the front with the threaded rod press got me nowhere. I tried pressing it both directions with no luck. So I made a couple of hacksaw cuts and got it out that way. I wish I had my digital camera to show you this. Once the old bushing was out I could see why trying to press it out was futile. It had been tack welded inside the pan. So then came installation of the new bushing. I was able to press it in from the front about halfway, and no more. Stuck solid with about an inch and a half sticking out the front. And I do mean stuck solid. Even some heavy pounding with a twelve pound hammer failed to budge it. And of course I can't pull it back out either. I guess the plan now is to cut this one with the hacksaw too.


Sunday, October 26, 2014

This was the day to take down the sixteen-foot scaffold behind the house. I built it several years ago when I was rebuilding the upper roof. With that part of reconstruction done, shorter scaffolds are in order. For all the present work, eight feet will be the height. Before today's dismanting, I removed a lot of small trees that had sprung up around the scaffold. I cut off the littlest ones and dosed the stumps with tordon. The larger ones I pulled out of the ground with a chain and tractor. The next part of this job will be putting up a new scaffold east of the house for work on the living room roof.


Monday, October 27, 2014

Unless there's a huge weather surprise, I did the last mowing of the year this morning. I didn't have to mow the whole yard, just the part I missed last time. It got pretty shaggy, but now we're a month into fall and the grass is slowing down. Soon the temperatures will drop and the lawn will go to sleep until spring. Before the real cold blows in from the north, I want to get the living room roof finished, so I continued scaffold work this afternoon. I made one eight feet high and eight feet long. It will go in the middle along the east side of the house. North of it and south of it will be two others, ten feet long and seven feet high. I hope to have both of them done this week and get started on the roof.








Tuesday, October 28, 2014

With my digital camera broken on the last day of the Model T tour, I shot film with my old Canon F-1. I just got the film developed the other day, and today I spent all morning scanning the negatives into the computer, plus some photos of my roadster that were taken forty years ago by the former owner. The last picture on the roll of film I shot is of an old railroad water tower near the Model T Museum in Richmond, Indiana. Getting good sized pictures with decent definition takes setting the scanner to make large files, so each picture takes a few minutes to scan. A little after noon I got started on building the next scaffold to sit east of the living room when I rebuild the roof there. Some of the lumber from the big scaffold I took down behind the house is still usable, so I'm not having to use a lot of new lumber. I finished up today's scaffold and got it in place by 4:30. That's two done and one more to do, so soon I can get started on the roof.



Wednesday, October 29, 2014

Not much variety today. With time out for a trip to town to mail a letter, get celery, and buy lumber, I spent the day building the last scaffold. I got it almost done, and should get it finished and into place tomorrow morning. Then begins work on the roof.






Thursday, October 30, 2014





This was Wichita day. Last night I received an email notice that my digital camera was fixed and ready to pick up, so this morning I went to fetch it. While I was in the big city I stopped at a bearing supply and picked up some bronze bushings. One is for the starting crank in my roadster and the other three are to use in other Model T's. I tried to install a stock steel bushing, but it's stuck solid and won't go in all the way. So I'll cut it out and use the bronze one. My other Wichita stop was at a computer shop. The laptop I bought in March wasn't supposed to have a password, but somehow it did, and I didn't know what it was. So I had to get the mystery password removed. That turned out to be an all day enterprise. I spent the afternoon waiting. I took a nap and then finished reading Stan Howe's

Adventures of Herman and Freida

. About 4:30 I went in the shop to see about the computer and was told they were too busy to get to it, so I headed for home. I had just reached Rose Hill, about fifteen miles down the road, when I received a phone call telling me the computer was done. So I turned around and went back to get it. That adventure and stopping to get some grapes got me home about 6:45. It was a good thing I had my camera working again, because one of the young cats had got his head stuck in a broken jar, the perfect picture opportunity. He was surprisingly calm, but when I broke the jar to get it off that was too scary for him and he fled outside. I hope the experience will teach him not to get his head stuck in jars.


Friday, October 31, 2014

After being up late last night, I lazed in bed until after eight. I spent a good part of the morning scanning some old family pictures and sending them out with an email about next year's family reunion. In the afternoon I took the four bushings I bought yesterday into town and used one of the lathes at the juco to cut them down to the proper

length. I hope to get one of them installed in the roadster this weekend. I also finished buildiing the third and final scaffold to sit east of the living room when I do the roof. All that remains for the scaffolds is to put the sheeting on top and tack it down.





HOME
BLOG LIST
SEPTEMBER 2014
NOVEMBER 2014