Thursday, November 1, 2007
I spent most of the afternoon nailing up more shingles over the back door of the garage. This time of year I have to spend less time on chores like that because I have to bring in firewood to stave off the evening chill.
Friday, November 2, 2007
Done. I got the rest of the shingles up over the back door of the garage.
Saturday, November 3, 2007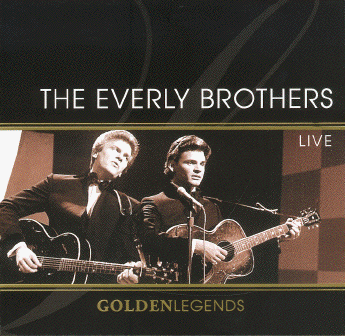 Here's another case where bargain disk is an apt phrase. This is another $5.88 collection of greatest hits. It starts with Bye Bye Love and proceeds through Wake Up Little Susie, Bird Dog, Cathy's Clown, All I Have To Do Is Dream, Let It Be Me, and eight more familiar songs from the sound track of my high school years. Don and Phil Everly's distinctive sound combined excellent two part harmony with astute choices of material. The result was a string of very big and very memorable hits.
Damn trailer lights! I spent half the day getting them to work right, and as soon as I got out on the road they went haywire again. I'm about ready to rip everything out and rewire it all myself.
Sunday, November 4, 2007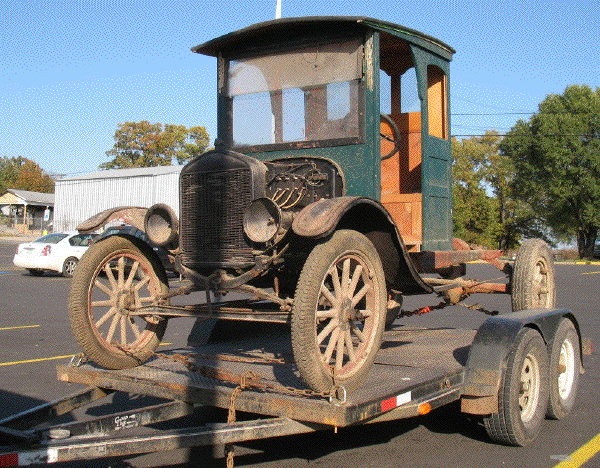 I left at 4:15 AM for Arkansas. I went down to check out a 1922 Ford Model TT which I had seen advertised. Along the way I figured out a ground connection that cured the trailer light problem. The truck turned out to be worth the trip. The main selling point for me was that the owner had already built a new maple wood cab for it. We loaded it on my trailer and I hauled it home. I got back at 11:50 PM, so it was a long day.
Tuesday, November 6, 2007
A neighbor came over and helped me unload the TT and roll it into the barn. Now comes the shopping for parts and the sandblasting and painting of a lot of pieces that need it. I also need to start looking for examples of what kind of bed I want to build for it.
Wednesday, November 7, 2007
I spent the afternoon online checking out sources for TT parts.
Thursday, November 8, 2007
This afternoon I went out to the barn and started making a list of TT parts I'll need. Fortunately, the list is not terribly long. I removed the ignition switch/ammeter panel to start the restoration. I think I'll restore one or two pieces at a time rather than try to do a lot all at once.
Friday, November 9, 2007
I saw an ad for free puppies in the paper and called the number today. There was one left, so I went and took a look. He seemed like a good ,one, so I came home and started setting up a fenced area. I'll bring him home tomorrow when I have the fence ready to keep him from wandering off.
Saturday, November 10, 2007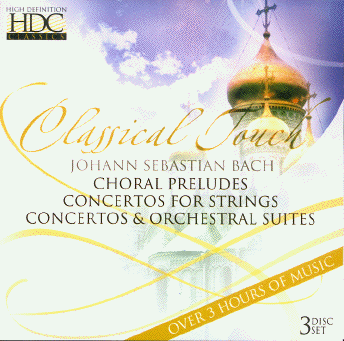 This has to be the ultimate bargain disc. Actually, it's a three disc set containing over three hours of some of the best music ever created. At the local Wal-Mart it was priced at $5.88. Disc 1, with the Saint Petersburg orchestra and soloists, contains Brandenburg Concertos #1 and #2, and Orchestral Suite #2 in B Minor. Disc 2 contains keyboard Comcertos #4 and #5, Violin Concerto #1 and the Double Concerto for Two Violins, Strings, and Basso Continuo performed by two Lithuanian orchestras and soloists. The third disc contains several choral preludes and organ pieces played by Bernardas Vasiliauskas and Leonidas Melnikas. While Beethoven is my favorite composer, I can appreciate this treasury of Baroque masterpieces,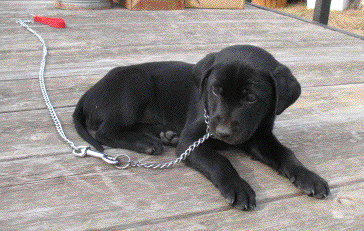 including the great Toccata and Fugue in D Minor.
This morning I finished fencing a pen and went to town to fetch the new dog. Since the last one had a name starting with A, I decided to go to the other end of the alphabet for this one. Here is Zeke. He went with me to a farm auction today. I bought a 1926-27 Model T wheel for $10. To get the one wheel I had to buy a pile of others that included a couple of Model A wheels and some unknowns. So the $10 for seven wheels actually amounted to $1.43 per wheel.
Sunday, November 11, 2007
I decided to potty train this new dog by the book, and bought a crate where he can spend the night to prevent piles and puddles in the house. I got a book on housebreaking which says the job should take just a couple of weeks. If it works, $20 for the book will be money well spent.
Monday, November 12
I did some online window shopping for various Model T items I'll need for the TT. It seems some things will be easy to find and inexpensive, some will be easy to find and costly, and others will be hard to find and costly or cheap depending on who has them. I ordered some printed catalogues because the websites are sometimes hard to navigate or don't work very well. Looking in a book is often easier and faster.
Tuesday, November 13, 2007
More online browsing, this time for tires and wheel clamps. I'll need a couple of rear tires, but the front ones look pretty sound.
Wednesday, November 14, 2007
I went up on the roof of the west porch to work on that window that I suspect has been the source of water leaking down inside the wall and dripping out over the bathroom door. I scraped off old loose paint and caulk and applied new caulk all around. Zeke went up with me. When I brought up the vacuum to sweep up the scrapings, I found that he doesn't freak out over the sound of vacuuming as so many dogs do.
Thursday, November 15, 2007
Little brother Mike arrived with his three Saint Bernards and small auxilliary dog this afternoon. Zeke was afraid to come out of his crate, but within a half hour he was playing with the big dogs like old pals. We dined at the local steak house this evening and were treated to the stench of cigarette fumes. I pointed out to one of the staff that having a smoking section in a restaurant, especially one where everybody is in the same room, is like having a peeing section in a swimming pool. She said the manager wanted to get rid of it, but corporate management wouldn't let him. Naturally, when I got home I looked up the corporate website and emailed a message expressing my opinion.
Saturday, November 17, 2007
I've always thought that if I could have any singing voice I wish, I'd want to sound like Jim Reeves. So when I saw this two-CD issue, I had to buy it. At $20.88 it's not in the bargain disc category, but the two discs each contain twenty songs. So two songs for a dollar is still not a bad price. The package includes a sixteen page booklet that contains a biography and gives recording dates and other details of all the songs. The recordings begin with Mexican Joe in 1953 and end with Angels Don't Lie, which was recorded a couple of months before Jim died in a plane crash in 1964. Thanks to smart producing by Chet Atkins, reissues of Jim Reeves songs and releases of unissued material resulted in a string of posthumous hits that went on for years.
While Mike took one of the dogs to the vet, I went to a farm auction. I came away with three boomers and a heavy chain for $37. That stuff would have cost about $200 new. I now have enough chains and boomers, so I can start concentrating on looking for other stuff.
Sunday, November 18, 2007
We took a drive up to Ellsworth to see our cousin and her husband who live there. She's pretty sure our great great grandmother was a Delaware. I once asked Dad's sister about that, and she was in total denial. Absolutely no Indians in our family, she said. Old prejudices die hard.
Monday, November 19, 2007
This afternoon I ordered some Model T parts for the truck, and so it begins. I think tomorrow I may start restoration on one of the rear wheels. If I can manage to do a little each week, maybe I can have the thing done in a year.
Tuesday, November 20, 2007
On second thought, the freezing temperatures in the forecast suggest I'd better get ready. So instead of working on the truck I covered up some water pipes to keep them from freezing when the cold arrives.
Wednesday, November 21, 2007
Mike helped me roll the TT out of the barn so I could move some stuff, then we rolled it farther back in where it will be in a better place for me to work on it. The cold has arrived. Yesterday at 4:30 PM it was 76º, and a half hour later 70º. The temperature went right on down to 20º overnight, and today warmed up to almost 40º. Wood hauling season has definitely arrived.
Thursday, November 22, 2007
We went to town for Thanksgiving dinner with cousin Irene and family. Spent the afternoon relaxing, then decided to eat in town and not cook. All the good places were closed, so we came home and had tuna sandwiches. Not bad.
Friday, November 23, 2007
Mike took off at 2:20 this morning, intending to drive straight home. He wants to make a fast trip to avoid hauling his arthritic Saint Bernard in and out of the car along the way. I helped him carry her in and out of the house, and it was like toting a pony. She can roll over on her own, but can't get up. Later in the day our family reunion committee of cousins met to pick a day for next year's reunion. We settled on June 7 for next year and early October again for the following year because no time of year is perfect for everybody.
Saturday, November 24, 2007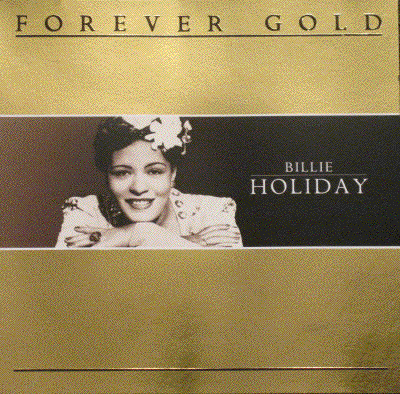 Here's another case where the term bargain disc definitely applies. For $5.88 you get 14 tracks of classic Lady Day. Her output was so extensive that this is just a taste of the recordings available, but it's quite a delicious taste. Some of the great songs here are Ain't Nobody's Business, It's Easy to Remember, My Man, Nice Work If You Can Get It, What a Little Moonlight Can Do, He's Funny That Way, WhenYour Lover Has Gone, I Got It Bad and That Ain't Good, Night and Day, and Holiday's own God Bless the Child. The one deficiency here is the lack of liner notes or even credits, but these tracks should send many listeners in search of more Holiday. There tend to be two camps of Holiday admirers, those who prefer her early upbeat performances of pop hits, and those who are moved by the emotion behind her singing in the final tragic years. Whether you end up in the first camp, the second, or love all her work, this is a very nice introduction to one of the great vocalists of the last century.
After a couple of hours splitting firewood, I got started on the TT this afternoon. I jacked up the rear and set it on stands, and took off one of the wheels. This will be a restoration from the ground up, meaning I'll start with the wheels. Instead of removing the wood spokes, I may try covering them with duct tape when I sand blast, so I don't run the risk of breaking anything.
Sunday, November 25, 2007
Today I wire brushed the rust off of some wheel parts, then took them to town and painted them. The oven where we cook signs at work is good for drying the paint on car parts.
Monday, November 26, 2007
I stayed after work for two hours today, wrapping the wood spokes of my TT back wheels with duct tape to protect them when I sandblast the hubs and felloes.
Tuesday, November 27, 2007
This afternoon I started sandblasting. The humidity is low, so the sand is dry, and the daytime temperatures are up in the fifties, so I need to get as much done as I can before the good weather goes south.
Wednesday, November 28, 2007
It was another afternoon of sandblasting. It doesn't look like there's a lot to do, but it turns out to be pretty slow going.
Thursday, November 29, 2007
And more sandblasting. The hubs and felloes are done, and today I finished one rim and one ring in two hours. That leaves the other rim and ring yet to go.
Friday, November 30, 2007
After going to the bank and the grocery store I didn't have a lot of time for sandblasting this afternoon, so Instead I gathered up used sand from this week's earlier blasting sessions, sifted it, and got set up for next time. By the time I did that and hauled in firewood for the evening, it was time for chow.