This morning's project was removing all the magnets and attaching hardware from my touring car's flywheel, cleaning off dirt and oil, and putting them all to soak in carburetor cleaner to remove more crud. I'm wondering about the magnet bolts. These have no holes for safety wire like the ones in earlier transmissions. Some say just clean them up and use them as is, but I'm leaning towards drilling them for wire. Knowing what can happen when something comes loose in a transmission, I'm inclined the err on the side of caution.


Wednesday, November 2, 2016

Window day.
I set out to install new glass in the kitchen back door. Both pieces were slightly too long to fit, so I took them to town and had the glass shop trim 1/16" from both. This being the first Wednesday, meaning a 10% senior discount at the liquor store, I stopped and picked up some heart medicine (port), then drove down to the casino and gassed up the car. The price there was 17¢ a gallon less than in town, partly because of Oklahoma's lower gas tax. When I got home I finished installing the new glass in the kitchen door and then went to work on the west porch door window. That one has six panes, and three are broken out. Most of the old putty had fallen out, so I removed what little was left. The tough part was removing the old window points. They were diamond shaped, which means the part sticking out was triangular and hard to grab with the pliers. Eventually I got them all out, and the frame all cleaned up and ready to put in the glass tomorrow.



Thursday, November 3, 2016

I wasted most of my morning trying to get a DVD to play on my computer. A couple of movies played normally, so apparently the problem was with the disk. The disk
is a collection of old family pictures sent by my cousin Karl. Along with the DVD he sent several prints, including this picture of me. 1950 is written on the back, but I think I look younger than nine. Maybe 1947 or 1948. I finally gave up on the DVD and got some work done. I installed the points and window putty on the window for the west porch door, then worked on magneto parts. The magnets, supports, bolts, washers, and clamps were soaking in carburetor cleaner for a couple of days, so I rinsed them and then put all the parts with any rust on them to soak in rust remover. I spent the last part of the afternoon making a checklist of magneto and transmission parts so I can be sure I have everything ready to go when I make my next trip to Mike's shop in Tulsa.


Friday, November 4, 2016

Now, that's better. I sold my share of the soybeans this morning, and got enough to pay this year's property taxes and house insurance. Most years the crops at least pay the taxes, but last year's wheat crop didn't bring enough to cover even half the taxes. This year's soybeans paid about twelve times what last year's wheat did, so I'm happy. Today's work in the shop was prepping magneto parts so they won't rust, and making checklists of all the parts needed for the mag and the transmission. I want to be sure I have everything when I go to Tulsa.





Saturday, November 5, 2016

Today's project was magneto parts. I weighed magnets and marked the weights on them, then mined another magneto for parts. When I have a full set of sixteen magnets all with weights only a couple of grams apart, I'll grind a gram or two off the heavier ones until they all match perfectly. That should help in balancing the flywheel.

This being Saturday, I went to town for dinner. That was especially enjoyable because La Fiesta was open after having been closed a couple of months for remodeling. The dinner of

enchiladas blancas

and

frijoles refritos

was a delight. After dinner came the movie,

Hacksaw Ridge

. One of the best movies I've seen this year. Well directed by Mel Gibson and well acted by the cast.










Sunday, November 6, 2016





How I spent my Sunday afternoon. This door to my shop is solid core and weighs a ton, but the core is particle board. Easy chewing for puppy teeth. She was making pretty good progress getting through it, so I took it down and did some reinforcing. I hope it will foil her efforts until she's past the chewing puppy stage.



Monday, November 7, 2016
This morning's first job was clerical, indexing digital photos so I can find them. I've finished January through May now, so that's five months done and five to go. I quit that about ten and went back to work on magneto parts. I rinsed the batch that's been soaking in carburetor cleaner since Saturday to remove oil and dirt, and put the smaller items to soak in Evaporust, then went to town for more to use on the magnets. The farm supply where I've been buying the stuff has switched to a WD-40 product that's supposed to do the same thing. I'll try it and see if it's as good. My afternoon project was building fences. I need to get serious about housebreaking this new pup. She has the impression that she can designate the indoor area of her choosing as a poop zone. So I'm making a pair of chicken wire fences to put across the living room so she can't get behind me and do the deed unseen. Keeping her where I can see her, maybe I'll be able to stop her and get her outside consistently so she'll get the idea.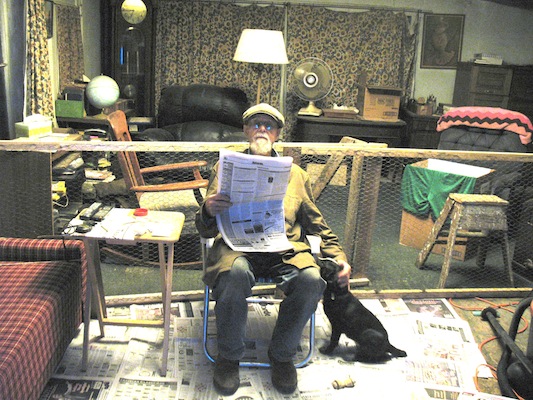 Tuesday, November 8, 2016
Today I finished my puppy fence and set it up in the living room, and covered the floor with papers. I brought the pup inside and all was well until I had to go, and while I was in the bathroom she made a pile in the kitchen. Aaarrgg
hh!
Well, if I have to go again when she's in the house, I'm putting her out.


Wednesday, November 9, 2016

60º isn't all that cold, but it was cool enough for me to turn on the heater in the shop this morning for the first time this fall. My automotive project of the day was magneto parts. I rinsed the magnets, clamps, bolts, and washers that had been soaking in rust remover since yesterday, prepped with phosphoric acid, and dried them all. Then I gathered a set of sixteen magnets that weighed from 389 to 394 grams, and ground a little off the heavier ones until all sixteen were 389 grams each. It's all part of balancing the flywheel. In the afternoon I mixed a couple of gallons of Cornerstone in the sprayer and went to attack a patch of honeysuckle in the woodlot. I don't mind a little of the stuff, but this is a pretty aggressive infestation that's been taking over where I want to have native grass. I'll give it a few days to die, then go back with the sprayer and attack what I missed today.


Thursday, November 10, 2016

This morning I scanned some pictures from the Ford parts book and printed copies to keep with my parts lists. Some names aren't obvious, and it helps to identify the parts if you have pictures. After a trip to town to buy tea, pay a bill, and buy some windshield screws, I got out the sprayer and attacked more honeysuckle. Leaving Shorty chained in the yard brought on a lot of yapping and whining, but she doesn't need to be with me and getting into the poison when I'm spraying. This evening it was cool enough for me to have a fire in the kitchen stove for the first time this fall. Tomorrow I'll set up a fan to circulate the warm air around the kitchen.


Friday, November 11, 2016

OOooops! I was on my way to Wichita for an 11 o'clock appointment with an eye doc. Then I looked at the appointment card and saw that it was for 10:00 AM. Drat! I had to reschedule. While I was up that way I stopped at the Big Tool Store in Derby and bought some carbide cutters. I thought I was going to use one this afternoon. I intended to go to the machine shop at the juco and borrow a lathe to make some cores for a magnet charger. Then I rememebred that it's a holiday and the place would be closed. So that project will wait until Monday. Instead I worked in the shop, getting parts organized. That's a never-ending chore.


Saturday, November 12, 2016

Gambled and lost. I spent the morning driving halfway across Okieland because I saw an ad for an auction in Hennessey. The ad mentioned a couple of milling machines, but I saw only one, and it wasn't what I wanted. Shorty was along for the ride, and when I let her out in case she needed to go she got a bunch of Texas burrs stuck to her paws. I spent about twenty minutes pulling all of them off. I got home about one, and took a walk to where I sprayed honeysuckle Wednesday. So far it all looks disapointingly healthy. If it doesn't start to wilt after a week, I guess I'll have to double the strength of the herbicide mix and hit it again. I spent the rest of the afternoon experimenting with balancing drums. Having read different opinions on whether solder can be made to stick to cast iron, I did a couple of tests and found that I was able to pull it off. I'm going to try the alternative of making weights to rivet on the drums.


Sunday, November 13, 2016

| | | |
| --- | --- | --- |
| Rocky and my "new" Jeep. | Kelso Dunes | Prickly pear in May |
| | | | |
| --- | --- | --- | --- |
| I spent the morning scanning slides. These were pictures of exploring the Mojave Desert in the spring of 1970. In the afternoon I got started on a project to disappoint squirrels. I've been hearing them in the attic over my second story office, so I need to install some metal siding up under the eaves to keep them out. To do that I'll need a ladder on top of a scaffold, so today I cleared away the little trees by the building. | Trim branches out of the way. | Mash them down. | Remove the tree. |
Monday, November 14, 2016
Looking at the honeysuckle I sprayed last Wednesday, I found it looking disappointingly healthy. It didn't show any signs of being affected by the Cornerstone. So I went online and did a little research. I found a video that recommended adding salt, dish soap, and vinegar to the solution. So I mixed up a couple of gallons and sprayed the stuff again. I read that the best time to kill honeysuckle is in the fall, so at least I have that part right. In the shop I worked on balancing a transmission drum. I think I have it solved, but I need to get more rivets when I go to town for groceries tomorrow. This evening I finished scanning the batch of 77 slides I started yesterday. I found that my scanner's software has a Restore Color setting, and it works very nicely. Some of these 46-year-old photos look pretty good.
| | | |
| --- | --- | --- |
| Fixing my broken Jeep. Hitting that big rock behind the door is what broke it. | Rocky the cave dog. | Sand storm on I-15. |
| | | |
| --- | --- | --- |
| Dry lake at Zzyzx. | Calico ghost town. | Almost done. |
Tuesday, November 15, 2016
This morning I made a Facebook
album
of those several dozen 1970 desert pictures. After a trip to town for groceries and more rivets, I finished balancing the low speed drum I started on yesterday. Then I took time out to box up sheet music. My aunt Ernestine was a church organist for over sixty years, and I'm giving seven boxes of her sheet music to the organ department at Wichita State. I'll never be an organist, so it might as well go where somebody can use it. I don't know what I'll do with the hundreds of romance novels she and Mary collected. Maybe I'll try eBay.
Wednesday, November 16, 2016
Halfway through November and 82º is pretty remarkable. It was one of those days to open the windows and let the outdoors warm up the indoors. I continued the project I started Sunday, inflicting disappointment on the squirrels. I brought one of the scaffolds from behind the house and made it a couple of feet taller, and set it up next to the shop. It's about eight and a half feet tall, so a ladder on top of it gets me up to the top of the wall where I can screw on pieces of steel siding to cover the squirrel holes.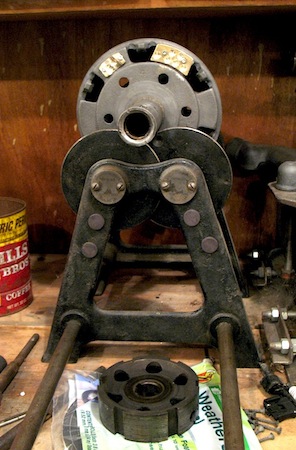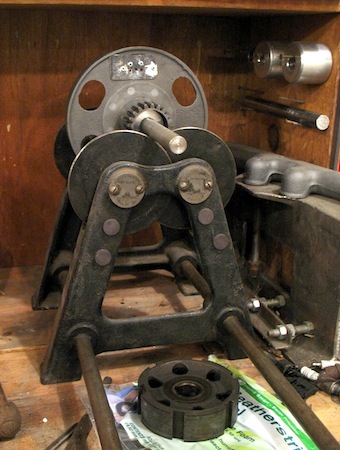 Thursday, November 17, 2016

First thing this morning I was going to buy some siding to cover squirrel holes, but the Suburban's battery was down. So I put a charger on it and spent the morning and part of the afternoon balancing transmission drums. With the battery charged, I went to Lowe's in Ponca City for siding. Why not buy it locally? There are two kinds, and the kind sold here doesn't match what's on the building. I got home about four and spent another hour on balancing. The brake drum and clutch basket are done, and the low gear drum is close. Another hole or two drilled in the weight should do it.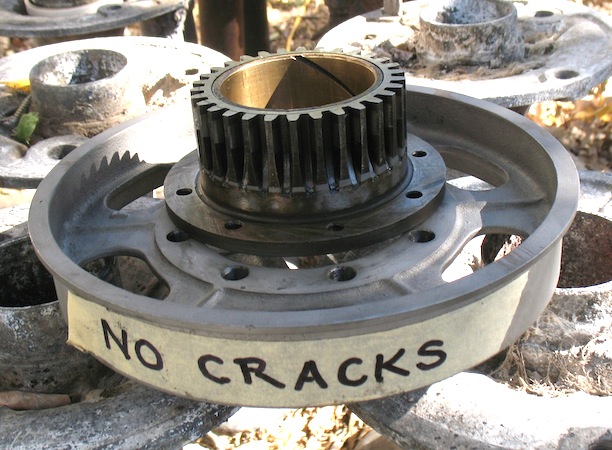 Friday, November 18, 2016
In the morning I unriveted a good gear from a cracked reverse drum, and a good drum from a chipped gear, and ordered new rivets to put the good gear and the good drum together. Reverse is the most delicate drum. It's not hard to find a good brake drum or a good low speed drum, but a good reverse is a scarce item. Of course I could buy a brand new one for $200, but as long as I can find a good one in an old transmission bought for $10 at an auction, I'll go with that. In the afternoon I did laundry, as I was down to my last clean sox.


Saturday, November 19, 2016

Did a little traveling today. First I drove up to Atlanta, at the north end of the county, for an auction where the ad listed a Model T pickup bed. It turned out that the bed wasn't Model T, but was home made. With no reason to stay at the auction, I went over to Elk county to look at a car. One of the Model T guys in Michigan asked me to check out a T that he saw in a magazine ad, so I went to a farm north of Howard to see it. The ad said it was a 1910 with a later engine. It turned out that the 1920 engine wasn't the only thing that was later than 1910. The whole chassis is from a later car, and so is some of the body. The owner said he's firm on his price, which is too high, so I think he's in for a disappointment. He also has a 1923 (?) center door sedan and a 1924 (?) coupe. These two cars both have later engines too. I took a lot of pictures I'll email to Michigan, and headed for home. On the way I stopped at the farm in Chautauqua County where my dad was born to take a couple of pictures for my cousin Karl who has been studying family history. The house is long gone, but some of the storm cellar remains.

Sunday, November 20, 2016
Never went off the place today. Mostly I worked in the shop, getting parts collected and ready to load them in the Chebby for my
next trip to Tulsa. I'm going to see Mike Bender on Tuesday, and we'll get some work done on my engine and transmission. We hope to have it all done by the end of the year.



Machining the transmission cover to install oil seals.





Turning a drive plate on the lathe to make it line up straight.

Monday, November 21, 2016

Morning was devoted to a trip to Wichita for a medical appointment. In the afternoon I continued getting things together for tomorrow's trip to Tulsa. In fact, that went on into the evening and I didn't get to bed until midnight.


Tuesday, November 22, 2016

Up at five and on the road at 6:15, I put in a full day. Mike Bender and I worked mostly on my transmission. A rebuilder today puts in a lot more time and attention to detail than the Ford factory did when they were turning out thousands of Model T's every day. One detail is balancing transmission drums. Ford didn't bother with it, but it's standard practice now. We got a lot done, and I brought home some things to work on before our next session. The drive to and from Mike's place is almost three hours, and I got home about seven.

Wednesday, November 23, 2016
All morning and well into the afternoon I was at the computer, catching up with several websites and chores. In the afternoon I got started on balancing a reverse drum. I got this one from Mike because the one I was going to use turned out to have a crack I hadn't noticed. I'll have to dig into my parts supply and see if I can find a good one to give him in trade. I took a walk to look at the honeysuckle I sprayed a couple of weeks ago, and found it still looking disappointingly healthy. We're heading into cold weather, so if the spraying I did doesn't kill it I'll hit it again in the spring.


Thursday, November 24, 2016

Much of the morning I worked on a new page for the website, then went to a Thanksgiving Day stuffing. My cousin Pete is a good cook, and she laid out a grand feed. This is one day during the year when one big meal is more than enough.


Friday, November 25, 2016

Today's
main chores were both work on the touring.
First was maskng and painting the hogshead (transmission cover). Second was trying to balance a transmission reverse drum. Not wanting to drill a part that's notorious for breaking, I'm trying to add material instead by installing extra weight held on the light side by steel pop rivets. The problem with the first attempt was the wieghts being a little too heavy. So I'm making another pair, smaller with more holes drilled in them to reduce weight.


Saturday, November 26, 2016
Job one was removing masking tape and paper from the hogshead I painted yesterday, and putting it in the oven to bake. Then I finished balancing that reverse drum. It takes a lot longer to do that than to tell it. Another chore today was the usual task this time of year, taking the ashes out of the kitchen stove and the living room fireplace. Saturday is my go-to-town night, so I didn't need to light any fires until tomorrow, but I went ahead and laid them anyway. Rain is predicted tomorrow, so I wanted to gather dry kindling today. When it's dry, I go out in the yard and find a dead branch with lots of twigs for kindling. It seems I never have any trouble finding all I need.





Sunday, November 27, 2016

A blustery day had me in the shop today, mostly working on transmission cover assembly. The low pedal didn't want to fit on its new shaft, so I used one of the adjustable reamers for the first time. I've had them for several years but never had occasion to use them, so it took me a few minutes to figure out how they work. I got the clutch shaft installed in the hogshead, and got the low pedal and shaft together, painted them and some other parts, and put them in the oven to bake. The last job of the day was putting away tools and parts, bringing a trace of order to the rampant chaos. There's a huge amount of sorting and organizing to do, because there are parts I'm sure I have and not a clue where they are.




Monday, November 28, 2016
Curses! A morning wasted. I set about trying to fix a clock in my shop. It quit working last spring, and at the Petit Jean swap meet in June I paid a dollar for another one of the same model which still worked. I was going to take the motor from the working clock, which looked pretty bad, and put it in the dead one, which still looked good. That sounds simple enough but when I disconnected the power cords the old paper insulation on the coils went to pieces and the tiny windings made of wire so small it's hard to see did the same. So now I have two dead clocks. To top it all off, I found that the original clock failure was due to a damaged power cord, and could have been fixed simply by installling a new cord. Drat. But the day wasn't a total loss. Shorty the dog has been feeling poorly for a few days, not eating and sleeping most of the time. A visit to the vet's office this afternoon revealed that she doesn't have parvovirus, so we've dodged that very expensive bullet. The doc suspects she has worms, and we'll go back Friday to get that treated and to get some shots.
Tuesday, November 29, 2016
This was the day to take care of a job that's waited a long time. I sharpened the chain saw and cut up a pile of branches that were stacked in June of last year. They made three boxes of firewood, which at the present rate will last over a week.
In the shop I did a little more cleaning up, and a little more transmission cover assembly.
Wednesday, November 30, 2016
Done, almost. I finished assembling the hogshead (transmission cover) except for the brake pedal, which I found was leaning to the right and hitting the side of the cover. I discovered that I was out of acetylene to fix it, so I went to town and got another cylinder, bought groceries, and gassed up the car. When I got home I hooked up the acetylene tank, heated the pedal shaft orange, and bent it straight. I wire brushed the repaired area clean and repainted it, and now it's baking in the oven. Tomorrow I'll install it and the hogshead will be ready to use.
HOME
BLOG LIST
OCTOBER 2016
DECEMBER 2016