Wednesday, January 7, 2015
The weather roller coaster dipped down today, with a high supposdly of 25º. It never got that warm here. It's always a few degress warmer in town than here, and I don't think we ever got up to 20º today. A stiff breeze from the north added to the fun. For me it was errand day, including a trip to winfield to pay the taxes on my trailer, buy a couple of jars of kimchi, and stop at the bank to pick up a few rolls of half dollars. I like to spend those along with dollar coins and watch the panic and confusion as the "associates" try to figure out what they are. I stopped at the liquor store for a case of heart medicine (port), and bought a couple of new oven mitts. I don't bake often, but when I do I want a mitt without any holes in it. When I got home I spackled the few places I missed on the new ceiling, and realized I had forgotten to buy paint. I'll get some tomorrow, and should have the ceiling painted tomorrow too.
Thursday, January 8, 2015
Most of the morning I was online, some of it entertainment but mostly researching Model T parts and antique fans. I have a couple of GE fans from 1916 and 1924, and a 1935 Westinghouse. All of them need restoring, and I wanted to find out all I could about them before I start. I'm using the Westinghouse in the kitchen to circulate warm air from the wood stove, so I'll do the others before I start on it. This afternoon I went shopping for weatherstrip to use on the garage doors in my shop. I need to eliminate some cracks and save some gas. Today was going-around-and-looking day, seeing what's available at different stores. Of course when I found the product I like best, there wasn't nearly enough of it to do the job. I'll pester the manager there to get busy and restock.
Friday, January 9, 2015

This morning I tried to make an adapter to use a tire pressure gauge as a compression tester. The approach I thought would work didn't, so I'll redesign and try again. When I went to town this afternoon I picked up some weatherstrip for the big shop doors. The store didn't have enough of what I wanted, so I'll have to do part of the job and finish it next week after they restock. My main chore of the afternoon was setting up the sawhorses south of the shop, out of the wind, and cutting up those scrap boards I set inside and denailed last Saturday. Those will provide some of my evening heat for a few days.


Saturday, January 10, 2015

After doing laundry I drove over to Oxford to see if Ken and Rick were sellling anything at the auction that I cared about. Nope. I came home, put away the laundry, and spent a big chunk of the day indexing photos. I'm now done through November, with only December and this month so far to go. In the afternoon I started painting that new ceiling in the middle room, and was reminded why you're supposed to prime sheetrock. That stuff really soaks up the paint.


Sunday, January 11, 2015

All morning I slaved over a hot computer. Well, I did spend too much time playing online, but I also finished indexing all the pictures,
up to and including the ones I took today.
This
afternoon I finished priming the new sheetrock ceiling in the middle room of the shop building.
Tomorrow I'll paint it with ceiling paint. I don't know how that's different from wall paint, but that's what it's
called. Splitting and bringing in firewood and going to town for groceries finished the day.
Monday, January 12, 2015
This was the last day for painting that new ceiling, but not quite as I expected. Soon after I started painting I realized that there was no discernable difference between the primer and the ceiling paint. So I decided that the primer will BE the ceiling paint. Job done, and I moved on to other things. The main other thing was dealing with air leaks in the shop. I caulked cracks around a door frame, then tackled the big doors. They have a considerable gap across the top, and the cold air blows in. Naturally the weather strip I'm using isn't wide enough to cover the gap, so I have to improvise a strip of steel that will screw onto the door and cover most of the gap to support the weather stripping. The strip should be 1 1/4" wide, but that size is made of unobtainium. My choices were 1", too narrow, or 1 1/2", too wide. So I had to buy the 1 1/2" and grind it down to 1 1/4". I spent most of my afternoon grinding.
Tuesday, January 13, 2015
Most of the time today I worked on the door weather strip project. Lots of measuring, grinding, cutting, drilling, etc., etc. It's pretty slow going. I'm about half done with the top of the north door. After I finish that I have to do the sides, then the top and sides of the south door. If my gas usage and my bill are reduced, all the hassle will be worthwhile.



Wednesday, January 14, 2015

After my customary morning email and website checks, I got back to work installing weather strip on top of the north door. There was a lot of going up the ladder, marking where to drill, going down the ladder, drilling, threading holes, cutting pieces, going up the ladder, putting in screws, etc., etc. I finally had it finished about a quarter after one. I made a trip to town and got more steel for the south door, came back and split firewood for a couple of evenings, and got dinner. I don't cook much, but tonight I used the last of the eggs I bought a couple of weeks ago to make cornbread, an old favorite treat.


Thursday, January 15, 2015

Another morning on weather strip, this time on the south door, took less time at the grinder than the north one did. I got the steel strips cut, ground narrower where they needed it, holes drilled, and screwed in place. In the afternoon I had to go to town for a dental appointment, to buy celery, and to get more weather strip. When I got home there wasn't time to get much done except bring in wood for the evening. Tomorrow I should get the top of the south door finished, then I can start on the sides. I did find time to set a slow hose going on some of the little trees I planted last year. I've been waiting for this warm weather to arrive and thaw the hose so I could water. So far the winter has been colder than usual, but also mighty dry.




Friday, January 16, 2015
It was a doors-open day. About 2:30 I checked temperatures and found that the thermometer behind the house read 54º and the one in the kitchen said 45º. So when we get a warm winter day like this I prop open all the doors and let that south breeze blow through the house and push out the cooler air. This morning I finished weather strip on top of the south shop door. Each door is made of four segments, and a little breeze comes in between segments. So when I went to town this afternoon I got foam strips to go between them. I still have to do the sides, but just having the tops done and foam strips between segments will be a big improvement.
Saturday, January 17, 2015
After a drive to Winfield to check out a couple of auctions, neither one worth staying, I worked on two main projects today. One was installing the foam strips between segments of the big shop doors. The other was to start making shelves for the middle room of the shop building. That one is likely to go on for several days. With the warm weather we're having now, up into the fifties and sixties, I'll be taking time out for some yard work.
Sunday, January 18, 2015
After doing some more of my ongoing major project, cleaning and organizing my shop, I went outside and did a little on the house. I moved a scaffold from in front to behind the house, where I'll use it when I repair the back porch and the upstairs wall. With warm weather here, I decided to take the roadster for a drive. I spent over an hour trying to get it started and finally gave up. I tried all sorts of adjustments with two different carburetors, checked the plugs and the timing, and did a lot of cranking. It tried to start a few times, but always died immediately. With all the choking I did, I thought maybe I had flooded it, but the plugs were dry. I suspect fuel starvation, but I can't figure out what's causing it.
Monday, January 19, 2015



I never went off the place today. One of the guys from the Model T forum reminded me that the rings in my fresh engine might not be seated yet. That would keep it from sucking in enough fuel from the carburetor. So I pulled the plugs, squirted some oil into each cylinder, replaced the plugs, choked a couple of turns, turned the switch, and pulled the crank. The car started right up with no trouble. But I noticed a ding ding ding from the fan hitting the ratchet. So I shut it off, got on the phone and ordered a longer fan belt. My other job in the shop today was sorting carburetor parts. In the afternoon I enjoyed the beautiful weather sawing and splitting firewood.




This evening somebody suggested that everyone should post a picture of his shop on the forum, so I took this shot.

Tuesday, January 20, 2015
I made it rain today. I did it by spending the last three days watering all the little seedlings I planted in the fall. Before the weather arrived I put tarps over most of the wood I cut yesterday. I think what I covered will be enough to last a couple of weeks. Most of it is from the big old tree that fell down in November. My other outside chore was moving a scaffold from the east side of the house and setting it up next to the other one behind the house. Now I'm set up to begin work on the upstairs back wall and the back porch roof. A couple of indoor jobs were taking the too-short fan belt off the roadster and making an adapter for using a tire pressure gauge as a compression tester. I forgot to buy a little hose clamp for it when I was in town, so I'll have to wait until I can get one tomorrow to try it out.




Wednesday, January 21, 2015

Again I spent too much of my morning playing online and didn't get busy until eleven. I did some cleaning up in the middle room of the shop and got a little done on preparing to build shelves, but had to go to town for lag screws and shields to fasten the shelves to the wall. In the afternoon I got out the hammer and wedges and split some more of the wood I cut Monday. I was in my office checking email when I heard lots of excited barking right outside. When I went out to see what all the fuss was about, I found Daisy pestering a young raccoon. It soon climbed to a safe spot in the big oak tree by the shop and stayed there until she went away. Back inside, I found one of today's emails was an offer fromVerizon to lower my phone bill. I spent over an hour in live chat with one of their agents. First I had him talk me through the steps to set my phone to block text messages. I don't send them, and I have no desire to pay for receiving any. If anyone wants to reach me they'll have to do it the old fashioned way and just talk. Then I had him put me on the new cheaper plan. Supposedly it will cut my monthly bill to less than half of what I've been paying. If it really does, that will be a good thing. We shall see.


Thursday, January 22, 2015

This morning I ran a compression test on the touring car, shot some pictures of my improvised tester, wrote a little piece about it, and sent it off to the

Vintage Ford

editor. It's been months since I sent him anything, but not because I haven't tried. Occasionally I'd have an idea and try it, shooting pictures of each step, but then reach a point where it didn't work. But this one was simple and worked exactly as intended. The first test results were consistent, 35, 35, 36, 35, but low. Good compression for a Model T is 45 to 50 pounds. With a bit of oil squirted in each cylinder, I got 37, 38, 40, 47. It's best to do a compression test with the engine warm, so tomorrow I'll run it a bit before testing and see what results I get.


Friday, January 23, 2015

Today I got a little done on installing shelves, drilling holes in the concrete block walls and using lag screws and shields to attach boards to the walls. In the afternoon I had to go to town for dog food and to buy some lumber for the shelf project. I also gassed up the car for tomorrow. In the morning I'll be off to the midwinter Model T seminar in Hutchinson. It's always informative and interesting.





Saturday, January 24, 2015

As usual, the midwinter clinic was enjoyable and educational. In the morning and part of the afternoon Mike Bender discussed and showed engine and transmission rebuilding and assembly, then Larry Sigworth ended the day with a presentation on racer /speedster history and features. For my own use I prefer a stock Model T, but it was interesting to see the modifications on the speedsters on display.




On the way home I stopped in Wichita for a movie and dinner. The
movie was
The Imitation Game
, which is excellent. The Oscar nomination is no surprise to me. It's well written, beautifully directed and shot, with wonderful performances by a great cast. After the show I was going to dine at a nearby Chinese place, but found it had closed. Except for 김치 at home, it's been ages since I had any Korean food, so I drove down to Manna Wok and had some tasty 잡채.
Sunday, January 25, 2015
My only accomplishment today was getting some work done on the new shelves. A visit by my cousin Wally and a trip to town for groceries were the only other notable events.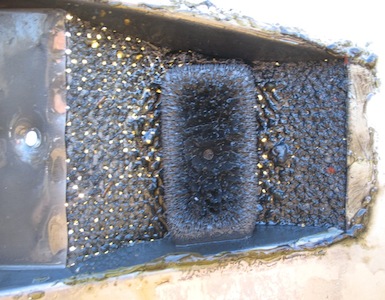 Monday, January 26, 2015
It was such a nice day that this afternoon I took the 1915 roadster out for a test run. I went around the block (two miles) and all was well, so I went around two blocks (another three miles). The car had no trouble pulling up the slopes except for one steep spot that takes a bit of low gear near the top. In driving I found that when I adjusted the transmission bands I was too conservative because I didn't want to get them too tight, and they needed more adjustment. When I took off the transmission cover to adjust the bands I checked the oil screen and found that it had caught a lot of debris, including a lot of iron particles on the magnet. New rings in a fresh engine produce that kind of debris as they scrape the cylinder walls and wear in to seat properly. Until the rings are seated, I have to pull the spark plugs, squirt a little oil in each cylinder, replace the plugs, and pull the crank to start. When the rings are seated enough for fuel to be sucked in from the carburetor I won't have to resort to the oil trick to get started.


Tuesday, January 27, 2015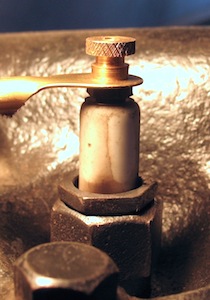 The day began with a visit to the clinic for my annual checkup. It seems I'm in pretty good shape for the shape I'm in. I do have a little bump on my head that's another skin cancer, so I have to go back next week and have it carved off. Otherwise no problems in the health department. When I got home I spent most of the day on car work. The first car was the roadster. I went through the oil-in-cylinders ritual and got it running to warm it up for an oil change. While the car was idling I heard the telltale sound of a compression leak. I found that a couple of the spark plugs had loose top collars, letting compression escape around the insulators. Soot on the insulator shows that the collar is loose. So I tightened those, changed the oil and retorqued the head bolts. When a new head gasket is installed you have to torque the bolts to 55 foot-pounds. Then after running the engine you have to do it again, and again until they reach 55 without turning. I ended the day with the other car chore, changing the oil in the Camry. Changing the oil isn't hard, but the filter is another story. It's located where you can't get a normal filter wrench on it. I'll have to make my own filter wrench that will reach up in there and grab the thing, and change it later.
Wednesday, January 28, 2015
It was a day for family. My cousin Wally and I went to Salina for the memorial service for our cousin Doris Ann, who died last Friday. It was a sad occasion that brought us together, but it was great to see and visit with the relatives, some of whom I haven't seen for decades. I'll be back to work tomorrow.
Thursday, January 29, 2015
And so I was. That work was on the new shelves. I made good progress, and in a few days should be filling them up.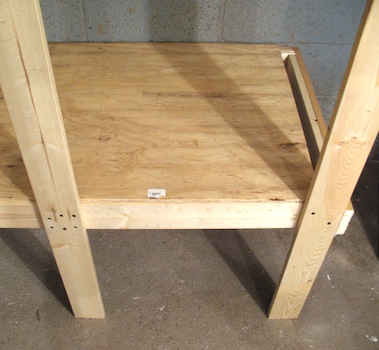 Friday, January 30, 2015
OOOoops! I assumed that the plywood I had was a full eight foot sheet, so that's how long I made the frame for the shelves. It turned out that the plywood was a couple of inches short. That's OK. I'll use it somewhere else. I have another sheet that really is eight feet. Afer seeing this I measured it to be sure. I finished the bottom shelf today, and the one above it will be part of my weekend. I had to quit a little early today and move some things inside. The forecast claims we're going to have rain, starting tonight. I hope it will be the long, slow, soaking kind we need.

Saturday, January 31, 2015

What a great day! Light rain started early in the moring and went on all day. It was never heavy, just a steady sprinkle that soaked into the ground, and in the evening it became heavier. The winter so far has been colder than usual, but awfully dry, so any moisture is appreciated. I spent most of the day at an auction in Winfield. As usual, I came away with a few bargains and without several things that other folks wanted more than I did. I got a couple of new oil filters for $1, a radio for $5, a wall clock for $1, and a roll of R-11 insulation for $7.