Sunday, January 1, 2017
I kicked off the new year with fresh magnets for the roadster. Taking them off the flywheel one at a time, recharging them and putting them back before doing the next, I got them all back where they began. Before the recharge they would hold up a two-pound weight, which is the minimum of what they're supposed to do. After flashing them with the new charger they all easily hold a four-pound drum
puller, so I'm satisfied. I plan to take the magneto and other parts to Mike's on Tuesday, and we may get the engine and transmission back together. If so, I should have the roadster
ready to drive again before the end of the month.
Monday, January 2, 2017
Today's main job was cleaning old gasket material and sealant off the roadster's oil pan and transmission cover, and getting them and other parts loaded in the Sububran to go to Tulsa. I talked to Mike by phone and we decided on Wednesday as our next work session. I found another transmission to take apart, so I brought it over from the barn this afternoon and got started on it. If I can get it dismantled tomorrow, I'll have three reverse drums I can take to Mike's to sandblast and see if they're any good.


Tuesday, January 3, 2017

After time out for bill paying, I dug into that transmission. A good look at the drums reminded me why I hadn't done anything with it before. The reverse drum has a great big crack. Oh well, at least the clutch disks look like they're usable.


Wednesday, January 4, 2017

A full day. At 5:55 AM I was on the road to Tulsa, arriving at Mike Bender's about nine. We worked on the roadster engine from nine to five, and I got home about eight in the evening. I'll be going back in the morning.


Thursday, January 5, 2017

Another one. Again, I was on the way at six, worked nine to five on the roadster engine and transmission, and got home a little before eight PM. I hope one more session on Monday will finish the thing and I can bring it home.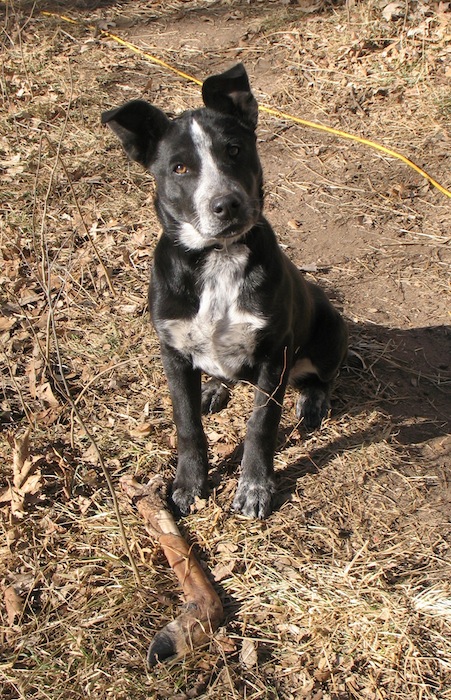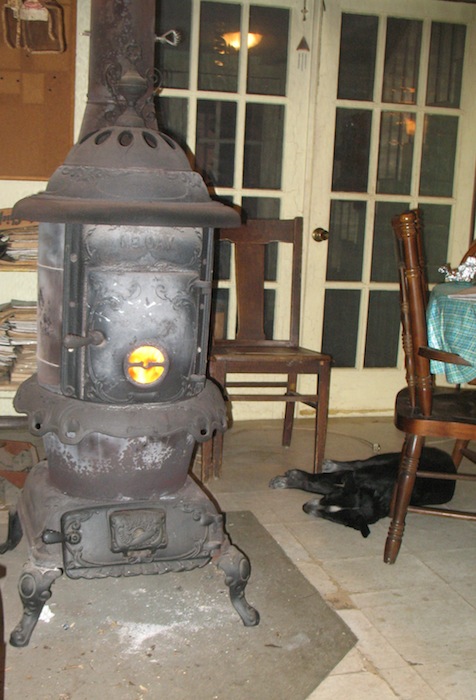 Friday, January 6, 2017

Taking a break from shop work surrounded by six hours of commuting, I paid bills, did the grocery shopping, and brought in firewood. We're having real winter now, with today's high being 20º, but warm weather in the fifties and sixties is in the forecast for next week. Then I'll get out with the chain saw and bring
more wood up to the house. Today I got a photo of Shorty enjoying a tasty treat she found somewhere, and a domestic scene of the faithful dog basking in the warmth of the kitchen stove.


Saturday, January 7, 2017

In the morning I played online a bit, then finished indexing the last of my 2016 digtal photos. Having the index makes it a lot easier to find a particular picture, if I can remember what I called it. In the afternoon I took out the magneto parts that have been soaking in carburetor cleaner since Friday last week, rinsed them, and put them to soak in rust remover. My Saturday movie night involved another drive to Wichita. I went to see

La La Land

, but when I arrived at the theater the show was sold out, so I saw

Hidden Figures

instead. It was not a disappointment. It's one of the few movies I've seen where the theater audience applauded at the end.


Sunday, January 8, 2017

Don't
you hate it when that happens? One of the headlights on the Suburban had a dead low beam. Working on it at 35º with a stiff wind blowing made my fingers so cold and numb I couldn't hold onto small parts like body screws. Fortunately, cleaning up the bulb contacts got it working again and I didn't have to buy a new bulb. Some of the metal clips that hold the mounting screws are missing, and I found that new ones cost 83¢ each! For that kind of dough I'll make my own. I only need a few, and I can get by temporarily with just the two that are there.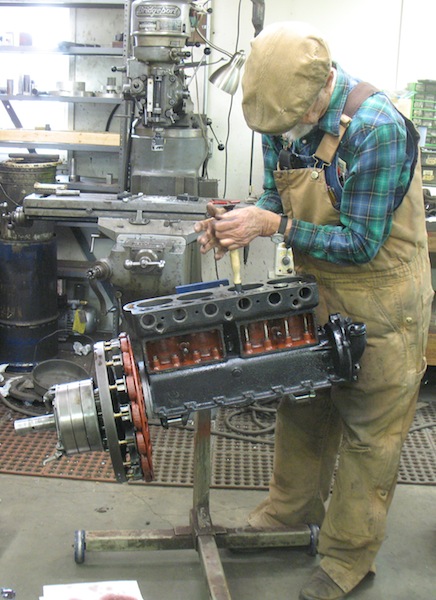 Monday, January 9, 2017

On the road at 6 AM again, I was at Mike's in Tulsa by nine and worked on the roadster engine until six. We assembled the transmission, I installed, seated, and adjusted the valves, and we put on the pan and the transmission cover. The final job of the day was patching a little crack in the head which had produced a little coolant leak, but was easily filled with Belzona. If the stuff works as advertised, it will outlast me. I finally got home a little before nine PM. Driving in the dark today showed that I didn't fix my dead headlight after all. It worked, then it didn't. So the problem wasn't dirty contacts afer all. Somewhere there's a loose connection. I'll have to investigate and find out whether the problem is at the dimmer switch or in one of the wires.


Tuesday, January 10, 2017

Sleeping late and arising by daylight, I made one more trip to Mike's. I arrived at noon, loaded up the roadster engine and parts, and headed home at one. From my place to Mike's house is 140 miles, so I've been commuting 280 miles on the days when I've gone there to work on my engine. The drive one way takes 2½ hours. I'll be taking a rest from that for awhile, then we'll finish up my touring's engine/transmission. Mike has a giant magnet charger he wants to try on my magnets, so I'll be interested to see if he can get them to hold more than the four pounds I got with my home made charger.


Wednesday, January 11, 2017

Heat wave! 63º at 2 PM. I unloaded the roadster engine out of the Suburban and got it into the shop, then I spent the afternoon with the chain saw, first cutting up a fallen dead tree and then turning some long branches into firewood. They've been waiting for over a year, so they should be dry enough to burn. About a third of the pile filled three boxes, so there's plenty more to cut. Tomorrow is supposed to be colder, with a high of 42º, but maybe I can brave the chill long enough to cut up the rest of the pile. I was delighted to find that a lot of the honeysuckle I sprayed in the fall is now dead. To use one of my favorite clichés, I am a happy camper. Now that I know the formula works, when the plants wake up in the spring I'll get out there with the sprayer and attack what I missed in November.


Thursday, January 12, 2017

In the shop I removed magneto parts that had been soaking in rust remover, rinsed them, and prepped them with phosophoric acid. I'm not delighted with the results. The rust remover is worn out and doesn't get rid of all the rust. At $20 a gallon it's a pretty pricy method of rust removal. I need to get busy setting up a blast cabinet so I can sandblast small parts like that indoors. Of course, to set it up I'll have to clean out a place to put it. By three this afternoon the outside had warmed up to almost 40º, so I got back to cutting firewood, finishing another third of the pile I worked on yesterday and filling three more boxes. The rest of the pile will probably need to wait until after the coming winter weather is over. The forecast claims we're getting rain and ice this weekend. Next week will be soon enough. I have plenty of wood in the garage.


Friday, January 13, 2017

Well, I found it. The engine inspection cover from the roadster seemed to be missing. This morning I found it lying where I left it on the running board, hidden by a bag of sox. Now I have to find the valve covers. I saw them recently, but I don't remember where. Sigh...







Saturday, January 14, 2017

With the outdoors being wet and dismal, it was all indoor shop work today. I installed the inspection cover on the roadster engine, removed the rivets from the broken top socket, and hit a roadblock on that job. With the rivets out I was able to see that the wooden top bow doesn't extend far enough into the socket for the rivets to have been holding it. That suggests to me that it's being held by the resin material that was used to fill the socket. So I'll need to figure some way around that. More of that adventure later. I spent most of the afternoon cleaning, sorting, identifying, labeling, and bagging transmission and magneto parts.




Three rivets to remove. That was the easy part..


Sunday, January 15, 2017

Victory! At last I got the top part of the broken top socket
off the wooden bow. I bolted on a piece of angle iron and gave it a few good whacks with a big fat hammer. Now I have to remove a rivet to get the bottom part off, and then I can take the pieces to a Model T friend who is a retired body man. He should be able to get the pieces back together good as new, maybe better.


Monday, January 16, 2017

More success. Today I drilled and punched out the last rivet to remove the other piece of broken top socket from the car, then used the drill and chisel to get all the resin out of one part, and enough out of the other part to have it out of the way when repairs are made.


Tuesday, January 17, 2017

Well, that was a nice surprise.
The weekend storm left three inches in the rain gauge. It never came down hard, just slow and steady, soaking into the ground. That's the best kind. With the sun out and shining brightly, I went to where I was cutting up logs and branches last week and stacked them
crossways to get most of them off the ground to dry out. I'll go back with the chain saw later in the week and finish the cutting. All I got done in the shop was a little bolt tightening on the roadster engine before I had to go to town for a dental appointment, grocery shopping, and a few other errands.


Wednesday, January 18, 2017

Did a little cleaning and organizing in the shop, worked a little on putting the proper bolts on the roadster engine, and went to the machine shop at the juco where I finished a shaft for my wheel-painting jig. Those new wheels have been waiting for paint for a long time, and I need to get this thing finished.


Thursday, January 19, 2017

In the shop I worked a little
more on my wheel-painting apparatus and did a little more cleaning up and putting away.
After a trip to town for celery and a gallon of rust remover, I brought out the push mower and attacked more of the dead johnson grass across the road. There's more to do, but if I hit it whenever there's sufficiently decent weather I'll have it gone by spring. After an hour of mowing I went back to the pile of logs and branches I was cutting up on Tuesday and finished the pile. I'll haul it all up to the house whenever I can get the truck to move. Yep, stuck again. The ground is wet enough to make the slick tires just spin. The forecast claims we're going to have dry weather for awhile, so I hope the ground will set up enough for some traction without a lot of jacking up and putting branches under the wheels.
Friday, January 20, 2017
The centerpiece of today's activities was another trip to the machine shop to turn another axle shaft for my wheel painting apparatus. Why two axles? One for front wheels and another for rears. It's easier to change axle shafts than to make adapterss for both kinds of wheels to fit on one. I tested a motor I found in the east end of the shop and found that it will work, and I cut four pieces of angle iron to make the hardware to hold the motor. Maybe I'll get this project finished in the next week or so.


Saturday, January 21, 2017

It was a short work day, spent making the motor support for my wheel painting rig. I quit early for a drive to Wichita to see

La La Land

. It was well worth the trip. Excellent performances by Ryan Gosling, a wonderful actor,
and Emma Stone, who is simply amazing. She could have been a star in silent movies. She doesn't need words.


Sunday,
January 22, 2017
Laundry used up the morning. After that I drove over to Oxford to see if the Patterson auction was selling anything I wanted. Nope.
In the afternoon I took a little walk to the woodlot and checked out my stuck truck. There's water standing in the tracks. Apparently that's a place that gets boggy when it rains. The forecast claims
we're about to have a couple of weeks with 10% or 0% chance of rain, so maybe I'l be able to drive the truck out of there in a week or so.


Monday, January 23, 2017

Almost done. I installed the motor on my wheel-painting rig, did the wiring, bought a belt, and tried it out. Seems to work OK. I still need to make a few pieces of hardware to keep the bearings in place, then the thing will be ready to use. I should be ready to paint some wheels within a week.


Tuesday, January 24 2017

This is Kansas. At 5:15 PM the weather guy on TV said it was 46º in Wichita. The thermometer outside my kitchen window said it was 64º here. Meanwhile, in Goodland it was 28º. That's how it is here. Big changes in a hurry. How did I take advantage of the warm day? In the morning I had an appointment with my doc for the annual checkup to see how closely I'm circling the drain. When I got home I fired up the mower and again attacked the dead johnson grass across the road. I had expected to do it in two or three sessions, but I kept at it and had nearly all of it done in an hour. All that remains is a couple of small patches by the fence. For the last hour I stacked branches. Last fall one of the guys who used to work for me was
looking for some cedar logs, so I let him cut a couple of trees where I intend to return the area to pasture. I was glad to have the little bit of help with the clearing job, but he and his boys left the branches sort of spread out at random. I want them in separate and distinct piles so that when burning time comes I can burn the piles one at a time and avoid things getting out of control. If Daniel wants to cut more trees, I'll say yes. But I'll show him where and how to stack the branches.


Wednesday, January 25, 2017

Never went off the place today. I spent the day in the shop sorting and organizing. There's so much to do I hardly made a dent, so
I'll do more of the same tomorrow.


Thursday, January 26, 2017

And I did. Never going off the place again, I spent another day in the shop fighting the mess. That included organizing spark plugs and putting away some of the stuff I bought at Hershey a year and a half ago.


Friday, January 27, 2017

One more day in the shop, with only enough time out to bring firewood into the house and lay the evenineg fires. I finishd the spark plug sorting and got them all shelved, relocated the shop radio for better reception, and sorted, labeled, and put away a lot of other small parts.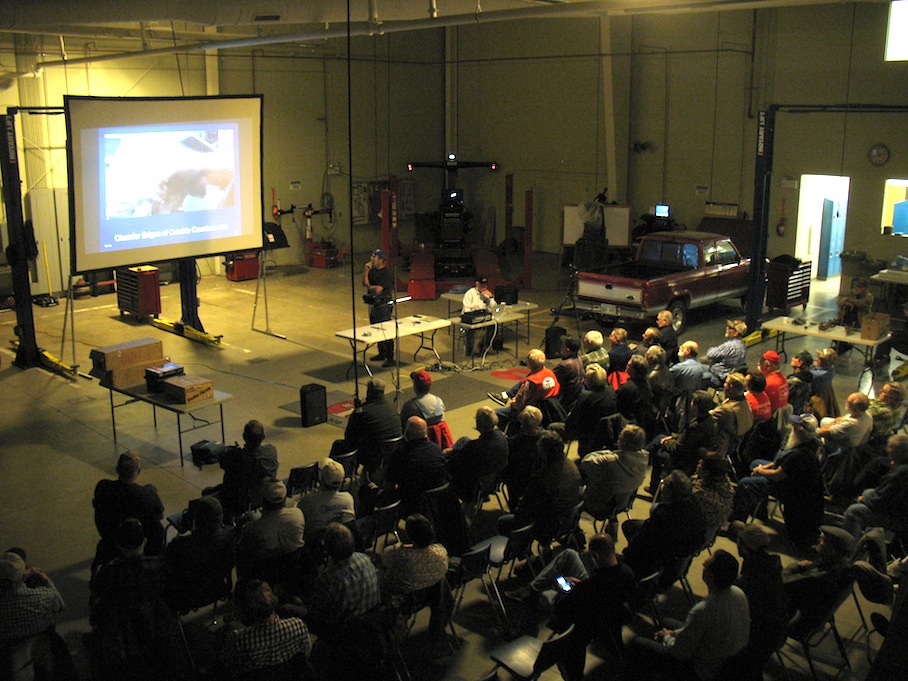 Saturday, January 28, 2017

I went to the mid-winter Model T clinic in Hutchinson, and on the way home stopped in Wichita for dinner and a movie. The clinic was interesting, as usual, dinner at El Agave was delicious, and the movie was great. I've seen some excellent movies lately, and tonight's did not disappoint. Dev Patel is the recognizable name because he's already a star, and in Lion he shows that he's good for more than light comedy. But the real star of the film is Sunny Pawar. He carries the first half, and his scenes with Abhishek Bharate as his brother are pure gold. Priyanka Bose as their mother will bring you to tears. The Oscar nomination for cinematography is not a surprise. This one was time well spent.


Sunday, January 29, 2017

With a high in the fifties I did some outdoor work. That was more pasture clearing. I stacked more cedar branches, cut up and stacked some of the bigger ones, and cut down a couple of trees. Those two were deciduous, so I dosed the stumps with Tordon to kill them. That's not necessary with cedars. Just cutting them off at the ground kills them. I thought that after a week of dry weather maybe I could drive the truck out of its stuck place, but the battery was down. I'm leaving the battery on a charger overnight and will try again tomorrow.


Monday, January 30, 2017

A friend who is working on a TT has been mystified by the magneto's weak output. Thinking the magnets might have gone weak, today he brought them over for a charge. He brought along the flywheel and the hardware, and as I charged the magnets he laid them out on the flywheel and put in the bolts and screws. After charging each magnet, I used correction fluid to make a white dot on the north pole so we could keep track of the poles. Of course, adjacent magnets should have like poles side by side—two north, two south, two north, etc., like this:



Everybody knows this, except for all of those who don't. These particular magnets were all stamped with the Ford logo. I soon noticed that he was placing all the magnets with the logo up, assuming they all belonged that way, and not paying attention to the poles. So in some places adjacent magnets had like poles together, and in other places there were opposite poles together. I think we may have found the reason for his weak magneto. After we finished the magneto work and my friend headed for home, I tried the truck battery I had left on the charger, and found that it had failed to take a charge. It lasted six years, but now it's toast. Fortunately I have another battery, only three years old, that came out of my roadster when I installed a smaller one. Tomorrow I'll try that one.


Tuesday, January 31, 2017

In the morning I installed new casting (freeze) plugs in the roadster engine and put on the valve covers. From noon to 3:30 I got back to pasture clearing. I finished stacking all the spread-out cedar branches on a burn pile, and cut more little trees. While there I put that battery in the truck and started it up, but found that one wheel still just spun on the moist ground. I'll wait for the ground to dry some more, but I suspect I may end up having to jack up the truck and put branches under the wheels for traction. My quitting time was determined by a dull saw, and my last job of the day was chain sharpening. I hope to get more cutting done next month (tomorrow).
HOME
BLOG LIST
DECEMBER 2016
FEBRUARY 2017