This being the start of a new month, it was time to pay the water bill. Shorty got a ride in the runabout when I drove over to the water district office. Chores today included filling the master cylinder on the Dodge, stacking firewood in the garage, and attacking small volunteer trees with the clippers and Tordon. I cleared a path out to the parts pile where I hunted up a good front axle for the touring. Importantly, it includes a good left perch to replace the wrecked one. As usual, the killer is removing rusted-in cotter pins.
Saturday, December 2, 2017
Looking again at that axle I was working on yesterdeay, I decided that I could do better. So I went back to the parts pile in the yard and looked through the others. I did find one that I liked better, and it had the advantage of two good perches. So I spent a big part of the day removing the home made trailer hitch and other stuff that had to come off. One stubborn spindle bolt refuses to budge, and I have penetrant soaking on it overnight. The bolt is pretty well rusted in, and I'd rather take my time than twist it and leave it broken off in the hole.
Sunday, December 3, 2017
Well, turning that bolt red at both ends and letting it cool was just what the mechanical doctor ordered. The impact wrench turned it out in no time. I was going to blast the axle today, but the lumber yard was out of sand when I went to buy some yesterday. Blasting will have to wait until tomorrow. I did some parts cleaning in the shop, but I spent too much time playing online to get much work done.

Monday, December 4, 2017
Mission accomplished. The lumber yard delivered six bags of sand. I set up the blasting equipment and used three of them to do the "new" front axle and the steering connecting rod. One of the perches has a pretty deep crease worn in it, so I'll have to fill that and grind it smooth. I'll also have to remove the old perch bushings and install new ones. Then I'll be ready to paint the axle and get it back on the car. I also have to order a set of spokes to make a new wheel. An interesting thing I found today is that Ford sprayed hot brass on that rod as a "glue" to keep the pieces together. They used the same process to seal rivets on the oil pan.
Tuesday, December 5, 2017
Out of clean sox, I took time out for a laundry day. After hanging the clothes out to dry I had a little time left, so I wasted it trying to remove the old bushings from the perches on my "new" front axle. I got nowhere on that, so I'll hit it again tomorrow.
Wednesday, December 6, 2017
After a couple more hours wasted trying to remove those old bushings, I got smart and applied the heat wrench. Turning them red and letting them cool did the trick. With that done, the next thing was to fix one of the perches.
| | | |
| --- | --- | --- |
| The perch had too much wear on one side to suit me. | So I added some steel to fill in the worn place... | ...then ground it to the proper shape and ran a dye over the threads. |
| | | | |
| --- | --- | --- | --- |
| Next came pressing new bronze bushings into the perches... | ...drilling oil holes... | ...and reaming the bushings out to 9/16". | With the new bushings installed, the axle was ready for painting. |
Thursday, December 7, 2017
After painting the new front axle I decided it looked so nice I should do the same to the ratty-looking front spring. So I took it off the car, dismantled it, pressed out the bushings, and ground the indentations on the leaves. I'll blast all the pieces Sunday when we're supposed to have warm weather above 60º. I should have the front axle, spring, and steering back on the car in a week. Meanwhile I'm shopping for a replacement fender and splash shield. So far I have a lead on one fender that needs some fixing up. No word yet on a shield.
Friday, December 8, 2017
What did I do today? Not enough. I did go to town for dog food, and wasted time going to three different stores looking for square-head bolts. Actually I was looking for just one, and Fastnal, the farm supply, and the so-called hardware store all struck out. Then I remembered a box of old nuts and bolts in the barn, and there I found just the bolt I needed as a tie bolt for the touring car's front spring. All I had to do to it was add more threads and shorten it a little, and the price was perfect.
Saturday, December 9, 2017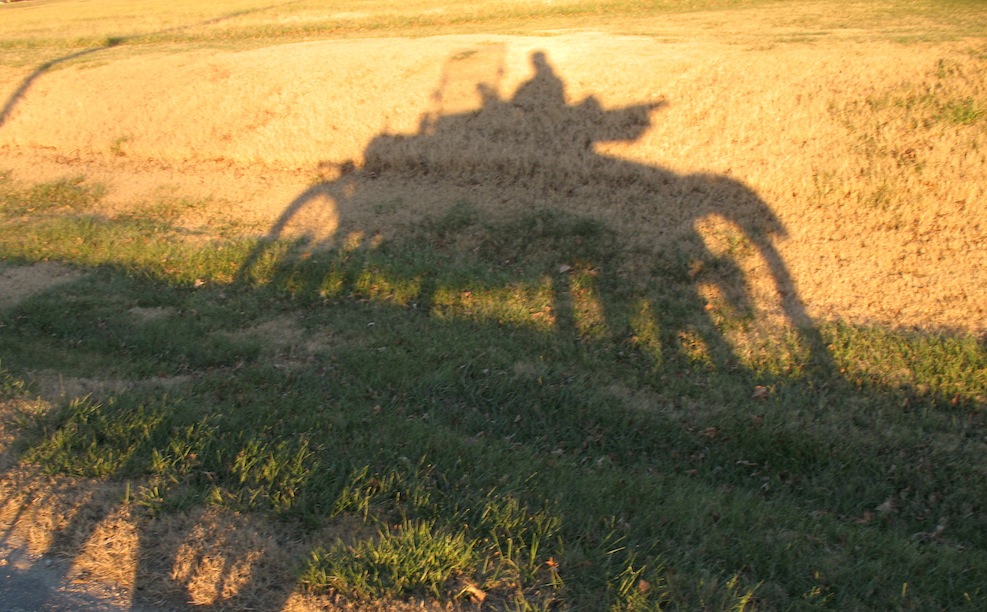 My Saturday was busy enough. I hauled branches to the brush pile, brought a load of firewood up from the wood lot, and split about half of it before heading for town in the runabout. The car was a featured attraction at a kids' Christmas party. The folks putting on the party live in a big old house built by an Osage oil millionaire, and they wanted a hundred-year-old car to go with the hundred-year-old house. The kids had fun sitting in the car to have their pictures taken, and some of the older folks went for rides. On the way home I noticed a shadow that made apretty good picture. Saturday being my town night, I enjoyed enchiladas blancas at La Fiesta before heading fo the theater. I said I'd see it again, and I did. I was even more impressed with "Coco" on the second viewing. In an animated film you expect characters to do impossible things, but what caught my attention was the realism of normal movement—facial expressions, walking, running, even just standing. That was part of the overall incredible attention to complex detail. Add the settings ranging from humble to spectacular, and the impossible colors, and you have a stunning visual experience. All of that would be for naught without an engaging story with characters who make you care about them, and here the actors, artists, and writers deliver. And Mama Coco will melt your heart.
Sunday, December 10, 2017
It was blasting day. Taking advantage of a warm day pushing 60º, I set up the equipment and started blasting spring leaves. I started at one and quit at 2:40 when the sun started moving behind the trees and taking away my lighting. I finished the four biggest leaves and will do the three smallest tomorrow, along with some other parts. I painted the top sides of the four blasted leaves, then went back to splitting firewood. There will be more of that to do tomorrow too.
Monday, December 11, 2017
Well, I didn't get back to splitting wood. I did take advantage of another mild day to sandblast the rest of the spring leaves and some other parts, and prep them for painting. By the time I took shorty to the vet for booster shots and shopped for paint and groceries the day was spent. Maybe I can get back to that firewood tomorrow.
Tuesday, December 12, 2017
Among other things, today I worked on getting about three dozen original Ford bolts ready for blasting. Often the holes are filled by dirt, rust, and cotter pin remains. You have to punch them out and clean the holes with a drill bit. There are also a couple of dozen with no holes. I'll have to wire those together so they'll stay put during blasting. There are also a few dozen castle nuts that will have to be wired together.
Wednesday, December 13, 2017
Most of today's activity was sandblasting and painting. I thought I was going to be planting trees in the cemetery, but when I took them to the township hall the guys up there said they planned to spend the day planting them. There are 23 seedlings: sugar maple, weeping willow, red maple, white dogwood, pink dogwood, tuliptree, lacebark elm, and forsythia. If they all survive they should make a big improvement in the place. In the spring we'll add crape myrtle and rose of sharon, and I hope to plant a few American elms too.
Thursday, December 14, 2017
On the road again. In the morning I put some newly painted parts in the oven to bake, and got on the phone to order a new splash apron for the touring car. I spent the afternoon driving up to Model T Haven at Iola to buy a fender. It's a 2½ hour drive one way, so I didn't get home until about six. The "new" fender needs some fixing, but it will cost a lot less than a new one.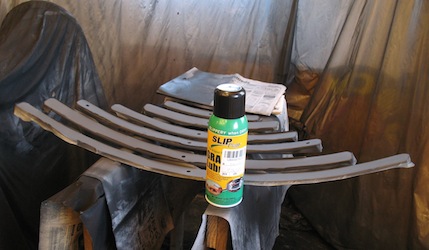 Friday, December 15, 2017
I went to the lumber yard and ordered more blasting sand, chased threads on Ford bolts, painted wheel parts, and sprayed Slip Plate on the spring leaves. I aim to assemble them tomorrow and start putting the front end of the car back together.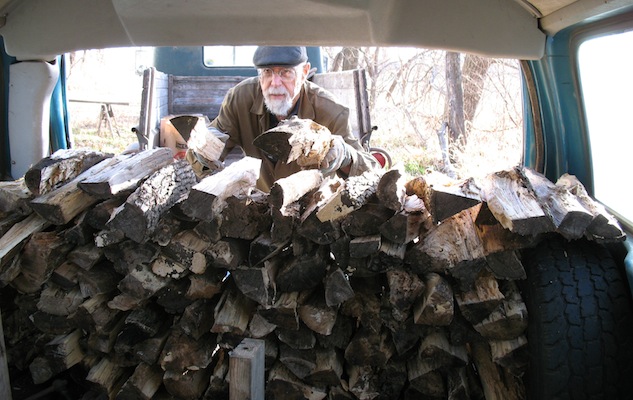 Saturday, December 16, 2017
Best laid plans. I started reassembling my front spring and realized there is supposed to be a rubber spring pad between it and the frame. So I made the pad. But with the pad in place the tie bolt needs a tall head to rise above it and fit into the hole in the frame. So that will be a project tomorrow: building up a taller head on the bolt. In the afternoon I was going to do more blasting, but with the forecast saying rain during the night was likely I decided to finish splitting the wood in the back yard and get it in the garage under cover. I got it all split and stacked in the truck and headed for the garage, but I didn't get far. The truck bogged down with a clunk and a clang and wouldn't go ahead or back. Great. I need the thing broken down with cold weather coming. I had to restack the wood in the suburban to take it to the garage.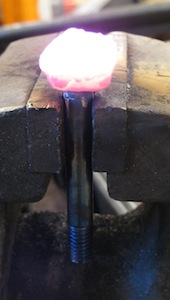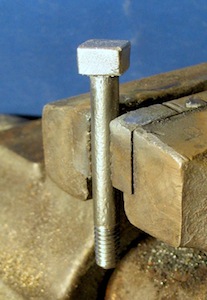 Sunday, December 17, 2017
What a dud! The forecast was for rain overnight, but there was only .05" in the gauge this morning. That's not helpful. In the shop I worked on that spring tie bolt, making the head tall enough to reach through the spring pad and into the hole in the frame. I used up enough welding rod to make it a little higher and wider than it needed to be, then ground it down to the right size. The bolt is painted and drying overnight, so maybe I'll get back to reassembling the car tomorrow.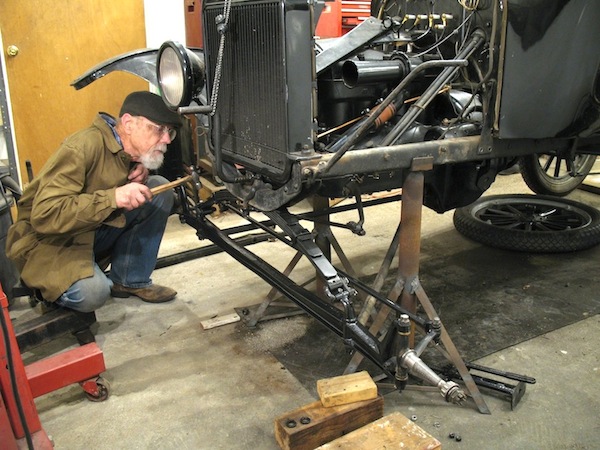 Monday, December 18, 2017
Today's work in the shop was reassemling that front spring, installing it in the car, and installing the axle, shackles, spindles, oilers, and all the steering components, nuts, and cotter pins. In the afternoon I took time out for a drive to the county seat to pay the property taxes. While in Winfield I stopped at the big bank to replenish my supply of dollar coins and halves, and at the Asian market to buy a jar of 김치. I can buy it in much bigger jars in wichita, but I don't get up there very often.
Tuesday, December 19, 2017
Time out. I spent most of the day getting Christmas cards out. I did all the ones going out of state, and will finish with the few local ones tomorrow. I guess I had better lay in more firewood too. The ten day forecast claims we'll be going in the icebox pretty soon.
Wednesday, December 20, 2017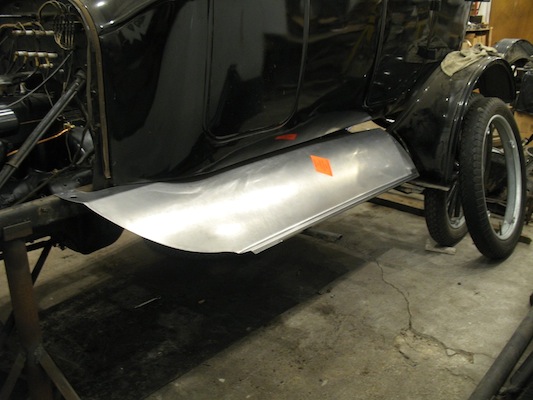 Today I unpacked the new Rootlieb splash apron that arrived yesterday and checked it for fit. It looks like it will go on the car with no trouble.



Thursday, December 21, 2017

I didn't do a blessed thing on my own cars except drive one. That was in the afternoon when I took advantage of the last decent weather for awhile and went to town in the runabout for groceries. Today is the first day of winter, but the cold arrives tomorrow. The forecast shows freezing every night, and freezing highs next week. Shorty rode along with me today. I still have to help her in the car, but once in she tolerates it OK. Before my shopping trip, Dieter Mitchell brought over the magnets from a TT he's working on and we charged them.






| | | |
| --- | --- | --- |
| I charged the magnets while Dieter bolted them on the flywheel. | Flashing the charger. We used 30 volts. | The test weight for magnets is two pounds, but we got them up to 4½ pounds and declared victory. |
Friday, December 22, 2017
Dead branches in the yard came under chain saw attack and became firewood today. I did a bit of cleaning up in the shop, but didn't get much else done. I did discover another job I have to do. Decades ago, before there was a rural water district, the water here came from a private well and there was a pump in the cellar to pressurize it. Well the pump is still there, attached to a pressure tank, with water from the district still passing through the tank. Now the tank has developed a small seeping leak, and I'll have to do some plumbing to bypass it before it gets worse.
Saturday, December 23, 2017
On the road again, at least for half the day. I drove down to Enid and bought a spare tire carrier for my 1923 touring from Ed Emerson. I came back by way of Ponca City to buy a trailer jack at Tractor Supply and more LED bulbs at Wal-Mart. When I got home I intended to haul firewood up to the house. I have to use the riding mower and a garden trailer for that, as the pickup is down. I got a load in the trailer but wasn't able to bring it. One of the old tires has gone to pieces, so that chore will have to wait a few days until I get a new one. It's a good thing I have plenty of wood laid in already.





Sunday, December 24, 2017

Plumbing was the main job today. That leaking tank in the cellar needed to be disconnected from the line. It took me awhile to puzzle out which pipes went where, but eventually I figured out that all I needed to do was cut one pipe, remove the upper part of it, and install a plug. When I went to town and bought the plug I got three wheat pennies in change. So I bought all the others in the drawer. The earliest date is 1940 and the latest is 1958. Without seeing all the dates, some people will know what year is missing. When I get several old coins in change I always suspect some dummy has stolen a collection and is spending it at face value.









Monday, December 25, 2017

This was not a day for accomplishment. I didn't get up until almost nine, had my morning tea, and fiddled around on the computer. This being Christmas, my cousin Wally and I were invited to our cousin Pete's house to tie on the feed bag. Pete is a good cook, and she always puts on a swell feed, so we didn't go home hungry. In fact, we both hauled home enough leftovers to last several days. I was so lazy today I didn't even bother to bring in firewood. I just used what was already in the house. I'll see if I can get something done tomorrow after all the food settles.




Tuesday, December 26, 2017
Stove repair. My oven's heating element, as the saying goes, is toast. But before ordering a new one I want to find out why one of the burners has also quit, in case I need to order something for that too. I spent a lot of time on that today, because removing sheet metal screws rusted in place is not an easy thing. A lot of the removal involved the use of a little cutting wheel, and reaching some of the screws with it was a challenge.
Wednesday, December 27, 2017
This morning I dug into that burner switch I removed from the stove yesterday. I couldn't find anything wrong with it, so I need to check wiring and see if there's a break somewhere that's keeping the one burner from working. This afternoon was laundry time. For years I have gone to a laundry in Winfield, but they recently had a fire and the place is closed for repairs. So today I did the wash in Arkansas City and was reminded of why I've been going to Winfield. The price is about double in A.C. But oddly, the driers are a better deal here because although they cost a little more they dry much better.
Thursday, December 28, 2017
Curses, foiled again! Today I put the wheel with a new tire back on the little trailer and was going to haul firewood. But the other one was low on air, so I started up the compressor to air it up. It popped like a balloon. So that wheel is in town for another new tire. I'll pick it up in the morning and hope to lay in a lot of wood tomorrow. Some really cold weather is coming. The lesson in today's adventure: buy new tires every 56 years.
Friday, December 29, 2017
This was the last warm day (40º F) before we go into the icebox. I got the other new tire on the little trailer, hauled up a load of wood, split it, and got it under cover. I put it in boxes and put some in the house and some in the garage. I won't enjoy the temperatures in the teens and single digits, but at least I have enough wood laid in that I won't have to be out for more. The forecast claims we won't get above freezing until Wednesday afternoon, and won't see 40º again until next Saturday.
Saturday, December 30, 2017
On a good day to stay indoors, I started catching up on indexing digital photos. I now have them done through November. I should have all my 2017 photos indexed before the end of the year. About three I headed for Wichita. There I bought a set of magnetic lights at Harbor Freight, got a camera battery at the battery store, and bought a couple of gallon jars of kimchi at the Asian Market. After dinner I went to see
Darkest Hour
, and was very impressed. Gary Oldman's portrayal of Winston Churchill is so convincing that it's like watching the real person. The cast is good all around, and I especially liked Ben Mendelsohn as King George VI. It will not surprise me if Gary Oldman gets an Oscar nomination for his performance.
Sunday, December 31, 2017
On a lazy winter Sunday I was pretty useless. I did finish indexing all my 2017 digital pictures, but that was about all I got done. Maybe I'll be a little more ambitious next year. I did check my website statistics and found that my site had almost 50,000 visits this year. Most visits are to the blog and the Model T pages.
HOME
BLOG LIST
NOVEMBER 2017
JANUARY 2018