Tuesday, February 1, 2011
Brrrr! It's winter for sure. The temperature when I went to work this morning was 7º, and it snowed sideways most of the day. A strong north wind kept some areas bare and piled up drifts in other places. Roger stayed home to deal with frozen pipes, so I was on my own today. I was in no hurry to get home and start using up firewood, so I stayed after quitting time to work on preparing my axle housings for sandblasting. When I did try to leave, I was having trouble getting out and had to do some shoveling. Fortunately the guys who plow the parking lot showed up and saved me some time. When I got home there were some pretty good drifts in the driveway, so I fired up the WD and cleared the way for me to get out in the morning if the snow doesn't pile up again durng the night. Once I got inside and got a fire going to warm up the 30º kitchen, it took about an hour to thaw my toes.
Wednesday, February 2, 2011
This afternoon I stayed after work again and finished preparing those axle housings for sandblasting, putting duct tape on the areas that need to be spared from receiving the treatment.
Thursday, February 3, 2011
It was another firewood afternoon, but spring is only 46 days away.
Friday, February 4, 2011
I took a day off and drove up to the Sunflower Swap Meet, where I spent most of the day shopping for car stuff. I got a couple of pretty good Hayes clincher rims for $25 and a T era aftermarket bumper for $10.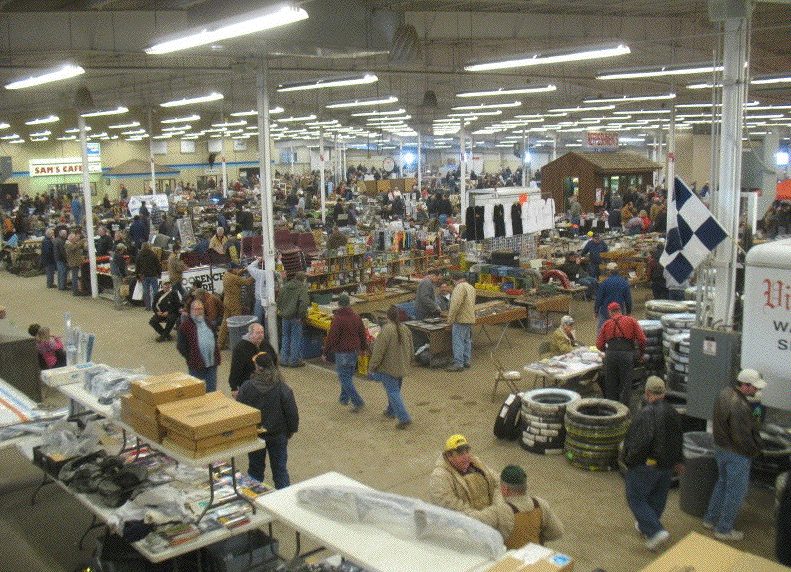 Saturday, February 5, 2011
I spent a big part of the day at the fairgrounds for another auction. I blew $16 on a White Mountain ice cream freezer, but the main attraction was metal shelves. I got three shelf units for $11.
Sunday, February 6, 2011
The shopping spree continued with another auction, this time at Patterson's in Oxford. I spent a bundle, but it was money well spent. The biggest purchase was a Western Electric oak wall phone in great condition for $145. Anything under $200 is a good price for one of those. The other big item was a nice big anvil for $70, and I was delighted to get it for that. I've never bought one like that before because they usually sell for about three times that price.
Monday, February 7, 2011
After work I took the newly painted truck wheel to have a new tire put on it, then went to do some business at the bank. By the time I finished there, and then went back to pick up the wheel with the new tire on it, the afternoon was pretty well spent. I got home with just enough time to take out the ashes and bring in wood in preparaion for the next wintery blast. The snow is supposed to arrive tomorrow and continue into Wednesday morning, with temperatures getting down around zero Thursday morning. But with just 41 days until spring, the forecast shows highs in the fifties early next week.
Tuesday, February 8, 2011
This afternoon I did a little wood gathering and splitting. No snow so far except a few flakes blowing around.
Wednesday, February 9, 2011
The storm arrived during the night and dumped enough snow to make an adventure of going to work this morning. When I left at 5:30 it was coming down pretty heavily, but I made it out to the road. I made a mistake and headed west out of habit. Snow always drifts across the road to the west, and I was afraid I wasn't going to make it to the corner. Fortunately there wasn't a lot of wind in this storm, so the drifts weren't deep enough to stop me completely. Despite a lot of sliding around on the road, I made it into town. The snow was over by noon, and finally amounted to about nine inches. When I got home this afternoon I parked in the road, started up the WD, and got busy on the driveway so I could get the car into the garage without getting stuck on the way. Here's the video: http://www.youtube.com/watch?v=bXUItfFF3Rc.
Thursday, February 10, 2011
Apparently I was in a hot spot this morning. My thermometer claimed 1º, but weather reports on radio and TV all said we got down to several degrees below zero. The high today was about 21º, and when I got home I was glad to get a fire going in the kitchen stove and warm up.
Friday, February 11, 2011
Today's highlight was in the food department. On the way home I stopped at La Fiesta and picked up a dozen tamales. I put ten in the freezer and dined on the other two. I like them buried in chili beans covered with cheese, jalapeño slices, and chopped onions. A culinary delight.
Saturday, February 12, 2011
After washing and putting away laundry I killed a couple of hours online, then drove over to Oxford to see what I could find at the Patterson auction. Today's haul was four padded folding chairs at $2.50 each and a pair of speakers for $2. The speakers can go with the stereo I bought in December for half a dollar.
Sunday, February 13, 2011
This afternoon's project was getting a Model T drive shaft housing ready for sandblasting. That's ready, and the axle housings are ready, and the forecast is for warm weather later in the week, so I should be able to get all that done and be ready for painting.
Monday, February 14, 2011
Today's chore was taking a wheel off the truck and putting on a repainted wheel with its new tire. I took the wheel with the old tire to town to have it dismounted for sandblasting. So far two wheels are repainted, with three to go.
Tuesday, February 15, 2011
On the way home I stopped at the lumber yard and picked up a couple of bags of sand. But I decided to put off the start of blasting for another day because I didn't like the humidity. Moist air tends to gum up the works.
Wednesday, February 16, 2011
The warm day arrived and I started up the compressor and started sandblasting the truck wheel. It went pretty well and I got the wheel pretty much finished except for a couple of small areas I'll touch up tomorrow. I did learn one lesson. Instead of opening up a new sack of sand and just dumping it in the blaster, I need to sift it first. The stuff is labeled "fine", but it seems there are enough coarse pieces sometimes to clog the works. Then I have to shut off the air and jam a piece of welding rod down into the sand to loosen it up. I'd rather take the time for sifting before I start than to interrupt the job several times. While I was sandblasting the wheel, Daisy was out running around in the trees and found a delightful treat. She seemed vey proud of her find.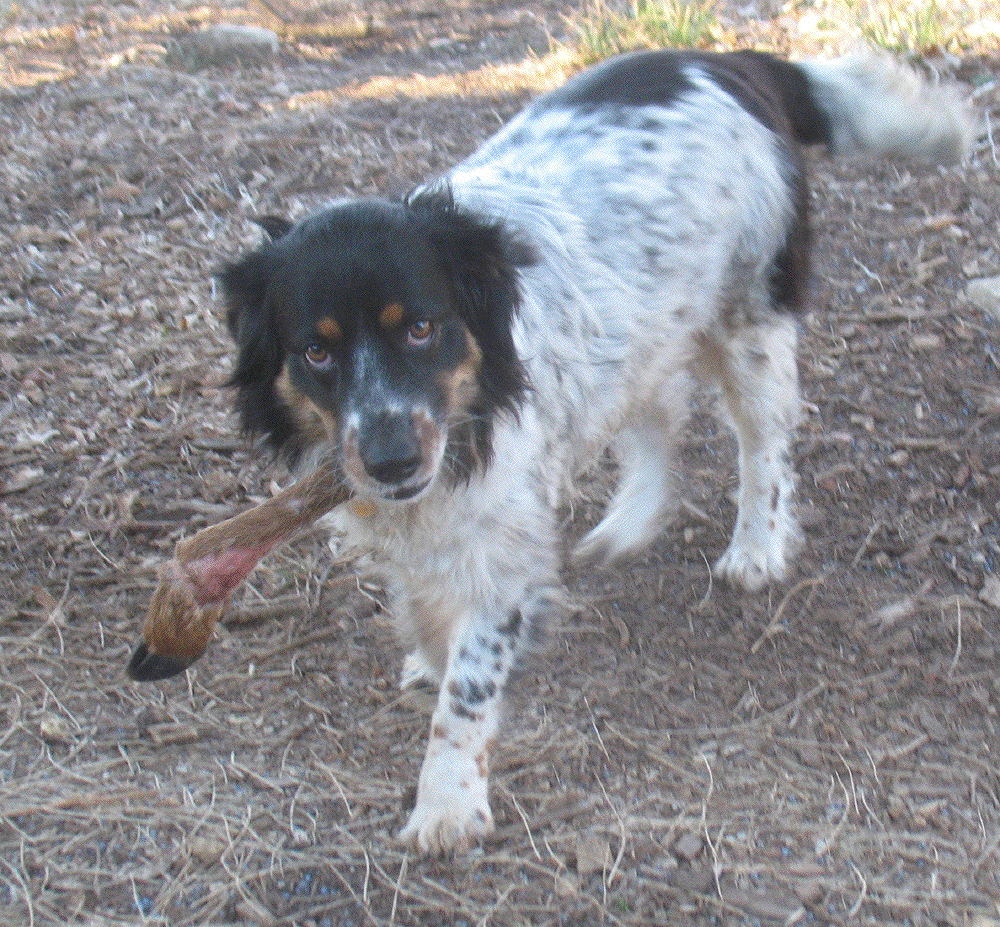 Thursday, February 17, 2011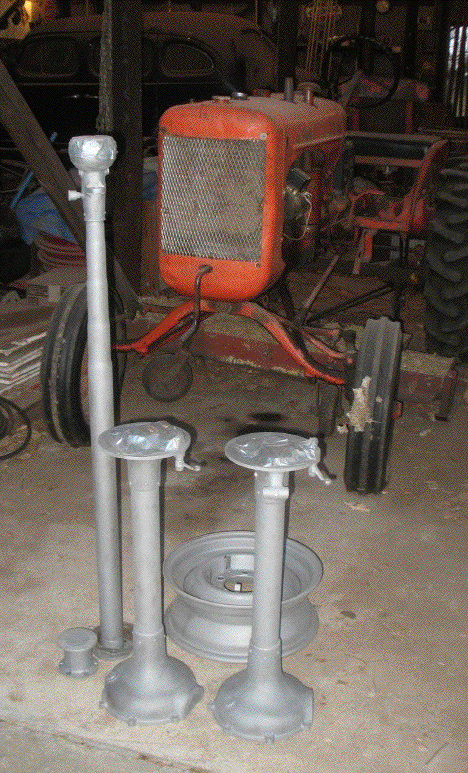 It was a perfect day for sandblasting, warm and dry. I finished the truck wheel then started on Model T parts. My usual custom is to quit work and chow down at five, but I wanted to take advantage of the great day and finish this job, so I kept going. I blasted the drive shaft housing, the pinion bearing housing, and both axle housings, and finished up at about six.
Friday, February 18, 2011
It was another overtime day. After work I spent a couple of hours treating the truck wheel with metal prep and painting it. I also prepped the drive shaft housing. I hope to get it and the axle housings painted this weekend. As I was driving home my car died and wouldn't restart. I started walking home , but got a ride. I called the tow service and had the car taken to a garage in town. After going there to arrange for service, I stopped at Tacos Juquila and got a burrito de chorizo for dinner. It was an hour past my usual meal time and I was disinclined to spend any time cooking.
Saturday, February 19, 2011
Curses, foiled again! This was going to be my ditch digging day. I drove the Chebby to the rental place to get the digger, got the trailer hooked up, and tried to leave. Nothing. The vehicle would back up, but wouldn't move foward. So for the second day in a row I had to call Ronny Bruton to bring the tow truck. That makes two of my running vehicles not running, and I'm down to using the old Dodge farm truck. I just hope the twenty-year-old tires on it hold up until I get the Camry or the Suburban back. I spent a pretty good chunk of the afternoon painting. I turned over the truck wheel and painted the front side, then I painted the Model T parts. I finished the day dining on carnitas and listening to the mariachis at La Fiesta, then went to see Liam Neeson in Unknown. It's a good espionage/action flick.
Sunday, February 20, 2011
I thought I'd drive over to Oxford and check out the Patterson auction for some bargains, then I remembered that all I have to drive is a truck that still has a couple of twenty-year-old tires on it, and no spare. So I stayed home and got a couple of things done. One was wire brushing old paint and rust off some Model T parts to get them ready to paint. The other was to get out the chain saw and cut some firewood. The weather has been warm lately, with highs in the seventies, but we'll be going back into the icebox soon.
Monday, February 21, 2011
Another day of running a bit late. I spent a couple of hours after work painting Model T parts. Then I took the repainted truck wheel to have a new tire put on it. While the tire was being installed I went to gas up the truck, then went back to the tire dealer and put the new tire on the truck. Now I have only one twenty-year-old tire on the truck, so I'm 75% lesss scared when I drive it.
Tuesday, February 22, 2011
After a weekend with highs over 70º, the weather has normalized. Today's high was a little over 50º. It was 48º in the kitchen this afternoon, so I lit a fire. I overdid it, and in an hour it was 80º and I had to shed some clothes. I don't have to skimp on wood now, and with spring only 26 days away I don't have to worry about running out before warm weather. Soon I'll be back to working on the roof and doing other outside work.
Wednesday, February 23, 2011
Late again. I got home after three and started sandblasting the fourth truck wheel about 3:30. I was hoping to get it all done today before the good weather went south, but it was almost six when I stopped with perhaps another half hour's worth to do. I'll need to get another bag of sand to finish the job. From the looks of the forecast, it may be sometime next week before I have another good day for blasting.
Thursday, February 24, 2011
Ran a little late again today. I stayed in town after work and finished painting my Model T rear axle housings. Soon it will be time to shop for new parts and get the thing reassembled.
Friday, February 25, 2011
I drove the old Dodge all week while the Camry was in the shop, and this afternoon I got the car back. They replaced the distributor, some computer thing, and some other parts to get it running, but didn't get to the oil leak, so I'll have to take it back for that. But I think I'll wait until I get the Suburban back. It's supposed to have its transmission fixed by next weekend.
Saturday, February 26, 2011
After doing laundry I went to the sale barn west of Winfield for the annual farm equipment auction. Sometimes thay have something I want, but this wasn't one of those times, so I decided to spend a cold day comfortably indoors. I started getting caught up on sorting and filing old bills, papers, and receipts that have been piling up for months. After some Chinese chow, this evening I went to see Gnomeo & Juliet. I give it two thumbs up. Very well done.
Sunday, February 27, 2011
This afternoon I drove over to Oxford for some auction bargain hunting. There were a couple of items I wanted but didn't get because Dick Tracy was willing to pay more for them, but I did come away with one little gem. Among several items I bought for $1 is a 78 rpm six-record album of Spike Jones classics. After the auction I went to Augusta for a show. It was silent movie night at the historic Augusta theater. The film was Buster Keaton's The Cameraman, with the score performed by a theater orchestra. I had never seen this 1927 film before. It was an excellent quality print of a funny movie featuring a lot of clever gags. One sequence that had keaton running up and down several flights of stairs was not only amusing, but also technically impressive.
Monday, February 28, 2011
After work this afternoon I washed out the drive shaft housing and the rear axle housings. Now they're ready for rebuilding.