The new month began with .73" in the rain gauge. I was hoping for more, but that was a good start if we get more soon. I spent the morning adding up January expenses and paying bills. In the afternoon I got back to work on the new shelves. I made good progress, but ran out of 1" x 4" boards. I'll have to get more tomorrow. This was a good day to stay inside. It wasn't terribly cold, but a fierce north wind made the high twenties feel like the low teens.

Monday, February 2, 2015
This morning I tried polishing brass on the roadster. It seems to me that the current Brasso is not the same Brasso we used in the army fifty years ago. This stuff makes a dark film that sets up and doesn't want to just wipe off with a polishing cloth. In some places I had to use lacquer thinnner to get it off. Recently one of the Model T guys was bragging about Prism on the forum, so I may give that a try. I'll have to buy it online because, of course, none of the stores here carry it. In the afternoon I had to go to town for groceries and some other errands, including buying more boards for the shelves, so I didn't get any work done on that project today. Maybe tomorrow.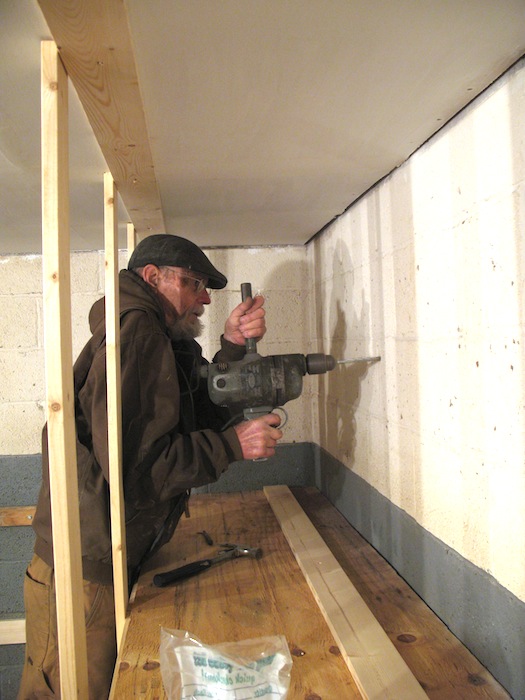 Tuesday, February 3, 2015

It was one of those open-the-door days when the outside warms up faster than the inside. A little before three the thermometer outside the kitchen window read 45º and inside it was 40º. When that happens I prop the doors open and let the warmer air, usually from the south, shove out some of the cooler air. I worked on shelves again, finishing the second one and getting started on the third (top) one. I should be finished tomorrow or the next day, then I'll be ready to start filling them up with some of the clutter from my shop.


Wednesday, February 4, 2015

The wind turned around to bring today's meteorological entertainment from the north, and the forecast showed a high before noon and plunging temperatures in the afternoon. So I got out and did
my wood-fetching and splitting in the morning. By noon I had enough wood brought in to last a few more evenings, and fires built in the fireplace and the kitchen stove so all I'd have to do in the evening was set a match to them. My next chore was dealing with the water heater, which hasn't been heating water recently. I made sure the pilot tube was clear, and when I went to town for my dental appointment I picked up a new thermocouple. That didn't help. The pilot still wouldn't stay lit.
Looks like I'll be shopping for a new water heater tomorrow. My dental work was installation of a couple of new fillings. The annoying thing about these dental adventures isn't at the dentist's office. It's at dinner afterwards, trying to eat without chewing up the inside of my mouth.


Thursday, February 5, 2015

So this was water heater day. I drove to Sears in Winfield and got a new one, then spent the rest of the day moving it into the house and unpacking it, disconnecting the old one and moving it out of the way, cleaning up the corner of the kitchen where it sits, and studying how I'm going to change the plumbing to accommodate the new one. The valve at the bottom of the old heater flowed at a trickle, and it took several hours to drain the thing through a hose into the yard so it was light enough to move easily. I don't know how much of that plumbing I'll get done tomorrow. In the morning I'll be off to
Wichita for the annual Sunflower Swap meet. I usually find a few bargains there, but it doesn't take all day. I should be home sometime in the afternoon.










Friday, February 6, 2015

I always find something worth bringing home from the swap meet. This time I got three coil boxes for parts, some valve stem covers and nuts, and a right side differential case. But the buy of the day was an exhaust nut wrench. New ones from the parts dealers are $33. I paid $3 for this one.


When I got home I spent the rest of the afternoon working on plumbing for the new water heater. It's going to need a better gas line, so I had to remove the old one. I figure on spending most of the weekend on this. If I get it all done tomorrow, that will be a happy surprise.



Saturday, February 7, 2015

After doing laundry, I spent the day on water heater installation. A few years ago when the new gas line to my
shop was put in, the gas company guy in charge was aghast at the old fashioned copper tubing setup that supplied gas to my water heater. It may have been OK several decades ago, but it's not up to current standards. So part of the present project is changing it to regular black pipe lines. I got all the pieces cut and threaded this afternoon, but I didn't put them together because I painted the one that will stick up through the floor into the kitchen and I wanted to bake it in the oven overnight. If all goes well I should have the new water heater in and working tomorrow.









Sunday, February 8, 2015

That was nice. I had the new water heater in place and hooked up by noon. Heating forty gallons from cold takes awhile, but by half past one I had a full tank of hot water. After more than a week without that luxury, I'm pleased to have it back. In the afternoon I took advantage of a rare 73º February day to crank up the roadster and give it some exercise. I drove it around the block (2 miles). It did OK, so I drove it around again. The fresh engine still takes a lot of cranking to get it started, but it's

getting better. I was even able to start it on MAG a few times. After the breaking-in period, I hope it will be able to start on the first pull. Before

putting the car away I washed off the dust that's been collecting on it for several months.

Monday, February 9, 2015

In the morning I did some brass polishing on the roadster. I was planning to drive it to town in the afternoon, but decided against it when I heard a clunking sound climbing a grade. I talked to an experienced Model T man, and he's going to take a look Wednesday morning. Until then I'll let it sit.


Tuesday, February 10, 2015

The drill I was using on my shelf
project died, so this morning I tried installing a new cord in it. That didn't help, so I put that cord into another old drill that needed a new one. That worked. Having spent all morning just geting a working drill, I got busy on shelves again. At long last I finished that project. I got the top shelf installed, put tools away,
and had the sawdust and other debris cleaned up by a quarter after three. Now I can start moving some of the clutter of parts out of my shop.


Wednesday, February 11, 2015

A busy day began with me in the shop doing a lot of sorting, putting away, and cleaning. About nine Mike Bender arrived and we braved the cold north wind to take the roadster for a test run. The good news is that there was nothing seriously wrong with the car. The scary noise I was hearing the other day was due to my bad driving and a lack of fuel. I had the spark too far advanced when going uphill, and not enough gas in the tank was causing fuel starvation. We worked on the car until Mike left about noon, and I took off the carburetor and put on another one. That, plus plenty of gas in the tank, made the car much easier to start. I got it going several times with just one or two pulls of the crank, and I even got three "free starts". That's when the engine starts on its own as soon as you flip the switch, with no cranking. I still have a little work to do on the timer, but I'm delighted to have the car as easy-starting as it is now.




Thursday, February 12, 2015

Variety was the spice of today's life. I took some unpainted fasteners off the touring and the roadster, stripped off the plating, painted them, and put them in the oven to bake. I shopped online for some odd sized and very difficult to find machine screws. In fact, they're so hard to find that I finally bought some that don't quite match the ones I have to replace. They'll be used in a place where they don't show, so that's OK. I spent about an hour

splitting and bringing in wood.

I'm still using up the big old tree that fell down in early November. With five weeks of winter left, I think I'll probably finish it off and get started cutting up one of the other old dead trees in the yard before I'm done burning wood for this season. I started making my shopping list

of parts to look for at swap meets. The Chickasha pre-war meet is next month.

I always find something useful there. I ended the day polishing hubcaps. They look pretty good, but after the weather warms up I'll take them to the barn and buff them for a brighter shine.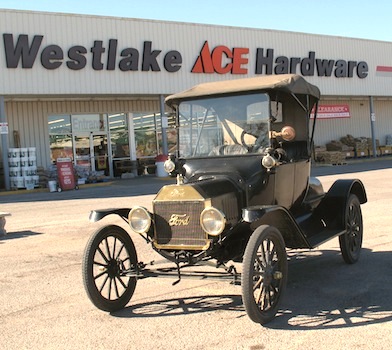 Friday, February 13, 2015

Oh no! Disaster! There's a saying that life
is all the stuff that happens to you while you're making other plans. This afternoon when I cleaned the ashes out of the kitchen stove I found that the iron grate in it had broken into three pieces. I don't have a foundry for making cast iron products, so I'll have to cobble something together out of steel. With five more weeks of winter plus some more cold days in the spring, I want my stove. In the morning I spent a few hours putting some pictures on disk for a friend. He lives out in the sticks beyond the reach of email, so it took postage to get them to him. I've never put files on a disk before, so it took me awhile to figure out what I was doing. In the afternoon I took advantage of the warm weather and drove the roadster into town for shopping. First I drove a couple of miles east to deliver some mail that was misaddressed to me. In town I stopped at the welding supply for a bit of steel for a project, and the
post office to mail those pictures, went to the farm supply to pick up a copy of the little weekly that advertises local auctions, then to the Wal-Mart for printer ink, then to the hardware store for some eye bolts, and finally to Casey's to gas up the car.
At all those stops, I had no trouble starting the car, so I'm happy to have that problem fixed.


Saturday, February 14, 2015

With the auction scene back in full swing, I began the day with a drive to Winfield to see what was for sale there. Not one thing interested me in the slightest. So I went over to Oxford to see what they were selling there. The only thing I cared about at that one was a stereoscope with its handle missing. It would be easy enough to make a handle, but I really didn't want to hang around half a day waiting for the thing to come up for sale, so I came home and worked on a new grate for the kitchen stove. I got it about half done, and should finish tomorrow.


Sunday, February 15, 2015

Done. This afternoon I finished up the new grate for the kitchen stove, put it in, and tried it out this evening. It worked OK. Tomorrow after all the coals are burned out and the stove has cooled, I'll check it out and see how well the grate survived its first use.








Monday, February 16, 2015

It survived just fine, and the stove now works as before. Today began with snow. It was nice to get some moisture, but the total was only about an inch and a half. The current forecast shows 80%chance of rain on Saturday, so I'm hoping that will hold up and not dissipate as the day gets nearer. That seems to happen all too often. The shop project of the day was making a platform where I'll stand drive shaft housings and other

long parts. I installed eye bolts where I can hook rubber bungees to keep everything in place. Now I've started moving in parts that have been cluttering my shop.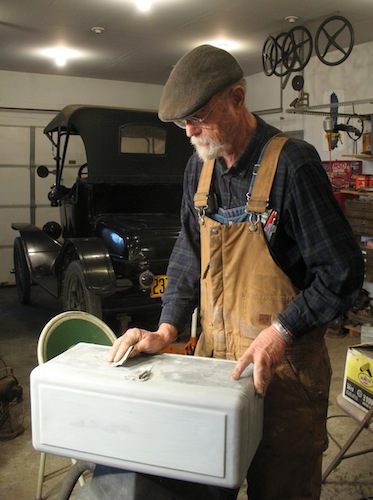 Tuesday, February 17, 2014

Now that I have a running T to drive when the weather suits me, I decided to get to work on my five dollar running board tool box. I bought it cheap at the Chickasha swap meet a few years ago because it had a split in one corner of the lid. A few
minutes at a local body shop fixed that. So today I hammered out the worst of the dents and dings and got started on the priming and sanding process. I intend to make hardware that will clamp the box to any running board
easily so I can use it on whatever car I want to drive.
I plan to do the same with a set of running board cans for spare water, oil, and fuel.


Wednesday, February 18, 2015

I spent most of the morning in town at the clinic. The doc carved a sore spot off my scalp. Looked like another skin cancer. Mom used to tell me not to lie out in the sun trying to become fashionably dark, but I was too foolish to take her advice, so now I have these occasional eruptions that have to be cut off. In the afternoon I worked on that tool box some more, and replaced some missing screws on the roadster. The headlight plugs take a rare size machine screw (4-36 x 3/16) that I could only get from a model train supplier in Michigan. At 40¢ each they were expensive enough for such tiny things, but the cost of shipping made them $1.40 each. I bought two to use now and four more to have as spares.


Thursday, February 19, 2015

Never went off the place today. I alternated between two jobs. First was the tool box. I sanded the primer that I sprayed on some dings yesterday. They were still showing a little so I sprayed them again. I set the box under a shop light to give if some heat and
speed drying, and moved on to the other job, making mounting hardware to keep the box on the runnning board. Working on both jobs all day, I made good progress on both.


Friday, February 20, 2015

More of the same. Except for an afternoon run to town for groceries, I spent the whole
day working on the tool box and its mounting hardware. Today is a milestone. We now have just four weeks until spring. By this time
of year I
'm always ready for winter to be over.


Saturday, February 21, 2015

In the morning I painted the inside of my tool box, then worked some more on the mounting hardware. In the afternoon I did laundry. In the evening I ate in town and went to see

McFarland USA

. The movie was excellent.


Sunday, February 22, 2015

Another morning of work and afternoon off. I worked on the mounting hardware some more, then drove over to Oxford to see if anything for sale at the Patterson auction was worth my time. The auction ad listed some Ford wrenches, but I wasn't
able to find them before they came up for sale. It turned out there were only four, and not worth much. They were very common items I already have, and not all Model T, and I didn't even bid. What I did bid on was a box of seven lantern chimneys. I got them for
$5 each, less than a third of what I'd have to pay for new ones online. My drive to the auction was slower than usual. Snow was blowing across the road and the temperature was in the low twenties, so I tbought it wise to keep my speed down. When I read the police news in the paper this time
of year, I find a lot of items about wrecks caused by vehicles sliding off the road.


Monday, February 23, 2015

I fnished up the two pieces of tool box mounting hardware and painted them, and painted the bottom of the box and set it under a shop
light to help it dry. I wasted some time trying to transfer files from the desktop computer to the laptop, but soon quit in disgust. I'm going to take them to a computer shop and have somebody show me how. I'd rather spend a few minutes doing that than several hours trying to figure it out myself. I also worked on a new page for the Model T section of my website. In reading the online forums I find that some questions keep coming up from time to time, so I'm making pages to answer some of those questions by just posting a link.


Tuesday, February 24, 2015

Most of the morning I worked on that new web page. With that finished I sanded my tool box and gave it another coat of primer. It's getting better. I may have the dents and dings pretty well filled sometime this week. This afternoon I went to town to pay the fertilizer bill, gas up the car, and get help at the computer shop. The guy there said the easiest approach was to put files on a flash drive and move it from one computer to the other. So I paid ten bucks for one, brought it home, and
plugged it in. No way could I get it to work. I'm not going to fight it. Tomorrow I'll take it back and have the guy show me how to work it.


Wednesday, February 25, 2015

Work continued on the tool box and the mounting brackets. On the box I sanded and applied more primer, slowly fillling the low spots. On the brackets, after a couple of days drying them in the oven I cut strips from an old inner tube and glued them on for padding. In the afternoon I took
my desktop computer to town and had the repair guy show me how to use the flash drive, then went on to my appointment at the clinic. The lab report confirmed that the sore spot the doc carved off my head last week was a skin cancer, but apparently he got all of it. Something else to watch.


Thursday, February 26, 2015

At 14º the stiff wind from the north was an attention-getter this morning. I spent the day mostly on indoor chores. One of them, of course, was more sanding and priming on the tool box. Another
was a bit of cleaning-up and putting-away in the shop. After yesterday's visit to the computer shop, where I learned to ignore and delete the flash drive's baloney instructions, I transferred some files from my desktop to my laptop so they can go with me when I travel. I stripped, prepped, and painted the bolts and washers to go with my tool box mounting brackets, and put them in the oven to cook. Now all I have left to do on that project is finish the body work and paint the tool box.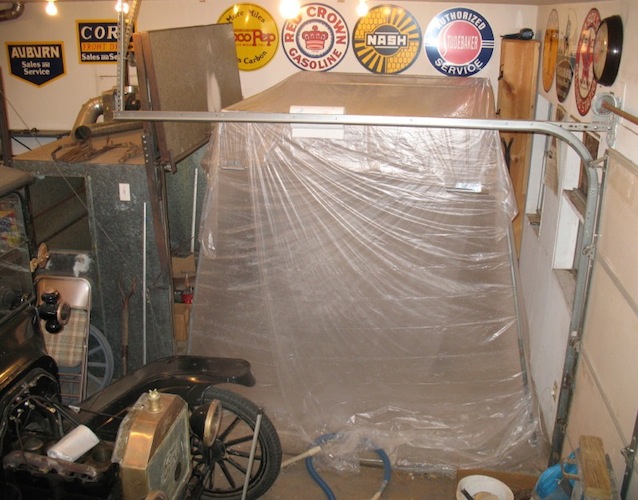 Friday, February 27, 2015

My morning appointment with the urologist was OK. Last time, three months ago, he threatened radiology if there was any change. But a recent blood test showed no increase in PSA, so none of that yet. If fact, this time he said six months instead of three months for the next appointment, so I'm hoping the stability in my condition continues. On the way home I picked
up some 600 grit and 800 grit sandpaper for my tool box body work. But before I get back to work on that I have something else to do. The plastiic on my improvised paint booth has developed some rips and has gotten drark where paint collected on the inside. So I bought a roll of new plastic for it.
While I have the old plastic off the frame I'll do some cleaning before I install the new.


Saturday, February 28, 2015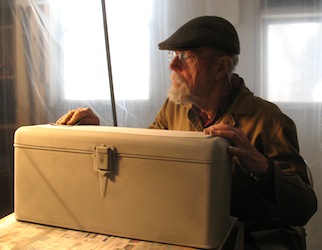 Snow! It started durimg the night and fell all morning. Not heavy, but at least a couple of inches by noon. I decided to skip auctions today, as none of the ads showed a lot that interested me. I spent most of the morning cleaning up in the shop and putting new plastic on my bargain paint booth. In the afternoon I did some sanding on the tool box and found some spots that needed more primer. After spraying
on another coat I moved on to my office and spent the rest of the afternoon working on a new page for my
website.
HOME
BLOG LIST
JANUARY 2015
MARCH 2015