This morning I went to Winfield to check out an auction at the fairgrounds. This time I saw something that inspired me to stay, and I bought a box of wrenches for $5. I was after one Model T wrench in the box of 32. I'll keep that one and sell the rest, and maybe even come out ahead on the deal. It's March, but winter isn't giving up. This afternoon I drove down to Ponca City to
get some new overalls. That's the closest town where I can get the brand I prefer. I planned to get the overalls, eat in Ponca City, and come back to take in a movie at our local theater. Well, going down there a fine mist was freezing as it hit the car and I had the defroster on high. By the time I ate and headed back the freezing rain was making roads slick. The Oklahoma highway patrol had about a mile of the highway closed and I had to detour on dirt roads. That's not a bad thing, because dirt roads don't get slick like paved roads. Back on the highway, traffic was moving pretty slowly and ice started building up on my windshield even with the defroster on high. With the roads getting slicker and slicker, I skipped the movie and came straight home. This evening I did more picture indexing. I did all of the December pictures from 2007 through 2010 and got a start on 2011. I should finish all of them this weekend.
Sunday, March 2, 2014

Coaxing isn't necessary to get the critters inside. When the temperatures get down in the single digits they come running when I open the door. Usually when I go to town Daisy stays outside, but this afternoon when I opened the car door she ran and jumped in. So she rode along when I went for cat food and celery. After last night's adventure I was expecting some slick roads, but there was a surprising lack of ice. I have no complaint about that. I had my doubts about getting much snow out of this storm, but this evening about ten, when I walked from the shop to the house, it
looked like at least three inches on the ground, with more coming down. I took
some time away from indexing pictures today to measure some axle shafts, so I didn't get as far as I expected on my picture indexing. I did get about halfway through December 2012, so I'm closing in on the end.



Monday, March 3, 2014



I don't know how long it's been since temperatures here went below zero, but it's been a long time. When I looked out the kitchen window at 7:30 this morning the thermometer claimed it was -5º F. That's a normal thing farther north, but quite rare here. I usually turn off the heat in the shop overnight, but seeing the forecast last night, I left it on. I had my doubts about whether the snow would amount to much, but it looks like we got at least four or five inches. It's hard to tell after there's been a wind strong enough to blow the snow around. I spent all morning and a lot of the afternoon indexing pictures and finally had the whole thing done by 3:30. Now that I have that chore out of the way, I guess my next computer job should be filing all the pictures and files that collect on my desktop. I also need to figure out a way to shoot digital pictures of slides. The scanner I got for that has been malfunctioning lately, and even when it worked right it was way too slow. The main thing I need is a good light source. A

piece of flashed opal glass would be ideal, but that's not to be had in Kansas or Oklahoma. Maybe I can figure out a workable substitute that's available locally.





Tuesday, March 4, 2014
The day warmed up to about 35º and considerable melting went on. I read in

The Traveler

that the snow amounted to about five inches. I did a lot of little minor chores like sorting papers, getting together documents for doing taxes, and a little bit of straightening up and putting away in the shop. I started scanning slides, and the scanner worked for awhile, but it was slow and eventually quit working altogether. I'll let it rest overnight and see if it feels any better tomorrow.


Wednesday, March 5, 2014

Outside the melting continued. Inside I scanned more slides. The scanner seems to work OK for awhile, then gets tired and quits. So I guess I'll scan a few at a a time until I get through them. I did some online searching and found some house wiring diagrams which will help me put lights in the garage. I want to have one switch on the west porch and another in the garage right where I get out of my car, and have both switches work the lights in between. I plan to do the wiring after the weather warms up a little more. In a few days we're supposed to hit a spell of highs in the fifties and sixties.


Thursday, March 6, 2014

While the outside continued to melt, I stayed with mostly indoor tasks. I did more
filing of stuff that has collected on my desktop. I picked out a pair of switches for the garage lights I plan to install, and started a shopping list of stuff I'll need for the installation. I did venture outdoors to scout out dead trees I'll cut for firewood. Tomorrow is supposed to be warm, with a high over 60º, so that should be a good day for cutting wood. Maybe tomorrow the ground will be a little less muddy, too.


Friday, March 7, 2014

I got the shopping for groceries and other stuff done in the morning, and this afternoon I got out in the yard with the chain saw and made firewood. I finished cutting up the dead walnut tree in the front yard that has supplied most of this winter's kindling. Most evenings when building a fire I'd go out and pull off a small branch with all its twigs, and that would start the fire for the night. With the walnut finished, I went out back and cut up the branches that were left from the big old pine that fell down a year ago. All of today's wood was small enough to not need splitting. The next candidate for harvest is a bit bigger and will go to the splitter.


Saturday, March 8 2014

After doing laundry I went to check out an auction in Winfield. There were too many big spenders at that one, so I went to another one and wasted my day there. Actually the day wasn't a complete waste, because while I waited for the auctioneers to get to something I wanted I read Stan Howe's

Adventures of Herman and Freida

. Stan is a good storyteller. That second auction had a few items I wanted, but people with more money wanted them more than I did.








Sunday, March 9, 2014

The arrival of daylight saving time coincided with a rise in temperatures. Yesterday's thirties were replaced by today's fifties, almost 60º in the afternoon, and yesterday's snow was almost gone by the end of today. When I got my "new" 19th century lathe off the trailer and into the barn three weeks ago, I just left it sitting inside the west door. A couple of days ago I moved an engine hoist to the barn, and today I used it to move the lathe to a place where it will be relatively out of the way. I haven't weighed the thing, but I'm guessing it's about 400 pounds. Now that I have that bit of housekeeping out of the way, the next chore in that department will be unloading all the Model T parts still in the Suburban from last September's auction. The hardest part of that will be figuring out where to put everything.


Monday, March 10, 2014

Well, I unloaded most of the auction plunder from the Chevy and got some of it put away, but some of it is sitting on the ground outside the barn waiting for me to decide where to put it. That will be job one tomorrow. I hope I can get it all inside fairly quickly so I can get started on installing garage lights. This was a warm day, an early taste of spring, in the high seventies. After the recent single digits, that's not hard to take.


Tuesday, March 11, 2014

One job took all day. I took the Camry to town for cruise control repair and walked home, then went to work on installing garage lights. By quitting time I had the fixtures and all the wiring installed, so all that remains is putting in the switches and connecting the circuit. I've been thinking about this job for at least ten years, so I'll be happy to have it done.

Wednesday, March 12, 2014

Done! Today I installed the switches and connected the wiring, so I now have garage lights. Next I think I need to finish unloading the Suburban in case I want to take it to the swap meet next week. Last year I took the Camry, and getting everything I bought stuffed in it was a tight squeeze.


Thursday, March 13, 2014

With garage lights installed, today I took that a step further and put a modern electric outlet in the garage. By

modern

I mean it will take grounded plugs so I don't have to hunt up an adapter whenever I use one. Having outlets in the garage will be more convenient than running an extension cord from inside the house. This afternoon I got around to those Model T parts I left in front of the barn, moving them all into the barn, out of the way enough to get by. Eventually a lot of them will go into the east end of my shop building when I get to organizing storage in there.


Friday, March 14, 2014

I'm leaning toward using the Suburban when I go to the swap meet next week, so when I went to town for groceries I filled it up. When I first started keeping a log on that vehicle in 1995, gas was 92.9¢ a gallon and filling the Suburban came to about $26. Today the price was $3.329 and filling up came to $95.55. I think the rise in price may have beat the general rate of inflation. While I was in town I stopped at a body shop to ask about getting the window fixed where the tree fell on the vehicle last year. I've ordered new glass, but haven't been able to find the metal window divider. Maybe the body shop can come up with one. When I got home I started gathering materials and measuring to make a console to sit in front of the seat. I need a place for a drink holder, a box of tissues, and other stuff I want to keep handy.


Saturday, March 15, 2014

Not
much work done here today. I went and did some laundry, and with rain in the forecast I taped plastic over the broken-out rear window on the Suburban. The main event of the day was an afternoon with my cousin Shane, helping him install a new front door and storm door on his house. Sometime soon I need to get back to work on my own house.


Tuesday, March 18, 2014

I am in recovery mode. I suspect food poisoning. Whatever it is, it laid me low for a couple of days and prompted a trip to the hospital. The doc prescribed Lomotil for the diarrhea so I wouldn't have to keep running to the throne so often. For the past couple of days Ive been doing a lot of sleeping. Now I'm not feeling so weak and dizzy, and the bellyache is retreating. I expect I'll be sufficiently recovered to head for the swap meet tomorrow. Today I felt well enough to make a "console" for the
Suburban.
It's just a wood platform that fits over the hump in front of the seat. It will hold drinks, tissues, and other stuff I want to have within easy reach.






Wednesday, March 19, 2014

Thursday, March 20, 2014

Friday, March 21, 2014

I was off to Okieland for the annual prewar swap meet at Chickasha. I shopped for parts and found some good items and enjoyed visiting with my fellow Model T wizards. The weather can be anything this time of year, but this time it was very nice. Wednesday evening I helped a couple of the guys unload their goods to sell. I also found that my Suburban had a fuel leak. So Thursday evening I removed the old cracked rubber hose and installed a new replacement. Maybe removing the leak will help the gas mileage. Before leaving for the meet I had taken my HP laptop to the local repair shop because the screen was black. This is the machine I bought two years ago to take on trips. I don't think I've ever had it on a trip where it didn't fail or malfunction in one way or another, and here it was failing me again when another trip came around. While I was at the meet the repair guy phoned me and said there was nothing wrong with the computer. It worked fine for him. So I sold it to him for $100. I'll replace it with a Mac.





| | |
| --- | --- |
| | |



Saturday, March 22, 2014

After staying up to the wee hours of the morning making potato salad, I was off to Burlington for a meeting of the East Central Kansas T's. The occasion was observing the club's twentieth anniversary. After dining on the pot luck feast and having a brief meeting, we were off for a short tour of the area. I have no Model T ready for touring yet, so I rode in another member's 1926 Fordor. As you might expect in March, all four of the participating Model T's were closed cars. Before heading home I stopped at Bud Redding's place and picked up a Ruckstell rear axle for my TT truck project. Bud was kind enough to donate it to the cause.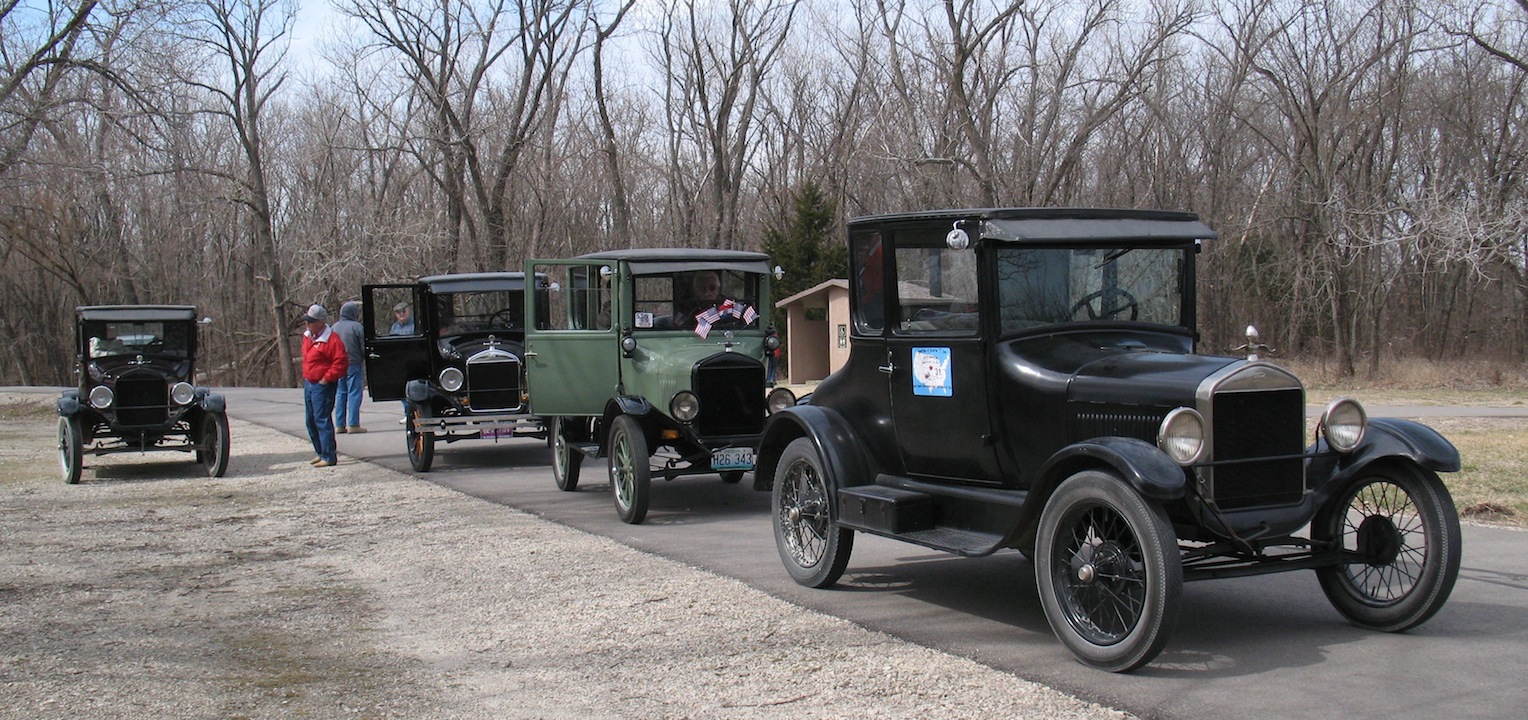 Sunday, March 23, 2014
I spent most of the day slaving over a hot computer, getting caught up on stuff I missed while I was gone.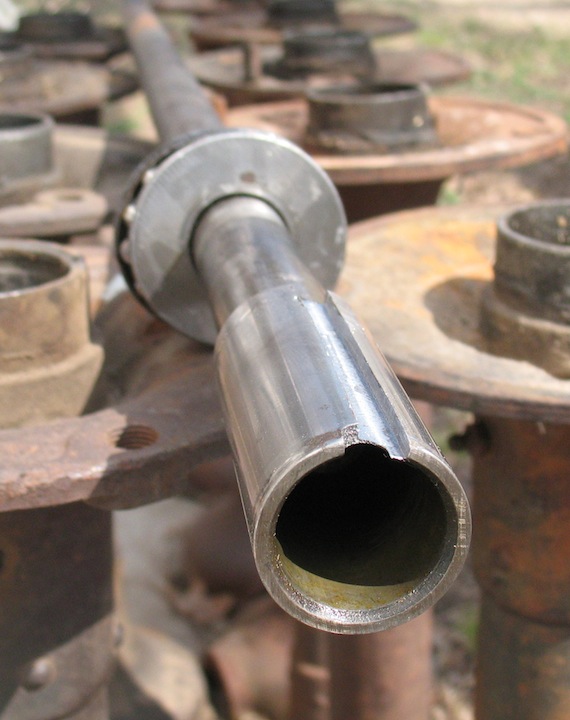 Monday, March 24, 2014
Along with ordinary shopping, I actually accomplished a couple of things today. One was removing the old inner pinion bearing sleeve from the drive shaft from my roadster. Getting these things off can be a major hassle, so I took it to the machine shop at the juco. Being careful not to go too deep and cut into the shaft, I used a 1/4" end mill to cut a groove in the sleeve. A couple of whacks with a hammer and it was off. This evening I painted the drive shaft housing. Soon I'll have the new rear spring installed and I'll be ready to start assembling the rear axle.
Tuesday, March 25, 2014

Today's first Model T accomplishment was making the leather pad that goes on top of the rear spring. The local saddle shop made the pieces and I applied the glue and rivets to put them together. I could have bought a pad from one of the parts dealers, but I'd rather pay them for something I can't do easily myself. With the pad made, I went ahead and installed the rear spring. Next will be sandblasting and painting the rear radius rods and rebuilding the rear axle.

Wednesday, March 26, 2014
Brrrrr! I thought a south wind was supposed to warm things up! Actually it wasn't a terribly cold day (high of 54º F), but the wind made it feel a lot colder. I spent a lot of the morning studying maps and researching tourist attractions in my new capacity as tour planner. For the past couple of years there's been a fall tour for antique cars based in McPherson. Now Ed Emerson and I are planning this year's tour, which will be based here. This afternoon I visited the convention & visitors' bureau and picked up some info on local attractions. It looks like we'll have no trouble filling two and a half days.


Thursday, March 27, 2014

After another morning of research for tour planning, I set up the sandblasting equipment and went to work on a pair
of radius rods and some bolts and castle nuts for the roadster. Sandblasting isn't particularly hard work, but it's slow. I started at noon and finished up about 4:30 PM. This evening I chased all the threads with a tap and a die, and painted. I found that I need some 9/16" split lock washers. Of course the local Orscheln farm supply has only 1/2" and 5/8", no 9/16". So I went online and bought a box of 100. With shipping, that works out to about 11¢ per washer. If the local hardware store had them, which is unlikely, I expect they'd be at least 50¢ each. Next time I'm in town I'll go in and ask, just for the sake of entertainment.






Friday, March 28, 2014

So I did it. When I was in town today I stopped at the hardware store and looked at 9/16"split washers. By the piece, 39¢. By the box of fifty, about 21¢ each. That's double what I'm paying for a box of 100 online, with shipping. It pays to shop around.

While I was in town I picked up three rose bushes to plant in front of the house. That should make for a little more color this summer. This afternoon I noticed forsythia starting to bloom. This picture from a few years ago was shot on March 16, with forsythia in full bloom. The cooler than average winter this year has made the blooming a couple of weeks later.


Saturday, March 29, 2014

Yard work! After doing laundry I was going to check out an auction, but it was an hour's drive away and I was late, so I came on home. I began this season's yard work with a few hours of plant slaughter. Over the past few years little trees have been coming up among those forsythias along the west drive, shading them and crowding them out. So today I took the clippers and a bottle of Tordon and got rid of several dozen trees. A few were small enough to just pull out, but most had to be cut and given a dose of poison. After that chore was out of the way I pulled down all the dead sunflower stalks by the house and pruned a rose bush. Daffodils are in full bloom and other plants are just coming out. Redbuds will be blooming in a week or two.


Sunday, March 30, 2014

Today's main activity was planting. I planted the roses I bought Friday. I decided that I needed one more to complete the row, so I ended up buying another one and planting four. There's already one at the southeast corner of the house, called Mister Lincoln. Between that one and the porch I planted Oregold, Paradise, Sundowner, and Camara. If they all survive and bloom, it will be a nice display.

| | | | | |
| --- | --- | --- | --- | --- |
| Camara | Sundowner | Paradise | Oregold | Mister Lincoln |
Monday, March 31, 2014
Miss Kitty is getting huge. I'm being careful not to let her in the house or the shop. I don't want to find a litter of kittens in my sock drawer or some other unfortunate location. She's welcome to use any of the outbuildings. Another nice day let me get more outdoor work done today. Since the new gas line was installed a couple of years ago the left over pile of dirt has been sitting with a tarp over it while the filled-in ditch settled. Now the tarp is going to pieces, so I'm filling in low places with the pile before it gets rained on and turns into a big solid block. We'll see if the grass grows enough to fill in all the fresh dirt before family reunion time in June. While I was in town for groceries I stopped at the the insurance office to see if the new glass for the Suburban is covered. The agent spent over an hour on hold, calling the various offices he had to deal with. The outcome is that most of the expense seems to be covered. So tomorrow I'll get the window installed. Meanwhile, the box of washers I bought Friday arrived today, so this evening I prepped and painted some of them. I think those are the last parts I needed for assembling the rear axle, so now I can get started on that.
HOME
BLOG LIST
FEBRUARY 2014
APRIL 2014