Thursday, April 1, 2010
Being bored and wanting something to do, I rejoined the army today.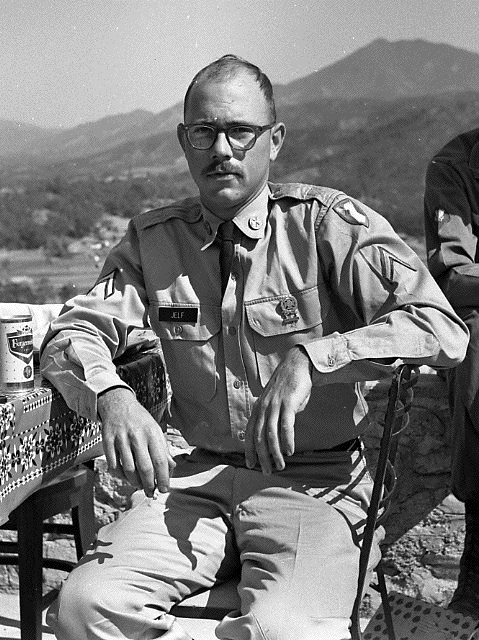 April Fool! It was an interesting experience in 1965, but I probably won't do it again.
Friday, April 2, 2010
After a couple of hours of rain this morning, one of the first things I did when I got home was go upstairs and see if there were any leaks. I found a couple of small puddles on the floor in the northwest room, but nothing serious. The sound of the wind flapping the roof tarps last night had me worried about major leaks. Today's afternoon activity was hitching up the trailer and driving down to the Lowe's in Ponca City to buy pipe for the new gas line. I bought all fourteen pieces they had in stock. That will be plenty to get me started, but I'll have to go back for a few more to finish the job.
Saturday, April 3, 2010
This was another day for bargain hunting. I went to another farm auction and picked up a few goodies. The biggest expense was for a box of miscellaneous wrenches and other odds and ends that included the prize, an exhaust whistle. I've never seen one of these for sale for less than $125, so I was willing to spend $30 on this one. The other expenditures were $1 for a big funnel, $1 for two five-gallon gas cans, and $5 for an antique International Harvester hammer mill. That will probably be a future restoration project if I ever retire and have the time for it.
Sunday, April 4, 2010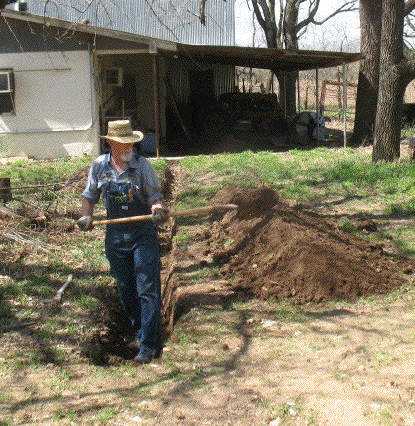 It was a great day for digging, and I got a lot done. The soil was just right, not too wet and not too dry. First I extended the ditch following the old gas line east from the shop. That's where I have to dig by hand to make sure I don't damage the underground electric line to the barn or the septic laterals with machine digging. It was slow going in some places because of roots from the big mulberry tree, but I dug the ditch far enough east. The next step was to uncover all the old line under the carport, then under the curb at the east end of the carport. With that done, I could cut and remove the old pipe.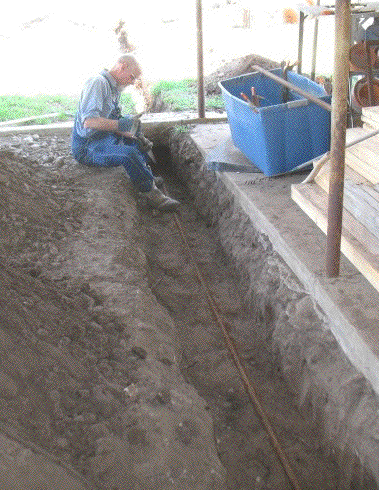 The next step will be digging the ditch deeper where the pipe enters the shop, and then uncovering the old line near the house where it conects to the meter. That last part will be later in the week when the forecast is for cooler weather. With those steps completed it will be time to rent the digging machine, finish the ditch, and install the new pipe. With any luck I should have the job all done by the end of the month. I wrapped up the gas line project about four and moved on to a couple of other chores. The first was to take the storm windows off the front and back doors and put up the screens so I can let a breeze in without the risk of unauthorized cat poop in the house. I'll do the rest of the windows later. The last job of the day was planting three little mail order hydrangeas behind the house. I did the same thing a few years ago, but only one of that first three has survived so I'm trying three more.
Monday, April 5, 2010
This afternoon was an exercise in aggravation. Last fall I took the blade off the back of the WD and left it in the back yard. It happens to be directly in the path of the new gas line, so I need to move it. I don't remember why, but I also removed the snap coupler from the tractor. I'll need it back on there to reattach the blade, so today I started trying to reinstall it. Unfortunately the thing is a lot easier to take off than to put on. I'll get back to that job tomorrow.
Tuesday, April 6, 2010
I won't dress up in a pilot costume and pose in front of a banner, but Mission Accomplished! By raising the snap coupler with a jack I was able to get it into position and get the pin through it to hold it on the tractor. Then I hitched up the blade. Tomorrow is supposed to be cool, so I expect I'll dig some more.
Wednesday, April 7, 2010
Brrrrrrr! Cool indeed. After yesterday's high in the mid-seventies, today never got over 45º. I stayed inside and wasted time on the computer.
Thursday, April 8, 2010
I got away from work about a half hour late today, then spent quite a bit of time running errands. By the time I got home the afternoon was pretty well shot.
Friday, April 9, 2010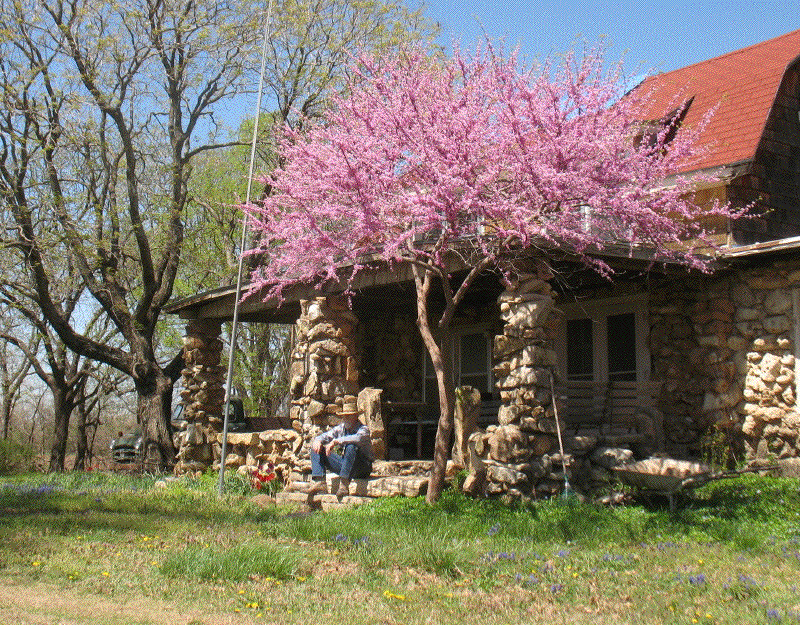 Spring was in full bloom and I spent the day first wielding pick and shovel, then grinder and pipe wrenches. I dug the ditch under the carport a little over a foot deeper, to the depth where the original gas line enters the shop building. At that depth there was an abandoned water pipe that entered the shop alongside the gas line. With about twenty feet of that uncovered, I cut it with the grinder and removed it. With the old water line out of the way I used the wrenches to take out the last of the 3/4" line where it attached to the original 1" line that enters the building. The 3/4" pipe appears to be a replacement that was put in sometime after the original 1" line was built in the mid-fifties. The 1" pipe I'm using is a return to what my uncle Charles Miller used when he built the original dairy barn over fifty years ago. I hope to get the first thirty or forty feet installed this weekend, then I'll be about ready to rent a ditch digger next weekend and get the rest of it done up to the meter by the house.
Saturday, April 10, 2010
After doing laundry I went to an auction and made two purchases. The first was: three disabled pruning shears, an IH sickle mower pitman arm, a petrified rubber hammer, the business end of a post hole digger, and a split rim tire changing tool. Price for all, $1. Of course the tire tool was the object of my desire, and the only reason I got it for a dollar is that nobody else knew what it was.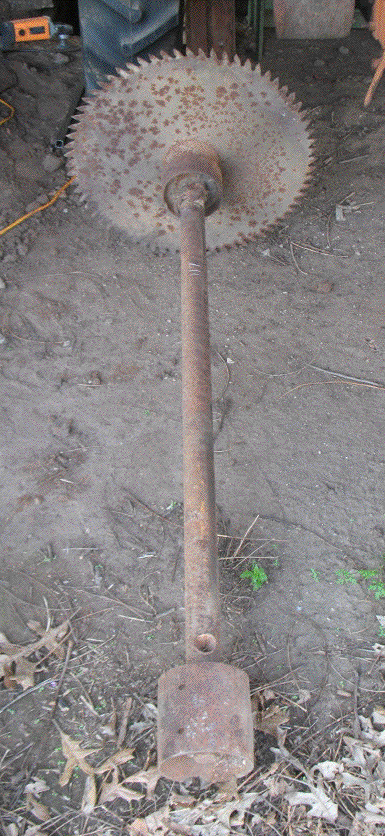 The other thing I bought is a 27" saw blade with shaft, torque tube, and pulley for $17.50. What I have in mind for that is a future project: a sawmill run by a tractor or car. Despite some rust the whole thing is in good condition, and the shaft turns smoothly in the tube.
After hauling those things home I drove down to Ponca City for the evening. I bought more 1" pipe for the gas line project, had a tasty dinner at Los Compadres, bought some new overalls, and went to see Steve Carel and Tina Fey in Date Night. Usually I read online reviews when choosing what to see, and the opinions on this one were overwhelmingly positive. I found it funny in parts, and entertaining overall.
Sunday, April 11, 2010
Busy, busy, busy. Some of the grass is ready to mow and some is past ready, so I went out and picked up trash along the road. At 1:00 I went to yet another auction because of some chairs in the advertising. Some of my chairs are pretty bad, so I'm on the lookout for better ones. I bought an old time three-way floor lamp for $1, a box of light fixtures and miscellaneous hardware for $1, and a good heavy chain for $1. There was one good, solid chair I wanted, but it came up as part of a pair. To get the one I wanted, I bought both for $3. While I was at the auction I received a phone call from a fellow in Winfield who I met at another auction last month. He had just cut down a dead tree and had a pile of free firewood for me, so I went home and ditched the Camry and got the Suburban and the trailer and went to Winfield. When I got home with a load of wood I ate and sat down to watch Sixty Minutes. I woke up at eight, went out and aired up the trailer tires, unloaded the wood, and got the Suburban and trailer ready for me to drive to work in the morning. The Camry will be in town having some repairs made. After work I'll go back to Winfield and get another load of wood.
Monday, April 12, 2010
That's what I did. After work I went back to winfield and got another load of wood. With a couple of stops for shopping, that used up the afternoon.
Tuesday, April 13, 2010
Not quite so busy today, but busy enough doing a couple of catch-up chores. Sent a check to the local public radio station, telling the manager he could deposit the check if he teaches all his local announcers that realtor is a two-syllable word. Went to town and paid for repairs on the Camry, then sorted and put away sox, then washed dishes. Afternoon shot. Tonight's main course: green beans. Yum!
Wednesday, April 14, 2010
This was my day to finish taxes. Actually, I finished the figuring in February but didn't fill out the final form and send it. Last year I cashed in a lot of savings bonds that had passed the thirty-year limit on earning interest, so I owed a pile of dough in taxes this time. So I let the money I owed sit in the bank as long as possible so it could earn a few dollars in interest. I mailed the federal form and payment today, but ran into trouble with the state. There's been a lot of drum-beating in Kansas to promote filing online, so I thought I'd handle my Kansas taxes that way. The problem was that when I tried to use the state website I couldn't log in because my information didn't "match the information on file". Of course it was impossble to get help by phone because the lines were swamped, so I downloaded and printed the forms and filed by mail. If the Kansas Department of Revenue is really serious about wanting everybody to file online, maybe they'll fix their website.
Thursday, April 15, 2010
There's a 90% chance of rain in the forecast, so this afternoon I went up on the roof to get the tarps ready. One of them was ripped to shreds by strong winds recently and some of the others were blown out of place, so it took over an hour to replace the ruined tarp with a new one and get everything in place and fastened down. I hope to finish the gas line project this month and get back to work on the roof. It would be nice to have the new roof done before another winter arrives.
Friday, April 16, 2010
The rain arrived around ten, and I got home soon after. The rainy day was a good occasion to stay inside and spend a couple of hours filing receipts. Once caught up on that little chore, I spent the afternoon rummaging through old pictures and posting a few of them on Facebook. After a tasty dinner of tamales buried in chili beans and covered with cheese, jalapeños, and onions, I took advantage of the cool evening to burn trash in the fireplace, perhaps for the last time until next fall.
Saturday, April 17, 2010
A very full day started with a 20%-off sale from 6 to 7 AM at Orscheln farm supply, where I bought three sweet gum trees. I brought the trees home in the pick-up, which was a little scary to drive because the brakes were low. I got in the Camry, went back to town, bought brake fluid, then headed for an auction in South Haven. That turned out to be an all-day affair. The big deal of the day was a wood lathe for $150. I've been looking for one of those for a long time, and I was willing to go that high because this one came with all the tools, and because a new one would cost considerably more. The other major deal, perhaps, was a furnace for $1. If I can make it work and heat the shop with it next winter it will be a great deal, and if I can't I won't be out much. I came home and unloaded the wood that was still in the Suburban since Monday, hitched up the trailer, and went back to South Haven to fetch my goods. By the time I got home it was after six. I parked the Suburban and went back to town for a dinner of enchiladas supremas and frijoles refritos at La Fiesta, then went to a movie. I saw Kick-Ass, which was pretty funny. It's a send-up of comic book super heroes, and I found it smart and entertaining.
Sunday, April 18, 2010
The predicted 30% chance of rain turned out to be enough overnight to make some little puddles, and a fine mist that came and went all day kept the ground wet. The moisture kept me from mowing, but it wasn't enough to stop a farm auction east of Winfield, where I bought a box of miscellaneous old hardware for $3 to get a good Model T Ford jack, and an antique hand-cranked drill press for $6. The drill press was so caked in old grease that it wasn't badly rusted, and should clean up nicely.
Monday, April 19, 2010
With grass in some places threatening to get out of hand, this afternoon I got out the tractor and started mowing. I thought I was being careful when I picked up trash along the road, but there was still some hidden in the grass to be scattered by the mower. If I knew who threw it out there, I'd take it and dump it in their yard.
Tuesday, April 20, 2010
It was another afternoon of mowing. I did it all in low gear because the grass was in thick clumps in some places. There's still more to mow, so I expect I'll be at it again tomorrow.
Wednesday, April 21, 2010
Inspiration has struck. For a long time I've been thinking of building a wood shed, but I've played Hamlet over where to put it. This morning I thought of the little tool shed behind the house and realized that I can put the wood shed in place of it, but build something with four times the floor space and a roof high enough for me to stand up inside without cracking my head. That will allow enough room for both firewood and tools. I don't know if I can get it done before winter (I do still have a roof to rebuild on the house), but it's a good plan for when I do have the time.
This was shopping day. I got groceries on the way home, then put five cans in the truck, drove down to the casino, and filled them with 25 gallons of gasoline.That will keep the tractors and the mower going for awhile. I have a big tank to set up in the yard so I won't have to bring yard fuel home in cans, but I have to build a stand for it.
Thursday, April 22, 2010
On the way home from work this afternoon I stopped at the lumber yard to price siding for the possible woodshed/toolshed project. It turned out to not be as costly as I had feared. I'll be watching for framing lumber at farm auctions until I'm ready to actually start work on the thing. That could lower the cost quite a bit. When I got home I went back to work on the gas line project. There's more to mow, but I want to get this thing finished. I hope I can rent a ditch digger this weekend and make some major progress. Before quitting time today I installed the first piece of pipe coming out of the shop. That's one down and about twenty more to go.
Friday, April 23, 2010
Make that no more to go. While I was mowing today a man from the gas company showed up. The meter reader saw that I had been digging near the meter, and they wondered what I was up to. The first thing I found out today is that galvanized pipe is not the thing to use because gas will cause the zinc to flake off inside the pipe and clog burners. Now the only pipe that's legal for an underground gas line is plastic. The good news is that I can have the gas company do the job for me, and probably pay no more than the cost of doing it myself. So next week I'll have a fellow from the company out to look at the project and determine the exact cost. So with the gas job on hold, I spent the rest of the day doing yard work cutting brush and trimming trees. One tree had some dead branches hanging down that were too high to reach with a saw, so I wrapped a chain around them and yanked them off with a tractor.
Saturday, April 24, 2010
I gambled and lost, then I gambled and won. After doing laundry I drove two counties west to Attica for an auction because one of the items listed in the ad was a Model T Ford wood-spoke wheel. It turned out to be junk. The hub and a few nuts and bolts were usable, but the rim had holes rusted through it and the wood was rotten. I hung around for awhile but there was little of interest, so I headed home. Between Oxford and Geuda Springs I noticed that I was about out of gas. I got into Arkansas City running on fumes, bought a gallon, then drove on down to the casino and filled up with the least costly fuel in the area. It was a cloudy day, with little sprinkles most of the time, so I stayed inside and did some reading.
Sunday, April 25, 2010
One of those busy days. I installed new ignition points on the Suburban. If they had the distributor on the side of the engine like Packard, or in the front like Ford, that job wouldn't be a big deal. But they put it way in back so you have to climb up on top of the engine to reach it, making it hard to see what you're doing and raising the level of aggravation considerably. Once I had the Suburban running better, I backed it up to the front porch and put an old dead console TV into it. Tuesday is the day to take old electronic devices to the fairgrounds for recycling. I'll be glad to get rid of that old TV and a few other defunct items that have been taking up space in the house for years. The last job of the day was another session of rearranging roof tarps that had blown out of place. Part of the problem there is broken rubber tarp straps. I bought a batch last September that didn't last four months before thay started breaking. I have to look up my receipt and get a refund.
Monday, April 26, 2010
The man from Kansas Gas Service came out and looked at my gas line project. He estimated the cost of having the gas company do it at $1800. The first $1500 of that would be labor, so I'm thinking I'll probably do my own ditch digging to bring the cost down as much as I can. I need to decide what heaters I'll use in order to determine what size pipe is needed.
Tuesday, April 27, 2010
After grocery shopping, I drove the Suburban up to the fairgrounds and disposed of that old defunct console TV, plus a dead tape deck, an old VCR, a junk portable recorder, and a couple of remotes. I've been waiting a long time for electronic recycling to come to Podunk. On the way home I stopped at the pharmacy and picked up finasteride pills. They're supposed to shrink an oversized prostate so an old man can pee without spending an hour and a half at it.
Wednesday, April 28, 2010
This was mowing day. Along with mowing, I figured out why the WD wouldn't start. Connections to the cutoff switch were loose. Tightening the nuts cured the problem.
Thursday, April 29, 2010
More mowing. Most of it was across the road, mowing the lane down to the wood lot. It's really tough grass, and I let it get too tall. I had to go over it with the mower all the way up, then again with it a little lower, and again with it all the way down. With a few minutes out to replace a bolt lost from one of the skids, that used up the afternoon.
Friday, April 30, 2010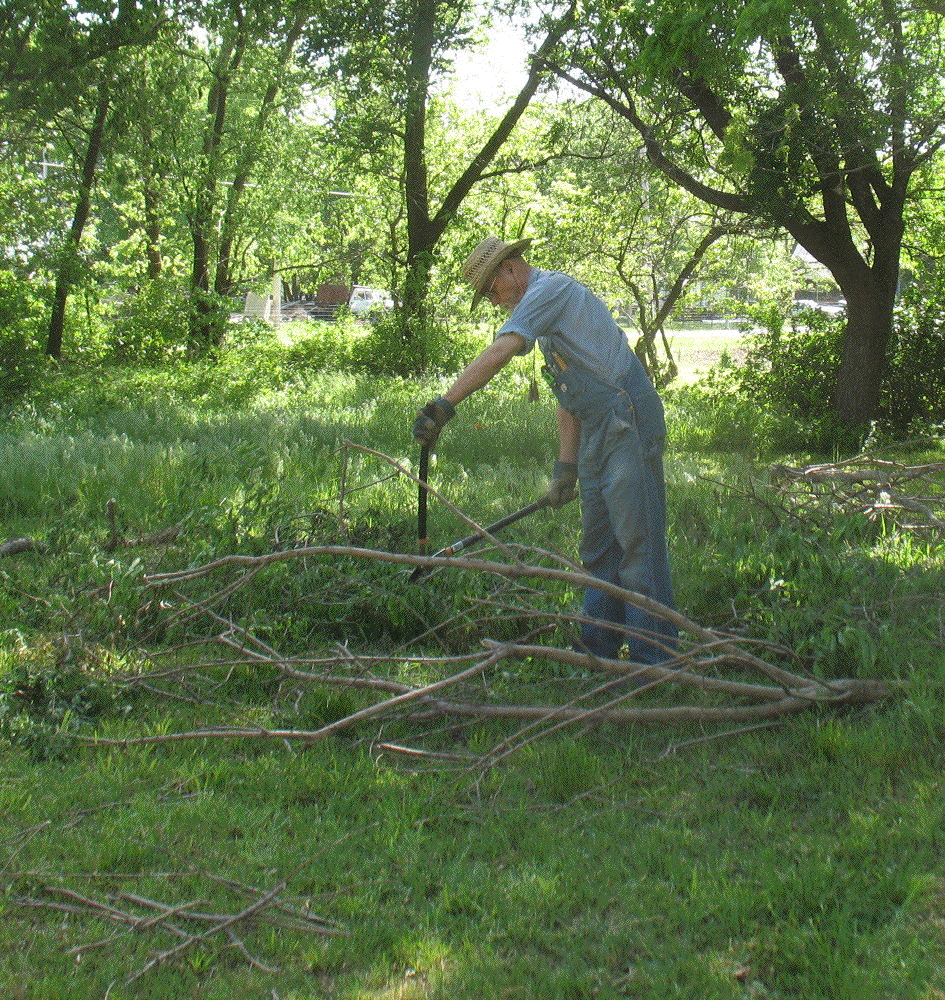 The day started with rain and the grass was too wet for mowing. So this was tree trimming day. Some of the branches I took down were broken in an ice storm several years ago and were hanging low enough to be in the way of mowing. I spent most of the day taking down branches and cutting them up. Here's a video showing part of it: TREE TRIMMING 4-30-10