Sunday, April 13, 2014
It occurred to me that instead of fighting the wind to spread plastic sheeting, I could lay a few pieces of new roofing over the old roofing and put some heavy boards on top to keep them from blowing off. It's a good thing I got that done in the morning, because a little after noon the first rain arrived. I spent the afternoon doing taxes. It turned out I have to send Uncle Sam some dough, but I get about $5 back from the state. Whoopee!
Monday, April 14, 2014
This morning Ed Emerson came up from Enid and we went for a tour planning drive. When we started out a strong north wind was blowing snow. Our drive was east to Hewins, south through the Nature Conservancy's Tall Grass Prairie Preserve, and west to Ponca City. We found some roads that will be good for Model T touring, but there are others I want to explore before we settle on a final route. By afternoon the snow was over and the sun was out, but a cold north wind still made it a chilly day. I was ready for an evening fire in the kitchen stove.
Tuesday, April 15, 2014
Most of my Tuesday was devoted to tour planning. A big part of that was researching roads with online maps, making an itinerary, and downloading some maps covering part of the tour area. A bigger chunk of my time was spent on downloading software for editing the maps and learning to use it. That last item is slow going for an old guy who isn't smart with computers.
Wednesday, April 16, 2014
I had a good computer day. The free photo editing software I downloaded yesterday is GIMP. It's more complex than I like, but today I learned what I needed to know about it for now and finished nine maps for one day of next fall's Model T tour. Here's one sample.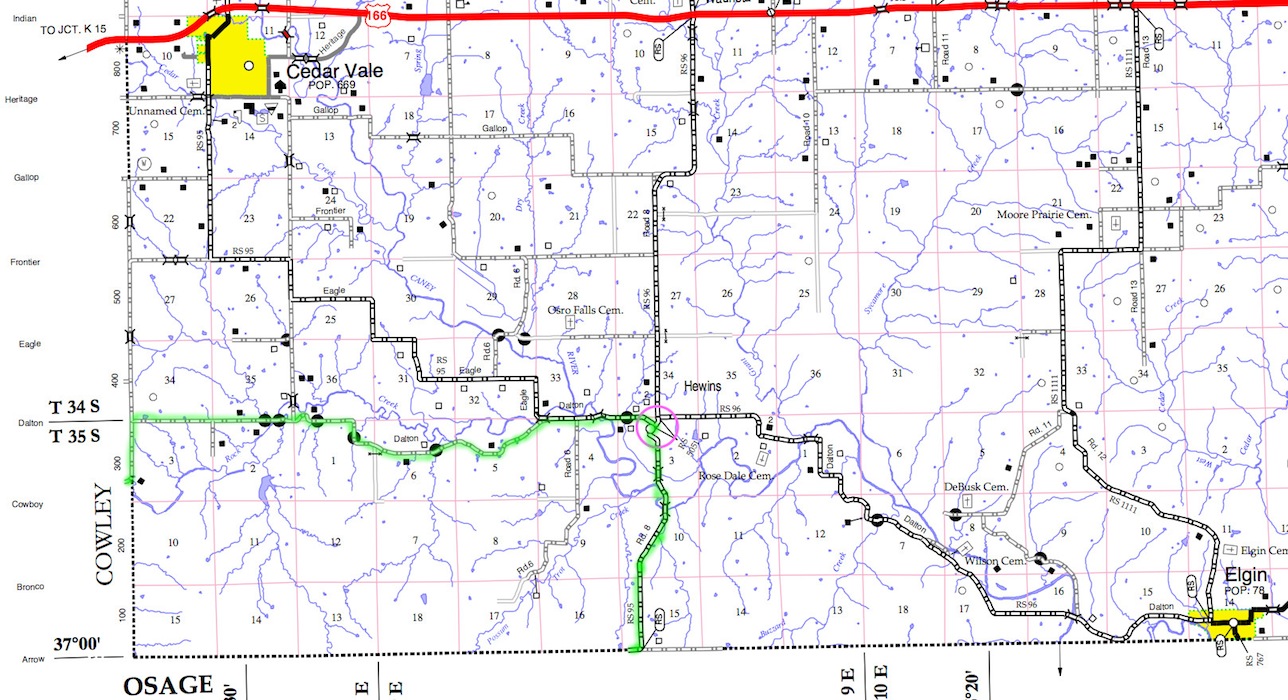 We're supposed to warm back up into the seventies and eighties starting Friday, so I'll soon get back to doing some outdoor work. The grass is waking up, and I'll need to mow before long.
Thursday, April 17, 2014
On another chilly day spitting moisture, I decided to spend some time in a nice warm car, and went for a drive to scout more possible tour routes. We plan to include several stone arch bridges that should be good settings for Model T photos.
Friday, April 18, 2014
At last the nice weather returned, and I got some outside work done. I took the chain saw down the lane and cleared away the two dead trees that were blocking the road. I also got busy with the clippers and the poison and got rid of a lot of little trees that were coming up where I didn't want them. I thought I was going to plant some seedlings. But when I opened the package from the Arbor Day Foundation I found that it contained the four rose of sharon I bought, not the ten seedlings that come with your membership renewal. So instead of seedlings along the lane, I spent the rest of the afternoon planting rose of sharon around the house. I also have three forsythias to plant, and a red maple. I still have to decide where the maple is going to go.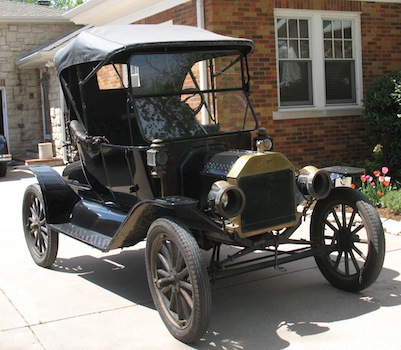 Saturday, April 19, 2014
This morning I went to check out an auction in Cedar Vale. There was a lot of stuff that would have been good if it had been taken care of, but had reached the junk stage. There was a Model T steering column that contained some good parts, but a fellow T guy I know wanted it, so I didn't bid on it. Nothing else inspired me to stay, so I was home by noon. In the afternoon I drove over to Oxford to look at a 1913 Ford roadster that's for sale on eBay. I like it. I like it so much that if I didn't already have too many vehicles and too little storage space I'd be bidding on it. But my reason for going was to check it out in person and take pictures to post on the MTFCA Model T forum as a report to help anybody who may be interested in bidding on it. With two days to go in the bidding, somebody may get a great deal or the price may skyrocket into
"Are you kidding me?"
territory. We shall see.
Sunday, April 20, 2014
I spent way too much time online today but I did get some work done. I planted the three forsythias and the red maple that came from the Arbor Day Foundation this week. I bought the forsythias and the maple came as an extra freebie. The ADF is a great source for landcscaping. The prices are wonderfully low, lower for members, and for a $10 membership they send you ten seedlings. I'm caught up on planting for now, but any day now the ten trees will arrive and I'll have more to do. I already have places picked out for them.
Monday, April 21, 2014
Today was another tour planning day. Ed and I drove around the route for day one of next fall's tour, going at Model T speeds to get the timing. In the first leg of the drive, about sixty miles in two and a quarter hours, we saw four other vehicles. Two of them were the same truck twice. Heavy traffic will not be a problem on this tour.

Tuesday, April 22, 2014
Looking at all I have to do, I realized that I need to cut way down on my internet time. Too much time in front of a screen has been keeping me from getting a lot of things done. Today's non-screen activity was mowing. My mowing tractor is down (one of the things I need to fix), so I have to use only the little Dixon riding mower. I did finish the mowing around the house, and should finish the rest of what I have to mow tomorrow. Now that warmer weather is here and I can work in the unheated east end of the building without suffering from the cold, this evening I got back to dismantling the last pieces of the old built-in screen cabinets left from sign factory days. Some of the sheet rock ceiling in there is falling apart and will have to be replaced, then I can build some shelves and start putting away some of my clutter.
Wednesday, April 23, 2014
Except for a shopping trip to town, all I did today was mow. Of course that includes picking up the beer bottles and other trash, and fixing the mower so it would mow. I finished almost all of it. What's left will take less than an hour.
Thursday, April 24, 2014
I wasn't happy with the unmowed bank along the road, especially as the grass and weeds grew taller and taller during the summer. It's too steep for the riding mower or the mowing tractor, but it occurred to me that a push mower might work. So I got an old one that hasn't been used for many years out of the barn. I cleaned it up, put in gas and oil, gave it a squirt of ether, and started it up. It ran, but lacked the power I think it should have. Anyway, I went to town and bought new foam for the air filter, installed it, and started mowing. By the end of the afternoon I got most of the bank mowed. Tonight I took the carburetor off, thinking I'd soak it overnight in carb cleaner, but I guess not. It's plastic! I'll wash it with soap and water and blow it out and hope that cleans it well enough to make the mower run better.
Friday, April 25, 2014
This morning I put the carburetor back on the mower and found that a good cleaning and adjustment did the trick. The machine ran fine, with enough power not to bog down and die when it hit some thick grass. I finished mowing the rest of the north bank. That includes taking the clippers and the Tordon to a few small trees that had come up in an unfortunate location. I'd like to do the same thing on the south side of the road, but first I'll need to remove the old barbed wire fence that's fallen down in the grass. I definitely don't want to hit that wire with the mower. With today's mowing out of the way, I spent some time on next October's Model T tour, driving to a few likely tour stops. Monday Ed and I will drive some of the potential routes for time and distance.
Saturday, April 26, 2014
After doing laundry this morning I went to check out an auction north of Udall. Not worth staying. I drove some possible Model T tour roads and went to Atlanta to have a look at a possible tour stop, the Caboose Museum. Near Atlanta I drove over a sharp rock that ruined a tire, so when I got back I had to go buy a new one. That's OK. The old tire was getting mighty low on tread, so it was just about time for a new one anyway.
Sunday, April 27, 2014
After a long dry spell, the wee hours of this morning brought a good rain storm. After I was up and working at the computer, another one came along. I didn't have the gauge out, but the two storms together provided enough moisture to do some good. I spent the morning working on tour maps. That's slow work because I'm still learning to use the new software. In the afternoon I hunted up the shop manual for my truck and began work on repair. The snag came when I got to removing a brake drum. I have a puller for that job, but I have no idea where it is. I suppose I'll find it after I buy another one.
Monday, April 28, 2014
Today Ed and I did another tour planning drive to check out roads and get times and distances. This one was all here in Cowley County. We covered about 126 miles, and in the first hundred miles of that we saw a total of five other vehicles. Two of them were trucks parked for road maintenance and cemetery mowing. About 23 miles of the first hundred were paved. This tour will be over a lot of what I consider perfect Model T roads, remote country routes with no high speed traffic. Indeed, almost no traffic at all.
Tuesday, April 29, 2014
The day began with a trip to town for a diagnosis of the Camry's dead cruise control. The mechanic thinks he knows what the problem is, and is getting a part for it. Tomorrow I'll take it back for the repair. At home I spent most of the day inside, out of the cold wind. I had thought maybe I was done with heating until next fall, but sometimes late April can bring some chilly weather. It was cool enough that I had a fire in the kitchen stove this evening, then lit a fire in the living room fireplace and burned trash.