HOME
BLOG LIST
MARCH 2017
MAY 2017



Helping Grandpa move a fallen tree out of the road.





Saturday, April 1, 2017

My cousin Eric was here with his daughter and grandkids. He was delighted to find that the toy train he played with as a toddler was still here. I think that was the highlight of the visit for him. We took the roadster to town for breakfast. Cassey and Ripley rode into town with me, and Eric rode shotgun coming back. He shot a video of the ride home. We took a walk down in the wood lot and I was surprised to find that he never realized that area across the road was part of the farm. It was swell having the bunch here, and we plan to do it again next month when the weather is more pleasant.




Ripley and Cardel gave Shorty some of the attetnion she craved.

Sunday, April 2, 2017
I drove the runabout into town for groceries today, and appreciated the improved ride provided by the new wheels. The old ones made speeds over 35 mph a bit too exciting to suit me. I got up to 45 mph a couple of times and experienced a lot less wandering about on the road. But even with the better tracking, I don't like going that fast. The Model T was made to cruise at 30 to 35 mph, and I don't want to strain it and wear it out. This afternoon I did a little yard work. I'm seriously thinking of replacing the little 8' x 10' tool shed behind the house with something big enough to hold a vehicle or two and a mower. I especially dislike the lack of overhead space in the present shed. It was built for short people by short people, and I find banging my head rather annoying. So this afternoon I cleared away the dead weeds and did some measuring to see what size building I can put there. It looks like 16' x 20' will fit nicely. Eventually I'd like to have a bigger building than that,
but it will be in a different location.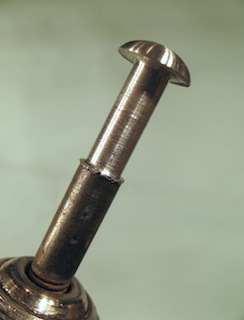 Monday, April 3, 2017

A couple of weeks ago at Chickasha, Jack Daron informed me that the rivet I need to put my roadster's top sockets back together is not currently being made by anybody, and I would have to make it myself.
So I made it myself. Today I took a carriage bolt to the machine shop at the juco and made the rivet, then brought it home and prettied it up with a drill and sandpaper. Soon I'll be able to put the roof up on that car. This afternoon Shorty gave me a scare . She jumped out of a moving car. There was some blood, but I couldn't see where she was bleeding. She acted like she wasn't badly hurt, but this evening she was nowhere to be found. I was afraid she had gone off somewhere and died of internal injuries. Then, later in the evening, I heard her barking outside my shop, as usual. She looks OK and doesn't act like she's hurting, so maybe any damage was minor.


Tuesday, April 4, 2017

Today's shop work was painting my "new" windshield frame and hinge parts.With the deadline for income taxes coming up next week, this afternoon I got started on that. Last year I neglected to write down the password for the tax website I use, so I spent over an hour getting a new password. Eventually I got logged on and started filling in the forms. I think I'll do a little on this each day rather than all at once. Maybe that will be less annoying.





Wednesday, April 5, 2017


Done. I spent about an hour indexing all my March digital photos, then got back to working on taxes. It wasn't going too badly, so I kept at it until the job was done, about 2:00 PM. All that remains is putting the returns in the mail tomorrow. A few years ago I fell for all the hype about the ease of E-filing. I found out after the deadline had passed that it hadn't worked, and I ended up paying a penalty for being late. So ever since then I've printed out the forms and sent them by snail mail. With the tax chore done, I got out the chain saw and cut up some branches for firewood. What I cut today will last a couple of evenings. After a few dry days, I'll cut some more.




I knew that lightning strike Monday night wasn't far away. Today I found it was behind my shop. I noticed the strip of bark hanging in the branches, then I noticed the tree.








Thursday, April 6, 2017

The best-laid plans... I got the taxes ready to mail, drove the roadster to town to mail them and buy groceries, and came home with the intention of starting the mowing season. But when it came time to unload the mower that's been sitting in the Suburban since I bought it, I hit a snag. The Chebby's transmission has a slow leak, and it wouldn't move. So I had to go back to town for some ATF. By then the day was pretty well spent, so I'll unload the mower tomorrow.





Friday, April 7, 2017

A little of this, a little of that. I assembled the roadster's new upper windshield frame and took it to Winfield to have the glass installed, bought a couple of quarts of kimchi, and stopped at the Wal-Mart to buy two gallons of ATF which the so-called super center in Arkansas City doesn't carry. When I got home I unloaded the mower out of the Suburban, adjusted the transmission, and spent about an hour mowing. Next was getting ready to start a combination project. Part of it will be taking the TV cable which is currently strung across the back of the house and running it underground and into the house through the cellar. The underground part will be in front of and into the garage. It will need to be deep enough to be under the other part of the project, which will be excavating in front of the garage to carry away rainwater so it won't flood into the garage. I aim to make it a wide and shallow trough and pave it with bricks. All I did on it today was raking away all the twigs, leaves, and other debris where I'll be digging. Next was a session of cutting inconveniently placed little trees and dosing the stumps with Tordon. The last job of the day was dealing with old roofing. When putting new corrugated roofing on the east end of the shop, I tossed the old stuff in a haphazard pile. Today I got around to stacking it neatly, and found that it was quite a snake haven. I found a good sized black snake, about three feet long, which I'm always glad to see because they eat mice. There were two or three little prairie ringnecks, and this handsome critter. From what I found online, I think it's a yellow belly racer.




Saturday, April 8, 2017

Again I was off to an auction, this time in Cedarvale. I found a couple of good items, but it was mostly junk. It was a big sale and I didn't want to stick around all day waiting, so I headed for home. On the way I detoured to check out a couple of locations for a photo shoot. I got home a little after noon and spent the rest of the day on the TV cable project. I got the ditch dug, and went to town for some kind of tubing or conduit to put the cable in. I didn't find anything quite right, so I'll see if I can find something in Ponca City tomorrow.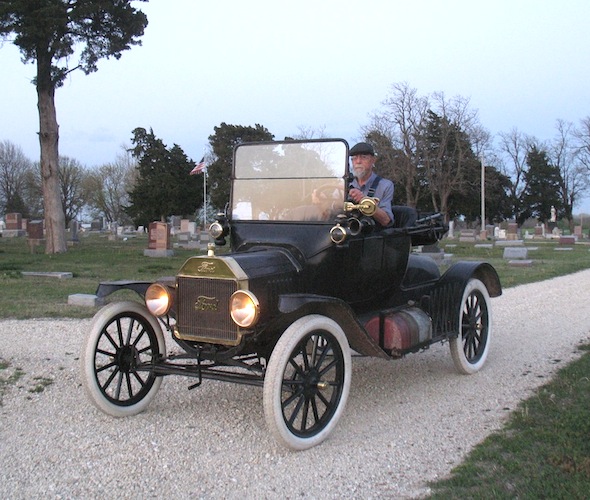 Sunday, April 9, 2017

I got smarter today. After phoning TSC and Lowe's in Ponca city and finding out what they had, and how much it cost, it suddenly dawned on me that there's tubing with a 5/8" ID available locally, and it costs a lot less. It's called a garden hose. So I went to town and bought one for six bucks. I figured out a way to put the TV cable through the hose, put it in the ditch, and buried it. Then I started excavating drainage in front of the garage and laying street bricks. Maybe I'll finish that tomorrow, or maybe it will take longer. Doesn't matter. It will get done. The part of the cable project that remains is to feed it through a hole into the cellar and make a hole for it to go up to the cable box in the living room. But that will wait. I want to get the drainage project done first, before the next rain. I was pleased with today's progress, and with pleasant weather now here, I went for the first after-dinner evening drive of the season. I love driving the little Ford runabout.


Monday, April 10, 2017

In the morning I updated my roadster page. I spent the afternoon excavating and laying bricks in front of the garage. I should have that project finished tomorrow, ready for the rain that's predicted on Thursday.


Tuesday, April 11, 2017

This was the day to finish up the five-day pair of projects. I got the TV cable buried and into the garage on the third day, and spent a couple of days excavating drainage in front of the garage and paving it with street bricks. I think it turned out pretty well. I'll find out how well it works when we get some rain. Here are some pictures, and if you have Facebook you can see a few more here.

| | | | | |
| --- | --- | --- | --- | --- |
| Lots of pick and shovel work. | I used button thread to pull a nylon rope through the hose... | ...and used the rope to pull the TV cable through. | Ends of the hose are sealed with silicone caulk. | Shorty watched to be sure I did it right. |
| | | | |
| --- | --- | --- | --- |
| I'll fill some holes and save the rest of this for future projects.. | Chipping off old mortar. | Paving took about 150 street bricks. | Ready for the next storm. |


Wednesday, April 12, 2017

Drat! Stuck again. It was clean-up day. I put away tools, filled a couple of holes with dirt left over from the recent excavating, and piled the rest in the back yard with a tarp over it. I gathered up a truckload of yard waste and hauled it to the brush pile in the wood lot. While I was there I loaded up a stack of wood to take to the splitter. Once again, I hit a wet spot and the truck will be there until the ground dries or until I jack it up and put a lot of cedar branches under the wheels. It's annoying that I don't have a tractor running well enough to pull the truck out of its bogdown.






Thursday, April 13, 2017



At the end of the day, the truck remains stuck. I used a hi-lift jack to raise the wheels out of the muck, and stuffed a lot of cedar branches under them. All I got for my efforts was a spinning wheel and no forward movement. If I'm going to get the poor old truck out of the bog before summer, I'll have to put some long boards under the wheels. My shop work today was front end alignment. I noticed that the front tires on the roadster, with just a little over a hundred miles on them, were already showing wear. I checked the gather (toe-in), which is supposed to be 1/4", and found that it was over 11/2". No wonder! That can eat up tires in no time. From now on I'll check alignment whenever I put new wheels or tires on a car.




Friday, April 14, 2017

Before going to town, I gave the roadster its 250 mile oiling and greasing. The charts say 200 miles, but if I use 250 miles it will coincide with the 500 and 1000 mile services. In town I shopped for a few things and stopped at the glass shop to have them make a new headlight lens to replace a broken one. That was an easy job for them. The 1915 lenses are plain window glass. I drove down to the gasino to fill up the car because the Oklahoma prices are a little lower, and with the shell card discount that makes the price per gallon about 8¢ to a dime cheaper than in town.






Saturday, April 15, 2017

Success on two fronts. In the morning I rerouted the TV cable through the cellar so it won't be strung across the back of the house anymore. It's several feet longer than needed, and its excessive length has been coiled up in the garage where I stack firewood. With it out of the way, now I can start laying in fuel for next fall. My afternoon project was rescuing the stuck truck from its annual spring bogdown. A pair of 2 x 12 boards did the trick. I finished that about three and headed for Wichita. My first stop was at a Korean market to buy 김지. I like to buy kimchi in Wichita because I can get it in gallon jars there. The Asian market in Winfield carries only smaller sizes, which make it cost much more. My second Wichita stop was for dinner, and the third (the reason for the trip) was to see

The Zookeeper's Wife

. One reviewer called it the best picture of the year so far, so I knew it will never be shown down here in Podunk.






Sunday, April 16, 2017

Except for a shopping trip to town in the runabout, I spent most of the day finishing up my alignment measuring tool. I actually made the thing more than a year ago, but it needed a couple of improvements. Coming home from town in the runabout tbis morning I was on a straight stretch of road with a slight downhill, and opened it up. I hit 50 mph. With the new non-wobbly wheels and fairly stable steering it wasn't terrifying. The engine had more, but I didn't want to push my luck. Even 45 mph is more than I like. I'm comfortable with cruising at 35 mph, and I think the car likes it better too.


Monday, April 17, 2017

Progress! Jerry Loomis came over and helped me install the top socket he repaired. In the afternoon I fired
up the splitter and did all the firewood that was in the truck (See Thursday and Saturday photos above). Tomorrow I'll stack it in the garage and that will be the start of next winter's supply.


Tuesday, April 18, 2017

They're baaaack! Ticks appeared about a month ago. Now the skeeters are here. Better spray on plenty of repellant if you're working outside. That's what I did. I took the firewood out of the truck and stacked it in the garage for next fall and winter, then filled the truck with piles of branches and other yard waste that's been waiting since last fall. Then I sharpened the mower blade and spent the rest of the day mowing. There's more mowing to do tomorrow. There's always somethng to do. Half the year it's firewood, and the other half it's
mowing.


Wednesday, April 19, 2017

More mowing. But with time out, over an hour, to drive to town and buy a new battery for the mower. The old
one was dead, dead, dead. I stopped mowing about 2:30 and spent the rest of the afternoon west of the garage digging and pulling weeds
, cultivating, and planting flower seeds. I planted hollyhocks for something tall with a lot of flowers in different colors, and nasturtiums for something shorter with lots of flowers. I wanted to get the seeds in the ground today to get the benefit of rain that's predicted overnight tonight and all day Friday. While I was in town for a battery I bought a couple of small tarps, one to cover the splitter, and one for the mower. I really do need more garage space so I can get
all the vehicles and equipment inside out of the weather.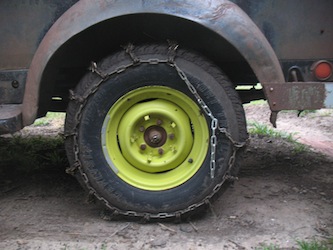 Thursday, April 20, 2017

That overnight rain failed to show, which is a good thing. It would have made the ground even muddier than it already is, which would have made today's first
chore more difficult. That was transplanting the five redbuds I dug up yesterday. I got all five in the ground along the lane to the wood lot, and started clearing away some of the small trees and branches there that needed to go.
I was going to take the truck to the brush pile and
empty it, when it got stuck again. This time, instead of depending on boards under the wheels, I hunted up some tire chains. They were a little too short to fit the 16" wheels, so when I went to town for groceries I stopped at the farm supply and got some chain and clips. That got the tire chains to fit, and those got me unstuck. After tomorrow's 100% chance of rain, the forecast shows five dry days. Maybe that will dry out the roads enough to let me get to the brush pile and empty the truck. In any case, I believe I'll leave those tire chains on the truck except when I have to drive it on pavement to go get gas.


Friday, April 21, 2017

Today was a soaker. It rained all day, sometimes a little and sometimes a lot, but never a downpour. I spent a good chunk of the morning at the computer, filing items I had temporarily left on my desktop. In the afternoon I did laundry, and that pretty much ate up the rest of the day. This evening was cool enough for a fire in the kitchen stove and the living room fireplace. It may have been the last time until next fall.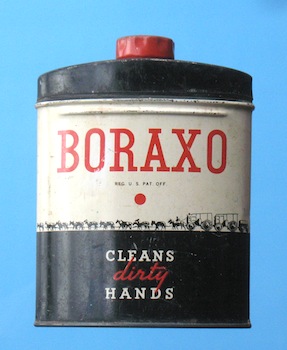 Saturday, April 22, 2017

Unexpected plumbing. Rarely, once or twice a year, we get single digit temperatures here. When that happens, the water pipes to the bathroom sink, which come up through the unheated west porch, are likely to freeze. So when winter arrives I go down to the cellar and shut off those lines. We're safely past that danger now, so yesterday I went down and turned on the water to the sink. When I came upstairs I found water leaking all over the bathroom floor, so I had to go back down to the cellar and shut it off. The reason for the flooding was that the soldered connection of a copper fitting on one of the valves had failed. I had to remove the valve and resolder the fitting. That ate up a couple of hours, but I hope the fix will be permanent. Another project of the day was making a little funnel from a scrap of aluminum flashing so I can refill my vintage Boraxo can.


Sunday, April 23, 2017

Two projects and a trip to town. The first project was making a little bench with weights on it to hold my feet down when I do sit-ups. That was simple and took less than an hour. The trip to town was to gas up the runabout, take a broken headlight bucket to Jerry Loomis who is going to try to fix it, and to get some celery. The second project was using the clippers and a bottle of Tordon to remove a small forest of little trees that have sprung up inconveniently in front of my shop. That one used up the rest of the day, and there's still more of it to do.


Monday, April 24, 2017

Lots of yard work today. With the clippers and a bottle of Tordon I removed little trees from the back lawn and then mowed the area. With the truck almost full of yard waste, I took a walk down to the wood lot to check the road. I can forget about driving the truck down there anytime soon. The road is even wetter and muddier than it was when I got stuck last week. Even with tire chains, I'm not about to try it. I guess I need to start a new brush pile somewhere I can drive in the spring without getting stuck. My last job of the day was wielding the clippers and Tordon on the little trees inconveniently growing in front of my shop. That's almost done, so tomorrow should finish it.


Tuesday, April 25, 2017

Dammit three times. I quit buying Poulan chain saws because they were always breaking down. Now the Husqvarna is failing to oil the chain when it runs. Again. This happened before with this saw, and I had to drive to Haysville, over an hour away, to the nearest dealer. So another trip to Haysville is first on tomorrow's agenda. Today I finished clearing away little trees in front of the shop, and was getting started on cutting a road to a less boggy site for a brush pile when the chain saw problem interrupted me. I guess I can work on clearing stuff that's small enough for the clippers and deal with the larger trees and branches when I have a working saw again.


Wednesday, April 26, 2017

Taking the chain saw to the repair shop used up a big chunk of the morning. Weather from the north kept the temperature below 55º all day, but I put on my winter clothes and worked on the new brush pile road. With the clippers and the Tordon I cleared a lot of small trees and branches. Removing the larger trees and branches when I get my saw back should be fairly quick work. It appears to me that this new road may be as much trouble as the others in wet weather, but I think it's well enough drained that it will dry out faster. The other roads have areas that remain boggy and soft for weeks at a time.








Thursday, April 27, 2017

After a drive to town in the roadster for groceries and other shopping, I spent the afternoon working on the road to my new brush pile. I made good progress on that, clearing almost everything that wasn't too big for the clippers to handle, from the south end to the pile. Next I'll do the same from the pile to the north end of the road. That's a shorter distance, and shouldn't take more than a day or two. When I get my saw back from the repair shop, next week I hope, it shouldn't take more than another day or two to deal with the larger trees and branches and have the whole project finished. It will be nice to have a place to empty the truck, as there's a lot of yard waste to haul away.





Friday, April 28, 2017

This was a travel day. I'm in Iowa for an auction. Driving up through Kansas today I had a nice surprise. Since forever, the several counties from Cottonwood Falls to near Kansas City have been pretty much of a radio desert, with small stations that quickly fade. These were nearly all brain-dead commercial formats providing preachers, redneck rock, political baloney, sports blather, etc., etc. Today I was delighted to discover that KPR is now providing full coverage all the way, on two frequencies. I heard Mozart's Piano Conmcerto #21 and other good music from Strong City all the way up to about fifty miles north of Kansas City. This improves the traveling experience in that area considerably.


Saturday, April 29, 2017

Brrrrr! The day started off chilly and never improved, with an afternoon high of 41º. The rain started soon after the auction got started. It was never a downpour, just a steady light drizzle that kept things wet and soon turned bare ground to a quagmire. Add a stiff northeast wind to that, and after a couple of hours my claws—er, fingers— were so numb and stiff that I had trouble holding a tissue to wipe my nose. Today they sold mostly tools and old farm equipment. I did spot a can full of spark plugs on a trailer, and some of them were for Model T. I determined that I could go as high as $40 for it, and waited around for a couple of hours waiting for it to come up for sale. It went for $100! I hope the prices don't go crazy like that tomorrow when the Model T parts and cars sell. I won't be bidding on a car, but I did see a few good parts I may bring home if the prices stay reasonable.


Sunday, April 30, 2017

Today was just as wet as yesterday, and more miserable because the wind was stronger and the mud was deeper. I posted a report on the sale here.



HOME
BLOG LIST
MARCH 2017
MAY 2017