Monday, May 1, 2006
It's Mission Accomplished Day, the third anniversary of Dubya dressing up in a pilot costume and posing in front of a "Mission Accomplished" banner. Some Democrats were afraind he'd use videotape of the event in political ads. Now, after three years of the mess in Iraq, they can use it.
Today I finished most of the bathroom painting except for the door. Besides the door, there are just a few places to touch up.
Tuesday, May 2, 2006
Today's bathroom activitiy was applying wall covering primer to the north wall.
Wednesday, May 3, 2006
I spent so much time shopping after work that I didn't get much done on the bathroom. I did finish the last of applying grout along the edges of the shower tile.
Thursday, May 4, 2006
This afternoon's bathroom jobs were sanding and getting a coat of paint on one side of the door, and putting masking tape in place for applying wall covering primer to the south and west walls.
Friday, May 5, 2006
After work I bought a plastic tub for wetting pre-glued wallpaper, then went grocery shopping. When I got home I sanded the other side of the bathroom door and put a coat of paint on it.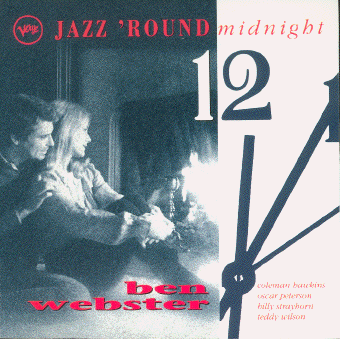 Saturday, May 6, 2006
Monk's 'Round Midnight isn't one of the songs here, but no matter. There are a lot of famous sax players, but my favorite is Ben Webster. In the wrong hands, the tenor sax can be harsh and strident. An old joke is that there was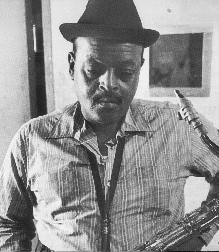 a tenor sax man whose tone was so bad that even he noticed it. Ben Webster is the antithesis of all that. Webster's supremely mellow tone is ideally suited to the material included here. Songs one would expect are here, like In the Wee Small Hours of the Morning, When I Fall in Love, My Funny Valentine, Willow Weep for Me, Prelude to a Kiss, Tenderly, and other romantic classics. Listeners familiar with young Bing Crosby's rendition of the campy You're Getting to Be a Habit with Me with Guy Lombardo's Royal Canadians will hear the old song transformed by the Webster touch. In most of these cuts, recorded from 1953 to 1959, Webster is in a small group setting, with just piano, guitar, bass, and drums. Great musicians on hand include Oscar Peterson, Ray Brown, Herb Ellis, Teddy Wilson, Louis Bellson, Milt Hinton, Jo Jones, and others. Another great tenor sax man, Coleman Hawkins, makes an appearance, and one cut includes Sweets Edison on trumpet. By the 1950's, recording technology had advanced to the point where these high fidelity recordings played on the right equipment put you right in the room with these guys playing fifty years ago.
Today I went down to the tractor show at Pawnee. It was drizzly and muddy until afternoon, when the rain quit. The highlights (the threshing and plowing demonstrations) were washed out, but there was still a lot of interesting stuff to see. I should have some pictures tomorrow, so I'll post them on the tractor section of this website.
Sunday, May 7, 2006
Made some good progress on the bathroom today. I got the wallpaper up on the north wall, so I could put the tank back on the toilet, and got more than half of the south wall papered.
Monday, May 8, 2006
I celebrated VE Day by achieving victory over wallpaper. This afternoon I finished papering the south wall and did the west wall. That's it. All that remains to do is applying the border around the top. I also put the last coat of paint on the door.
Tuesday, May 9, 2006
This afternoon I finished the bathroom wallpaper, putting up the border. With the wallpaper finished, I hung the sink and started to finish the plumbing.
Wednesday, May 10, 2006
Drat! I wasted the afternoon trying to assemble the plumbing for the bathroom sink. It involves soldering copper fittings, and I really botched the job. Tomorrow I'll take the stuff to a plumber and let somebody with the experience and talent for soldering do it.
Thursday, May 11, 2006
Stopped on the way home from work to buy a toilet paper holder and a couple of towel hangers for the new bathroom. After I finish the plumbing for the sink, there are just a few details left before I finish the whole project.
Friday, May 12, 2006
I took an afternoon off from working on the bathroom to burn trash and spray brush killer on some of the little trees that come up in the lawn and other inconvenient places.
Saturday, May13, 2006
During my three mile jog this morning I caught a whiff of blooming honeysuckle. Soon it will be time for lightning bugs.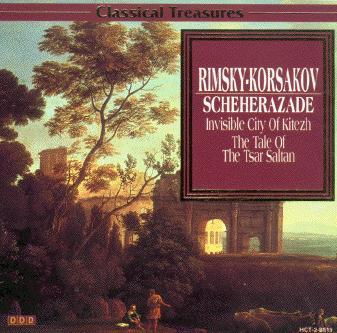 Here's some exotic music from the nineteenth century. Nikolay Rimsky-Korsakov (1844-1908) is one of the greatest Russian composers, known for his mastery of orchestration. He wrote the symphonic suite Scheherezade in 1888. This romantic evocation of The Arabian Nights is wonderful program music. In four sections, "The Sea and Sinbad's Ship", "The Kalender Prince", "The Young Prince and Princess", and "Festival of Baghdad - The Sea", Rimsky-Korsakov not only demonstrates that he's the master of orchestration, but he also comes up with some great melodies. This CD also contains the less famous symphonic suite Invisible City of Kitezh, and ends with Flight of the Bumble Bee, a piece which radio fans can't hear without thinking of The Green Hornet.
Today I took a real day off, going on a tractor ride through the Flint Hills. Here's a page of pictures from the Tractor Tour.
Sunday, May 14, 2006
With all the bathroom rebuilding, I've neglected yard work. The grass has been getting pretty high. So I spent Sunday afternoon spraying brush killer on poison ivy and little trees that came up in the wrong places, then changing oil and greasing the tractor.
Monday, May 15,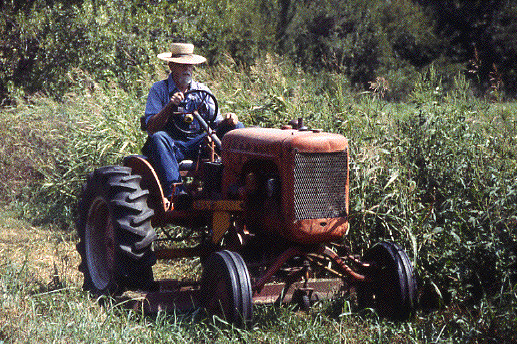 2006
After work today I enjoyed a session on the tractor, mowing along the road to the west and down the lane to the pasture, or what used to be pasture before all the trees took over. Some of the grass was so high that the belt on the mower slipped, so I raised the mower to maximum height, then made another pass with it lowered. I love the combination of the Model B Allis and the L-59 Woods mower. It does a very nice job.
Tuesday, May 16, 2006
Today after work I picked up the valves for the bathroom sink and installed them. There are a couple of small plumbing leaks to fix. After that, just scraping some paint off of one window, installing a TP holder and a couple of towel racks, touching up a little paint, and putting up the door. This bathroom project has dragged on through fall, winter, and most of spring. It's nice to have it almost done.
Wednesday, May 17, 2006
This afternoon it was back to mowing. All went well until I headed for the barn and was rudely reminded of the dog chain lying in the grass. Luckily it only took about ten minutes to disentangle the chain from the mower. It could have been a lot worse.
Thursday, May 18, 2006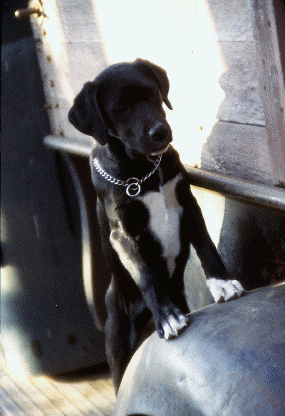 After yesterday's session on the big tractor mower, today I did some repairs on the little Dixon ZTR. It needs a new belt, and since the nearest Dixon place is in Ponca City I'll get a new belt Saturday.
Today I got an email asking for a picture of Molly on the website, so here it is. This dog has her idiosynchrasies, to say the least. She usually will not come when called. She growls and/or barks at everybody but me. She is wonderfully entertaining, though, because of her speed. A couple of weeks ago she started going with me when I do my morning three miles. She acts as decoy. When the large and hostile neighbor dogs come running out to do battle, they go after her. But she's so fast that she runs circles around them, and all they can do is stand flat-footed and watch her. As I mowed along the road Monday afternoon, Molly followed the tractor. I stopped and watched the show when a big dog ran out, ferociously intent on teaching this upstart a lesson. As usual, she was too fast for him. As he stood and watched, she ran away from him, ran up to him, and ran around him, taking playful little nips as she passed. It was a very entertaining show.
Friday, May 19, 2006
After grocery shopping on the way home from work, I worked on some of those little leaks in the bathroom sink plumbing. I managed to cure all but one.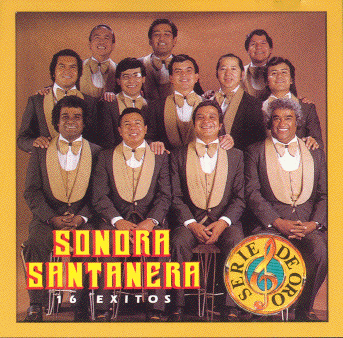 Saturday, May 20, 2006
Here's some great music from Cuba by way of Mexico. Sonora Santanera is a Mexican group, but a lot of their music has a Cuban sound. The Cuban style is especially apparent in dance numbers like La Boa, De Mexico a La Habana, and Donde Estas Yolanda. But for me, the romantic ballad is where these guys really shine. There's the cynical Amor de Cabaret (Cabaret love is not sincere. It kills me, but it's what I want.) The sentimental Estoy Pensando En Ti combines a guy missing his gal with a nice melody performed to perfection. This collection of hits saves the best for the last, ending with the classic Perfume de Gardenias by Rafael Hernandez. This great song, with its flowery poetry set to a beautiful melody, has been recorded by a lot of performers, but I haven't heard anybody do it better than Sonora Santanera.
Today I finished installing the TP holder and towel bars in the bathroom, scraped paint off a window, and started putting away tools and cleaning up the west porch.
I finished the afternoon by taking the mower belt from the Dixon ZTR and driving thirty miles to Ponca City for a replacement. It turned out that the new belt was no shorter than the old one, which I assumed had stretched over time, as it was slippng a lot. So instead of buying a new belt, I got a can of belt dressing with the hope that that might stop some of the slipping.
While in Ponca City I went to Los Compadres for a good Mexican meal. It's one of those places where you know the food is the real thing because actual Mexicans eat there. In the Arkansas City area, we're back to the old situation: If you want a real Mexican meal in a sit-down restaurant, you have to drive to Ponca City or Wichita. La Birría lasted just three months, opening in February and closing in early May. There's still a taco truck, but in bad weather you don't sit there to eat. Meanwhile, droves of clueless gringos flock to the prospering places that dish up faux-Mexican atrocities.
Monday, May 29, 2006
Long time no write. I got busy preparing for yesterday's family reunion. My brother took some vacation time and drove here with his two Saint Bernards and his small auxillary terrier. Molly doesn't like people, and barks at everybody, but she had a great time with our doggie visitors.
Wednesday, May 31, 2006
It seems I've been pretty lax in my blogging lately. Yesterday I drove down to Ponca City to get a replacement drive shaft for the Dixon mower. Today I removed the bent and twisted shaft and installed the new one, then I noticed that the gear that goes on the end of the shaft has a tooth broken off. So tomorrow afternoon it's back to Ponca City again for a new gear.