HOME
BLOG LIST
APRIL 2017
JUNE 2017

Monday, May 1, 2017


I got home at 7:17 AM and found that while I was gone the rain gauge had collected 1.7". After a pretty dry winter we're having a wet spring. Nothing unusual to report. I went grocery shopping, gassed up the Camry, and bought some parts to add an air filter to my roadster. If that turns out OK I'll do the same for the other Model T's.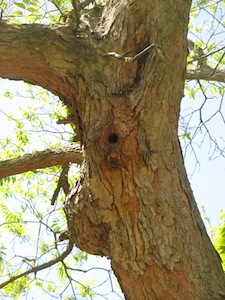 Tuesday, May 2, 2017
Back to work. I spent a couple of hours clearing my new brush pile road of trees and branches that weren't too big for the clippers. Getting my saw back should make short work of the larger stuff. I heard a sound that at first made me think a tractor was coming down the road. But then I realized it was a nearby buzzing sound. It was from this tree where the honeybees have a hive. I went to town for several items and found that the so-called Super
Center was out of what I needed, and I had to go to the real Super Center in Winfield.
By the time I did that and then gassed up the roadster the day was pretty well spent.


Wednesday, May3, 2017

Rain overnight left another 1.3" in the gauge. I'm hoping for a stretch of dry weather to come along and make some soft ground solid enough that I can haul yard waste to a brush pile without getting stuck. The new road is better drained than the others, but even it will need to dry out before I can use it. I got up late and spent the morning online, both playing and paying bills. In the afternoon I noticed more front tire wear on the roadster. I rechecked the gather, or toe-in, which I thought I had corrected, and found that it was still too much, so I adjusted it again.
This is pretty disgusting, because an almost-new tire is ruined.


Thursday, May 4, 2017

The day began
with a drive to Haysville to retrieve my repaired saw. During that drive I noticed that the Camry's

Check Engine

light was on. So in the afternoon I had to take the car to town to have that checked out. It turned out to be just a plugged fuel tank exhaust, so easily fixed I wasn't even charged for it. When not fetching the saw or dealing with the car, I spent the day clearing large branches from my new road. I got the first part, to the brush pile from the south, just about finished. The shorter part, north of the pile, should be finished tomorrow. I hope the several dry days in the forecast will solidify the ground enough for me to use the road without getting stuck.


Viernes, 5 de Mayo, 2017

Done! Well, almost done. I finished clearing the new road except for a few hanging branches I'll need a ladder to reach. The forecast calls for several days with no rain, so I hope next week I'll be able to empty the truck without having to worry about getting stuck. Meanwhile, I intend to use the dry weather to fill the sprayer and resume the war against honeysuckle. I wouldn't mind having a little of the stuff, but it spreads aggressively and wants to take over the world, so most of it has to go.








Saturday, May 6, 2017

Yard work, all day. I did a lot of mowing, then tackled small tree removal along the west drive. That's a job that's needed doing for a long time, and there are a lot of little trees that need to go. While mowing I noticed that the rose bush out by the road is in full bloom, so I brought the roadster out to sit for a portrait with the roses. While working on tree removal, I came across a painted box turtle, the offical Kansas State Reptile.



Sunday, May 7, 2017

I gambled and lost. A walk down toward the south brush pile made it obvious that was a no go. The road was not only muddy, but had water standing in it. The new road I just finished looked better, so I gave it a go. A couple of dry days weren't enough. The ground is still too soft. When the wheels dig in this deep, even tire chains don't help. For now I won't even try to get the truck out. I'll give it another few days, but I won't be hauling any yard trash after I get it out, probably for several weeks. I'll just make piles in the yard and haul them later when the ground has dried out. So what did I do with the rest of the day? Went to town for groceries, changed oil in the roadster, took a nice nap, and removed more little trees by the west drive. Killing so many small trees, I'll have to buy another bottle of Tordon tomorrow when the co-op is open.



Monday, May 8, 2017
The centerpiece of today's action was a
visit to the juco to use the machine shop. The project was making screen clips. When I bought some new windows for the house, the screens were held on by plastic clips that would be listed under the heading of worthless crap. They're flimsy plastic, and by now most of them are broken. So today I started on making my own brass clips that will stay together. I had enough material to make 44 of the 48 I need. I hope I can find enough tubing locally for the last four. I really don't want to buy more online and pay for shipping that would cost a lot more than the material.


Tuesday, May 9, 2017

This evening was a big adventure. I drove the runabout to a hill about fifteen miles east to shoot its portrait with the moon overhead. Chris Hasty went along to help out. I was hoping for a shot with the moon just above the horizon, but there was too much haze for it to show up there. This shot with it higher in the sky was the best we could do.

The really big adventure was coming home in the fading twilight. For the first few miles it was easy to see the road, but as it got darker it was obvious that the car's lights weren't doing their job. Especially where the road was lined with overhanging trees, it got harder to see where I was going. It got pretty scary, but I made it home OK, and investigated the light situation. I removed the 24 volt bulbs, supposedly good for magneto lights, and replaced them with twelve bolt bulbs. The photos tell the tale. I'll be using the "wrong" bulbs until something better comes along.


Wednesday, May 10, 2017

Well, that was a waste of time. I thought I'd try moving the stuck truck to more solid ground before the predicted rain came along. I jacked it up and put boards under the rear wheels. But the front wheels had sunk into the ground enough to keep it right there. The rear wheels just slid off the boards. So there it sits, waiting for a return of dry weather. I spent most of the day finishing and installing those new screen clips I started Monday.
Meanwhile the nasturtiums and hollyhocks I planted three weeks ago have sprouted and are doing well. With all the rain we've had, I've watered them only three times in three weeks.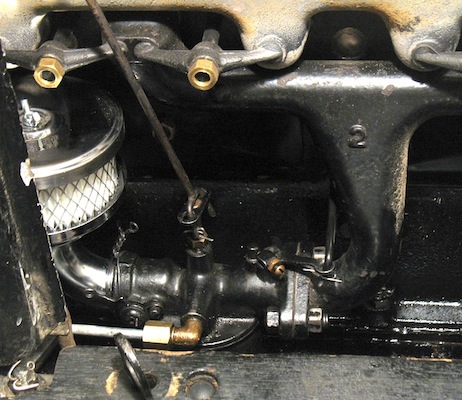 Thursday, May 11, 2017

Today's main project on this rainy day was installing the air filter on my roadster. I drive on unpaved country roads a lot, so keeping dust out of the engine is a good idea. I puzzled quite a while on how to attach the filter, and finally figured out a high-tech answer: baling wire. With the filter mounted on a piece of tubing, I twisted wire around the tubing, twisted wire around the carb throat, and twisted the twists together. With an O-ring to seal the connection, it actually works very well.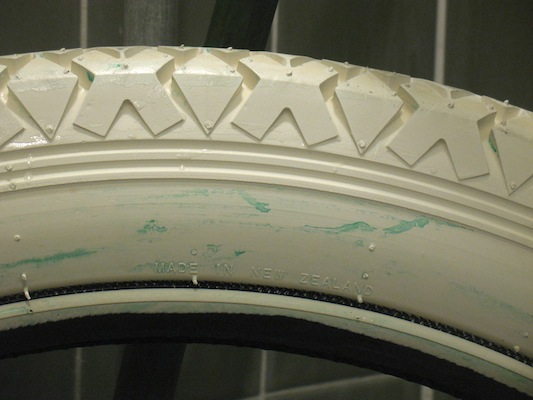 Friday, May12, 2017

That was a good soaking. This morning the rain gauge had 2.3" in it. My first project of the day was a fuel shut off for the roadster. Rather than install a valve by the carburetor, I put a handle under the running board on a rod connected to the valve under the gas tank. The other big job of the day was trying to remove the green preservative from a new tire. It's supposed to wash off with soap and warm water, but apparently this tire has been in storage so long that the stuff has hardened and doesn't want to wash off. I tried all sorts of cleaning products. Some didn't work at all, and some worked a little bit. Repeated scrubbings with Bleche Wite removed most of the green stuff, but a few spots wouldn't budge. Fortunately most of the spots are on one side, so I'll mount the tire with the cleaner side out.


Saturday, May 13, 2017

An auction in Winfield had nothing to keep me there, so I spent my morning doing laundry and reading the new

Model T Times

. My afternoon chore was changing a tire on the roadster. Getting the old tire off wasn't terrible, but installing the new one is a difficult work in progress. I decided to take some time off from that to make some longer tire irons. The stock
Ford irons are just too short to get sufficient leverage when you're dealing with a stubborn new tire.


Sunday
, May 14, 2017

I wasted the morning trying to make and use those longer tire irons. The bottom line of the long story is that they just bent and didn't work. I've decided to surrender and take the job to a tire shop where they have the proper tools for mounting stubborn tires. I should have gotten some work done this afternoon, but I couldn't resist taking a nice nap for a couple of hours. By the time I went to town for groceries the day was pretty well shot.


Monday, May 15, 2017

Yard work. Once again, I applied the clippers and the Tordon to little trees in the yard, then mowed. Ace body man Jerry Loomis brought the headlight bucket he's been repairing for the roadster, and I installed it on the car. Then I got back to yard work, removing more little trees and doing more mowing. I think there's enough small tree removal to last me several years.


Tuesday, May 16, 2017

Victory! I dragged a floor jack and a sheet of 16 gauge sheet metal to the stuck truck, put the metal underneath and the jack on it, raised the front, and put boards under the wheels. Then I raised the rear wheels with the high-lift jack and put the 2 x 12 boards under them. I put the truck in gear and drove, and didn't stop until I was safely on solid ground. Later I took a walk down the road to the south brush pile and found it still boggy with standing water. Apparently I won't be hauling away any piles of yard waste until summer. My other accomplishment was reattaching wires for trailer lights on the Suburban. I had to cut them last fall when I dropped the gas tank to install a new filler hose.


Wednesday, May 17, 2017

I need more indoor space. I intend to have an auction to get rid of a lot of stuff, but first I just need a place to sort and gather everything. So today I staked out a place for a new building. It will be 20' x 20', with enough room for a couple of vehicles downstairs and almost as much space upstairs for other stuff. I would
love to have a much bigger building, but it would take too big a bite out of my savings. Even this small one will be more than I'd like to spend.


Thursday, May 18, 2017

Yesterday's mail brought
an American Sweetgum and a Red Maple from the Arbor Day Society, so one of today's chores was getting both of those planted before the predicted rain arrived. This evening brought something that many other parts of the country never experience. There was no local TV news, and no network news, on the ABC, CBS, and NBC stations here. Instead there was continuous storm coverage, with meteorologists standing in front of radar maps and warnng of developing severe weather and tornados. Past storms have killed people who didn't know what was coming and weren't prepared, so the stations try to keep everybody well informed. That's
life in Tornado Alley. Here on the farm it was just heavy rain for awhile and enough wind to bring down some tree limbs.


Friday, May 19, 2017

Early in the morning I was off to Tulsa, where I spent the day in Mike Bender's shop working on the engine from my 1923 touring car.
I brought home the flywheel and all the magneto parts to assemble. After I do that and some other homework, I'll head back to Mike's for another session.
| | | |
| --- | --- | --- |
| Using the best parts available. | Honing fly wheel pins to fit. | Sorting magnet supports. |
Saturday,
May 20, 2017
This is May? It feels more like March. I wore my winter cap and my shop coat all day. It was a surprise finding only .6" in the rain gauge. From the way it came down, I expected it would be more. My main chore today was clearing the driveway and most of the yard of downed limbs and branches left by the storm. I also got out the chain saw and removed low hanging branches in the way of driveway traffic. The grass is getting shaggy, so I expect I'll do some mowing tomorrow.


Sunday, May 21, 2017

The morning was shop time. First I tried to mount the new tire that's been on the stretchers for several days. No luck. Tomorrow I'll take it to town and let the pros have a crack at it. I assembeld the magneto for my touring car, but some of the magnets are a bit lower than others. That means I'll have to add shims or shorten some of the supports. About two I started mowing, and spent the rest of the day doing that. I had to pick up a lot of branches blown down by the recent storm. More tomrrow.


Monday, May 22, 2017
Mostly I mowed. That includes picking up branches from the lawn and trash along the road, of course. I also took that stubborn new tire and its wheel to town and had the pros at Rakies mount the thing. I've mounted clinchers before, but this one had me beat. This evening I put the wheel back on the car, so I'm ready to go for a drive whenver it's not raining.


Tuesday, May 23, 2017

This morning an arborist came to look at some dead/dying trees by my shop. They are huge. Eventually they'll rot and fall, and I don't want them to wreck the building. The cost to have them removed will be $700 to $800 each, so I won't have all three done at once.


Wednesday, May 24, 2017

Today's exercise included six miles of walking. In the morning I took the Camry to town for service and walked home. In the afternoon I walked back into town to fetch it. Of course Shorty went with me. If she sees me leaving on foot, she has to go along. My work in the shop today included repairing one of the running board gas cans off the roadster. When I was shopping for groceries yesterday, I came out of the market and found gas dripping from the car. A little bit of gravel, less than ¼", apparently was thrown up by a wheel, got lodged under one of the cans, and was sharp enough to poke a hole in the bottom. So today I soldered the hole.



Thursday, May 25, 2017

The first job of the day was painting the new rivet I made for the roadster's top, and touching up the top irons. Next was inspecting the car and checking off items on the MTFCA inspection list. When I got to the hand brake control I found that it was attached by the wrong nuts and bolts, and I set about making correct ones. I made a drill guide and put holes for cotter pins in 32 bolts, then ground off the modern markings, stripped off the cad plating, and prepped the bolts and some castle nuts for painting tomorrow.








Friday, May 26, 2017
This morning I painted my 32 new bolts and a dozen castle nuts and put them in the oven to bake. It doesn't sound like that should take very long, but I spent all morning on it. I took a walk in the wood lot and found that some of the road is still boggy and has standing water. It's dried a little since last week, but has a long way to go before I'll be able to drive the truck there without getting stuck.
Saturday, May 27, 2017
I was up early and on the toad at 7:00 AM. I went to the Model T field day at Galva. Here are the photos and the story, and here's the video.


Sunday, May 28, 2017

All morning I edited video and still photos. I the afternoon I did a little maintenance in the roadster. I cleaned the timer, installed an oil sight tube, put in oil, and tightened loose headlight and ground nuts. I also found some leaking cracks in the upper radiator tank. I soldered them a few months ago and that worked for awhile, but obviously it will take more than just solder to keep them closed.


Monday, May 29, 2017

Spray day. The morning dawned still, with flags hanging limp and not a leaf moving. It was the perfect morning to wage a new battle in the war on weeds.
For the first time this year I got out the sprayer and mixed up my witches' brew of salt, herbicide, dish soap, and vinegar. The sprayer holds two gallons, and by the time I quit at 12:20 I had filled it five times and covered most of the weeds on the south side of the road. By noon the first weeds I had sprayed were already starting to wilt, so I was very impressed with how effective the mixture is. By the time I spray again it will be easy to see what I've alreay done and what I need to attack. My afternoon chore was speedometer repair. The bicycle speedometers I'm using on my Model T's are accurate, but undependable. Their delicate wires are easily damaged by small stones or other road hazards. The one on my roadster worked fine on Saturday's trip, but somewhere in the last couple of miles it quit due to a broken wire. So today I repaired the wire and encased in in a section of rubber hose. I hope that will be enough protection for it to survive until I can get an original speedometer ready and installed.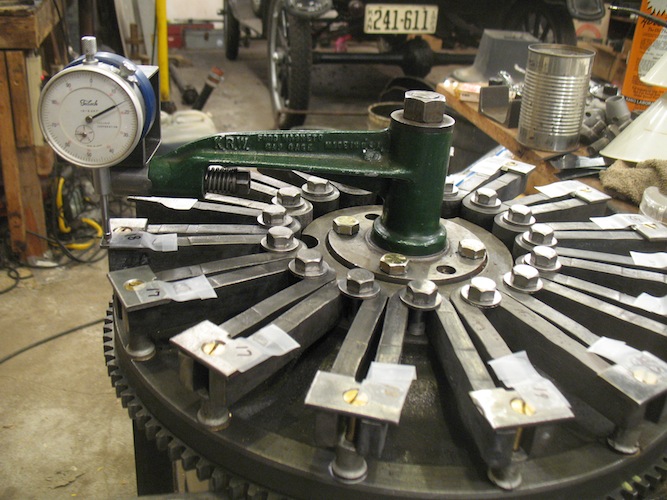 Tuesday, May 30, 2017

A wet morning found me in the shop dealing with Model T hardware, mostly nuts and bolts, cleaning, sorting, labeling, and painting. I spent the afternoon and evening working on a magneto, adjusting all the magnet heights within .005".


Wednesday, May 31, 2017

I spent a big chunk of the morning getting my laptop up to date for traveling. Most of that was figuring out how to
make the Firefox FTP work for uploading web pages. That kind of thing always takes approximately forever because I seldom do it and forget how. With that finally out of the way I torqued the bolts on the magneto I assembled yesterday, then moved on to the great outdoors. I mixed another batch of vegetation killer in the sprayer and attacked more of the weed patch across the road.
The stuff works so fast that the weeds I sprayed two days ago were really wilted and it was easy to see what I still had to do. I'll give the weeds a few days to die, then I'll be ready to mow the area.
HOME
BLOG LIST
APRIL 2017
JUNE 2017