Tuesday, June 1, 2010
No time to do anything at home this afternoon. After work I went to three stores looking for a shirt (no luck), the bank to deposit a check, the grocery store for celery, and the junk yard looking for a wheel. Time flies when you're having fun.
Wedenesday, June 2, 2010
After checking email I picked up twigs and branches, put away the hose, and mowed. Did I get it all done? Don't be silly. I did about 1/3 . Maybe I can finish in a couple of days.
Thursday, June 3, 2010
Those best-laid plans again. I set out to mow with the Dixon, and was doing fine until one of the drive chains broke. I spent the last half hour grinding the heads off a link rivet and driving it out, and I'll have to finish chain repairs tomorrow. This evening I went to the opening concert of the Arkansas City Municipal Band in its 139th year. Next time maybe I'll remember to take a camera so you can have a look.
Friday, June 4, 2010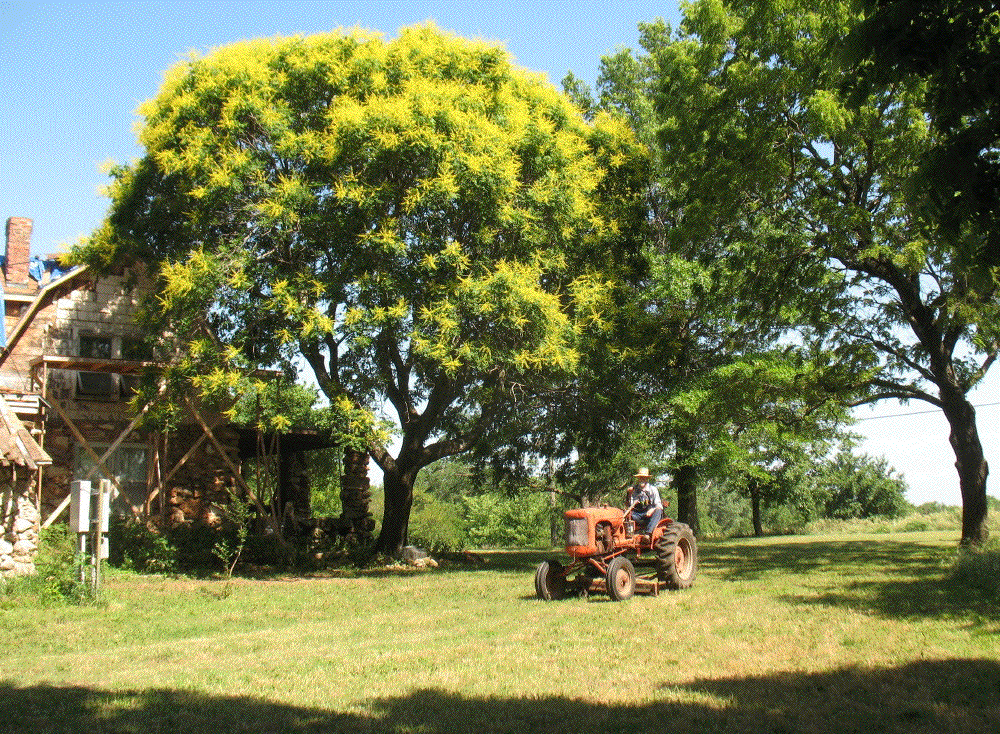 Today I fixed the drive chain on the Dixon, aired up the tires on the Allis B, and finished most of the mowing. It was a bit toasty out there, somewhere in the low nineties, about six weeks early. The average high temperatures in early June are in the low to mid-eighties. It seemed like a short spring, with the cold staying late and the heat coming early. The forecast is for 98º tomorrow, 87º on Sunday, then low to mid nineties for the next week. Maybe we'll get lucky and catch a break after that, but I'm not counting on it. Feels like a good night to snooze out on the front porch.
Saturday, June 5, 2010
After doing laundry I checked out an auction at the fairgrounds, and found nothing of interest. That's just as well, because I have plenty to do at home. I put away the laundry, then applied new grout to the reglued baseboard tiles in the bathroom. I needed to get that done, as fresh grout is supposed to dry for three days before you get it wet. With a family reunion coming in a couple of weeks I need to clean and mop the bathroom. I spent the rest of the day on housekeeping, putting things away and cleaning. Most saturday evenings I eat in town, and tonight I tried out the new Italian place. I thought the sausage pizzaola was pretty good. When I got home I found that for the first time this season a couple of swifts had come down the chimney and into the living room. One was still in the fireplace, and I was easily able to trap it against the screen and take it outside. The other flew up against the east window, but not very high. Daisy grabbed it and I had to chase her into the kitchen to get it out of her mouth. I took it outside and set in on the woodbox, and after a few seconds it flew off, so I hope it wasn't damaged too badly.
Sunday, June 6, 2010
I spent the morning sorting and filing papers and bills, a job that's been piling up for months. The afternoon was completely different. In April I bought a lot of galvanized pipe and fittings for a new gas line to the shop. Then I learned that metal pipe is no longer legal for undergound gas lines. So this afternoon I loaded a pile of pipe onto the trailer and hauled it down to Lowe's in Ponca City and returned it. While in Ponca I did some shopping. I bought a pair of overalls, and unsuccessfully looked for shirts. One of the stores where I went to look for shirts had gone out of business. I may have to shop online to find what I want.
Monday, June 7, 2010
I had a bad feeling on the way to work this morning when the rain started pouring down. Sure enough, when I got home I found the floor in the northwest room upstairs wet, and the water was dripping down in the kitchen. This is really getting old and tiresome. I went up on top and rearranged tarps again, and I'll hope the wind doesn't disarrange them for the next storm. After the family reunion in a couple of weeks it will be time to get back to to work on the house and get that roof finished.
Tuesday, June 8, 2010
With a family reunion bearing down on me, this afternoon I got busy on housework. I started with some vacuuming and wiping in the bathroom and ended with some more vacuuming in the living room. There's plenty more to keep me busy for several days.
Wednesday, June 9, 2010
The downpour started as soon a I got to work this morning. It was a real gullywasher. I was worried about the possible leaks, but when I got home I was happy to find that there weren't any. Apparently I got the tarps in all the right places this time. This afternoon a roofer came to do an estimate on the flat parts of the roof. I'll do the shingled parts myself, but I want something on the flat areas that will last a lot longer than asphalt, so I'll get TPO for those parts. As soon as the family reunion is over, and the annual wheat harvest monsoon season comes to an end, I'll get busy on the roof project again.
Thursday, June 10, 2010
This evening Daisy and I went to the band concert in Wilson Park. The Arkansas City Municipal Band is in its 139th year. While the band played I picked all the burrs off Daisy's ears. That's multitasking.
Friday, June 11, 2010
Today, again, I took all the wet stuff out of the soaked kitchen cabinet, wiped everything dry, and installed new shelf paper. I also cleaned off the kitchen table and washed off the spilled salt, which in humid weather turns to puddles of salt water. The main job of the day was vacuuming and mopping the bathroom. My last activity of the afternoon was driving over to Oxford to look at the stuff that will be auctioned on Sunday. There was one item I want, a very good barbecue, so I guess I'll have to go.
Saturday, June 12, 2010
Clean, clean, clean. I spent most of the day upstairs, vacuuming, dusting, and boxing up old clothes. Another session tomorrow should finish the job.
Sunday, June 13, 2010
Another busy day. I finshed cleaning upstairs, started cleaning downstairs, went to the auction in Oxford and bought a barbecue grill, came home to get the Suburban and trailer, went and got the grill and brought it home, and finished sweeping and mopping the kitchen. Just as I finished mopping the kitchen, Elizabeth and the kids arrived from Wisconsin. They're here for the week, for next weekend's family reunion. Bella, who is almost eight, and Austin, who is almost five, are fascinated by the cats, especially the kittens. For this week, Daisy has three extra people to lick.
Monday, June 14, 2010
While I was at work today Elizabeth did some house cleaning. Last night's storm showed me where the upstairs leak was, so when I got home this afternoon the kids and I went up on the roof and Bella helped me install another tarp. The forecast shows only a 50% chance that we'll find out if it works. The kids are very much into critters, so we took a walk down the hill to look for frogs. We didn't find one frog, but we found plenty of mud.
Tuesday, June 15, 2010
Today I mowed the west lawn where most people park on reunion weekend. I haven't mowed it since last fall because that's where the poppies bloom in May, and I wanted to let them go to seed. I also cut down some face-grabbers, branches that attack you when you're mowing. There's more to mow tomorrow.
Wednesday, June 16, 2010
So I mowed some more. I got most of it done, but there's about an hour's worth to finish tomorrow. I was hoping to get the weeding done too, but that's not going to happen. Too much other stuff to do and too little time. At the same time, I'm enjoying having Elizabeth and the kids here. Austin wants me to find him a snake, but he may be in for disappointment. I haven't seen one in months.
Sunday, June 20, 2010
No blogging for a few days, because I've been busy. We had a nice turnout for the famly reunion, with about 25 people for the Friday night cookout and 35 on Saturday. It was fun having some kids here this time, after a few years with mostly us old people. Of course I missed the folks who couldn't come this time, and hope to see them next time.
Today I did a bigger pile of laundry than usual, and this afternoon I wasted an hour and a half driving down to Lowe's in Ponca City to shop for windows. Absolutely nothing like what I want was available. If you see something you'll want to buy someday, you should buy it now, because when you want it nobody will have it. By then you may not even be able to explain to the clueless sales person what it is.
Monday, June 21, 2010
On the first day of summer I wasted my afternoon with more window shopping. One website offered just what I wanted, but only in three western states. A google search for "aluminum awning windows" brought up other companies that sell only windows with plastic frames. I phoned a couple of outfits that kept me on hold until I gave up. "Your call is important to us" is usually a lie. I'll try again tomorrow, then I suppose I'll have to settle for something that isn't quite what I want.
Tuesday, June 22, 2010
It was another afternoon of online window shopping. I didn't find the windows I want, and the search will continue partly because of companies that don't have switchboard operators anymore. You have to leave a recorded message to have somebody call you back. And so it goes...
Wednesday, June 23, 2010
I took a day off from window shopping for correspondence. I wrote a letter to an old friend who has a birthday coming up, went to the store for tea, to the post office to buy stamps and send mail, and down to the casino to fill up the car. That used up the afternoon, so the window search will continue.
Thursday, April 24, 2010
So this afternoon it was back to shopping for windows. I found a company online that makes awning windows like I want, and they have a dealer in Wichita. So I phoned the outfit, told the salesman what I wanted and gave him the size, and he came up with a price: $905 per window! Really! So then I took a look at another website. The windows look good, so I'm waiting for a return call from the sales people.
Friday, June 25, 2010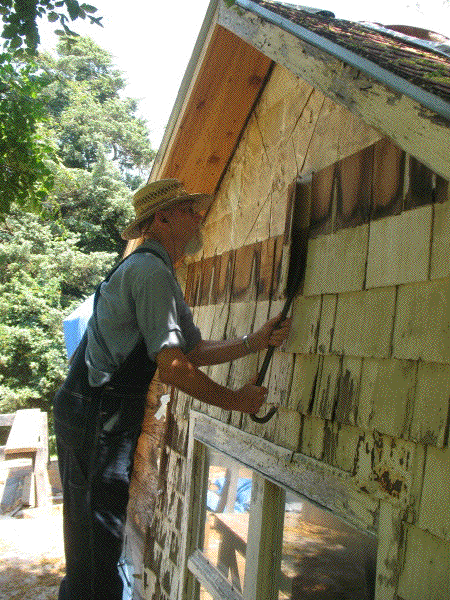 This was my day to get back to work on the house. Before doing anything on the roof, I have to replace the west upstairs windows and put new shingles on the west wall, so today I spent the afternoon taking off the old shingles. Some were pretty bad, but a lot of them were in surprisingly good condition after 78 years. I took time out for more window shopping, calling a dealer in California to ask about some aluminum windows that are only available in three western states. A window in the size I need would cost $235. Buying two and having them shipped to Kansas would be over $500. I'm not sure I want to spend that much. I went back to work removing old shingles, and got most of them off. Another hour or two tomorrow should finish that part of the job. In the food department, I'm still dining on leftovers from last weekend's family reunion. It looks like there may be enough left to last another week.
Saturday, June 26, 2010
Aarrrggghh! After my run this morning I stepped on the scales and found myself nine pounds heavier than before last week's family reunion. Too much reunion food and leftovers. It seems the pounds go on a lot easier than they come off. I spent the day on two main activities. After wasting part of the morning web surfing, I went to an auction. I bought three eight-foot tables, which will be three tables I don't have to rent for the next reunion. The bargain of the day may have been the fly swatter I bought for 25¢. It's one of the old ones made of steel wire, and will last for decades. The ones sold these days are plastic and will get brittle and fall apart in a few years. The last job of the day was taking the rest of the shingles off that west wall. Under the shingles, to cover the cracks, my grandfather used old linotype pads from the local newspaper. The dates on those tell me the wall was shingled in 1932.
Sunday, June 27, 2010
Today I boxed up all the old shingles I removed yesterday. They'll be kindling next winter. With that little chore done, I went to an auction and spent the rest of the day there. The stuff being sold was from the estate of a local man who used to buy and sell a lot of old stuff. Once asked what he did for a living, he said, "I'm a lawyer, but I make more money selling junk." He didn't miss by much in using that word. A lot of the stuff sold today would have been worth a lot more if it had been in better shape. I did pick up a Model T Ford jack for $6 (the auctioneer thought it was a "buggy jack"), and most of the top hardware for a Ford touring car for $22 (again, the auctioneer thought it was a "buggy top"). Those purchases were bonus items that just happened to be there. But what I really went for was a pair of line shafts, and I got them for $25. These are the overhead pulley shafts that were used in factories and machine shops a hundred years ago to run all the machinery off a single big motor. One is six and a half feet long, and the other is fifteen feet. I don't have a place to use them yet, but I can put up a suitable building whenever I'm ready to spend the dough. I knew I'd better grab these while I had the chance, because they're pretty rare. I do have an old time drill press to use with them, and other belt driven equipment does show up in auctions occasionally.
| | |
| --- | --- |
| | |
Monday, June 28, 2010
All I did for birthday #69 was goof off. Web surfed and visited on the phone with old friend M.C. Ford. Sacked out on the front porch swing and enjoyed the lightning bug show in the yard.
Tuesday, June 29, 2010
Today was busier. The first thing I did after work was visit the dental office for a tooth cleaning. Then I drove to an auto salvage yard in Haysville and bought a replacement for a bent wheel on the Camry. The wheel damage came from sliding in the snow last winter. I finished the day with a drive to Udall to leave some dough for parts with the guy who is working on my 1937 Philco. When it's done I'll be able to set my watch by short wave and listen to the Grand Ole Opry from Nashville on Saturday nights.
Wednesday, June 30, 2010
I should have got something done, but took another afternoon to web surf and enjoy the beautiful day. After an early dose of high summer, the weather has calmed down to normal, with highs in the upper eighties and low humidity.