Monday, June 1, 2015
First thing this morning I went to work on my non-starting truck. A test light showed that current was getting to the distributor points, but there was no spark at the plugs. So I filed the points and set the gap at .020" as the manual directs. I pulled the wire off plug #1, stuck a screwdriver in the end of the wire, and held it near the plug to see if there would be a spark. Yes, there was a spark alright. As soon as I pulled the starter lever the truck startled me by starting instantly and running on five cylinders. I was delighted. With the truck back in service, I spent most of the day doing yard work. I picked up all the construction scraps, mostly used boards, from east of the house. I laid them out on the mowed lawn for further attention. Tomorrow or sometime this week I'll cut some of them for firewood and put the better ones away for future use. With the constuction debris out of the way I pulled weeds and cut off little volunteer trees and dosed the stumps with Tordon. I finished all that about three, read the water meter and wrote a check for $20 to pay the bill, and went to town for cat food and other supplies. When I got back I mowed until quitting time. It was a good day.


Tuesday, June 2, 2015

Today I mowed the banks and ditches along the road in front of the house. Well, actually I mowed the north bank. I'll get to the south one tomorrow in the cool of the morning. But I did mow both ditches. First, of course, I had to hike along the road on both sides and pick up all the trash thrown by trash. There's one stretch where some lush is in the habit of tossing his Heineken bottles. In the last couple of years I've picked up several dozen of those, but today I only found three. I just hope if any more are hidden in the grass I'll find them before the mower does. In the afternoon I made a trip to town
in search of a soil tester. My first stop was at the Co-op, and I was surprised to find that they have no such thing. They send soil samples off to a lab for testing. So next I tried Orscheln farm supply. Again, none to be had. I expected none at Wal-Mart, and that's what I found. So that left only the hardware store. I was pleasantly surprised to find that they actually did have a soil test kit. So now I can check the pH levels and find out if I need to feed my sweet gum trees chelated iron. Their yellowish color suggests they're not not getting enough iron, which can happen if the soil is too acidic.
| | | |
| --- | --- | --- |
| North bank today, south side tomorrow. | The ditches on both sides of the road got a trim. | Looks like it's not getting enough iron. |





Wednesday, June 3, 2015

This morning I mostly finished mowing the south bank. With a little left to do along the bottom, I quit about 10:30 to finish up at a cooler time. I might have finished it today, but I spent too much of my time picking broken Heineken bottles out of the grass after the mower found them. I spent most of the rest of the day working in the shade, clearing the loop road through the wood lot. Mostly that meant cutting off little trees that were coming up in the toad, and dosing the stumps with Tordon to kill them. I made an afternoon trip to town in the roadster for some groceries and another bottle of Tordon, then came back and mowed some of the road I had cleared. I also left my truck stuck in a wet spot again. I have a friend coming to help me get it unstuck Friday if I don't get it out before then. I should have the bank mowing and the road done tomorrow.



Thursday, June 4, 2015
No pictures today. It was more of the same. I sprayed some weed killer, finished mowing the banks, mowed a little more in the yard, and spent the rest of the day clearing the loop road. I'll finish that up tomorrow if I can get my balky chain saw started.
Friday, June 5, 2015





My Rick Perry moment today: "Oops!" I was finally able to tow the truck out of the mud with the tractor and a chain, but I rolled it into a tree. When I went to town I

ordered a new headlight. But even without that, a trip to town would have been necessary because I had to take the chain saw to a repair shop. I got it to start and was able to use it enough to finish the loop road, but it finally lost power so much that I couldn't cut with it anymore. The manual wasn't much help, and the phone call to customer support was useless, so I'll let the small engine specialist deal with it.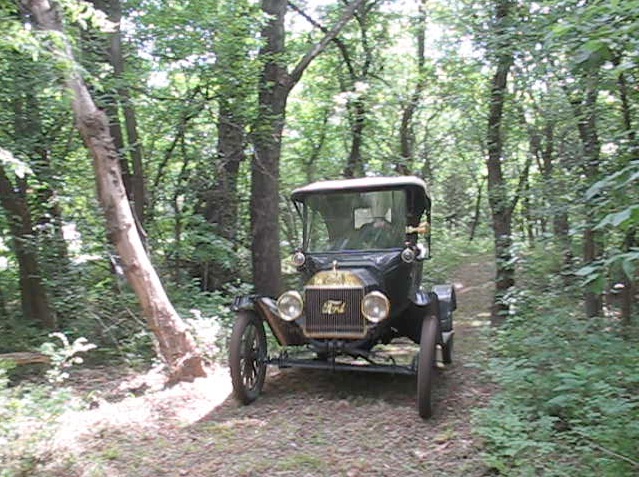 Saturday, June 6, 2015
With an early start before seven, I watered my tomato plants and other spring plantings, dumped the load of trimmings that were in the truck, gathered up another load, and made a video. I had Chris Hasty coming to help me get the truck unstuck, but since I did that yesterday, when he got here we made the
video
instead. In the afternoon I dumped the second load of trimmmings, then finished my road work for now by removing little trees from the spur that goes south to the brush pile. That road goes on south for another hundred feet with a turnaround at the end, but it's blocked by a lot of fallen branches that will provide some of next winter's heat.


Sunday, June 7, 2015

This morning watering came first again, then I was off to the laundry. In the afternoon I got a late start on spring cleaning with only two weeks of spring left. I started upstairs, with bedrooms. I should finish upstairs tmorrow, then will come the real mess. After the work putting on a new roof, the living room is filthy and will take a lot of cleaning. I've been thinking of running an air hose in from the shop and sandblasting the soot off the front of the fireplace. I'd have to set up a plastic tent of some kind over the work to keep sand from getting all over the room. We'll see how that works out. This evening's lesson in math is that 10% is not 0%. The forecast showed a 10% chance of rain, and about ten I was awakeded from a nap on the front porch swing by the sound of thunder and rain drops. I quickly went out and threw a tarp over the tractor which is still outside, and rolled
up the windows of the truck. A nice shower means I won't have to water tomorrow
.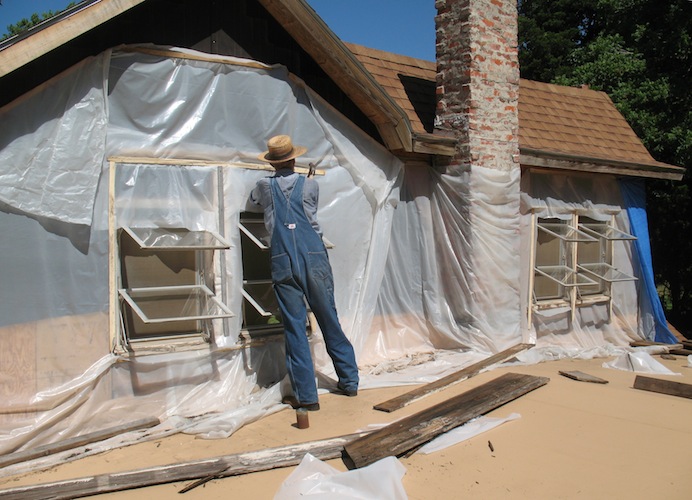 Monday, June 8, 2015

During the winter the plastic covering on my unfinished east wall was no problem. But with the coming of warm weather those closed windows made the upstairs rooms much too toasty to suit me. So this morning I interrupted my house cleaning to uncover the windows so they could be opened. I hope to finish the outside of the house this year so the plastic can go. With the windows open I went back to cleaning and got the upstairs mostly finished. I should have that done in the morning, then I'll get to work on the downstairs. This afternoon I went to town for another medical adventure, having an actinic keratosis carved off my head. These occasional surgeries make me really appreciate Medicare.


Tuesday, June 9, 2015

The forecast shows high chances of rain later in the week, so I decided to use this clear day to take care of an outside job that's been waiting for years. Ever since I rebuilt the upper roof there's been left over scrap lumber on the roof of the garage and west porch. So this morning I set about tossing it down and cutting it up for firewood. Some pieces had nails in them, and I figured I'd run out of time and have to do those later. But this was one of those rare times when a job went fater than expected. By four in the afternoon I was pretty much finished. All that remains is boxing up the pieces that haven't been boxed yet, and sweeping the leaves and other small debris left on the roof. I quit at four and went to town for celery and wire. I got some new power cord for a couple of old fans that need it. They also need new rubber grommets, and our so-called hardware store is out of those. I'll try the farm supply tomorrow, and if I don't find them there I'll have to go to Winfield.

| | | |
| --- | --- | --- |
| Toss it down. | Cut it into stove-sized pieces. | Pull the nails. |
Wednesday, June 10, 2015
In the cool of the morning I weeded and pulled small trees out of the ground with the tractor. About half past eleven the sun was reaching the area where I was working, so I moved on to something else. That was to finish boxing up the pieces of scrap lumber I cut yesterday for firewood. About three in the afternoon, as I had just stacked the next to last
box in the garage,
my brother rolled in here, a week before I was expecting him. It turned out he wasn't here long. This morning he scalded himself spilling a thermos of hot tea, and he's spending the night in the hospital. I'll go fetch him in the morning.


Thursday, June 11, 2015

I cleaned house this morning, but spent most of the day removing broken tiles from the kitchen floor, with a break to go fetch Mike from the hospital. The surface under the vinyl tiles isn't perfectly flat, and they tend to break up where it has seams. Before putting the new tiles down I applied Plastic Wood along some of the rough seams and tried to sand it smooth. I expect the new tiles will be a temporarty fix. Eventually I aim to install a real tile floor. Last night I went to the band concert in Wilson Park. The rotunda is 100 years old, but the band is in its 144th year.
Friday, June 12, 2015
Cleaning, cleaning, and more cleaning. I spent most of the day in the living room with the shop vac. There was a lot of fallen roof repair debris all over everything, but I got most of the room done. I hope to finish house cleaning this weekend, then tackle my shop. Maybe it's a good tning I have so much indoor work to do. The weather is too wet for any outside work.


Saturday, June 13, 2015

Another day of housework. I got the living room nearly finished, replaced the last kitchen floor tiles I need to do for now, cleaned the ashes out of the fireplace and the kitchen stove for the last time until
next fall,
and got some of the kitchen cleaning finished. I still need to finish the kitchen, do a little more in the living room, mop the bathroom, and clean the back porch. I hope to finish all that tomorrow and get some cleaning done in my shop. I probably won't get done all I'd like to before folks start showing up for next week's
reunion, but I think I'll get to most of it.


Sunday, June 14, 2015

Most of the house cleaning is done. I'll finish in the morning, then tackle the shop in earnest.


Monday, June 15, 2015

Best laid plans. When I went to town to have my stitches removed, I stopped at the farm supply to find out about my chain saw. It has both the repair guys stumped. So far they haven't been able to make it run for more thas a few seconds. That was the last straw. I decided that the last Poulan I bought would be the last Poulan I bought. I've had too much trouble from them. There's a lot of chain saw work I need to get done, so I drove down to Ponca City and bought a Husqvarna at Lowe's. It was expensive, but maybe it will give me less grief. When I got home I installed new casters on a dresser in the kitchen. It had three old ones that didn't roll well, and blocks in place of a missing one to prop it up. With that job done I got back to cleaning the kitchen, and finished up about 5:30. Maybe I can get started on cleaning up my shop tomorrow.


Tuesday, June 16, 2015

Part of cleaning up the shop is crating
some wheel parts for shipping to the wheelwright
so he can make my new wheels. But before packing the hubs, plates, and rims, it occurred to me that I should shoot a coat of primer
on them before assembly. So that became my big job of the day. With a trip to town for more paint, I spent the day on that project. I made my run to town in the roadster. When I stopped to fill the tank a woman at the
filling station was admiring the old car and asking some of the usual questions about it. When I finished filling up the car and put the seat back in place, I had her two little boys
, who appeared to be about five and seven, sit in the car so she could take their picture in it. Wherever you go in a Model T, you are your own parade, and wherever you park, you are your own car show.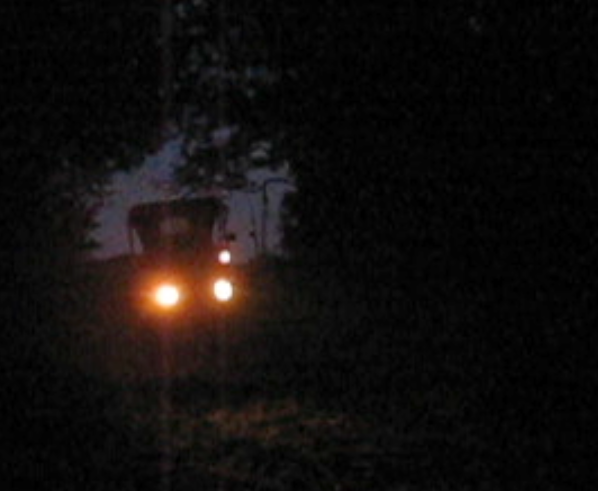 Wednesday, June 17, 2015

Most of today was cleaning up in the shop. I made a couple of trips to town in the roadster on its hundredth birthday, and this evening made a
little
video
. A problem with kerosene side lights and tail lights is that they don't want to stay lit when the car moves.


Thursday, June 18, 2015

Had a big day. I was up at
six and working by seven, mowing, trimmming branches, and doing other yard work. In the afternoon ten cousins showed up to help. We hauled three truckloads of branches and yard waste to the brush pile. By 6:30 I was spent and we went to town for ribs. Tomorrow I have to shop for the evening barbecue, pick up tables, and do lots of other getting-ready chores. I'll start early again, and it will be another big day.


Friday, June 19, 2015

Family reunion today and tomorrow. Another big day today, but a lot less work. As usual some of the cousins got a tour of the house and the cellar, a lot went for Model T rides in the touring and the roadster, we enjoyed a barbecue in the yard, and finished the day with a slide show of old times. Some folks come every year and some come every few years, but this time we also had a good crop of first timers and some who hadn't been to the farm since they were tiny kiddos.
Saturday, June 20, 2015
The centerpiece of today's reunion activities was at the cemetery. My cousin Ray's wife Lucille was laid to rest beside him. Ray and Lucille's four boys and their kids did the digging, and it was a very nice service. After we walked home from the cemetery there was the usual big meal in the yard. The kids enjoyed playing with my brother's big puppy and the current crop of kittens, and there were more Model T rides for the folks who wanted to go. I enjoyed the weekend very much, and I really appreciate the folks who showed up early and did most of the work getting ready. I'm already looking forward to the next one.
Sunday, June 21, 2015
Today some of the gang came back and did clean-up, putting the tables in the Suburban to go back to town tomorrow, putting away the chairs, bagging trash, and cleaning up in the kitchen.
Monday, June 22, 2015
Today's first job was taking my brother to Wichita to rent a car. He had some trouble starting his own car, didn't trust it to get him home without more trouble, and needed to get back. So he had to go to the big city for a one-way rental. You can rent a car here, but not one-way. After Mike got his rental car and left, I did some after-reunion chores like taking the tables back to town, getting trash ready to go, and putting some of the leftovers in the freezer. Feeling a little pooped after the big weekend, I enjoyed a nice afternoon siesta.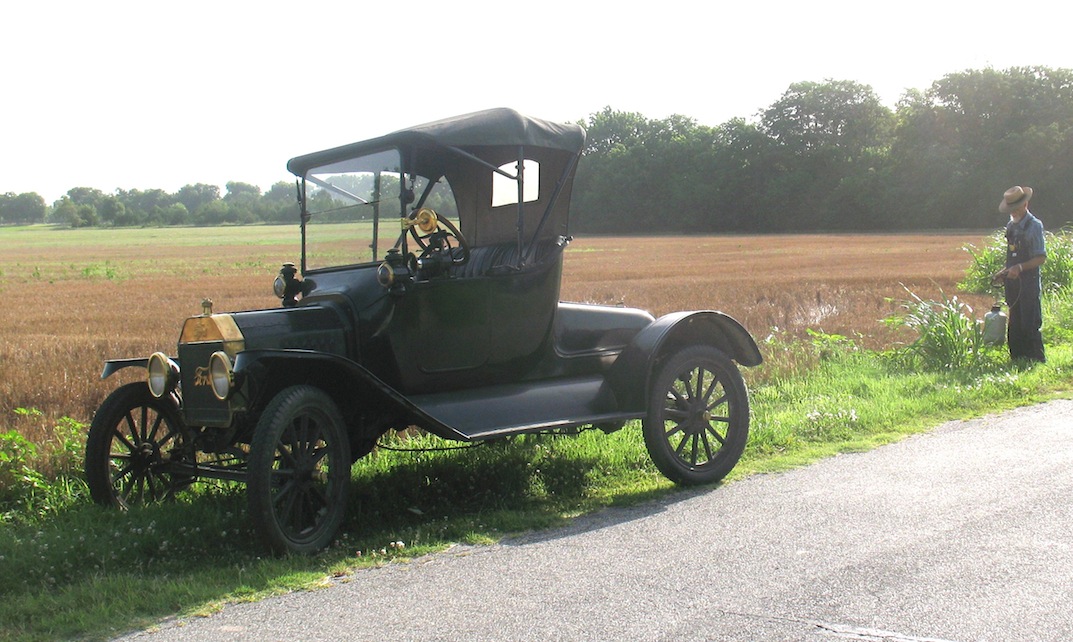 Tuesday, June 23, 2015

Up at six, dressed and breakfasted by seven, I was out taking advantage of the morning cool to get some outside work done. I filled the sprayer and attacked the Johnson grass and some of the other weeds along the road to the west. By 9:30 the heat was coming on, but I had finished all along that west field and got a good start on the spraying that needs to be done across the road from the house. After a couple of dry weeks that's included some hot days recently, I got started watering. Some of the plants were starting to look pretty thirsty. In the afternoon I went to the courthouse to renew the registration on the Camry and all the antiques, and while I was out I did laundry. That used to be a Saturday morning activity, even out of habit after I retired, but recently I've taken to doing a wash whenever I need to, whatever day it happens to be.


Wednesday, June 24, 2015

With another early start I was out spraying in the cool of the morning, and by ten had used twelve gallons of Eraser. There's a lot of Johnson grass across the road, so I probably didn't get all of it. I'll wait for the sprayed stuff to die, then I'll go back and get what I missed. My other main project of the day, while watering plants, was to finish packing wheel parts to go to the wheel shop. Using the Fedex website, I scheduled the pickup for tomorrow between 8 AM and 5 PM. I hope it turns out to be early so I have time to go to town for groceries.


Thursday, June 25, 2015

Today's big event was the coming of the Fedex truck to haul away my wheel parts. Now they're on their way to the wheelwright in Ohio. While I waited for the truck to arrive I adjusted the reverse band in the roadster, cleaned the oil screen, watered plants, and prepared the scaffold west of the house for the next rebuilding project there. That will include building and installing new window frames and putting the windows in them.


Friday, June 26, 2015

Travel day. I got up at four to get ready for a trip to Nebraska. There's an auction tomorrow in Whitney, a little town near Chadron, featuring a lot of antique cars and parts. I won't be buying a car, but I hope to find some good parts and accessories. Usually at these big auctions the high rollers let a few crumbs fall off the table for us poor folks. I was on the road at 5:42 AM and arrived in Chadron at 5:57 PM. The hills of western Nebraska made for a very pretty drive.


Saturday, June 27, 2015

I picked up a few things at the auction, and would have tried to buy more if I'd had a trailer. I ended up spending less than $40. After it was over I decided to drive up through the Black Hills, a beautiful area I really haven't visited for about forty years. I was in Spearfish a couple of years ago, but didn't get out of town for any sightseeing. I took pictures today, but it's late and I 'll wait until later to post some of them.


Sunday, June 28, 2015

I spent Sunday morning driving south from Rapid City, first to Mount Rushmore and then down through
Custer State Park and wind Cave National Park.
It was about 12:30 when I headed for home. Rather than putting a lot of pictures here, I'll
post links to the
auction
and
Black Hills
pictures
I posted on other sites. The Black Hills pictures are on Facebook, so you may need to be logged on there to see them.


Monday, June 29, 2015

After sleeping in a rest area on I-70, I drove on home this morning. I did a little bit of unloading, but mostly edited and posted the pictures in those links above. I also made up some personalized stationery, with a letterhead and little photos. Across the top of the page are a circa 1929 picture of the house, and a modern picture of it. In the left bottom corner is a photo of my 1915 roadster in front of the house. In the lower right corner is a picture of loading firewood in my 1951 dodge pickup, and bottom center is the Tall Grass Prairie Preserve bison herd. It's quite a fancy piece of work.






Tuesday, June 30, 2015

Back to work! If I'm going to meet my goal of finishing the outside of the house this year, I'd better get cracking. This morning I was up early and got started on the upstairs west wall. The first order of business was removing the glass from the old falling-apart window frames without dropping it and making a lot of pieces to pick up. The next part was getting the old frames out of the wall. That turned out to be less difficult than I expected, and I had them out by noon and was removing old siding. It wasn't a big surprise finding some rotten boards inside the wall. That will call for removing all or most of the siding and taking down old sheetrock and at least some of the old Celotex ceiling inside so I can put in some new studs. By quitting time, about five, I was in the midst of removing sheetrock from the sixties and the wood lath from the thirties which it covered. It may take another day or two to get things uncovered enough for me to start installling new studs.




| | |
| --- | --- |
| With the afternoon temperatures in the nineties and pushing 100º, it's a good thing the big tree southewest of the house puts this job mostly in the shade. I still need to finish removing inside sheetrock from the wall, then take down at least some of the Celotex ceiling adjoining it, before I can put in some new studs. I was thinking I'd remove my bed from the room, but I think maybe I'll just put a tarp over it to keep off the falling ceiling debris and old insulation. | |
HOME
BLOG LIST
MAY 2015
JULY 2015