Most of the day was spent on car work. First I installed those two new hub bolts and put the wheel back on the car. Then I did wet sanding on the brake drums, gave them another coat of primer, and did more wet sanding. After noon I drove to town in the touring to buy more surgical gloves. The temperature was in the high nineties, but the car had no heating problem. Even after that notorious climb up the hill from the river, there was only the normal little gurgle in the radiator. All that cleaning and flushing paid off. I ended the day with one brake drum finished with two coats of enamel, and the other primed and sanded and ready to paint tomorrow.


Wednesday, July 4, 2012


Hooray for the Glorious Fourth!
Independence Day was another hot one, but never made it up to a hundred degrees. Except for my morning run, I never made it off the place today. I spent a lot of the day online researching how to assemble wheels, then devoted much of the afternoon to priming and sanding wheel parts. I hope to have the rims galvanized sometime in the next couple of weeks, and the wheels assembled soon after that.
Thursday, July 5, 2012
Much of the day was spent on wheel parts. I wire brushed lug nuts and bolts I'm going to have galvanized, primed hubs and plates, wet sanded hubs and plates, primed them again, wet sanded them again, and painted them. I went to town in the touring to buy sandpaper and groceries, and was lucky enough to get home before having a flat tire. While doing all this, I had a slow hose running on some of the plants that were wilting. It's been so hot and so dry for so long that some of the vegetation is starting to die.


Friday, July 6, 2012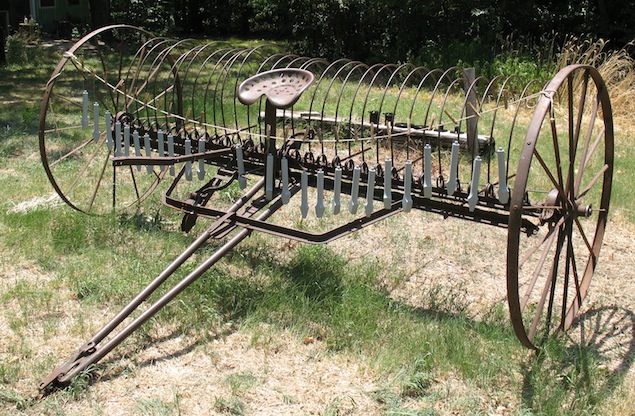 While the hubs, plates, and drums
painted yesterday cooked in the sun, today I primed the spokes for the two wheels. With all these days above 100º, I don't need to put these parts in an oven to bake them. After I finish the spokes, that will leave just the hub bolts and the felloes to paint. Then I'll be ready to build a spoke press and squeeze the wheels together.


Saturday, July 7, 2012

After doing laundry I checked out a couple of auctions. The one at
Mulvane was a total waste. I saw absolutely nothing of the slightest interest to me. The one at the fairgrounds had a couple of items, but they weren't sufficiently enticing to keep me there for several hours until they came up for sale. Sometimes you see something you really want, and it's worth sitting in the shade and catching up on your reading while you wait, but that wasn't the case today. Instead, after putting away laundry I worked on my wheel project. I salvaged a few hub nuts and bolts from a couple of old hubs, and started sanding the primer on those spokes I sprayed yesterday. I finished about a quarter of them.


Sunday, July 8, 2012

Most of today's work was sanding those spokes. I ended with 17 done and eight more to go when my hands started to reach the cramp-up stage. The primer didn't quite fill all the grain, so I'll need to give them another coat and sand them again.


Monday, July 9, 2012

Greetings from Okieland. This morning I loaded my seven Hayes demontable clincher rims in the Camry and brought them to the galvanizing plant in Claremore. The job includes a few lug nuts and bolts. Those little parts are done only on the night shift, so I'm staying in Tulsa this evening and will pick up the finished rims and hardware in the morning. This gives me a little practice in working my website using a Windows machine while on the road. I've figured out how to do the printed part, but I haven't yet learned how to include pictures. It's probably simple, but even simple stuff is hard if you don't yet know how.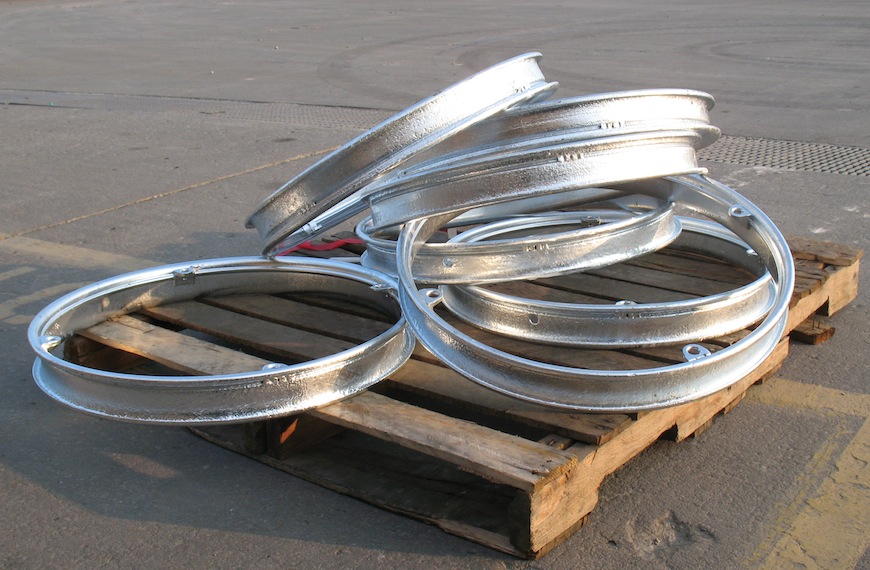 Tuesday, July 10, 2012

This morning I went to the galvanizing plant and picked up the rims. I was pleased with how good they look. The lug nuts and bolts were another story. Some genius dumped them in a batch of 5000 other small parts. I had no interest in waiting all day for them to be sorted out, so I left them. I was home by noon, and spent a pretty good chunk of the afternoon helping my
cousin Wally put down new tile in his kitchen. We got done all we could until he rents a tile saw, so we'll probably finish laying tile next week. Until then I'll be busy with something else. I'm off to Wisconsin tomorrow to shop at the Iola swap meet and visit my Wisconsin relatives.


Wednesday, July 11, 2012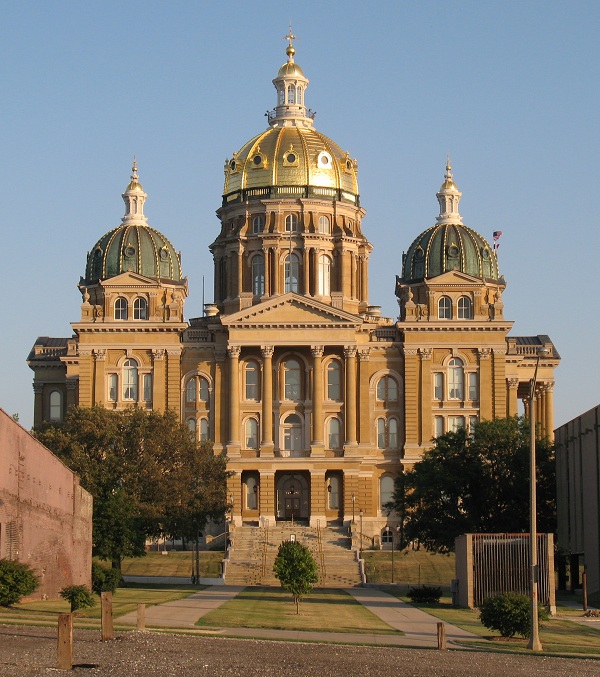 Driving day. I left at 9:35 this morning, drove all day, and and arrived in West Des Moines at 5:10. After a stop for fuel and food, I drove
on to the Mile 214 rest area at the top of Iowa, my usual stopping place when I make this trip. The quality of rest areas across the country varies widely, and Iowa has some of the best. The Camry has seats that lean back to become a bed, so it'smy motel. The price is perfect. Now that Im starting to learn my way around this laptop a little better, I'll insert a couple of pictures from today. One is the state capitol in Des Moines, and the other is a view along the interstate
.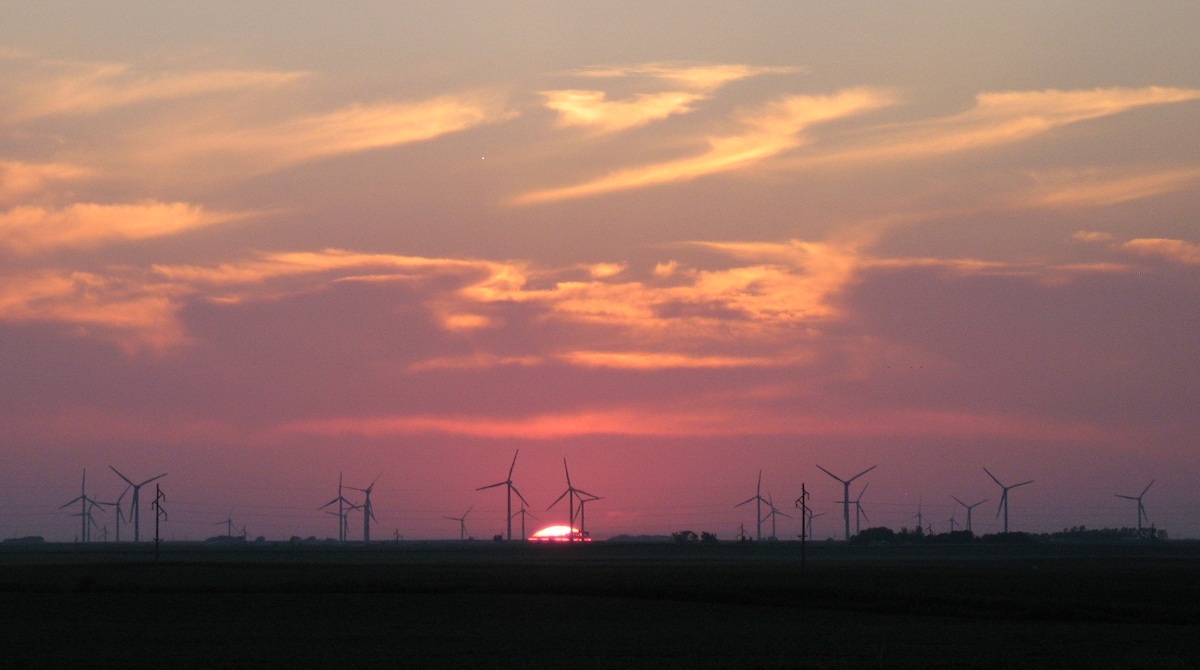 Thursday, July 12, 2012

I got to Iola a little before noon and spent a few hours tramping around the swap meet grounds. I met some guys who recognized me from the Model T forum, and did some successful shopping. I found a new-looking exhaust manifold with excellent threads, which is exactly what I was looking for. The price was only $20, which makes it even better. I covered about two thirds of the place, and will see the rest romorrow.


Friday, July 13, 2012


The second day of the swap meet got just as toasty as the first day, but not bad by Kansas standards. I think the high was around 92 degrees. I had another good day of shopping, with today's haul including a plug/headbolt wrench for $1, a few pounds of Model T nuts & bolts for $2, and a pair of Holley G carburetors for $15. One of them looks rebuildable, the other maybe. On the way out I bought three new tires for my touring car. Buying them at the swap meet saves a pile of dollars I'd otherwise have to spend on shipping. If all I was doing was buying tires, driving this far for them would be no savings at all. But when the purchase comes along with a visit with Elizabeth and the kids, I'm coming out ahead on the deal. This evening while Elizabeth had to work at a fundraiser, I went with Austin and Bella to a local theater production of

Grease

.
A lot of the kids in the cast were very good, and the show was fun.


Saturday, July 14, 2012

We spent the morning doing not much of anything, then in the afternoon went to a pot luck dinner with lots of good food and interesting people. The party was very enjoyable and lasted late into the evening.


Sunday, July 15, 2012

We spent most of the day at Sunset Lake and had a great time. This was the first time I've gone swimming in many years. It was a warm, sunny day, but I survived without burning.


Monday, July 16, 2012
It was going home day. I Drove from Stevens Point to the Mile 175 Kansas rest area.


Tuesday, July 17, 2012
I got home this morning and spent most of the day catching up. I paid bills, picked up the mail that piled up at the post office while I was gone, and bought some groceries. I also found several messages on my answering machine about Daisy making a pest of herself at the neighbors' while I was gone. She was down there again this afternoon. I went and got her, and let them know she has plenty of food and water here, and they shouldn't feed and water her. That only encourages her to go down there. I finished the day putting another coat of primer on seventeen of those new spokes, so tomorrow will include some sanding.



Wednesday, July 18, 2012


With two more weeks of July ahead, high summer is here with a vengeance. The ten day forecast
begins with eight days over 100º, then a couple of cool days at 98º and 99º. This
morning's low was 80º.
This time of year any work requiring physical activity needs to be done early in the morning. I took it easy with sanding some spokes and giving them another coat of primer. Then I spent a few hours with a watering can carrying water to save some seedlings that are too far for a hose to reach. I finished that about one, then spent the afternoon with my cousin Wally, helping him install new tile in his kitchen. So I managed to get through the day without doing anything too strenuous.


Thursday, July 19, 2012

I spent all morning working on a new website page: Famous Thrust Washers. I spent all afternoon sanding spokes, and finished the lot. Tomorrow I'll paint them.


Friday, July 20, 2012

The best laid plans... I found out this morning that the Scott Museum auction is this weekend. So today after doing some grocery shopping I went to look over the stuff that will be for sale. I spent a couple of hours at that, then headed for home. When I drove in I hit a rock in the yard and
poked a hole in the right front tire. So I changed that tire and took the flat to town. The flat tire was toast, and I had to get a new one. With that done, I went back to the museum sale with a camera to take pictures of some items I didn't recognize so I could research what they are. On the way home I stopped to see my cousin Charlotte who I haven't seen for a few months, and by the time I left there the day was pretty much shot. Maybe I'll get those spokes painted this weekend.


Saturday, July 21, 2012

After doing laundry, I went to the Scott Museum auction. This was a big one, and lasted from 10:00 AM until almost 7:00 PM. The second day starts tomorrow at 11:00 AM. I'll tell more and show a picture or two after that.


Sunday, July 22, 2012

I didn't stay for all of day two. All the bargains were at the end of the day yesterday. Except
for a few buys then, high prices were the rule both days. A couple of antique dealers who always buy a lot were there and bought almost nothing. One of them said it was because of "too damn much TV." I'll show you a few special items, plus my unusual buy.
| | |
| --- | --- |
| The highlights of the collection were signs from local businesses of long ago. | The porcelain undertaker's sign with a 1903 patent date looks like new. |
| This stage backdrop is covered with local businesses of long ago, now long gone. | I paid $15 for this lot because of the solid holey tires rarely seen nowdays except in old photos. |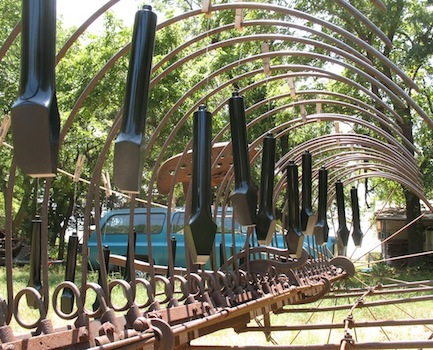 Monday, July 23, 2012
At last I wiped the dust off all the spokes and got them all painted. Next was painting the bolts. The spokes and the bolts will roast in the sun while I work on the last remaining pieces, the felloes. One of those has been primed and sanded and will get the final coats tomorrow. The other felloe has been primed, and has yet to be sanded and painted. I hope to get that done tomorrow too. That will make all pieces painted and ready to assemble, and they can bake in the sun while I build a spoke press. With any luck I should have these wheels assembled and on the car within a week or two.


Tuesday, July 24, 2012

Mission accomplished. I finished both the felloes today. They're
painted and hanging in the back yard to bake in the sun. With those done I got started on building a spoke press to assemble the wheels. The way things are going, I should have the press done tomorrow.


Wednesday, July 25, 2012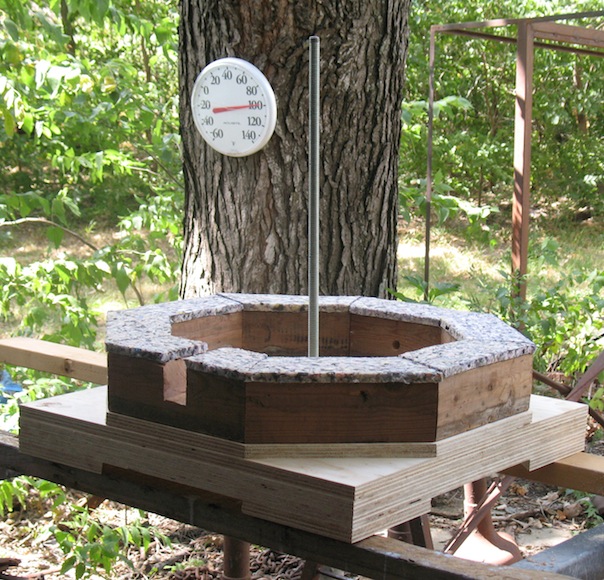 Life is all the stuff that happens to you while you're making other plans, says the old saying. I thought it would be a pretty simple thing to finish my spoke press this morning. But some of the pieces need to be cut at a 221/2º angle. When I went to cut them I found that after sitting at 90º for years and years, the miter saw was stuck there and absolutely would not move. So I spent a couple of hours taking it apart, cleaning out all the sawdust and dirt, greasing the clean parts, and putting it back together.
After that I had my eight angled pieces cut in a few minutes. I think from now on I'll keep a trash bag over that saw to keep it clean. With the angled pieces of 4 x 4 cut, I worked steadily
on the spoke press and had it finished by four.
A nice breeze kept the 100º afternoon from feeling
all that hot.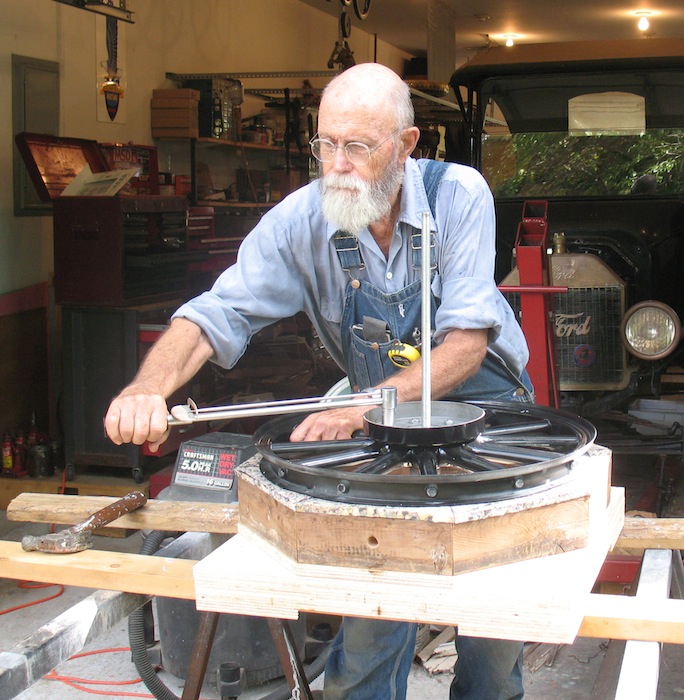 Thursday, July 26, 2012

Today I used the new press to assemble a wheel,
then
mounted a tire on one of those newly galvanized rims
and put it on the new wheel. Tomorrow I'll do another one.


Friday, July 27, 2012

After
my usual Friday morning grocery run,
I spent more time than I wanted researching wheel and tire parts, deciding what items I need and how
many, and ordering. I was a bit late getting to it, but I used the spoke press to assemble another wheel. I got it done except for a few nuts and bolts, and I have to wait a few days for more of those to arrive from California.

Spoke press video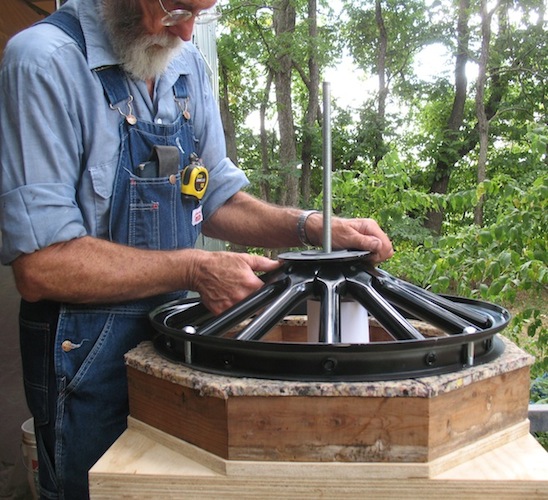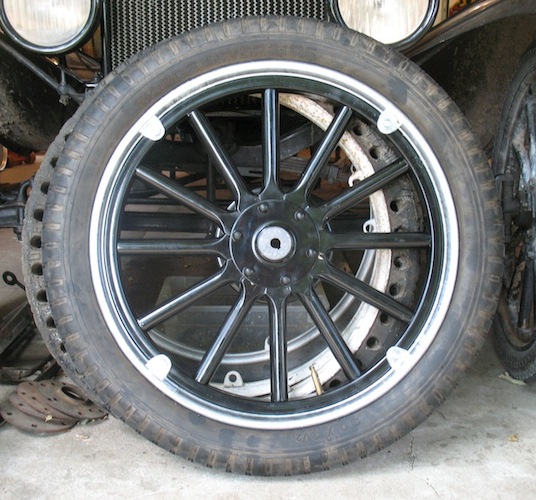 Saturday, July 28, 2012
Today's main activity, while I watered trying to save dying plants, was grinding the rough spots off my newly galvanized clincher rims and installing tires on them. I got three tires mounted, and now I'm waiting for the two tubes I bought yesterday to arrive. When the tubes arrive from Massachusetts and the hub bolts arrive from California, and the flaps from Tennessee, I'll have proper tires all around. At least as proper as you can get now that they're all made in the same factory in Vietnam. One more thing I'll have to do in the tire department is make a running board spare carrier.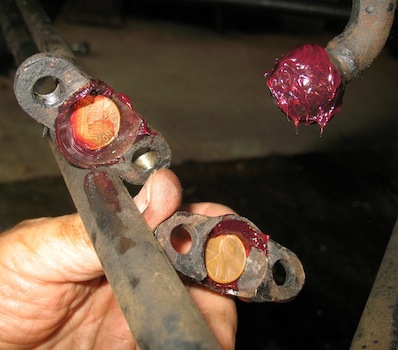 Sunday, July 29, 2012

It's too hot to do anything,
but I installed the new rear wheel I had finished the other day on the touring, and installed the front wheels with the new rims and tires. But the right front tire went flat. I don't know whether the problem was the valve or a damaged tube. I'll look into that later. While I was working on the front wheels I noticed some loose steering connections, so I put in 3¢ worth of shims to take up the slack. While I was at it I made a couple of other steering adjustments. With the new wheels and rims installed, tomorrow I'll check the gather (toe-in) and make any adjustment that may be needed. These tires currently available don't have a great reputation for lasting, so I want to minimize wear as much as I can.


Monday, July 30, 2012

While waiting for ordered parts to arrive,
I bought some steel and started making a running board spare tire carrier. With the temperature over 100º I took a lot of breaks to have a drink and sit. I finished a few pieces and may finish the whole thing tomorrow.


Tuesday, July 31, 2012

Work on the new spare tire carrier continued today. I
made good progress on it but didn't finish. I worked slowly and stopped often to have a drink and sit in front of a fan. I wanted a square file larger than the one I was using to make carriage bolt holes, so when I went grocery shopping I also shopped for a file. Fortunately, I didn't find one. That's a good thing, because when I got home I found exactly what I was looking for in a box of auction plunder. Maybe next winter I can go through most of the stuff I've bought at auctions and get it organized so I know what I have and where I have it. Many times at an auction you want an item and have to buy the pile of stuff it's in to get it. Over time those piles add up to a lot of stuff to sort, just to rediscover what's there.