Paperwork ate up most of my day. I paid bills and filed receipts. I took time out for a trip to town to sell my share of the wheat. I was delighted to find that it brought enough this year to pay all the property taxes and the house insurance, with enough left over to make up for last year when it didn't. While I was in town I stopped at the F
astenal store to pick up some parts I ordered last week. The guy on duty couldn't find the parts, and couldn't find any record of the order, so he ordered them again. Poor
Fastenal.
Friday, July 5, 2013
Except for a shopping trip to town, I spent the day on small parts. I hunted up, cleaned, stripped, and painted nuts and bolts. That's a part of restoration that really takes up a lot of time.
Saturday, July 6, 2013
After laundry I went to check out an auction at the fairgrounds. Most of the time there are at least a few items that make me wonder if I should stay. This one provided no wonderment. It was nothing but clutter. Table after table filled with stuff you'd have to pay me to haul off. I spent the day working on the roadster, installing the crank shaft pulley, the ratchet and crank, transmission cover nuts and bolts, and oil petcocks. Yesterday's comment on nuts and bolts was true today too.
Sunday, July 7, 2013
I was pretty worthless for getting anything done today. Late getting up, after 6:30, went for a run. Took Daisy in the shower and gave her a bath with flea and tick shampoo. Played online until noon then took a nap on the front porch swing. Went to gas up the car and buy celery. Found that stainless cotter pins are something else I'll have to buy online. Researched correct parts and played online some more. Maybe I'll do some actual work tomorrow.
Monday, July 8, 2013
Plant murder moved back to the top of the list today. I spent most of the morning cutting little trees in the yard and dosing the stumps with Tordon to kill them. In the afternoon I went to town for groceries and more Tordon, then cut some more. The last chore of the day was stripping, prepping, and painting a few more nuts and bolts for the roadster. I'm getting close to putting the engine back in the car.
Tuesday, July 9, 2013
Plant murder, day two. Except for a break to take some pictures, I spent all morning cutting off little trees in the back yard and poisoning the stumps. The pictures were of hedge trees. A recent subject of discussion on the Model T forum has been what kind of wood is right for wheel spokes. It didn't take long to settle on hickory, but then somebody wondered about Osage orange (bois d'arc), and we veered off into a discussion of that. All the talk about it prompted me to go out and take these pictures I posted there, and I'll share them here.
| | | |
| --- | --- | --- |
| The first homesteading here was in 1870, before barbed wire became widely available. Salesmen came through the area peddling hedge seedlings and they were planted for fencing by the thousands. There are a lot fewer of them now than there were when I was a kiddo sixty years ago, but there are still a lot left. This hedge is along my west field. | | The fruit was once used to repel spiders by placing one under the bed. Various studies have found elemol, an extract of Osage orange, to repel several species of mosquitos, cockroaches, crickets, and ticks. One study found elemol to be as effective a mosquito repellant as DEET. |
| | | |
| --- | --- | --- |
| If you have to do any trimming or cutting, you'd better wear gloves. | This fence was put up by my uncle, Charles Miller. Charles died in 1960, so I think the fence is about 55 to 60 years old. The hedge posts are still solid. | Note the bent nail and the barbed wire mostly tied on, not stapled. It's mighty hard wood. |
This afternoon I finished installing the nicely painted bolts in the roadster engine. Next will be the valve covers, the manifolds, the head, and putting the whole works back in the car.
Wednesday, July 10, 2013
This was a travel day, spent driving from home to the top end of Iowa. I've done this trip enough times now to time it for convenience, arriving in Des Moines around five and stopping for dinner at a nice Chinese restaurant. After chow I continue north to the last Iowa rest area and stop there for a snooze.
Thursday, July 11, 2013
I arrived at Iola a little before noon and got busy prowling the swap meet for bargains. With time out to visit some of the Model T guys, I covered about half the meet and bought a few spark plugs and a magazine ad for my 1923 touring. I spent the evening with my cousins in Stevens Point, some of my favorite people. They were willing to put up with me for a few days.
Friday, July 12, 2013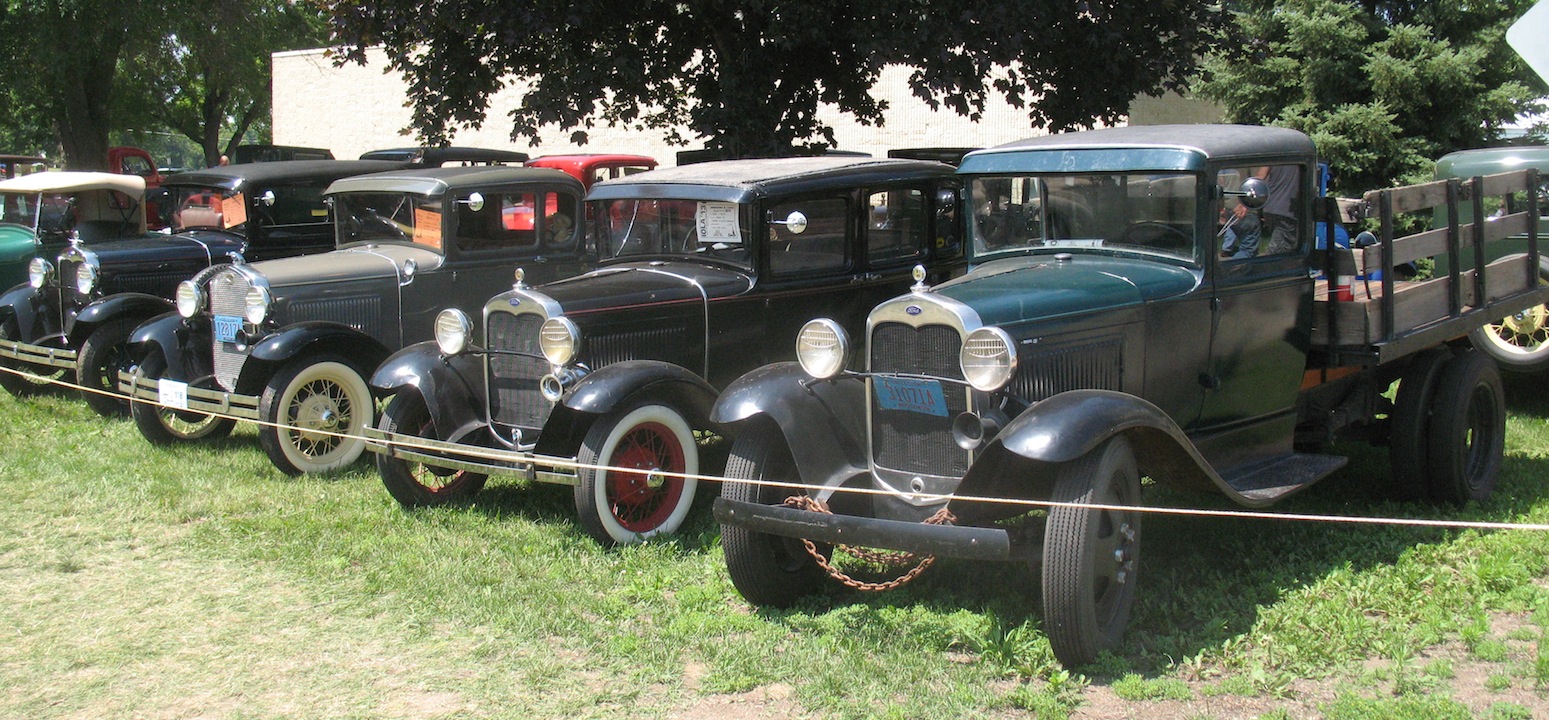 A row of Model A Fords. The truck on the right is a Model AA, the ton truck version of the Model A.
I spent the day with Elizabeth and the kids.
A few more morning sessions should finish the job in a few days. There's a lot of trimming and cutting that can wait for cooler weather. After that kind of trimming, I took the clippers and my bottle of Tordon to the back yard for another session of cutting off little trees and



Thursday, July 24, 2013



The Saturday night and Sunday morning storm made the ground perfect for pulling weeds today. It's soft enough for easy pulling, but dry enough for knocking the dirt off the roots of pulled weeds easily. I pulled weeds along the road by the west field until about ten, when it got to be sweaty work. Moving into the workshop, I finished setting the engine into the roadster. I got it in place and ready to install bolts except for one place where two holes don't quite line up. They're close enough that I'll run a drill through them to make them match. I'll also have to make some more top bolts, as the ones I have aren't quite long enough. As if I didn't have enough to do, the screen door on the front of the house has been sticking and pulling apart. So I took it down. I'm going to have to glue it back together and trim a little off the top to stop it from sticking. The last work of the day was after sundown. In the cool of the evening I went out and pulled more weeds along the road. Removing the tall weeds is uncovering more Johnson grass I'll have to spray.


Friday, July 25, 2013

No weed pulling this morning. Awoke to rain again, .37" this time. With last

sunday's 3.75" that makes over four inches this week. So far it's a wonderfully cool and moist summer. I spent the morning reading, then going to a doctor's appointment. This afternoon I spent a lot of time hunting up a couple of bolts the right length for my engine installation, then cleaning and painting them, then did more rummaging for parts. I finished the day gluing and clamping my broken screen door.




Saturday, July 27, 2013



Happy accident

was the theme of the day. Saturday often is auction day, as was today. The one at the fairgrounds had nothing to keep me there, so I drove over to Oxford. Not enough interesting stuff to keep me there either. So I drove down to Chilocco to fill the car with that cheaper Oklahoma gas. As I was leaving the filling station I noticed a sign across the road: "Auction Today". So I followed the arrows to have a look. It turned out they were selling a house and contents. I don't need any furniture, and none of the other household stuff held any charm for me. In the barn was a huge pile of glass jars in corrugated boxes. In this case

pile

means a jumbled heap, not neatly stacked.

There were a lot of five gallon plastic pails, and a few old doors and window screens. Nothing I cared about. But then I noticed the bricks. Along one wall was a stack of bricks about a foot and a half high and ten feet long. They appeared to be good red paving bricks, used but in excellent condition. So I stayed until the auctioneers got to the barn, and it's a good thing I did. I got the bricks. I went home and got the Suburban, and spent over an hour loading up about half of them. Not wanting to carry too much weight, I took those home and went back for the rest. Loading them took another hour and a half. By then It was past six, so on the way home I stopped to eat at Artemio's. That's the new name of what used to be Tacos Juquila, now owned and operated by new folks. Fortunatey the food is very good, so there are still two places to get real Mexican food here. So the day's happy accidents were two: some good Mexican food and over 300 bricks for $12.62, or about 31/2¢ apiece.