Saturday, September 1, 2012
Laundry day. I finished that about 9:30 and returned to the roof. After a half hour of shingle removal I was sweat-drenched and took an hour's break to cool off and even have a little nap. I was back at it by eleven and had the rest of the shingles off at 1:15. I got a start on the next phase, removing boards that will be replaced.
Sunday, September 2, 2012
OOooops! I mispoke when I said I got all the old shingles off. I forgot about thirty square feet at the east end. I started on those in the cool of the morning and finished them about noon. At that point
the temperature in the shade behind the house was 90º but it was a lot higher up on the roof in the direct sun, so I retreated to the shade. This afternoon I gassed up the car and bought groceries, then drove over to Oxford to check out stuff that will be auctioned tomorrow. Looks like I'll have to take the day off and go bid on a few items.


Monday, September 3, 2012

I spent most of the day in Oxford at the Patterson auction. I came away with a box containing a nice variety of antique spark plugs and a lot of antique valve stem covers.


Tuesday, September 4, 2012
I messed up. I left my sandblaster sitting out and during the recent storms the plastic cover leaked and let it fill with rain water. This morning I set out to remove the wet sand. I started by poking the sand down to the bottom of the tank with a piece of conduit, then giving it a blast of air to blow some of it out. Poke, air. Poke, air. Poke, air. It was obvious this was going to take at least a couple of days. Then I hit upon the idea of using a garden hose to wash the sand out with water. I had it cleaned out in less than half an hour. The sand lying out on the tarp should be dry in a day or two, and I'll be ready to blast again.




Wednesday, September 5, 2012





My main activities today were tool making in the morning and school in the afternoon. The tool I made is a squeezer for removing valve springs. I tried it out squeezing by hand and found that it worked, but I think it will be even better if I add a bolt to pull it together.

I spent the afternoon in my machine shop class using the lathe. Eventually I hope to have one myself so I can make some of my own parts.


Thursday, September 6, 2012

I improved the squeezer by adding a spring, a bolt, and a wing nut. I think my investment in materials for the thing may be approaching 50¢.

The forecast is calling for cool and dry weather on Saturday, with a high only in the low eighties. I'm ready for that. I've been taking a break from the roof for a few days due to the chance of rain. With dry weather forecast for next week, I'll get back to it then.



Friday, September 7, 2012

I set out to do some sandblasting this morning, but it was a waste of time. Even with two moisture traps in the line, the high humidity kept gumming up the works. That job will have to wait for drier weather. As usual I went to my afternoon class, then when I got home I did a little chore on my touring car. The guys who did the cosmetic "restoration" were mighty careless in their choice of fasteners.

They used screws like this for the steering column support. Today I filed the holes square and installed black carriage bolts instead, and while I was at it I replaced the Phillips screws holding the instrument panel with proper slotted screws. To Model T guys who appreciate authenticity, modern stuff like Phillips screws and wiring with plastic insulation looks embarrassingly tacky on a T.







Saturday, September 8, 2012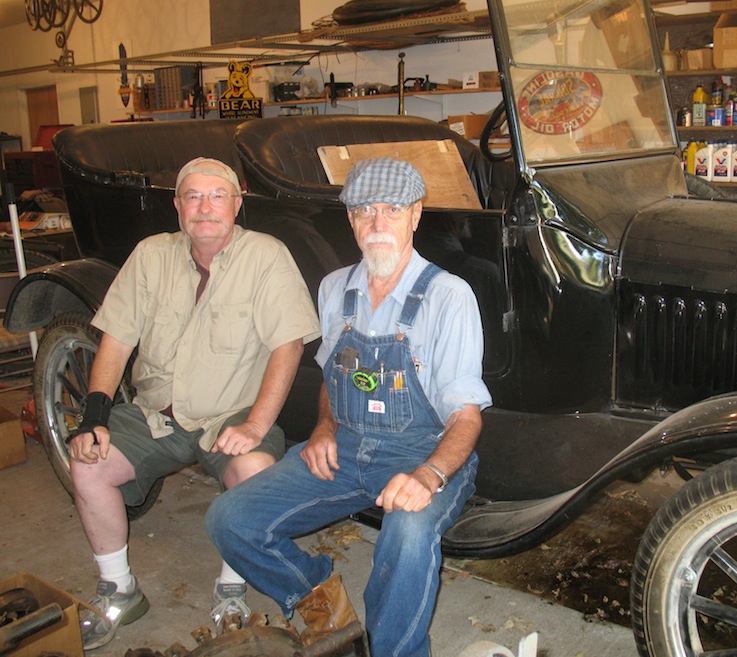 Yesterday afternoon George Clipner stopped here on his way home to Los Angeles from Missouri. He's fetching his Model T touring car. He used a spare bedroom, and this morning was on his way again. After George left I cleaned dirt and rust off some head bolts, then set up the sandblasting equipment to blast the head I need to paint. I thought I had solved the wet sand problem, but the blasting did not go well. More and more globs of wet sand shot out of the nozzle and splattered on the work until finally no more sand would come out at all. What should have been a job of less than an hour has turned into a project. I spent the last of the afternoon welding a pair of 3/4" nuts on the blaster's funnel. I'll put bolts in them and use a large bar between the bolts to unscrew the funnel so I can remove the plug, which needs new rubber, then I'll remove all the sand again and try to get everything dried out.


Sunday, September 9, 2012

I spent the morning on the sandblaster. I unscrewed the funnel so I could remove the plug from it and replace the rubber. I removed the outlet valve from the bottom and tried to wash out all the sand. No matter how much I washed, there always seemed to be a little more to wash out. So I removed the nippple from the bottom and found that it contained a "screen", a bit of plastic pipe with holes in it, that extended up into the tank. Flakes of sandy rust (or rusty sand?) had piled up around this screen and made a dam keeping sand from getting out. With that obstacle out of the way the rest of the sand washed out quickly and I was able to wash out the rust flakes too. As the washed out sand dries, I'll reassemble everything and in a day or two give it a try. I spent the afternoon at an auction in Clearwater where I bought a set of car ramps. That's what I went for, and I paid $5. I should have bid less to see if I could get them for a dollar, but they were still a good buy.

| | |
| --- | --- |
| | |
Monday, September 10, 2012
I took the morning off for a visit to the bank and consulting on an IRA, for gassing up the car, and for buying some sandblaster parts. All that used up most of the morning, and my afternoon class and grocery shopping filled most of the afternoon. Tomorrow I'll get back to the sandblaster.


Tuesday, September 11, 2012

This morning I finished reassembling the sandblaster, then I took some time to work on the Camry. There's a big air inlet hose that has a large crack in it. I fixed that temporarily with duct tape then shopped for a new hose. A new one from the Toyota dealer costs $162.61, so I bought one online for $38.07. By the middle of the afternoon there was a good breeze from the south to carry away dust and keep the operator from melting in a puddle of sweat, so I put the newly fixed sandblaster to work. It worked like new, and in less than an hour I blasted a head and a batch of head bolts. By five I had all of them painted. It was a good day.
Wednesday, September 12, 2012

After my morning exercise and breakfast, I put away the sandblaster I used yesterday and screened the leftover sand into a pail for next time. I removed all the masking tape and duct tape masking from the head and bolts, and then started getting ready to leave tomorrow. I'll be off to South Dakota for bargain hunting at a big auction. After my afternoon class, I did more trip preparation. It's going to be a long drive and I need to get an early start.



Thursday, September 13, 2012

I did get an early start. I left home at 5:16 this morning and drove all day, arriving in Rapid City at 6:05 PM Mountain time. I'm using the wifi at McDonald's to make this entry. Maybe tomorrow I can find a computer shop that can show me how to make Windows download photos. I have no problem with that at home on a Mac, but so far I haven't figured out how to do it on this Windows machine.


Friday, September 14, 2012

I arrived in Spearfish SD this morning and spent most of the day looking over the stuff they're selling tomorrow, and taking pictures of the beautiful cars. I'd show you some of them, but that will wait until I get home and can use a Mac. Maybe then I can fix the website picture mess too.


Monday, September 17, 2012

OK, I'm home now and it's time to fix the mess. First I'll show a couple of pictures I took Friday, before Saturday's auction...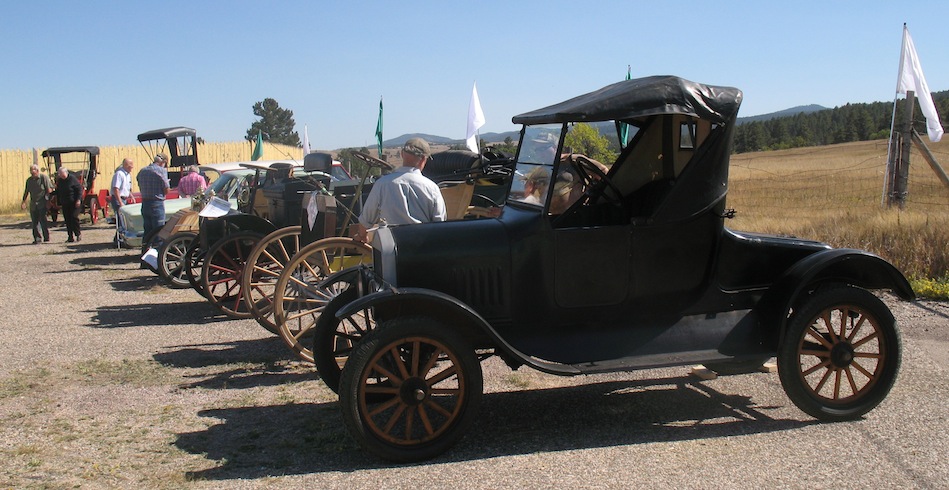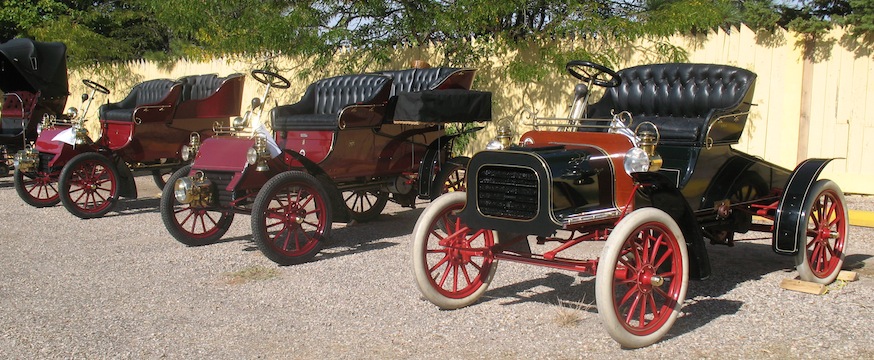 ... and a few from Saturday, during the auction.


I spent Saturday evening and almost all of yesterday driving home, arriving back here about four in the afternoon. Because I was gone Friday, I went to school all day today, making up my
missed Friday session in the morning before going to my regular afternoon session. I came home between sessions and got the truck, and on the way home I stopped at the lumber yard and bought sheeting for the roof. Now that the weather has cooled off I need to get busy on that project again.

Anybody wanting to see more auction pictures with comments on the cars and the event can go here.


Tuesday, September 18, 2012

Back on the roof project, today I removed boards and cleaned out old insulation on the west end, then gathered materials and tools to for rebuilding, which I'll start in the morning.



Wednesday, September 19, 2012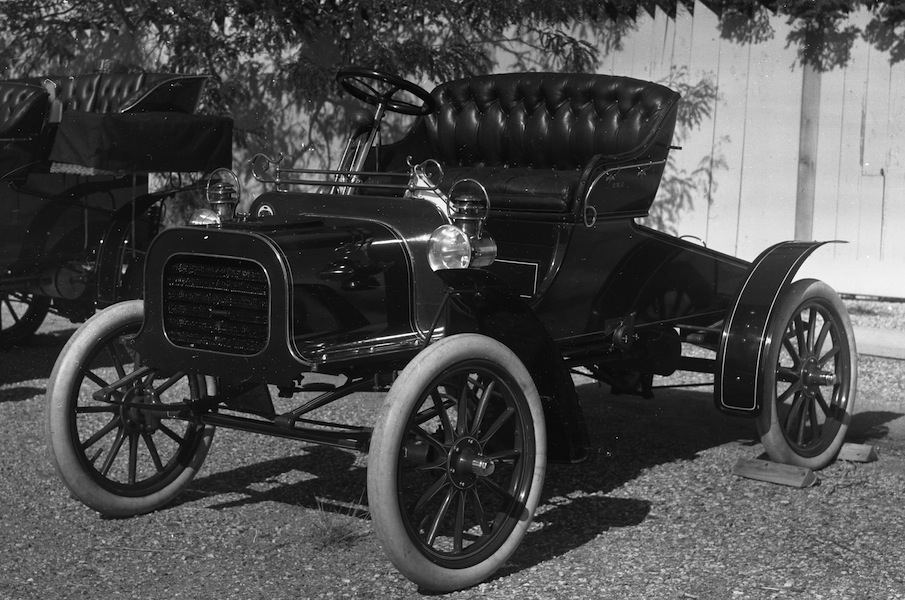 Before daylight I started on developing the film I shot Friday at the auction preview. It's been years since I shot any sheet film, so I had to start with washing all the dust and dead bugs off the equipment and then mixing new stop bath and fixer. After I finished with the film I got a little work done on the roof before going to my afternoon class. When I got back home after class I made a 4x5 negative holder for the scanner and scanned this picture. It's from the only negative I could scan. All the others have the subject too big for my scanner's light source to cover it. The scanner was made for 35mm slides and
2 1/4
inch negatives. Somehow I'll have to devise a wider light source to cover 4 inch negs.
Thursday, September 20, 2012
The first job of the day was rebuilding the west end of the lower roof. It was slow going because I'm adding some studs where sheetrock was nailed directly to exterior siding, and making other changes. While I'm retaining the exterior appearance of the place, I'm reinforcing weak places and
making other minor changes. I'm going slow on all this in compliance with the old admonition,
measure twice and cut once
. About noon I quit work and took care of another chore. I'll be busy elsewhere on Saturday, my traditional laundry day, so I spent most of the afternoon doing laundry. I got home a little before four, and finished up the day getting a lttile more work done on the roof.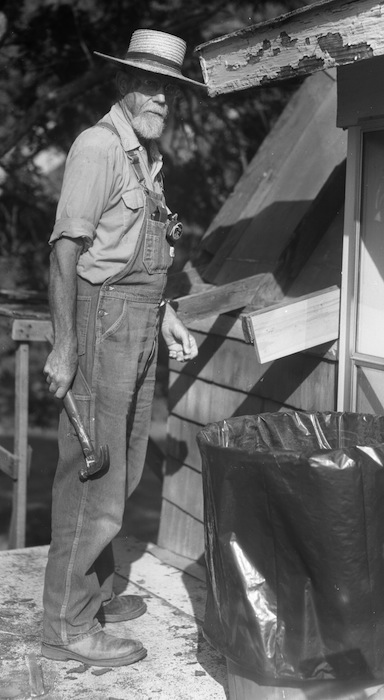 Friday, September 21, 2012
The day began with three miles in 31:00, not bad for an old guy. The first non-routine activity was scanning the picture I shot and developed yesterday. The film is rated at ASA 100, but I shot it at 25. I was very pleased with the results, a good gradation from light to dark, nice shadow detail, and cood contrast. After photography I moved on to roof work. About three in the morning I awoke to the sound of rain, and I didn't have the tarps up. Fortunately it didn't last long enough to do any damage. I got more done on the roof, and got so involved I was a little late for my afternoon class. To be continued.


Saturday, September 22, 2012

At 5:30 AM I was off to McPherson for the Model T tour. Not having a T ready to tour, I just drove up to take a few pictures with the big camera.
I didn't shoot any digital pictures of the cars, but I did get a few wildlife shots. When I got back from McPherson I went to Paris Park where the Last Run car show is going on. It's primarily a rod and custom show, but there are usually a few real antiques.
| | |
| --- | --- |
| | 1922 Reo |
| | | |
| --- | --- | --- |
| 1914 Ford | 1929 Essex | 1936 Buick |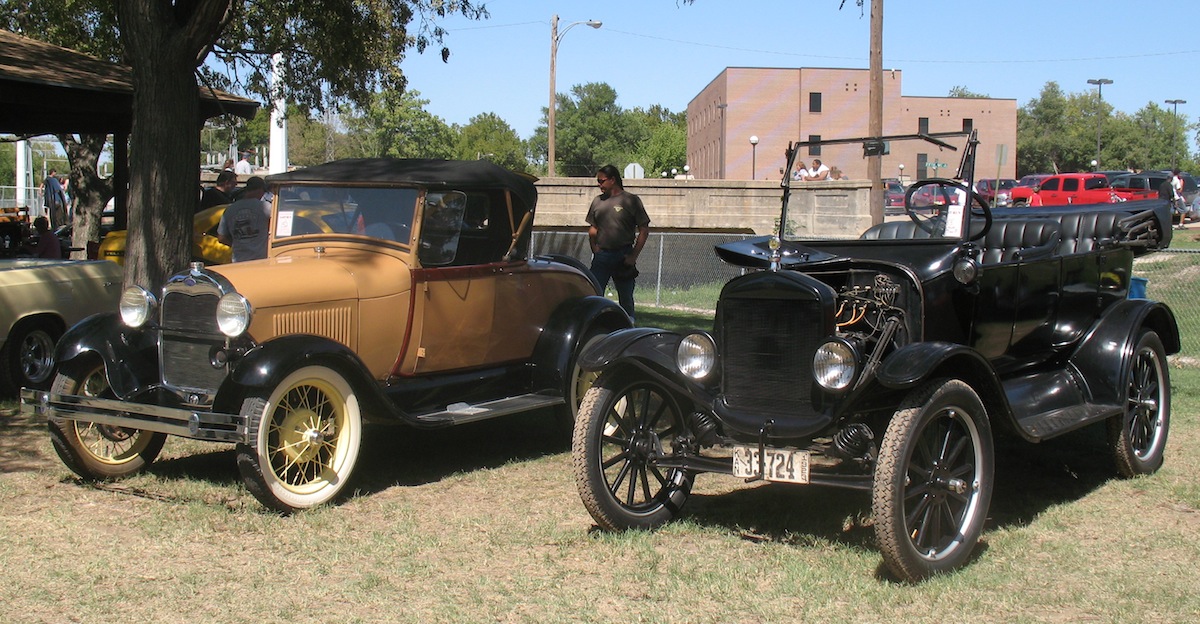 1928 Ford, 1923 Ford

Sunday, September 23, 2012
For the first time in a couple of years I did my three mile run in under 31 minutes this morning, with a time of 30:37. I need to get back into condition to do that consistently, then get it under 30 minutes. After a lazy morning of internetting and otherwise relaxing, I went back to work on the roof this afternoon and got a little more done. One problem in working on an old house is lumber inflation. That doesn't mean just rising prices. It also means shrinking sizes. A nineteenth century two by four is likely to actually be two inches by four inches. An eighty-year-old two by four will be slightly smaller than that, and a new one will be a lot smaller. This complicates a job where some old boards stay and others have to be replaced. Making things fit together can be tricky. It's a good thing I've been buying old lumber at farm auctions and estate sales, so I can usually find a board of the right size to fit.


Monday, September 24, 2012

It was a very simple Monday. I worked on the roof. I went to class. I worked on the roof. I expect tomorrow will be the same, but without the going to class part.


Tuesday, September 25, 2012

Roof, roof, roof. Of course that includes rotten parts of the walls under the roof. I started a little after seven, as soon as there was enough daylight to see what I was doing, and stayed at it for almost twelve hours, with time out for a trip to town to buy lumber and plastic sheeting. With rain in the forecast, the last hour and a half was devoted to getting plastic sheeting and tarps in place. Here's a video showing some of today's activity: ROOF PROJECT.

Wednesday, September 26, 2012
It's a good thing I got the sheeting and tarps up, and happily they kept the rain out. I'll leave them up for a few days because the forecast has a pretty good chance of rain off and on until Saturday. I'd uncover and get more work done if covering up didn't take so long. That's OK. I can work on inside jobs and other outside jobs until another run of rainless days comes along.



Thursday, September 27, 1012



More rain overnight confirmed my decision to leave the tarps up for a few days. The predicted hundred percent chance of rain around noon never showed up, but the day stayed mostly cloudy and seemed on the verge of rain that never came. A couple of years ago when I rebuilt the northwest roof I installed some fascia boards that were too narrow to match the others on the house. So today I replaced them with new ones of the proper width. Inside, I did some cleaning to remove debris that fell into the upstairs rooms when I was dismantling things Tuesday. The latest forecast is for almost a week with zero percent chance of rain, starting Sunday, so that's when the covers come off and I get some rebuilding done.


Friday, September 28, 2012

My three mile time this morning was within a few seconds of Sunday's time, under 31 minutes, so I guess Sunday wasn't a fluke. I spent a lazy morning before going to my afternoon class, but after class I actually accomplished something. I removed a lot of the old lumber that's been lying on the front porch roof.


Saturday, September 29, 2012

This morning I drove up to Rose Hill for an auction and spent the day there. I bought a shop vac for $7 and an electric chain saw for $5. There were a few bargains like that, but there were too many big spenders present to allow for very many good deals. Somebody did get a good deal on a 1930 Model A Ford. It was a very nice amateur restoration, and sold for $6200.


Sunday, September 30, 2012

I spent the last day of the month removing roof and upper wall boards. A lot of them were rotten and termite eaten and will have to be replaced. In a lot of places I'm using treated lumber that will survive getting wet without getting rotten.

| | |
| --- | --- |
| | |
HOME
AUGUST 2012
OCTOBER 2012
BLOG LIST