Saturday, September 2, 2017
Last night when I filled the car I noticed gas dripping from a leak where the sediment bulb screws into the tank. So today I emptied out all the gas, removed the sediment bulb, and reinstalled it with Ultra Black to seal the threads. If that doesn't stop the leak I'll run a tap in the hole so I can screw in the sedimenbt bulb tighter and still have it align in the right direction.
Sunday, September 3, 2017
Variety being the spice of life, I had a spicy day. I reinstalled the left front fender on the 1923 touring. It had been off to have a broken bracket welded. I also wire brushed and painted some castle nuts. It's always good to have some on hand ready to use. I put some gas in the roadster and found that the leak wasn't from where the sedimant bulb screws in, but from the valve. So I drained the tank again, pulled the sediment bulb again, and worked on the valve. I'll let the sealant set overnight, then tomrrow I'll put some gas back in the tank and find out if I cured the drip. The grass has been threatening to get out of hand, so today I spent a couple of hours mowing. There's more of that to do tomorrow.


Monday, September 4, 2017

| | |
| --- | --- |
| September is sunflower season. | At last I was able to unload the yard waste that's been piling up in the truch for several weeks. |
My Labor Day labors began with pulling weeds along the road by the west field. If you just mow over them and leave the roots they grow back. With the weeds out of the way, I mowed along the road all the way to the west hedge. Amazingly, there wasn't much trash to pick up. I was happy to find that dry weather in August had made the road to the south brush pile usable, so I was able to unload the truck without getting stuck in mud. In the afternoon I went to town to have a leaking tire on the Camry fixed. It turned out that the damage was in the sidewall, not the tread, and I had to buy a new tire. I guess I need to stop driving sideways.


Tuesday, September 5, 2017

It was bill-paying day (trailer insurance, water, clinic) and a session with the Camry at a repair shop to deal with the AC blowing uncooled air. It turned out to be a defective compressor. They didn't have time to replace it today, so I'll go back next week. In the shop all I got done was stopping the roadster's sediment bulb leak and refining my accessory fuel shutoff to work more smoothly.


Wednesday, September 6, 2017

Travel day. I'm headed for the Old Car Festival in Dearborn. I left home at 10:05 AM and drove uneventfully to Vandalia IL, where I stopped to gas up and to eat at Los Amigos, then drove on and bedded down for the night in the Camry Motel at an Indiana rest area. Tomorrow: On to Michigan!


Thursday, September 7, 2107

Travel day two took me through Indiana and upper Ohio. Near Toledo I came across the Fallen Timbers Battlefield.

I stopped for a visit with the monument overlooking the Maumee River Valley. On August 20, 1794, American troops led by General Anthony Wayne defeated British troops and their allied Indian tribes. The Northwest Territory was part of the United States since the 1783 Treaty of Paris, but the British persisted in meddling there up through the War of 1812. But they were unable to stop the flow of American settlers that flooded into Ohio following Fallen Timbers.


Friday, September 8, 2017

Today's highlight was a visit to the Piquette Avenue plant where Ford cars were made from 1904 to 1910. In 1904 there was plenty of room for making Model A Fords. In six years Ford progressed through models B, C, K, N, R, and S, and settled on the T as the Model that would be his only product, and this factory was too small for the job. Pictures are here.


Saturday, September 9, 2017

This was my first time at the Old Car Festival. It is grand. I intend to come again next year, and I hope by then I'll have a Model T in shape to make the trip. Today's pictures are here.


Sunday, September 10, 2017

Another swell day at the OCF. It's late and I've posted only a couple of pictures. They're at yesterday's link.




Monday, September 11, 2017



Travel day again. I left Detroit and drove to the Gilmore Car Museum north of Kalamazoo. The Gilmore is the largest car museum in North America, and has an amazing collection that ranges from common Fords and Chevrolets to rare and exotic examples of Deusenberg, Cole, and Wills Sainte Clair. On the grounds are separate buildings dedicated to Pierce Arrow, Lincoln, Cadillac/La Salle, Hudson, Franklin, Classics of any make, and Ford Model A (1928-1931). Here are a few photos.




Checker cabs were manufactured in Kalamazoo for many decades, including the 1978 yellow cab used in the TV series

Taxi

.

The first vehicle I bought when I got out of the army was a maroon 1953 Willys Jeep 4WD pickup, so I had to get a picture of this 1954. It's the same except for the color.

| | |
| --- | --- |
| | 1903 Ford Model A. |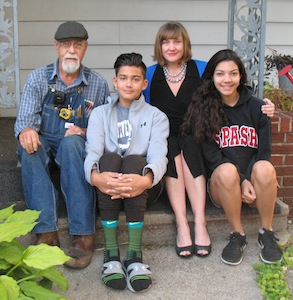 Tuesday, September 12, 2017

I drove through Chicago and north into Wisconsin, stopped for the night in Oshkosh, and this morning drove on to Stevens Point for a visit with family. At my cousin's house I spent most of the day editing more of Saturday's Old Car Festival photos and posting them online. They're at the same link I posted Saturday. It's been more than a year since I saw Elizabeth and the kids, so seventh grader Austin and tenth grader Bella have grown quite a bit more mature.


Wednesday, September 13, 2017

On the road again. As usual when traveling between Wisconsin and home, I stopped for dinner in Des
Moines and then drove on to bed down in the Camry Motel at the first rest area west of Kansas city.


Thursday, September 14, 2017

I made a new gasket for the roadster's leaking sediment bulb. I'll let the sealant cure overnight, then install the thing in the car tomrrow. I spent a lot of time today editing and posting pictures of the Old Car Festival.


Friday, September 15, 2017

I reinstalled that sediment bulb, spent a lot of time looking up
and printing maps
for a tour, and got a surprise car wash coming home from town in the runabout.


Saturday, September 16, 2017

With the mechanical horn on the roadster out of order due to a missing part, I spent the morning working on a magneto horn to use as a replacement until the mechanical horn is fixed. I had the mag horn disassembled and sandblasted by noon, and in the afternoon I painted the pieces. I painted the inside of the bell today, and tomorrow I'll paint the outside. My other work this afternoon was preparing for some overnight trips. I figured out how to stow a tent,
sleeping bag, and foam mat inside a canvas tarp on a running board. I may try it out on a Model T tour in Bartlesville next week.


Sunday, September 17, 2017

One of these days I'll get around to installing a real 1915 speedometer on my runabout. But until then I'm using the Cat Eye Velo 5 bicycle speedometer. It works fine, but sometimes is hard to see. So today I got started making a fixture to hold a light over it. It will be a magneto light, so when the car is running the light will be on. I intend also to attach a horn button to the fixture to operate the magneto horn I aim to use until I get my mechanical horn fixed or find another one. The fixture is painted and baking overnight and I should have it ready to install tomorrow. The question is whether I'll be able to find a suitable button to operate the horn. An old time door bell button would be perfect, but that may not be an easy thing to find.


Monday, September 18, 2017

Well, I found a button, sort of. I happened to have an original 1915 horn button, but it's not in great shape. Sometimes it works and sometimes it doesn't. It will have to do until I can get the new parts to make it better. Anyway, I reassembled the horn and tried it out. Hearing it explains why so many people bought aftermarket mechanical horns for their Fords. When I go to Hershey next month I'll be looking for a good mechanical horn or the parts to fix the one I have. I spent the day finishing and installing the speedometer light and the horn. The light works very nicely. When the engine is running, the light is on. It should make the speedometer easy to read at all times.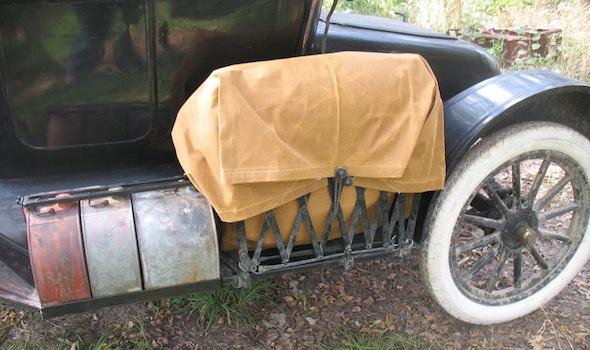 Tuesday, September 19, 2017

I've been contemplating a Model T Tour in and around Bartlesville this week, and having the runabout in shape for the trip I decided to go. I packed my tent, speeping bag, and foam pad in a tarp in the running board luggage rack, and set out at 12:30 this afternoon. That would allow plenty of time to make the 85 mile trip in full daylight. All was well until my right front tire went flat on Dalton road in Chautauqua County. I made a big mistake in bringing only Ford tire irons, which are too short to make changing a tire easy. I struggled and struggled and eventually got the tire off the wheel, pulled out the leaking tube, and put in the spare tube I had under the seat. But putting the tire back on with those short irons proved impossible. So I walked up the road to a higher place where I had phone reception, and called for help. By the time the tow service guy arrived it was late in the day. When he saw what the problem was, he drove on to Hewins, about three miles west, and borrowed some long irons. Using those and plenty of soap, the two of us got the tire back on and inflated with the foot pump as it was getting dark. I was a bit surprised at how well the foot pump worked. It tended to fall over, being used on rocky ground, but it got the tire up to 60 psi without taking too long. Note to self: carry a piece of plywood for a foot pump base. The next adventure was going on to Peru, where the tow/wrecking service is based. Magneto headlights are almost adequate on a familiar good paved road. On an unfamiliar country road they're nowhere near enough. Even with lights from the modern truck behind me helping out, it was a scary drive of about seven miles to Elgin, the old cowtown on the state line, population 89. It was there where I missed a turn and ran off the road. Fortunately it was just into tall grass, and no harm was done. We shoved the car back on the road and decided that from there on I would follow the truck. With that arrangement we made it to Peru with no further trouble. There I downed about five glasses of ice water, as I hadn't had a thing to drink since leaving home. After a visit with the wrecking yard guy, I laid out the tarp and foam pad in the yard and bedded down for the night. The weather was pleasant and I didn't bother with the tent. With a population of 139, Peru is a much bigger town than Elgin, but it still doesn't suffer from the infestation of mercury vapor yard lights that inflict light pollution where I live. For the first time in years, I slept with the Milky Way visible overhead.


Wednesday, September 20, 2017

I was up before the sun, about 6:45, and on the road to Bartlesville. I stopped at the Bartlesville Wal-Mart and bought some crackers and a banana for breakfast, then to McDonalds for a cup of tea while I used the free wi-fi to check email, FB, etc. Next it was back to Wal-Mart to have my punctured tube patched at the Auto Service Center. Guess what. The Auto Service Center can't handle tube repair. Fortunately the guy there was able to direct me to a real tire shop down the street, and I headed in that direction. But by now it was almost time for the tour to start. I pulled into the parking lot at the Fairfield Inn, headquarters for the tour, and saw not a single Model T. A phone call to Mike Bender reveled that the folks on the tour preferred the Hampton up the road, and had moved the headquarters there. OK, fine. But I still had that flat tube. So I went to the tire shop and had that fixed, then went to
j
oin the tour at the main event of the day, the Woolaroc Museum.
Oil man Frank Phillips spent millions on a wonderful collection of artifacts and art. I first saw it in 1962, when visiting my aunt Lenore and uncle Leo in Ponca City. In those days US 60, the highway from Ponca City to Bartlesville, was a narrower road than it is today, and had no shoulders. Riding with Leo whizzing past oncoming traffic by inches at 65 mph was a white-knuckle experience. Today's Model T drive there was much less stressful. I arrived at the museum this morning at the same time as about fifty grade school kids in yellow tee shirts, all speaking Spanish. It was amusing to hear one of the techers tell them that "... adentro del museo no deben hablar." Well. When kids see somethng interesting they're going to question, comment, and discuss. There's nothing wrong with that. They were interested and excited, but not rowdy. I asked a few of the boys, "Cual es tu escuela?" One of them asked back, "Aquí o en España?" It turned out they're going to school in Tulsa to learn English, though I didn't hear much of it being used. As for the museum collection, there is a lot of great western art. There are a good many sculptures by Remington and Joe Beeler and even a few by Charlie Russell. The Bierstadt and Moran landscapes were a highlight for me. In fact there are gorgeous landscapes by several artists. When it came time to leave, the roadster reached new heights of stubbornness. I cranked so much getting started that I was sore the next day. Back in Bartlesville I pulled into the parking lot at Lowe's to work on the car. After all, a big store like that should have whatever you need, right? Ha! The first thing I did was dig into the carburetor. Needing a 1/16" hex key to unplug the passages, I wasted my time trying to buy one at Lowe's. No soap. I figure this is when my camera, and all the pictures I had taken so far,
left my car to buy some druggy loser a fix.
That's why I'm not showing you any pictures of this trip. Of course Lowe's didn't have the 1/16" hex key, but a guy in the parking lot had one in his truck and gave it to me. So I was able to unplug all the passages, blow them out, and reinstall the plugs. It made absolutely no difference. The car still didn't want to start. So I reconsidered the evidence. There was plenty of gas to the carburetor, but the spark plugs were dry. Maybe the engine was sucking air instead of fuel. I checked the manifold nuts, and sure enough they were all much too loose. I tightened them all down, and soon the car was running and I was on my way. To where? My favorite restaurant, La Fiesta. A tasty meal of enchiladas blancas and frijoles refritos made up for all the difficulties of the day, though I was still steamed over the stolen camera. I had planned to stay at a campground near Copan, but my expreience with night driving last night changed my plans. I found a dark, grassy area near the Wal-Mart, laid out my bedroll, and got a good eight hours of sack time.


Thursday, September 21, 2017

Today's morning tour event was a visit to Prairie Song. It sounds sort of like some New Age thing, but it's exactly the opposite. It's very old school. In fact, part of it is an old school. A few miles east of Dewey, Kenneth Moore and his wife have built a pioneer town circa 1895. All the buildings that would be found in an Indian Territory town of that period are there. Hardware store, newspaper office, school, general store, teacher's cabin, saloon, and more. All the buildings are very well made with brick, stone, and rough cut lumber specially made for the project, and they are crammed with all the articles of daily life that people used in those days. Mr. Moore is a very down-to-earth guy, and I enjoyed visiting with him. He said he's been working on the project for 32 years, has spent a couple million on it so far, and he's not done yet. He considers himself very lucky to have plenty of dough, and he's going to have fun with it while he can. The place is open for tours, weddings, parties, and other events. The buildings are wonderful, and the amazing collection they contain certainly makes the place worth a visit. We wrapped up our stop there about one and drove back to Dewey, where I left the group. Having an early Friday morning medical appointment, I gassed up the car and headed for home. Shortly after crossing the line back into Kansas I noticed that the car was much louder than it had been, so I knew the muffler would need some work. The drive through Chautauqua County's pretty countryside was much more enjoyable in daylight than covering the same ground in the dark had been Tuesday night. I was a couple of miles past the site of Tuesday's flat tire when I had my next big adventure. I heard a loud BANG and saw my left rear tire roll past me, down the road ahead, and come to rest against a fence. The NOS white tires look great, but it seems their age has made them unfit for use on country roads. This one was worn clear through the tread and into the tube, which exploded. This tire was toast. There was no fixing it by putting in another tube. I phoned my cousin Pete in Arkansas City and had her come pick me up. We went to my place and picked up another rear wheel and a couple of tools, went back to where the runabout sat beside the road east of Hewins, and switched wheels. By then it was getting dark and I wasn't about to try any more night driving, so we left the car there overnight.


Friday, September 22, 2017

My urologist was pleased that the blood test showed my PSA level gratifyingly low, and I'm likely to live long enough to see him for another check in six months. With the medical diversion out of the way, I called Pete and she took me over to Hewins to fetch the car. I had expected to just start it up and drive it home, but no such luck. It was being stubborn again. I noticed that the buzz of the coils was intermittent. Sometimes they would buzz when the crank was turned, and sometimes they wouldn't. So I set about trying to find the bad connection or short. Eventually I traced it to the charger circuit. I disconnected that, the coils worked, and I was able to start the car. I drove it home with no further trouble, with Pete's pickup behind me with the flashers on. That was a bit of overkill. I don't think there was another vehicle behind us for the whole thirty-some miles. Anyway, we made it back without incident. Pete went home and I drove the runabout into town to pick up the mail at the post office, buy some celery, and fill the tank. It took 5.2 gallons, which worked out to 19 mpg.


Saturday, September 23, 2017

I need to mow, but somehow I spent the day in the shop. I adjusted the roadster's parking brakes, and while doing that I noticed the left rear wheel was loose because the nut holding it on had worked into the surface of the hub. I cured that with a large washer. Saturday is my night to dine in town, and I usually take in a movie after dinner. But tonight I didn't have the slightest interest in seeing anything that was showing. With nothing to keep me out after dark, I drove the roadster to La Fiesta for a tasty meal. When I went out to leave, the owner's wife spotted the old car and came out to look. One of the waiters came along and took her picture in the driver's seat. When I tried to start the car it was being stubborn again. I pulled the crank a dozen times and nothing happened. The waiter asked if he could try it, and I told him to go ahead. He pulled the crank just as I had been doing, and it started on the first pull. Maybe I need to take him along whenever I drive the car.


Sunday, September 24, 2017

This hard starting with the runabout is pretty annoying. Since I got the thing started Wednesday afternoon after tightening the manifold nuts, I thought maybe there was a leak around the intake manifold causing it to suck air instead of fuel. So this morning I took off the intake, cleaned it up, and reinstalled it with new copper gaskets and plenty of hi-temp sealer. I'll let it set overnight and see what happens tomorrow. Having just one pair of clean sox left, this afternoon I did laundry. For many years $1.50 in the dryer used to get everything nearly dry, and I would bring it all home not quite dry and lay it all out to air dry. But in recent months the dryers got less and less effective, so now I just take the clothes out of the washng machine, bring them home wet, and put them up on a clothes line. The old time solar clothes dryer works just as well as ever, and it's free.


Monday, September 25, 2017

Well, a manifold leak wasn't the reason for the hard starting. This morning it was still as stubborn as ever. So I took off the carburetor and replaced it with another one. I primed twice, flipped the switch, and pulled the crank. The car started on the first pull. I shut it off to try again. This time I primed it four times, flipped the switch, and it started instantly without the crank. So it seems that the carburetor that had been on the car was the culprit. I'll have to give it a careful inspection and see if I can figure out what's wrong with it. I drove the car to town for a couple of errands and was pleased with the improvement. Once it started on the first pull, and once on the fourth. I like that a lot better than having to crank it a dozen or more times. When I got home I started on the long-overdue mowing, but had to quit about four when the rain arrived. It's been dry for quite a spell, so the plants will be glad to get a drink.






Tuesday, September 26, 2017

Overnight rain was at least 1.5". I say at least because there may have been more. Tall weeds around the gauge may have kept some of the water from reaching it. I never went off the place, and spent the wet day in the shop and my office. I spent over an hour filing and deleting stuff that's accumulated on my desktop, and there's more of that to do. I added an extra terminal on the roadster's firewall because the mag terminal had too many wires connected to it. They didn't want to stay put. In the photo the coil box battery terminal is between spark plug wires #1 and #2. Coming up to it from below is the wire from the battery to buzz the coils for starting. Coming down to it from above is the wire from the charger to charge the battery. Between #3 and #4 is the coil box magneto terminal. Coming up to it from below is the wire bringing current from the mag to run the car. Going up from it and left is the wire to the headlights. Going up and right is the wire to the extra terminal. From there one wire goes up and to the battery charger, and one goes down and to the horn and the speedometer light. My other project in the shop was straightening a warped exhaust manifold to use on the touring car. That was successful, so I updated the

web page

that describes the procedure.








Wednesday, September 27, 2017

Having a camera again, I'll show you the tire that stopped me on Dalton Road last Thursday. As tough as these old tires were to mount, country roads ate them up PDQ. I may get some new white tires someday (that's NEW, not new old stock), but for now I'm going back to black. I spent another wet day inside, this time devoting a large chunk of the day to shopping for insurance. I put less than 100 miles a year on my truck, which hardly ever goes off the farm, but I've been paying over $200 a year for its insurance. I sent in an application to another company, and if the deal goes through the cost will be $76 a year.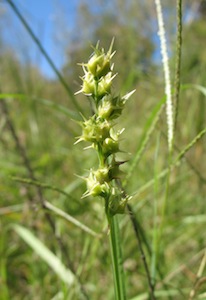 Thursday, September 28, 2017

Know thine enemy. After a couple of rainy days the ground was nice and soft for weed pulling, and that's what I did most of the day. I would have got a lot more done if it hadn't been for sandburs. Unfortunately, this plant grows all over Kansas. Before it starts to go to seed, it looks like just another grass. But once those nasty burs form it's a pest that will stick you really painfully. It's mighty annoying to grab a weed to pull and grab one of those burs along with it. I spent a lot of time spotting the burs, following the plants down to the ground among all the other weeds and grass, and pulling them out by the roots. I'm putting the pulled plants into paper bags, and later when we're in wood-burning season they'll go into the fireplace. I want to destroy all the seeds I can. Out by the road I spotted a patch of the things that's beyond pulling. They're so thick there that I'll just have to spray them and hope that I get them all. I did take time to paint some bolts and hang them in the oven to cook, and in the afternoon I took about an hour for grocery shopping. Except for those two diversions, I spent the day pulling weeds.


Friday, September 29, 2017

Office work led off today. I finished up my list
of Model T parts to order from Lang's and phoned in the order. I'll pick up the parts at Hershey and save shipping. Outside I was back to pulling weeds, and did that for at least a couple of hours. In the afternoon I went to the pharmacy to pick up some medicine, and while waiting for that I bought over a hundred dollars' worth of LED bulbs for the shop and office. They should pay for themselves several times over by lasting many years and using 80% less electrical power than the incandescants. I'll be interested to see how much of a difference they make in the next electric bill. The afternoon brought a box of slides from the roll of film I started last May and finished three weeks ago. I spent the evening scanning them and will make a Facebook album of them for the improvement of Western civilization.



Saturday, September 30, 2017
Today I straightened another warped exhaust manifold, sandblasted it and the other one I straightened
recently, and painted both with a highp-temp clear coat. One will go on the 1923 touring, and the other will be available for some other car later. I made a couple of wood engine blocks for the touring, then got started with the frustrating chore of installing them. That calls for installing bolts, nuts, and cotter pins in some hard-to-reach places.