I'm not sure how I managed to accomplish so little today, but it seems I spent eight hours doing an hour or two of work. I took the roadster engine off the high engine stand and put it on the low one, but didn't get around to doing anything on the engine. I took some spark plug parts out of the rust remover, prepped and dried them, and put them away. I boxed up some sediment bulbs and parts.
I looked at the jumbled mess in the east end of the shop building and wondered how I'll ever get it in order. I think tomorrow I'll tackle that mess for real. It's in the way of getting a lot of other chores done. Just sorting it into what I want to keep and what I want to get rid of will be a good start.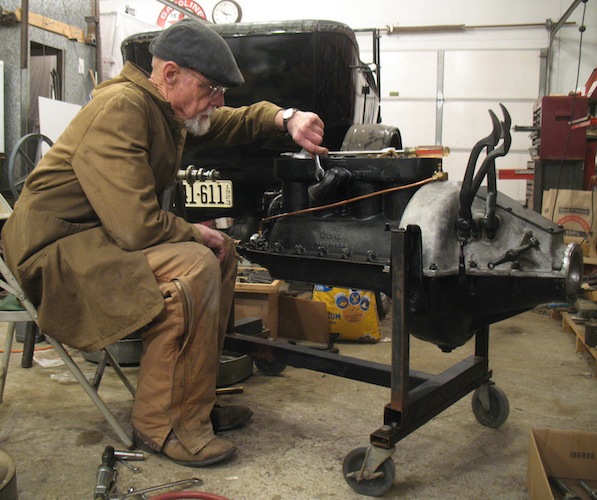 Thursday, February 2, 2017

A return to winter weather, with a high in the thirties, had me working indoors today. I decided to put off my attack on the mess in the east end of the building until the warm weather above 40º returns. I spent a big part of the day on the roadster engine, cotter pinning all the pan bolts, installing the crank pulley and the external oil line, and putting on the water inlet. I hope to get the engine back in the car in a few days, and may even have it running in a week or two.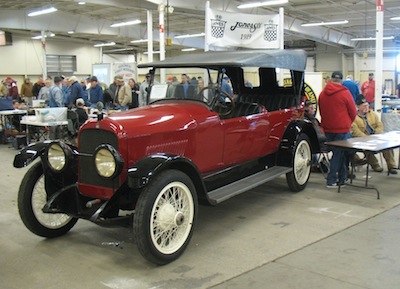 Friday, February 3, 2017

Up at the crack of dawn, I was off to the Sunflower Swap Meet north of Wichita. I found a few good items to buy and saw a rare car. The local HCCA had a 1919 Jones touring car on display. The Jones, made in Wichita, has a 40 HP Continental engine and will do 60 MPH. Items I bought included a pair of big wrenches for exhaust pack nuts at $4 each, and a pair of NOS AC spark plugs for Model T at $3.50 each.


Saturday, February 4, 2017

Damn wind. Snot and tears. The day started indoors. Jerry Loomis, who has been repairing my broken top socket, brought it over to get measurements for

drilling
the rivet holes. We spent the morning visiting. He left a little before noon, and I set out to get my truck unstuck so I can use it. It wasn't terribly cold, about 47º, but the wind had me using up the tissues on my nose and my wet glasses. At first I tried digging, removing soil behind the tires and trying to back out. That went nowhere.
The ground is still too moist. So I used the hi-lift jack and put cedar branches under the wheel that was failing to get traction. That did the trick. With the truck back in service, I got started moving out some of the
stuff taking up space in the shop. I hauled three engine blocks to the barn and stacked them with the others there. That was the last job of the day. Saturday being my go-to-town night, I enjoyed delicious carnitas at La Fiesta then went to a movie. This time it was
A Dog's Purpose
. It makes sense that a good movie about dogs would be directed by a guy named Lasse. Director Lasse Halstrom has come up with a beautiful family film. This is one both kids and adults can enjoy.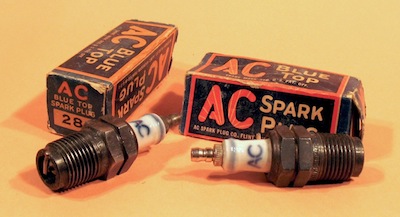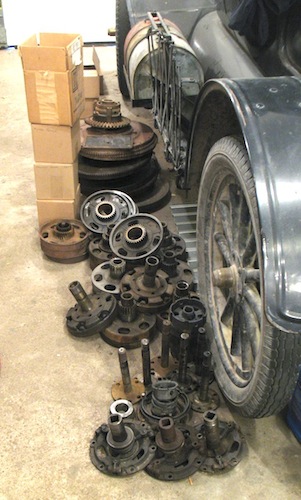 Sunday, February 5, 2017

With the temperature warming up above 50º, I moved flywheels, transmission drums, and other parts to the barn, and moved other parts into the other end of the shop building and got started on dealing with the mess in there. There's a lot more to do on that, but at least I've
made room in the shop to put the engine back in the roadster. I should be able to get that done sometime this week.




Monday, February 6, 2017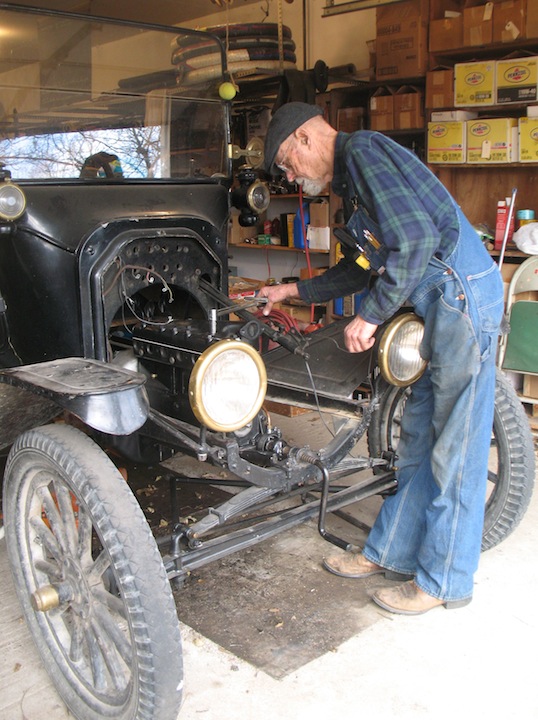 One job dominated the day. After a trip to pay the water bill and buy a can of copper sealant, I put the head on the engine, put the engine in the roadster, torqued the head, and got started installing the small parts and fasteners. It sure takes a lot less time to tell the story than to do the work.


Tuesday, February 7, 2017

Runabout reassembly continued. Body-to-frame bolts, firewall bracket bolts, steering column, fan, motor mounts, spark plugs to keep anything from falling in the holes. Getting nuts started on bolts in difficult places is bad enough, but when you add geriatric clumsiness the frustration level escalates from annoying to infuriating.


Wednesday, February 8, 2017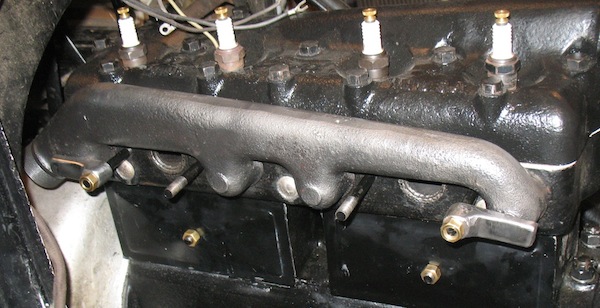 Time out.
I set about preparing to install the manifolds on the roadster engine, got them all ready, and then stopped to make a pair of installing clamps. I probably would have saved time by driving to the juco and using one of the Bridgeports, but I "machined" them with a grinder and a wire wheel.


Thursday, February 9, 2017

Two
jobs. First I installed the manifolds.
Using the installation clamps I made yesterday, that was pretty easy. Then I went to work on the radiator, and that ate up the rest of the day. When I slid off the muddy road and into the brush last spring, the broken top socket wasn't the only casualty. The radiator also acquired cracks at the top on both sides. They didn't keep the car from running, but they did let coolant leak down the sides of the radiator. So today I soldered the cracks, straightened bent fins, and cleaned and polished. I don't have the best equipment for that kind of soldering job, so it isn't pretty, but I stopped the leaks.


Friday, February 10, 2017

A medical appointment used up most of the morning. I went to the clinic to have the doc carve a keratosis off my scalp. I have to go back in ten days to have the stitches out. While I was in town I bought some metal polish. I got home about eleven and finished cleaning and polishing the radiator for the roadster. I've tried four different polishes. Brasso, which I used in the army fifty years ago, isn't the same stuff it used to be. I don't like
the current version. Cape Cod and Prism are both good, but I think the one I got today, Mother's, is a little better than the others at removing tarnish. I spent the afternoon on car assembly. I installed the radiator and support rod, exhaust pipe, fuel line, carburetor, hood shelves and clips, engine pans, coil box and timer harness, and connected the steering. I'm heading down the reassembly home stretch. I may be able to drive the car in a day or two.


Saturday, February 11, 2017

After checking out an auction in Winfield and finding nothing to keep me there, I spent most of the day finishing up my roadster reassembly. I still need to install a few cotter pins and do a little oiling and greasing, but I did start the car up
and run it awhile. At one point
I noticed water dripping on the floor, and was afraid my radiator repair had failed.
But it turned out to be just excess water running out of the overflow, and the radiator was fine. I think tomorrow I'll be ready to take the car out for a test drive.


Sunday, February 12, 2017

Well, I thought I'd drive the roadster today, but it never happened. I started it several times yesterday and ran it to warm up the engine so I could retorque the head bolts, but today I could never get it started. One problem was one of the timer terminals touching the control rod and shorting out. But fixing that didn't make the car start. It will cough like it wants to start, but won't keep running. Even with plenty of gas in the tank, it acts like it's suffering from fuel starvation. I'll check that tomorrow and see if there's a blockage in the carburetor or fuel line.


Monday, February 13, 2017

Still no drive, and not even a start. I tried all sorts of things, and nothing got me past the point of engine coughing and running for about a second. I made a video to post on the Model T forum to see if anybody has a suggestion that hasn't occurred to me.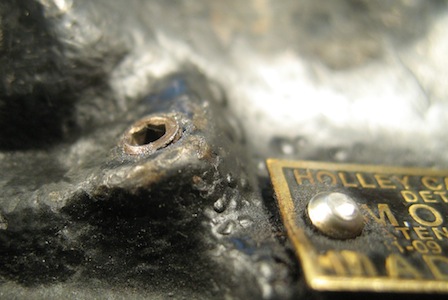 Tuesday, February 14, 2017

There were several suggestions on the forum, but I solved the problem myself. I tried a different carburetor and it worked. That told me where the problem was, so I took apart the non-working carb, cleaned and blew out the passages, and reinstalled the plugs. I noticed that one hole was tapped too deep, and the plug would screw in far enough to block the passage. So I applied a dab of sealant to hold the plug and screwed it in only far enough to close the hole. When I put the carbretor back on the car the starting problem was cured. I went for a short test drive and all was well except that the low pedal needed a little adjustment. I took care of that and would have driven the roadster to town when I went for groceries,
but decided that can wait for a warmer day. I did update the video to add today's startup.
Wednesday, February 15, 2017
Most of the morning I polished brass. I already did the radiator before I put it on the car, and today I did the side lamps and the rear view mirror. I skipped the hubcaps, and will do them when I get the new wheels painted and installed on the car. Then I took the roadster for a test drive around the block (two miles). I heard an occasional noise that sounded
like the fan hitting something, but I couldn't see anywhere that was happening. In the afternoon I took the truck down to the wood lot and brought some firewood up to the house. We have only 33 days of winter left, but there will be plenty more days cool enough for a fire in the kitchen stove.


Thursday, February 16, 2017

Today I
started getting a Ruckstell rear axle ready for sandblasting.
That means doing a lot of dismantling, cleaning off grease and oil, and wiring ID tags on some of the stuff. The forecast
claims we have a week of mild weather coming, so I hope I can get my blasting done during that time.
Friday, February 17, 2017
With unseasonably mild weather continuing, I drove the roadster to town for shopping. I stopped at AC Glass and picked up my new headlight lenses, and installed them when I got home. Plain flat glass is correct for 1915.
Saturday, February 18, 2017
After checking out another auction with nothing to keep me there, I spent the day getting parts ready for sandblasting. That meant washing off grease and oil, scraping off thick dirt, and masking with Gorilla tape on places that shouldn't be blasted. I expect the project, rebuilding a Ruckstell axle, to take several weeks.
Sunday, February 19, 2017
Again I checked out an auction, and again I found no reason to stay. Instead I finished preparing Ruckstell parts for sandblasting. I have some other items to prepare, then I'll blast sometime this week.


Monday, February 20, 2017

Two inches in the rain gauge this morning means I won't have to do any watering for awhile. I spent the morning getting the last of the Ruckstell parts ready for blasting. I have a few other items to get ready, and maybe I'll be ready to start blasting tomorrow. This afternoon I drove the roadster to town for shopping and errands, and was annoyed that I had to hold the throttle lever up with my hand to get the car to idle. Otherwise it ran a little fast. So when I got home I did some inspecting and found that the throttle linkage was hitting the water inlet. Just adding a little bit of a bend to the linkage lowered it enough to miss the inlet. Problem solved. The car now idles with no need to hold the lever up. Old cars have lots of little details that need attention.


Tuesday, February 21, 2017

In the morning I got more parts ready for blasting. In the afternoon I fired up the chain saw and cleared some branches and logs that had fallen across the south road. I was careful not to take the truck into especially wet areas, so I escaped getting stuck.


Wednesday, February 22, 2017

A busy day. In the morning I painted windshield hinge parts. In the afternoon I sandblasted a windshield frame and several rear axle parts. I have more parts to blast and paint, so will be back at it tomorrow.


Thursday, February 23, 2017

Yes, I was back at it. In another sandblasting session I mostly finished a Ruckstell rear axle housing, with a few small spots
left to do, and some smaller parts.
I also wasted too much of the day on
sorry products. Last week the angle grinder I've been using for several years quit working, so I went online and ordered a new one from Harbor Freight. It arrived in yesterday's mail. This morning I set about using it to cut some bolts that are a little too long. I got one bolt cut and the thing quit working. So I sent to Orscheln and bought a different brand. That one ran for about five seconds and fell apart. So after I returned that piece of junk to the store I stopped at Fastenal to see what they have. Their straight grinder is $77, and the angle grinder is over $100! I declined the honor. I'll shop around and see what some of the auto parts stores have.


Friday, February 24, 2017

Yesterday's 74º became today's 43º. Part of the natural entertainment in the middle of the continent is the occasional sudden change of twenty or thirty degrees from one day to the next. My main jobs today were painting and shopping. The painting was several small parts. Jerry Loomis visited awhile, then I went shopping for an angle grinder. I got one at O'Reilly for $53.52. We'll see how long it lasts. With colder weather returning, I took the truck down to the wood lot and brought up three boxes of firewood. Then I put that new grinder to work getting one of my new wheels ready to paint. The bolts were a bit too long, and I shortened them about a quarter of an inch. I expect to get that wheel painted this weekend, and maybe one of the others too.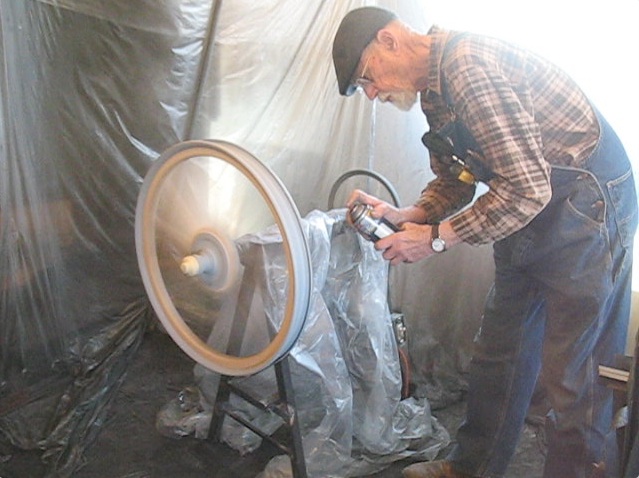 Saturday, February 25, 2017

Checking out another auction,
again
I found nothing to keep me there. This one was near Rose Hill, so while I was up that way I went on to Wichita where I returned that junk angle grinder to the Harbor Freight store. On the way there I noticed the Gander Mountain store, so I stopped and bought a new sleeping bag. The old one I bought forty years ago was due for replacement. When I got home I painted one of my new wheels. The experiment didn't work very well. The spray was inadequate to cover a spinning wheel, and I ended up turning it by hand. The spinning might work if I could find a way to squirt the paint on instead of spraying it.


Sunday, February 26, 2017

I spent most of the day at the computer. A lot of that was researching tires, tubes, and hardware. Figuring out which new and original parts will work together takes some digging. Some of the new stuff is different from the original version. In the afternoon I did get in some shop work, getting another wheel ready to paint. That includes cutting off bolts that were too
long, grinding the ends, and staking them so they'll stay put. Tomorrow will be painting day for that wheel.


Monday, February 27, 2017

Job One was painting that other wheel, then I bought tire tubes and hardware. Job Two was working on my splitter, which starts and runs for two or three seconds and dies. I took off the carburetor and opened it up, and found a lot of powdery residue that I take to be the result of ethanol. Carburetor cleaner will be on my shopping list for tomorrow.








Tuesday, February 28, 2017

In the morning I did more parts painting, then went to town for groceries and other shopping. When I got home I dealt with that carburetor off the splitter. I took it apart completely, cleaned it with carb cleaner and blew it out with compressed air, put it back together, installed it, flushed the tank, and went to work. Again I am able to split.