Tuesday, March 1, 2016

Yesterday while idling beside the house my truck ran out of gas. This was a lucky thing. I didn't have to carry a can of gas very far to get it going again. I emptied a five gallon can into it, and that was
t
he
last can I had. So today I put a half dozen cans in the truck and drove down to the casino for a refill. The five mile trip is worthwhile because the price is usually about a dime a gallon cheaper in Oklahoma. I filled the truck and put another thirty gallons into the cans, which will be my fuel supply for the mowing season. I found that even with a full tank, the fuel gauge showed

Empty

. So when I got home I pulled out the seat and removed the sending unit from the top of the tank. It checked out nearly OK, as good as it's ever been. It has always worked fine until I got down to a quarter of a tank, then the needle would drop to zero. I could live with that. I just take it as a warning to refill. But I want the thing working at least that well, and it wasn't. I suspect that modern gas has dissolved whatever coating was on the cork float, which became gas-soaked and quit floating. So I think I need a different kind of float or some kind of coating on it that's impervious to modern fuel.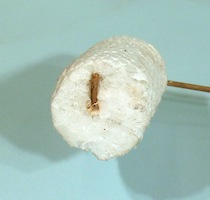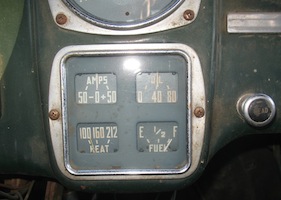 Wednesday, March 2, 2016

It occurred to me that Styrofoam floats. The question was whether it would survive contact wih modern gasoline. I tried a small piece in a little can of gas. After several hours it didn't show any damage, so I made a new float of Styrofoam. This afternoon I reinstalled the sending unit in the tank, and it works fine. Now I can get back to Model T work and other ongoing projects.


Thursday, March 3, 2016

This morning I put on my last pair of clean sox, so today was laundry day. First I drove down to Ponca City to buy a couple pairs of overalls. I have to go there because the ones I prefer aren't sold here. I started with that bit of shopping because I always wash new overalls before wearing them so I won't be dyed blue when I put them on. By the time I made the round trip into Okieland, gassed up the car, and did the laundry, the day was pretty well spent. For the last hour or so I cleaned the old gasket and sealant off the oil pan for my roadster's engine. With driving weather coming on, I need to get that car back together.


Friday, March 4, 2016

The day started with a doctor's appointment. I learned that my PSA is still satisfyingly low, so I get to live another six months. When I got home I started another truck repair. When I was working on the fuel gauge Wednesday I discovered a slow drip where the fuel line comes out of the tank. Over the months that can cost me several gallons of fuel, so I set about draining the tank down to a low enough level that I can disconnect the line and fix the leak. While the tank was draining I got busy with the chain saw and turned a couple of inconveniently placed trees into part of next year's firewood.



Saturday, March 5, 2016

The day began with a trip to Winfield. I checked out a couple of auctions and found a few minor items that were interesting but not worth staying all day, then I went to the caucus and voted. I voted for The Adult, but I knew he wouldn't win. As I expected, Kansas Republicans picked The Crazy Guy over The Kid Robot and The Crass Blowhard. With my civic damage done, I came home and spent the rest of the day outside. I finished curing my truck's fuel line drip, then finished up most of my back yard tree work. That means cutting up the walnut and mulberry trees that were shading the elm I want to keep. Being in their shade was causing it to grow up crooked, leaning to the north. Today's part of the job was cutting off the stumps and tying the elm upright so it can grow straight. All that remains to do there is put away the chunks for next fall's firewood supply and haul the twigs and small branches to the brush pile. With my truck back in service, I loaded up the chain saw and clippers and spent the rest of the day working on my new road. The forecast shows an 80% chance of rain on Tuesday, so I'll use the next couple of days getting ready by doing some planting and transplanting, and plan to use the rainy day for working in the shop putting the roadster back together. We're still a couple of weeks away from spring, but a lot of the plants are getting busy. The daffodils are up and some of them are

blooming, lilacs and some of the trees are budding out, and forsythias are starting to bloom. I'm looking forward to some nice days of driving in an open Model T.





Sunday, March 6, 2016

Not quite as much outside time today as I expected. Last fall I saved a lot of hollyhock stalks and kept them in a big trash barrel in my office. With a 90% chance of rain in the forecast for Tuesday, this morning I spent a couple of hours extracting seeds to plant tomorrow. I planted some last year, and the plants grew but didn't
bloom, I guess that takes a couple of years.
Monday, March 7, 2016

The temperature was 61º and the wind chill was 21º. Well, not really, but the wind blowing over 30 mph did inspire me to wear a coat. A
doctor's appointment killed the morning, but this afternoon I got busy with the spading fork and the cultivator and did some planting. I started at the back yard swing, planting morning glory seeds where the vines can clinb up the frame. West of the garage I planted some butterfly brush, hollyhocks, and nasturtiums. Those nasturtiums did not come cheap. One packet, priced at 59¢, contained five seeds. I hope they do well enough to produce seeds I can use next year.


Tuesday, March 8, 2016

Well, half an inch is better than nothing. Actually it was about .47". It would have been nice to have more, but that will be enough to start the seeds I planted yesterday. I spent most of my indoor day on two jobs. One was packing some Champion sparkplugs to ship to one of the Model T guys who is trading me some Firestones for them. The other job was finishing up the repair of an ignition switch for a friend and packing it to ship back to him. By the time I made the trip to town to send those two packages, the day was pretty well shot.



Wednesday, March 9, 2016



The Styrofoam float I made last week seemed
like the perfect solution, but
eventually it softened and started to dissolve. So today's main project was making a brass float to replace it. It's not a beautiful work of art, but it's where nobody will see it and it works.


Thursday, March 10, 2016

On another sunny and pleasant day, I spent most of it working on my new road. I made good progress on it, and I think a few more days' work will take me all the way to the south end.


Friday, March 11, 2016

One more day on the new road brought me to within a hundred feet of Vine Avenue, the south end of the place. Another session like today should have me at the south end and working on a turn-around loop. Once that's done, I think I'll quit and move on to other projects.


Saturday, March 12, 2016

It was auction day, and I spent my morning chasing bargains. I squandered $23.50 for eight quarts of motor oil, three quarts of ATF, a sprayer, two new saw chains never opened, and lots of extra stuff I'll sell when I have my own auction. I need to make some space with a sale to get rid of piles of goods I'll never use.


Sunday, March 13, 2016

On the first day of daylight saving time I started getting ready for the Chickasha swap meet later this week. I packed a box of 34 carburetor bodies. One of the model T guys wants to go through them and find one he likes for use in the Montana 500 Model T race. This evening I had a phone call from another T friend who discovered he has a good tail light that's right for my 1915 roadster, which currently has the wrong one. He'll bring it to Chickasha and I'll bring dough. Meanwhile, outside a nice rain was going on. It started at 1:20 and lasted for at least a couple of hours, and when it was over there was a little over an inch in the rain gauge. It was a good day.






Monday, March 14, 2016


Curses! Foiled again! In the morning I installed the oil pan and transmission cover on my roadster's engine, then left it to set. Tomorrow, after the sealant has set, I'll trim off the excess that squeezed out around the edges of the gaskets. In the afternoon I went back to work on my new road. Naturally, the truck got stuck because the tires are too slick to get any traction on wet ground. I have no idea why I bought those damn trailer tires for it. They're OK for a trailer, but no good for a truck. After a couple of hours wasted with the hi-lift jack, putting cedar branches under the wheels in a vain attempt to get traction, the truck remained stuck. So I'll let the thing sit for a few days until the ground dries out a bit, then try again.

Tuesdsay, March 15, 2016
Most of today's activity was getting ready to head for the Chickasha swap meet tomorrow. That means getting all of Saturday's auction plunder out of the car, printing out a tool list and marking off the ones I already have so I'll know what not to buy, and gathering stuff I need to take. I had to pay car insurance today, and part of that is putting the new insurance cards in the vehicles. One of those is the truck which I left stuck in the woods yesterday. While I was there I started it up and tried moving it, and it did move a few feet before getting stuck again. I expect by the weekend the ground will dry out enough for me to drive it more than a foot or two.
Wednesday, March 16, 2016
Well, I made it to Chickasha. Pulled in here this afternoon as the vendors were lined up waiting for the gates to open at four. I walked about the lot looking over some of the stuff, and saw several items that were already marked SOLD. Some of the stuff that was sold will go home with the buyers, and some will be marked up for sale at the meet. I'd post some pictures, but I forgot to bring the cable to download them from my camera. Tomorrow I'll see if I can buy a cable at the local Wal-Mart.

Folks waiting for the fairgrounds to open Wednesday afternoon. My other Wednesday pictures are
here
.
Thursday, March 17, 2016
I did manage to find the right cable to download photos from my camera, but the internet connections at the fairgrounds are so slow that I'll wait until later to post pictures. Thursday was a good day of shopping and visiting. I bought some interesting small items and enjoyed chatting with some of my fellow Model T wizards.
The Thursday pictures are here.


Friday, March 18, 2016

The forecast had me thinking the weather might not be a problem, but the storm that blew in was a real gully washer with thunder and lightning. The worst of it didn't last long, but it remained a good day to stay inside. Here are the Friday photos.


Saturday, March 19, 2016

I wasted most of the day driving three hours to an auction west of Hutchinson and another three hours driving home. I went because of the ad which listed a metal lathe. Unfortunately the lathe wasn't worth the trip. I did bid on a few small items that should have been cheap, but they got tossed into piles of expensive stuff which sold for a lot more than I was willing to pay. As they say in sports, you can't win 'em all.


Sunday, March 20, 2016
On a cold first day of spring I spent all morning and part of the afternoon updating the website, posting pictures on the MTFCA forum, and other computer chores. In the afternoon I took a walk down to the wood lot and checked on my stuck truck. The ground has dried out enough for me to drive it, so this week I can ge a little more work done on the new road.


Monday, March 21, 2016

The first
order of business was to get started doing taxes.
I didn't get far with that because my printer has gone south on me and won't
print the forms.
So I spent a
half hour on the phone with Kodak printer support
. The bottom line of that is that they're sending me a new print head. Meanwhile, I still need to do the taxes. I called the library to see if they still have the tax forms. The answer was yes. So I drove to town. Yes, they had the forms, but only the 1040. They didn't have all the forms
I need to file with it. So that job is on hold until the new print head arrives and I can print all the forms I need. With the afternoon warming into the sixties, I went back to work on my new road. Tommy went
along with me, but he managed to stay out of my way most of the time. I made good progress, and it looks like I may have the job finished before the end of March.


Tuesday, March 22, 2016

Another day working on the road. I'm now clearing the loop at the south end. Looks like I'll have it driveable this week.


Wednesday, March 23, 2016

Thought I might finish today, but not quite. One more day should do it.
But I did actually finish one thing. This evening a local Model T guy brought over the radiator from his 1926 roadster. The support rod anchor had broken off, and I soldered it back together. I'm new at that kind of soldering, so I'm still a little surprised when it works.


Thursday, March 24, 2016

After highs in the upper seventies yesterday and Tuesday, this morning's 34º with a stiff north wind felt a lot colder. I thought I was going to work on the new road again, but life is all the stuff that happens to you while you're making other plans. I found the truck very hard starting, running rough, and lacking its usual power. I found that it was firing on only three cylinders. So I spent the day on that, and by dinner time still hadn't figured it out. I hate to spend money experimentally, but I may buy a set of new plugs tomorrow and see if they help. Nothing else I've tried has worked.
Friday, March 25, 2016
Today the Dodge was still running on just two cylinders. I wire brushed the contacts in the cap and on the rotor, and that changed nothing. But as I was checking to see which cylinders were firing, I noticed that the ones that weren't firing still caused the screwdiver to spark against the head. That told me what I needed to know. When I went to town for groceries I stopped at a parts store and spent $16.17 for six new plugs. Problem solved. The truck now runs normally. So I ended the day back working on the new road. If I don't get rained out, I should have it finished this weekend.


Saturday, March 26, 2016

It was a busy day. I checked an auction south of town to see if there was anything for sale that I cared about. The answer was no. Then I went to Dieter Mitchell's place to help him work on a TT belonging to our neighbor David Rhoades. Dieter had told me it wasn't running very well, so I took along a set of good coils to see if they made any difference. They did help, but there was still room for improvement. So we came back here and got a rebuilt Holley NH carbburetor to try on it. That did make more of a difference, so Dieter got a
n NH from me that he's going to rebuild.
| | |
| --- | --- |
| | |

When I got home I spent the rest of the afternoon finishing the turnaround loop at the south end of my new road. There's still some minor work to be done, but I'm now able to use the whole road and loop. So my last job of the day was making a panoramic view of the loop with the truck going and coming.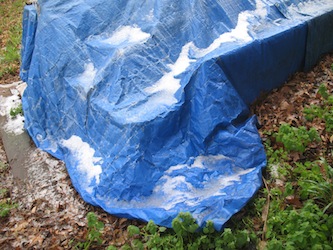 Sunday, March 27, 2016

An overnight storm left .68" in the rain gauge and included enough snow for me to take this picture. The temps were above freezing , so it was gone in a couple of hours. I spent most of the day indoors, but did put a charger on the mowing tractor so I can start it. Mowing season will be here soon. Most of the day I updated my computer work. I did install a new print head in my printer, but the machine's still not right. I'll have to phone support tomorrow.


Monday, March 28, 2016

At last I got my printer working, and downloaded/printed the IRS forms to do my taxes. I checked the instructions and found that none of the changes apply to me, so everything will be the same as last year except the numbers. My next morning activity was getting back to work on my roadster's engine/transmission, installing the fourth main bearing and cotter pinning some of the bolts. In the afternoon I went back to my new road and removed one more tree to widen the turn-around loop so it doesn't require quite so sharp a turn.


Tuesday, March 29, 2016

This morning I put on my last pair of clean sox, so today was laundry day. By the time I gathered up all the stuff to wash, did the laundry, brought it home, made the bed, and put everything away, I was well into the afternoon. I finished the day cutting up the tree I felled yesterday and hauling all the twigs and branches to the brush pile. That concluded this month's work on the new road. Later, when all the leaves are out, I'll spray the small brush to kill it off, then mow the road clear.


Wednesday, March 30, 2016
Most of the day went to one of my unfavorite things: taxes. I don't mind paying, but I hate the work that leads up to it.


Thursday, March 31, 2016
Curses, foiled again! This morning while trying to update my website I accidentally deleted a folder, and spent about half the day restoring it and all its contents. I did manage to do something useful, installing a new rear view mirror on the Camry. It's a replacement for the one that was destroyed last fall on I-80 when a truck passed too close, or I passed too close to him. I'll end the month with a picture of the house with redbuds in bloom. By this time next year the exterior should be finished and the scaffolds gone.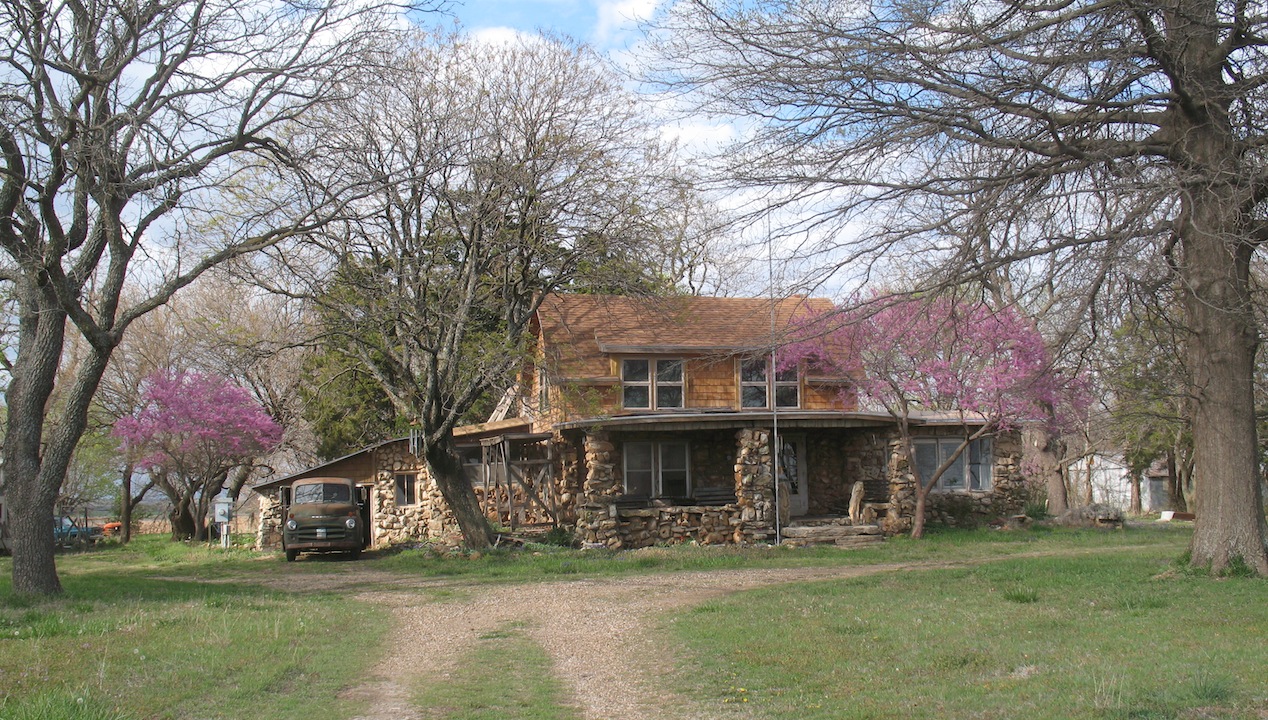 HOME
BLOG LIST
FEBRUARY 2016
APRIL 2016