Saturday, April 1, 2006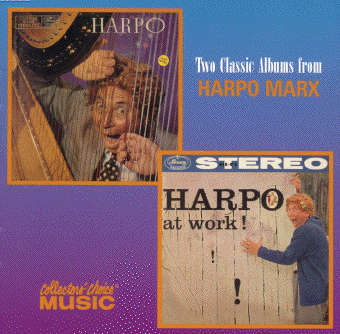 Everybody remembers Harpo as the guy in the blond wig who chased girls while honking a bulb horn. What may not be as well remembered is that he was a wonderful musician. It was too long in coming, but this CD contains two of Harpo's three albums, "Harpo in Hi Fi", originally released in 1957, and "Harpo at Work" originally released in 1958. The first LP featured Harpo with an octet of "drums; one reed man doubling flute, clarinet, and piccolo; bass; guitar; cello; vibraharp; and two pianos doubling celeste." Among the songs are classics from the Golden Age of popular music such as My Funny Valentine, Tenderly, Autumn Leaves, Honysuckle Rose, and That's All. The second album added a string section, and included more great songs, such as Laura, My Blue Heaven, The Man I Love, Imagination, All the Things You Are and Solitude. These 24 cuts leave me wanting somebody to reissue the 1952 EP "Harp by Harpo", and wishing that Harpo had recorded more than just three albums.
Monday, April 3, 2006
About all I got done this weekend was clearing the lumber and scraps off the front porch, and finishing the trim on one of the bathroom windows. A little more sanding, and it will be ready for paint. The trim for the other window will have to wait until the shower enclosure is installed.
I spent most of Sunday moping around with a cold. With nice warm weather, I was able to take a nap on the front porch swing.
Thursday, April 6, 2006
Today I picked up the rest of the tile for the bathroom, along with a tile saw, trowels, and mortar.
Saturday, April 8, 2006
This guy is the embodiment of the the old figure of speech about marching to a different drummer. When Reggie Robinson was in grade sc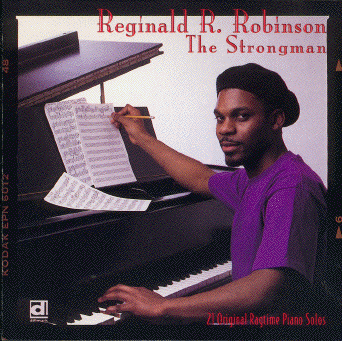 hool, a visiting group of musicians presented a cultural program that included The Entertainer, by Scott Joplin, and the boy was hooked. By the age of thirteen, he had decided that he would become a ragtime pianist and nagged his mother into buying him a cheap electronic keyboard. At fourteen he left school to spend full time on music. By the time he was twenty, in 1993, he had recorded this Delmark CD which contains his performance of Joplin's Maple Leaf Rag and 21 of his own ragtime pieces. In an era when high quality music of any kind is wildly unpopular, it's amazing to see a young guy like this writing and performing ragtime of such quality that people who don't realize he's playing his own compostitions think they're hearing Joplin.
Saturday was the first big tile day. I got the floor tile installed in the shower and spent the rest of the day cutting and fitting the tile for the rest of the bathroom floor, until I got to taking up the toilet. That was a bit of a snag because one of the anchor bolts was loose and turned with the nut. Because of that I spent over an hour just getting the toilet out. Sunday will be another tile day.
Sunday, April 9, 2006
Today I installed the bathroom floor tile. Even ungrouted , it's a big improvement over the old falling-apart linoleum.
Tuesday, April 11, 2006
This afternoon I grouted the bathroom floor. It looks pretty good.

Wednesday, April 12, 2006
Started installing baseboard tile.
Thursday, April 13, 2006
Finished installing most of the baseboard tile.
Friday, April 14, 2006
Grouted baseboard tile.
Saturday, April 15, 20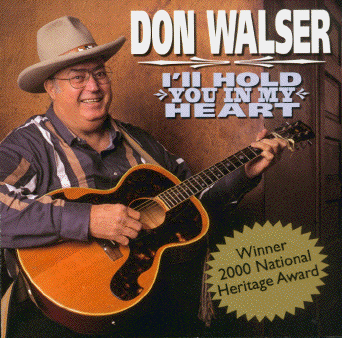 06
He's been called "the Pavarotti of the plains". Don Walser is an old-time, down-home, Texas cowboy singer. He even yodels. Many of the songs here are his own compositions, written and performed in traditional country style. One is called Country Gold, and Don says, "This song is for all of the real country fans that live in this country and can no longer hear real country music. I miss being able to listen to all the great old country singers both male and female. But what bothers me most is seeing the new young singers who are the new traditional country singers, the new Merle Haggard, George Jones, Patsy Cline and new Bluegrass singers who cannot be heard because the so-called powers-that-be say they are too country." Along with the Walser songs here, there are a few old favorites. The title song, I'll Hold You in My Heart, was a big hit for Eddy Arnold in the 1940's. Also included are Merle Haggard's Hungry Eyes and the classic When It's Springtime in the Rockies. If you have little or no patience for what passes for country music on radio today, here's a very enjoyable antidote.
I spent Saturday, from 6 AM to 7 PM, cutting and installing tile in the shower. One more day should finish the job.
Sunday, April 16, 2006
I put the toilet back in the bathroom and finished installing tile in the shower. After Easter lunch at my cousin Irene's, her granddaughter, visiting from New York with her husband and two kids, came out for a tour of the place. I ended the day by putting up the old shower curtain for the last time and enjoying the luxury of a shower.
Monday, April 17, 2006
This afternoon I put up the last piece of shower tile and applied grout. Looks pretty good.
Tuesday, April 18, 2006
In a recent post on my favorite discussion forum, somebody referred to a piece of equipment as "the only good thing that ever came out of Massachusetts". Let's remember:
"By the rude bridge that arched the flood,
Their flag to April's breeze unfurled,
Here the embattled farmers stood,
And fired the shot heard 'round the world."
On April 18, 1775, those Massachusetts farmers at Lexington and Concord risked their lives facing the world's most powerful empire. Some of us think the American Revolution, which began in Massachusetts 231 years ago today, was a good thing.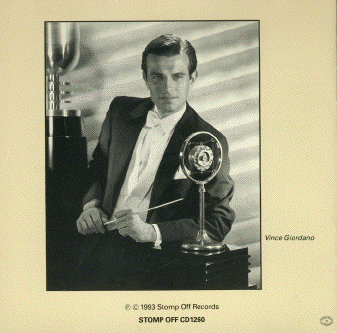 Saturday, April 22, 2006
This time instead of the front of the CD, I'm showing the picture from the inside. Vince Giordano and his Nighthawks have issued several recordings, but not enough. This one is named for one of the cuts, Quality Shout! With Giordano on string bass, tuba, and bass saxophone, the Nighthawks bring you hot jazz from the Jazz Age. Many of the arrangements are transcribed from original recordings by great jazz bands. Some are famous names like Red Nichols, King Oliver, Duke Ellington, Fletcher Henderson, and Jimmy Lunceford. Others are less familiar, like Red and Miff's Stompers, Phil Napoleon, and the Paul Howard Quality Serenaders. Most of the pieces are from the late 1920's, with the latest being from 1931. This type of music is now considered outmoded and is rarely played, which makes the Nighthawks such a treat. This is not easy music to play, and these guys do a great job ot it. The 22 cuts on this CD add up to more than an hour of classic hot jazz played by real pros, so you get your money's worth.
Sunday through Friday, April 23-28, 2006
Most of my afternoons were spent finishing woodwork in the bathroom: cutting and fitting molding, assembling frames, and filling and sanding nail holes & joints.
Saturday, April 29, 2006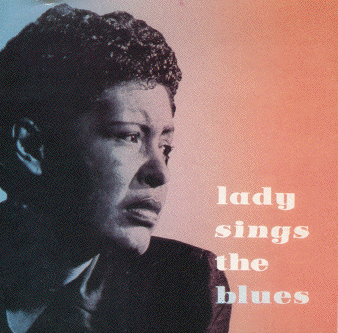 This week's music comes from Lady Day. Billie Holiday made her mark as a singer in the 1930's, when the popular music was jazz. Not blessed with a great voice, she was a great singer through phrasing and feeling. Some critics claim that her early recordings are her best. By the 1950's, with the ravages of heroin addiction and an otherwise hard life, they say her singing lacks the breezy joy heard in her early work. Others appreciate the emotion and storytelling she brought to a song in her last years. This CD falls into the latter category, containing sessions in 1954, in Los Angeles, and 1956, in New York. Both sessions feature some of the best musicans of the era, including Charlie Shavers, Kenny Burrell, Willie Smith, Barney Kessell, Sweets Edison, and other top jazz performers. The songs begin and end with the blues, opening with Lady Sings the Blues and finishing with Stormy Blues. Songs in between includeHoliday's own God Bless the Child, favorite standards like Love Me or Leave Me, Willow Weep for Me, Too Marvelous for Words, and P.S. I Love You. The dramatic highlight, with a suitably dramatic trumpet intro by Shavers, is the bitter and shocking Strange Fruit. This one song is worth the price of the CD. Holiday delivers its angry metaphor in a way that will elicit knowing nods from some listeners and will leave others squirming. I once heard Dave Garroway remark that watching Billie Holiday in her last days was like seeing a beautiful bird being torn apart by vultures. As she lay dying in a New York hospital, federal agents came to her room to arrest her for drug possession. When she died on July 17, 1959, Lady Day left a large recorded legacy of some of the greatest jazz singing of the century.
Sunday, April 30, 2006
I spent most of Saturday and Sunday painting in the bathroom. Saturday I took time out to go to an auction, but didn't buy anything. Sunday afternoon, while paint dried, I went out and picked up debris along the road. We may have a shortage of oil, or of wise statesmen, or of great restaurants, but there will never be a shortage of low-down, trashy people.